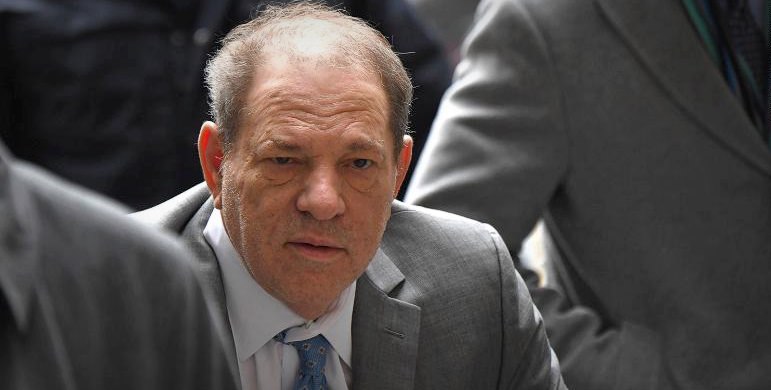 In one of the first big cases to happen as a result of the #MeToo movement, Harvey Weinstein was sentenced today to 23 years in prison on charges of sexual assault and third-degree rape. He will also be registered as a sex offender.
"I will say that although this is a first conviction, it is not a first offense," said Judge James Burke as he handed down the sentencing.
Last month, Weinstein was acquitted of the two most serious charges against him including predatory sexual assault, which could have carried a possible life sentence. The trial lasted for 6 weeks and nearly resulted in a hung jury after 4 days of deliberations.
Reports say, before the sentencing was delivered, Weinstein addressed a packed Manhattan courtroom and said he had "deep remorse." In a rambling speech, he also pushed back at the #MeToo movement, implying that it had gone too far, while talking up his charity work.
"I am totally confused," Weinstein said. "I think men are confused about all of this…this feeling of thousands of men and women who are losing due process. I'm worried about this country."
Related: In A #MeToo World, Porn Sells Abusive Nightmares As Sex Fantasies
The charges against Weinstein were based on the allegations of two women: An aspiring actor Jessica Mann said Weinstein raped her in a Manhattan hotel in 2013 and a former production assistant, Miriam Haley, said Weinstein forcibly performed oral sex on her in 2006. Actor Annabella Sciorra's testimony that Weinstein raped her in the '90s was used to bolster two predatory sexual assault charges against him in combination with the testimonies of Mann and Haley.
Before the sentencing, Mann delivered an impact statement. In it, she said:
"I don't know how to explain the horrors of being raped by someone who has power… The impact on the psyche is profound. Rape is not just one moment…it is forever."
Weinstein has been held since last Thursday at Rikers Island, but will soon be turned over to the New York State Department of Corrections and Community Supervision.
Read the full reports by Variety and New York Daily News.
It's powerful to see the further destigmatizing of assault and abuse. And while society is collectively trying to address the systemic issue of sexual assault and harassment, so many continue to excuse pornography from the larger conversation about exploitation and rape culture. And that's a problem.

Similarities between Harvey Weinstein & the porn industry
Over on the "adult" side of the entertainment industry, sexual assault, coercion, and abuse run rampant without outcry from a world that unapologetically consumes the creations of exploitative producers and directors.
While we are not saying that comparing the movie business to the porn industry is like comparing apples to apples, there are certainly similarities. Some might think all porn performers consent to what they do and are in the situations they are in completely by choice—but are those situations really that different from the situations Weinstein put women in? How can you be so sure?
Related: Award-Winning Porn Director Suspended After Sexual Assault Allegations Surface
Force, fraud, and coercion have been denounced when they happen in the movie business, but they are normalized when they are in porn.
The similarities between Weinstein, a powerful Hollywood producer, and the porn industry professionals, who have used similar and worse exploitative methods on individuals, are too much to ignore.
The paralleled issues manifest in specific ways, like the similarities between Weinstein's controlling coercion that he used to harass and trap women into inappropriate and uncomfortable situations, and porn producers who echo this behavior. Countless male and female porn performers (some of whom were introduced into the industry by fraudulent and coercive means) have similarly exposed the ways they've been pressured on set by producers and directors, pushed into scenes and situations they wanted to escape from, but didn't feel they had a way out.
Weinstein's abuse of power and exploitation echo what's been happening in the porn industry for quite some time with varying, numerous executives and producers.
In an exposé by The Daily Beast on the sexual coercion epidemic in the porn industry, behind-the-scenes abuse, and Weinstein-esque practices by directors, a familiar picture of exploitation is painted.
Related: The Porn Industry Isn't Just Selling Sex, It's Selling Violent Abuse Of Women
For example, one notable European porn director is described as having a nasty reputation, known to industry insiders as being abusive and aggressive on set, often physically injuring the women he has sex with on camera. And while female performers try to avoid working with him, usually at the disapproval from their agents, this director pursues performers intentionally and persuasively, schmoozing them into performing with him and destroying their careers from the inside if they reject him.
Though many know of this exploitative director's reputation, few speak out for fear of what he could do to their careers and reputations. And according to the report:
"It's not just the loss of work that keeps women quiet—it's the shame that follows; the fear of being ridiculed by their own costars and peers on social media once they speak up. Few are willing to risk the brutality of the social media onslaught."
Sound familiar?
The similarities between the Weinstein scandal and the everyday practices of the porn industry are undeniable, but few are willing to make the connection.
Related: Why This Massively Popular Porn Site Doesn't Care If Their Content Shows Rape
Not to mention that, on a broader scale, the similarities between Weinstein's actions and the messages within today's porn content is unmistakable. "Women are always up for sex, no matter who approaches them." "No means try harder." "Aggression is okay, and it's even a desirable sexual quality regardless of consent." While society collectively outcries about Weinstein's actions, and the abusive actions of many other powerful men in Hollywood, they continue to ignore the estimated $97 billion dollar industry that continues to perpetuate abuse, fuel violence and exploitation, and feed into the same exact rape culture that we're all speaking out against.
It's important to remember that not every porn producer coerces people just like not every Hollywood executive producer does. But it cannot be denied that it does happen, and in each and every case, we cannot be complicit when there is abuse, exploitation, and coercion.
Related: Hundreds Of Women Who Agreed To Model Swimsuits Were Forced To Perform In Porn, Lawsuit Alleges
Regardless of the industry, when industry gatekeepers like Weinstein and porn directors use their power to manipulate, abuse, and harass people who do not share the same privileges that often come with power, an unhealthy (and illegal) precedent is set. We see in both the Weinstein case and the examples above that industry insiders often know about the abuse but feel powerless to stop the perpetrator. This cycle of silence perpetuates an idea in our society that people can be objectified, so long as it helps their career or is part of something we routinely excuse as "normal" behavior.

A few executives in one industry, many more in another industry
Of course, we are collectively and justifiably outraged over one powerful executive in one powerful industry who allegedly assaulted and harassed over thirty women over the span of thirty years.
And yet, society has turned a deaf ear to other powerful executives in another powerful industry, where industry-wide abuse stems from countless other producers, directors, and "recruiters," who have exploited thousands of women and men, all in the name of "adult entertainment" and sexual fantasy. How does this make sense?
Related: Five Performers Accuse Top Porn Industry Agent Of Sex Abuse And Trafficking
How can we be a culture that speaks out against the blatant abuse and sexual exploitation at the hands of people in power, people like Weinstein—yet as a culture, we fail to acknowledge the exact same type of abuse that is not only fantasized and fetishized all over the web, but also perpetrated by porn industry producers as well? How can we be a society that rightfully fights to expose abusers—yet so brutally ignores the same kind of sexual abuse and exploitation in one of the world's largest and most prolific industries?
In the long term fight against sexual abuse and exploitation, we cannot have selective hearing that chooses which abuse epidemics to fight against. Whether Hollywood celebrity or individual exploited by the porn industry, we cannot be complacent in the face of systemic exploitation.
Related: How A Popular Cam Girl's First Mainstream Porn Shoot Turned Into An Abuse Nightmare

Fighting injustice and exploitation everywhere
The fact is, if we want to make lasting progress in the fight against sexual assault and rape culture, we must consistently shine a spotlight on all of the factors that fuel and include these things.
Related: Can You Tell The Difference Between #MeToo Stories And Porn Plot Lines?
This includes the porn industry that masquerades abuse as "fantasy." This includes the culture our society has normalized, regardless of the industry, where men and women are pressured and coerced into exploitation by executives in power. This includes calling out all cultures where perpetrators are not held accountable and victims of abuse are blamed, even if it happens in an amateur porn scene instead of a blockbuster movie set.
Rather than only hearing about the issues of abuse and exploitation when celebrities like Harvey Weinstein, Bill Cosby, Hugh Hefner, and other celebrities force us to acknowledge the systemic issues we have, let's work to create a society where the voices of those being abused and exploited in any industry do not fall on deaf ears.
At Fight the New Drug, we are listening and we are fighting—are you with us?