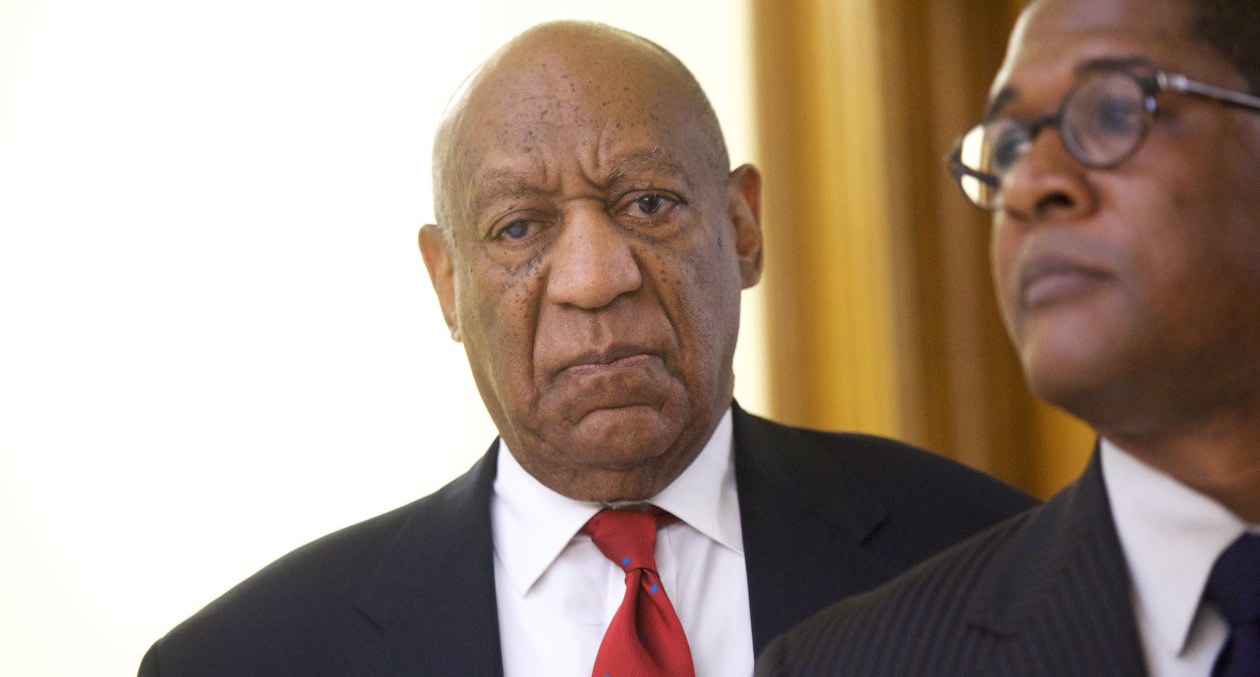 Cover photo by Mark Makela/Getty Images. 3 minute read.
TRIGGER WARNING
The following post contains descriptions of porn videos and abusive situations.
Today, a Pennsylvania judge sentenced actor and comedian Bill Cosby to 3 to 10 years in state prison for three felony counts of sexual assault of Temple University employee Andrea Constand at his suburban Philadelphia home in 2004: penetration with lack of consent, penetration while unconscious, and penetration after administering an intoxicant. He claimed the encounter was consensual. The judge also deemed Cosby a "violent sexual predator" during today's court proceedings.
Given his age and apparent health issues, even this modest term could mean he will die behind bars.
BREAKING: Bill Cosby, 81, is sentenced to three to 10 years in state prison for 2004 sexual assault.

— The Associated Press (@AP) September 25, 2018
According to the Wall Street Journal, some viewed Mr. Cosby's retrial as a referendum on the #MeToo movement, the wave of sexual-misconduct allegations against prominent men that burst into view last year—after the first trial but before the second.
He is officially the first celebrity accused of sexual assault to be sentenced since the start of the #MeToo movement.
Porn Normalizes Abuse
And as horrific and unacceptable as his actions are, the celebrated and normalized porn industry regularly profits from scenarios just like them.
"Real drugged and passed out," 1.3 million views. "Only real forced sex videos, no fake" a top porn site's tagline. "Two guys **** unconscious girl," 1 million views. " "Model drugged and used," 827,000 views. One simple Google search reveals these titles and sites as some of the top rape porn hardcore videos, available and accessible right now.
In other words, the same actions that Bill Cosby was sentenced for today are marketed as sexual fantasy and entertainment to anyone with an internet signal and a device with a screen. How is this acceptable?
How is it that our culture rightly speaks out against rape and abuse, yet there isn't also outcry for the porn that depicts the same and far worse?

And sure, the performers may be over 18 (although there's no real way to know) and sign a binding performer contract that equals a form of consent (though, again, there's no true way to know), but you can be certain that the scenarios they portray don't focus on those details. This breaking news of Cosby's sentencing today especially illustrates that is not just difficult to talk about pornography without talking about sexual abuse—it is impossible.
Related: 5 Popular Porn Categories That Are Considered Sexy Online But Are Disturbing In Reality
Especially considering, as we said earlier, a simple porn search can bring up hundreds of videos that basically portray a scripted version of the crimes Bill Cosby committed with Constand. Not even that, but also allegedly on more than 60 women who said the former TV star drugged and molested them over a span of five decades, according to PBS.
Why This Matters
We want to be clear that we're not saying that Cosby sexually abused women directly because of porn, while we are pointing out that pornography fantasizes the behavior that Cosby will likely spend his remaining days behind bars for.
Related: The Alarming Ways Porn Normalizes And Fetishizes Abuse
This matters, because realizing that porn is tied to sexual abuse means that as we fight porn, we can make a meaningful difference in the fight against normalizing sexual abuse.
If we're really going to tackle the issue of sexual abuse as a society, we need to be aware of all the places where this harmful behavior is normalized, and even promoted. The same kind of behavior that Cosby was sentenced for today is easily accessible for anyone with internet to watch. How is that acceptable? This is why we're speaking out and shining a light on the connection between porn and making fantasy out of abusive situations.
Normalizing abuse shouldn't be normal, in any context or situation. You with us?

Get Involved
If you're not cool with pornography promoting rape culture in society, SHARE this article and raise awareness that harmful attitudes towards sex can lead to harmful acts towards people.
Spark Conversations
This movement is all about changing the conversation about pornography and stopping the demand for sexual exploitation. When you rep a tee, you can spark meaningful conversation on porn's harms and inspire lasting change in individuals' lives, and our world. Are you in? Check out all our styles in our online store, or click below to shop: