Cover image by Getty. 4 minute read.
Trigger warning: The following post contains names of porn performers, and explicit descriptions of sex acts and abuse.
"I did not expect to be treated like a piece of meat," cam girl model Jenny Blighe said, referring to her first (and only) professional porn film experience.
In a recent story for the New York Post, Blighe described how what was supposed to be her "big break" in the industry quickly turned into horror story.
The shocking violations
Blighe was cast by Evil Angel for "Cam Girls: The Movie" alongside fellow cam girl Ginger Banks and male performer Manuel Ferrara. Prior to the shoot Chris Gentile, vice president of product for Evil Angel, texted Blighe that her scenes would be "fairly vanilla," but according to Blighe, what actually happened when she arrived on set was far from it.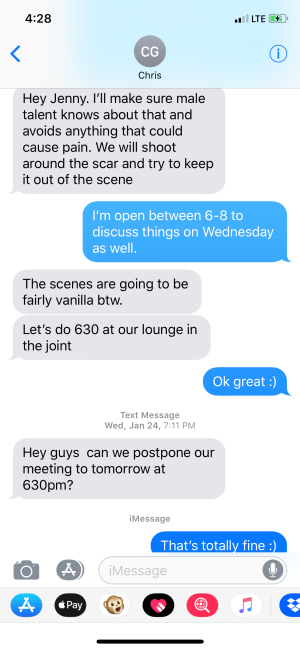 Ferrara bit Blighe's shoulder, arms, and back leaving teeth marks and bruises. He put his hand over her mouth and grabbed her throat. In the scene, her face turns red and it's unclear whether she is able to breathe. Later Blighe said when Ferrara choked her she was "barely conscious and almost passed out numerous times."
While choking is not exactly rare in hardcore porn films, the aggression Blighe experienced felt violating. It's unclear if Ferrara knew Blighe was promised a vanilla scene, but what is clear is her boundaries were ignored and she was pressured into compliance.
"I tried to stop the scene but [the director] told me I was ruining the flow and to just put my head back in the frame," Blighe stated. "I felt helpless. All my nightmares about filming a pro boy/girl scene were coming true."
It didn't stop there…
As if things couldn't get worse, in a later scene scripted for only herself and Ginger Banks, both performer's were groped by film director and owner of Evil Angel, John Stagliano. Prior to shooting, both women spoke with Chris Gentile and were assured Stagliano would not touch them while he was directing.
Related: Five Female Performers Accuse Top Porn Industry Agent Derek Hay Of Sex Abuse And Trafficking
Less than 30 seconds in, Stagliano starts touching Banks' backside. He grabs Blighe's breast. There are a few more instances of touching. Keep in mind, both women were contracted specifically for a girl/girl scene and caught on film there is a man's hand groping them.
"When John started touching me, I felt extremely uncomfortable," Blighe said. "This was my first pro shoot with a major studio. John owns Evil Angel and I felt pressured to just go along."
Ginger Banks agreed, saying, "Our consent was violated." But she also expressed the belief that Stagliano wouldn't have acted that way if he'd been informed about the women's request and promise from Chris Gentile.
Related: The Weinstein Effect: Selective Hearing When It Comes To Sexual Exploitation
And yet, when Blighe and Banks confronted Gentile after the shoot about the director/owner's actions, Banks said, "He simply shook his head, grinning as if to say, 'Oh Stagliano, at it again!'"
In what other industry would this be seen as an acceptable, funny situation?
Getting away with it
If consent had been given to film under specific circumstances and performers were assured they would be treated in a way they were comfortable with, was the information not passed along? Was this a case of innocent miscommunication, or is it an issue of tricking a performer when there was never any intention of keeping the "vanilla" contract? Or could it have been a lie to get a genuine surprised reaction on camera?
We can't know. But Blighe, who now says she'll never perform in another pro film, isn't getting any answers either.
Related: Hall Of Fame Porn Performer Sues Production Company After Violent Abuse On Porn Set
In response to the cam girl's claims, CFO Adam Grayson from Evil Angel released a statement: "Anybody who has been around the business knows how Evil Angel conducts itself both on and off set. With 'Cam Girls: The Movie,' like everything we have done for the last 29+ years, we did our best to make sure all participants felt good about the work they did."
But did they?
No rules
We know this is a jarring and disturbing situation. You may be asking, "Why give so much disturbing detail about what happened, FTND?"
Our answer is that the more people stay silent or gloss-over the details of what often happens on porn sets around the world, the more the industry gets away with normalizing abuse and capitalizing on nonconsensual and exploitative behavior. We can't allow that to happen.
The porn industry has a long history of getting away with these kinds of abuses. Yes, mistakes happen, but then sincere apologies with the promise to do better are warranted. We rarely, if ever, see that outcome when it comes to porn production companies.
As we've seen through the #MeToo movement, some people clearly abuse their power and it can be very challenging to bring them to justice. Consider the countless accounts of porn performers who have accused other actors, directors, or production companies of assault, harassment, or allowing such mistreatment to occur, but continue to make piles and piles of money on views, clicks, and downloads of these recorded instances of abuse.
Related: Would Taking Away The Issue Of Performer Exploitation Make Porn More Acceptable?
Let's be clear about one thing: abuse is still abuse, even if it happened on a porn set.
The same is true for any sort of mistreatment. If a cam girl like Jenny Blighe agrees in a contract to do a scene a certain way, then her consent is violated if the director changes his mind without consulting her. These are plain and simple rules the rest of society is starting to recognize and work with. The porn world should be held to the same standard.
This is why we shine a light on the reality of what porn allows and normalizes. Because normalizing abuse and exploitation is never normal.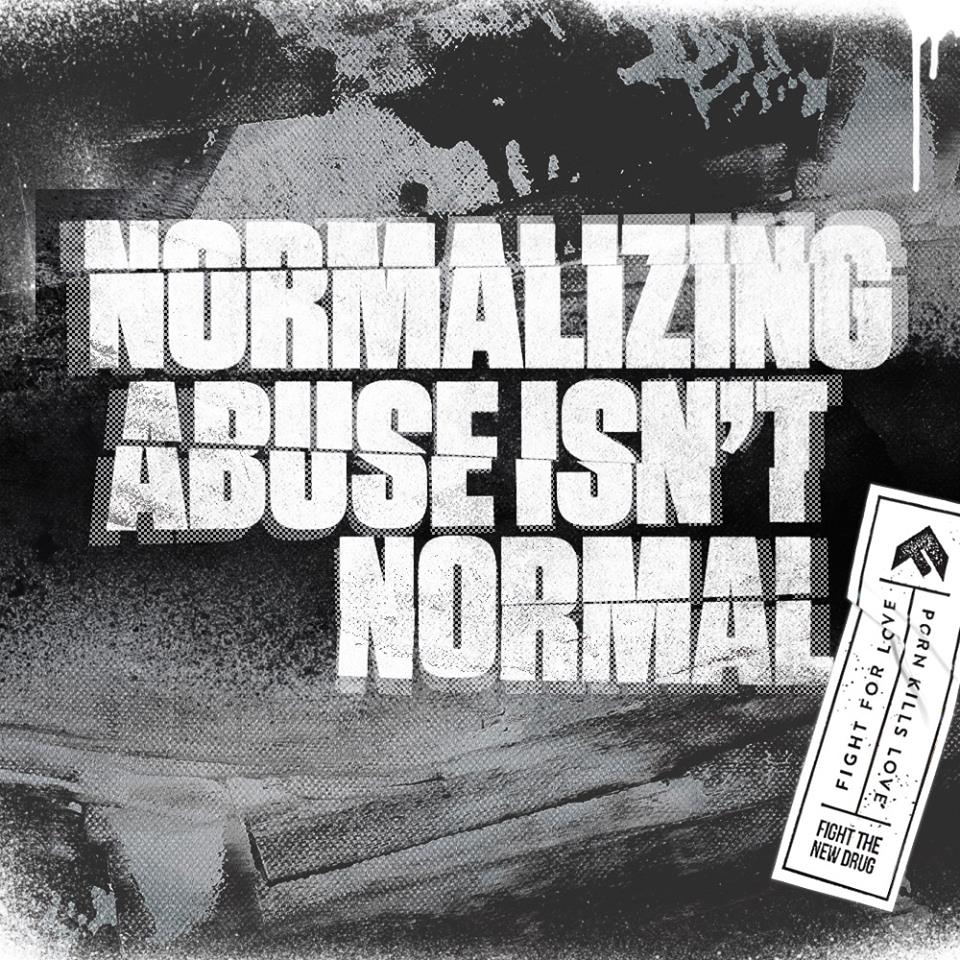 Get Involved
Porn and abuse often go hand-in-hand. SHARE this article and get the word on porn's harms to society.
Spark Conversations
This movement is all about changing the conversation about pornography. When you rep a tee, you can spark meaningful conversation on porn's harms and inspire lasting change in individuals' lives, and our world. Are you in? Check out all our styles in our online store, or click below to shop: