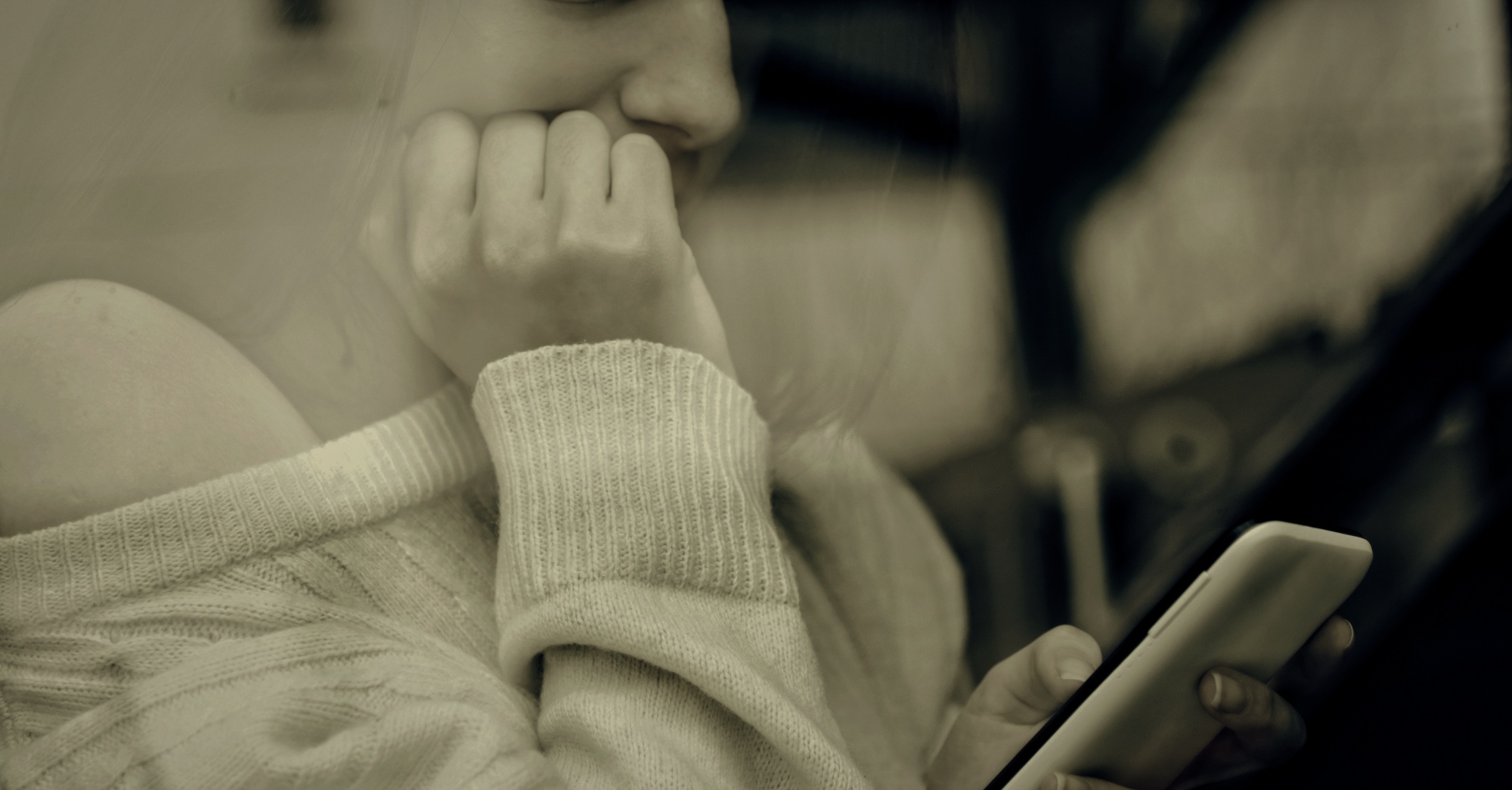 TRIGGER WARNING
The following post contains descriptions of porn videos and discusses disturbing genres of rape porn.
Imitation is the sincerest form of flattery, right? When you see something that you like, or that's cool, you want to do it too.
We see this played out with viral videos and trends like the "Invisibility" prank or the "What the Fluff" challenge—once an idea sparks some interest, it spreads like wildfire. This idea is supported by a theory of psychology, called the social learning theory. Essentially, it states that we are much more likely to mimic a behavior that we see on a screen when it seems realistic or when it is rewarded. [1]
And just like this theory can be applied to viral videos, it's not hard to see how it can come into play with one of the most shocking, arousing, and exciting forms of visual stimulation: pornography.
Porn has been shown to be a very powerful teacher of attitudes and behaviors, especially for its young adolescent consumers. Our brains learn best through images and when they are sexually aroused, [2] and porn checks off both those boxes in a major way. Because of this, it creates the perfect conditions for teaching our brains new attitudes and behaviors.
Related: Why Our Generation Is Watching Porn to Learn About Sex
Okay, but what's the big deal? It's just digital sex, right?
Things get especially concerning when we consider the ideas porn sells about consent. In a normal, healthy sexual relationship, the partners are willing, considerate, and respected. They have an equal voice in every aspect of the relationship, including sex, and when one partner doesn't like or feel comfortable doing something, the other partner respects them and communicates about it in a healthy way. At least, that's how it is in ideal situations.
Porn, on the other hand, is a far cry from depicting this respectful sexual experience. In the majority of popular porn, sexual equality and making sure every party is willing and ready to engage in a sexual act with verbalized consent is not a priority. Chilling stories from even the most popular porn performers in the industry confirm this.
Not only does porn teach that you don't need a willing partner to have sex, it sells the idea that a lack of consent is considered "sexy." Think about it. One of the most common situations depicted in porn is a teen girl getting taken advantage of against her will. Yikes. And a few years ago, researchers did a study of the most popular porn videos at the time. [3] Of the 304 porn scenes examined, 88% contained physical violence and 49% contained verbal aggression. And the most disturbing part? At least 95% of the victims responded neutrally or with pleasure in the scenes.
If that isn't convincing enough that porn does not often illustrate enthusiastic consent within videos, consider how there are categories dedicated to "drunk college girl gets f—ed" on most mainstream porn sites. (Note: drunk people cannot consent to any kind of sex.)
Or how about the site with "Painal" (painful anal) in its title, with videos all about how "no means yes?" Or sites with the tagline, "We have tons of no means yes rape videos all completely free to watch!" And other sites that brag about their content sans consent, saying "We offer only quality rape movies and forced scenes."

These videos, as you can see from the stats above, aren't the fringe fetish sites—they're becoming the norm. These are all real mainstream porn sites that can be found with quick, simple Google searches. And these are accessible by anyone with an internet connection and smart device.
So, this content exists, but does it actually affect consumers?
If you're wondering how watching porn can actually change how a person thinks and acts out when it comes to sex, the answer goes back to how porn can change the brain. Our brains have what scientists call "mirror neurons"—brain cells that fire not only when we do things ourselves, but also when we watch other people do things. [4]  So if someone watches a woman get kicked around and called names while feeling aroused, they're more likely to associate that kind of violence with what's arousing and sexy. [5]
And even when porn isn't explicitly violent, consumers are learning to see other people as nothing more than objects made to be used for sexual pleasure, even if it causes them discomfort. [6]
Related: The Day My Partner Acted Out His Rape Porn Fantasy On Me
Clearly, porn is teaching its consumers unhealthy lessons about sex and consent, and its lessons are having an effect that's anything but positive. In porn, sexualizing and glamorizing violence and nonconsensual sexual encounters isn't an afterthought—in too many videos, it's the goal. But how does this make sense? In a society that rightfully calls for respectful relationships, an end to sexual assault, and gender equality, we're speaking out about how porn actively fuels and normalizes these very same issues.
But not here. As an awareness and education organization, we're calling out the industry. It's time for this generation to rise up, rebel, and demand a change in the conversation around porn.
We're fighting for meaningful relationships built on respect and trust with the people that mean the most instead of staying silent about the world's worst educational resource for sex: porn.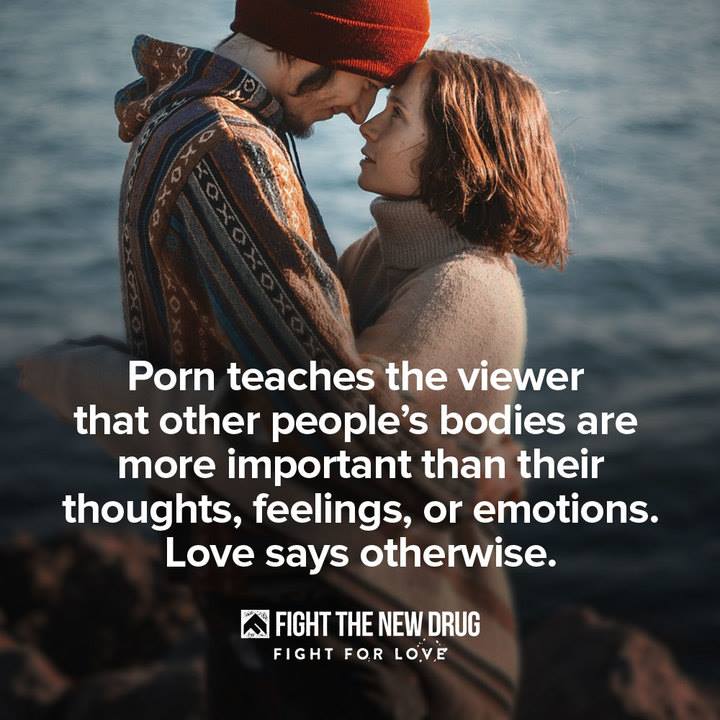 Get Involved
There's nothing sexier than two, committed partners in love. SHARE this article and raise awareness that porn is anything but harmless entertainment.
Spark Conversations
This movement is all about changing the conversation about pornography. When you rep a tee, you can spark meaningful conversation on porn's harms and inspire lasting change in individuals' lives, and our world. Are you in? Check out all our styles in our online store, or click below to shop: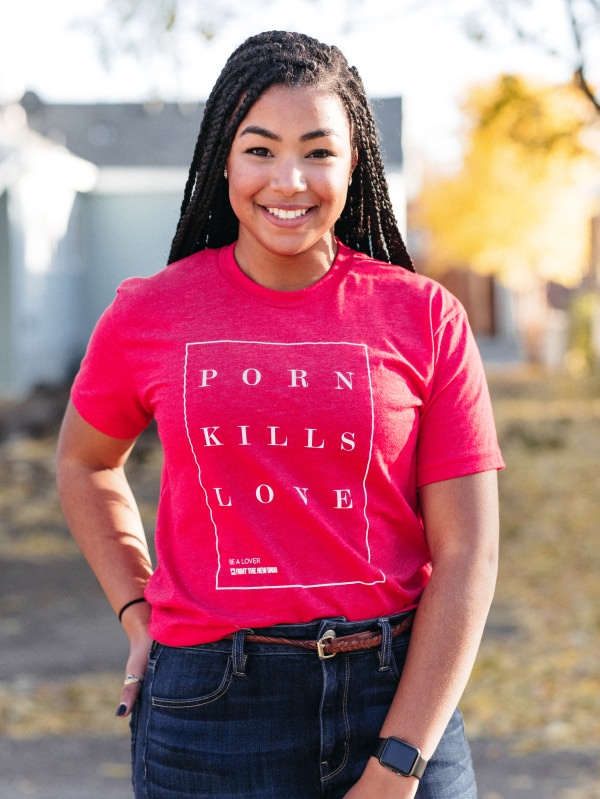 [1] Victor C Strasburger, Amy B. Jordan, and Ed Donnerstein, "Health Effects of Media on Children and Adolescents," Pediatrics 125, no. 4 (2010): 756-767
[2] Layden, M. A. (2010). Pornography And Violence: A New Look At The Research. In J. Stoner And D. Hughes (Eds.) The Social Costs Of Pornography: A Collection Of Papers (Pp. 57–68). Princeton, NJ: Witherspoon Institute.
[3] Bridges, A. J., Wosnitzer, R., Scharrer, E., Chyng, S., And Liberman, R. (2010). Aggression And Sexual Behavior In Best Selling Pornography Videos: A Content Analysis Update. Violence Against Women 16, 10: 1065–1085.
[4] Rizzolatti, G. And Craighero, L. (2004). The Mirror-Neuron System. Annual Review Of Neuroscience, 27, 169–192.
[5] Layden, M. A. (2010). Pornography And Violence: A New Look At The Research. In J. Stoner And D. Hughes (Eds.) The Social Costs Of Pornography: A Collection Of Papers (Pp. 57–68). Princeton, NJ: Witherspoon Institute; Doidge, N. (2007). The Brain That Changes Itself. New York: Penguin Books; Malamuth, N. M. (1981). Rape Fantasies As A Function Of Exposure To Violent Sexual Stimuli. Archives Of Sexual Behavior 10, 1: 33–47.
[6] Layden, M. A. (2010). Pornography And Violence: A New Look At The Research. In J. Stoner And D. Hughes (Eds.) The Social Costs Of Pornography: A Collection Of Papers (Pp. 57–68). Princeton, NJ: Witherspoon Institute; Paul, P. (2007). Pornified: How Pornography Is Transforming Our Lives, Our Relationships, And Our Families. New York: Henry Hold And Co., 80; Berkel, L. A., Vandiver, B. J., And Bahner, A. D. (2004). Gender Role Attitudes, Religion, And Spirituality As Predictors Of Domestic Violence Attitudes In White College Students. Journal Of College Student Development 45:119–131.