Cover photo Stills By Alan, screenshot from YouTube/Girlsway.
It's still the first half of 2019, and already, there's a new allegation of sexual abuse within the porn industry.
Just days before New Year's Eve 2018, performer Lily Adams (link trigger warning) accused an award-winning director, professionally known as Stills By Alan, of assaulting her on a "go-see," an in-person meeting between a performer and director.
In her Twitter post series describing the meeting, Adams stated the incident occurred two years ago when she was new to porn performing. According to her, Alan invited her to his house, which at the time she didn't see as a red flag. They had a coffee, and then he asked her to undress. She did so, believing that this was a typical procedure for booking a gig because she was so new to the industry.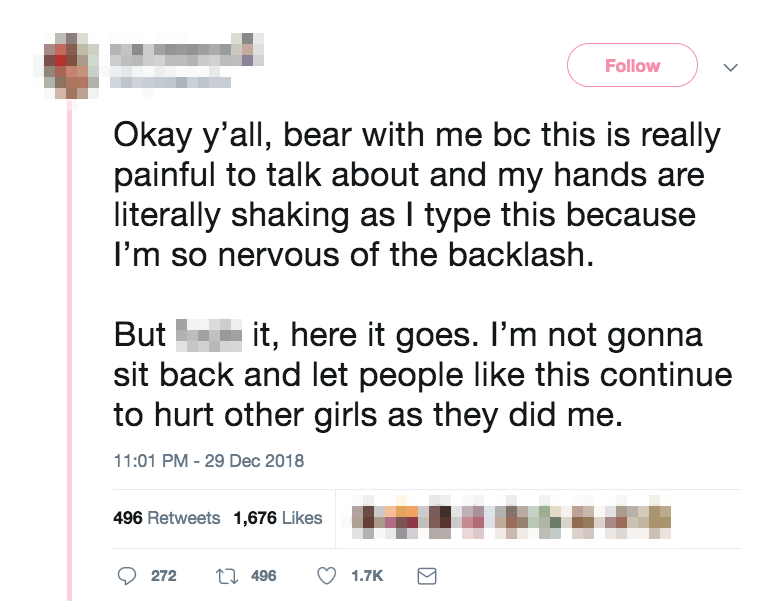 When describing the sexual interaction in the Twitter thread that followed, Adams sounded confused over the consensual nature of what happened. She wrote, "I mean, I never said yes but did not say no either?" Quickly, the situation grew more aggressive and painful. It was clearly beyond her boundaries and so she asked him to stop. Adams recalled:
"He said something along the lines of 'I'm old enough to be your father, you do as I say.' Completely traumatized, I laid there crying into the pillow while he continued [to rape me]."
Finally, when Adams left Alan's house, she broke down crying, still trying to comprehend what happened. It might be at that point she knew Alan's behavior wasn't standard procedure, and he had fully taken advantage of her.
Not too long ago, Adams received an encrypted email from another performer, alleging that they had also been assaulted by Alan.
Related: The Weinstein Effect: Selective Hearing When It Comes To Sexual Exploitation
Lily Adams now joins the growing list of female porn performers who have publicly spoken out about their mistreatment, harassment, and abuse in the porn industry. Nikki Benz, Jenny Blighe, Leigh Raven, and Riley Nixon are a few recent examples of performers who risked their careers—and paid the price—in order to report co-stars, directors, or producers.

A rare result
Adams never told anyone about the encounter until this year. Other performers had told her they also had issues working with Stills By Alan, and she felt it was time speak out. Considering that other victims who publicly spoke out about abuse in the porn industry were booked less frequently and/or attacked online, it's not surprising very few performers are willing to speak out.
"But f—k getting blacklisted. F—k an industry that protects rapists and nominates them to be 'best director,'" Adams wrote referencing Stills By Alan's nomination for best director at the porn industry's version of the Oscars. "To see that makes me sick to my stomach."
We completely agree. And yet, there was something different about Adams' post.
Instead of her accusation being completely disregarded, the day after it went live, Gamma Films, a production company Alan regularly worked for, released a statement that they had suspended work with Stills By Alan until there could be an appropriate investigation.
Bree Mills, the showrunner at Gamma Films, was also accused in Adams' post for "brushing off" women who complained of misconduct by Alan. Mills has since posted on her Twitter that she is encouraging an official and legal investigation and will cooperate so that all aspects of her leadership can be reviewed.
This is a surprising step toward what seems like respect for Adams' story while also allowing for a proper investigation—treatment that many performers haven't gotten in the wake of publicly sharing their own #MeToo stories.
Consider the nine women who have accused James Deen of sexual harassment, overly rough treatment on set, and abuse, yet he remains the third most-searched for male performer according to Pornhub's 2018 statistics. Could it be possible that Lily Adams' story is a sign of change?
There's no word yet as to whether or not her professional reputation has suffered or if she's been blacklisted.

Why this matters
The porn world has been slow to accept and act on the unstoppable #MeToo movement, which is why we continue to expose this abuse. The industry has been able to get away with these abuses—and yes, abuse is still abuse even in porn—for too long.
This industry cannot be allowed to operate without rules simply because porn is traditionally a secretive and taboo, yet ubiquitous, business. Performers who report abuse and sexual misconduct on and off-set should not be faced with questions like, "What did you expect would happen?" Victim-blaming shifts the blame away from an industry that has covered up and normalized abuse and ultimately operated with no professional codes of conduct or means of accountability.
We hope this changes, and signals to consumers that the abuse, violence, and degradation on (and off) screen in the name of "sexual entertainment" is all too real. We believe that if consumers truly knew the proven harmful effects of porn and its connection to exploitative stories like Lily Adams', they'd choose not to engage. This is why we fight, this is why we expose victimization and unacceptable behavior by the porn industry where it thrives in secrecy.