The 2016 Pornhub Year In Review has been released.
It is now 2017 and the reality of the digital age that we live in is that internet porn is more vast and varied than just about anything else that can be found on the internet.
In fact, in the "Rules of the Internet"—a comical list of protocols and conventions which first appeared years ago on a popular online forum—Rule 34 simple states: "If it exists, there is porn of it. No exceptions." The rule explains that if you can think of a pornographic scenario, theme, or style—no matter how random or innocent it may seem—then such porn will already have been made and will be available online. If it's somehow not out there, then it is only a matter of time before such porn is made. For example, pornographic images of fictional characters from cartoons, TV shows, and video games are constantly the subject of "Rule 34" discussions.
The point is, we are the first generation to be completely bombarded with graphic sexual material every time we get online. Think about it: what other time in human history has there been unlimited access to pictures and videos of every sex act imaginable (and unimaginable) with the click of a button? What other periods in society have humans been able to type a single word into a search engine and receive millions of pages of porn in less than a second? We are truly living in a new world, which is why a very harmful porn culture has developed in our society, making porn seem like a normal part of everyday life.
To see the reality of this pornification of society, one needs to look no further than the annual report released by the world's largest porn site at the end of each year. Beginning in 2013, the company releases a "year in review" on its blog that shares detailed analytics from the site, containing information like Favorite Porn Star, Most Popular Search Terms, and Average Time Spent Ver Visit.
Now that we have officially entered 2017, Pornhub has finally released its analytics from 2016 and is now giving people a look into society's porn habits and sexual preferences as shown by their site.
And they're as disturbing as they've ever been.
Let's dive into the sheer number of people who visit this mega porn site each year: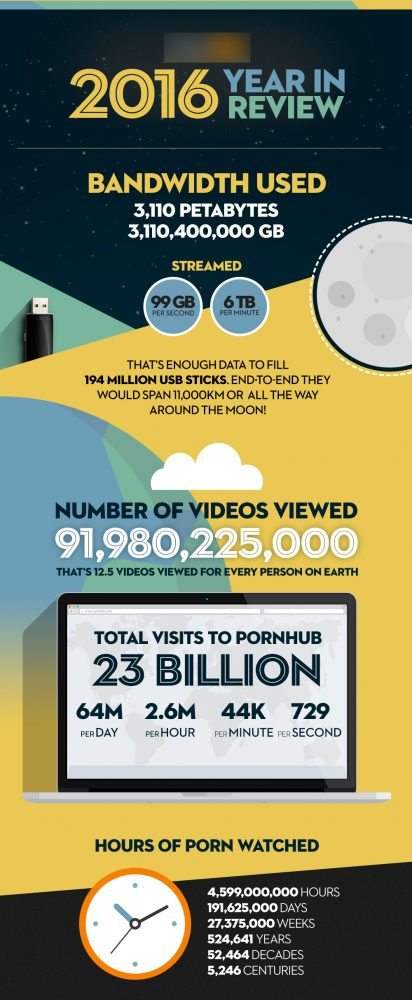 That's right. People spent nearly 4.6 billion hours on Pornhub last year, which breaks down to 23 billion visitors watched a total of 91.9 billion videos, all which have increased since last year's report. Pornhub boasts that this figure equates to if every human being on the planet (man, woman, child) viewed 12.5 videos each. To put that into even clearer perspective, the analytics show that an average of 64 million people were watching porn on just this one site on any given day. 64 million people each day.
But let's be honest: we already knew that lots of people watch porn, right? It seems to be completely normalized in our society so it's no surprise that these massive porn tube sites are getting insane amounts of traffic. However, what's truly concerning is what viewers are watching while they are there.
So what is the most popular search term on the world's largest porn site in 2016?
See for yourself: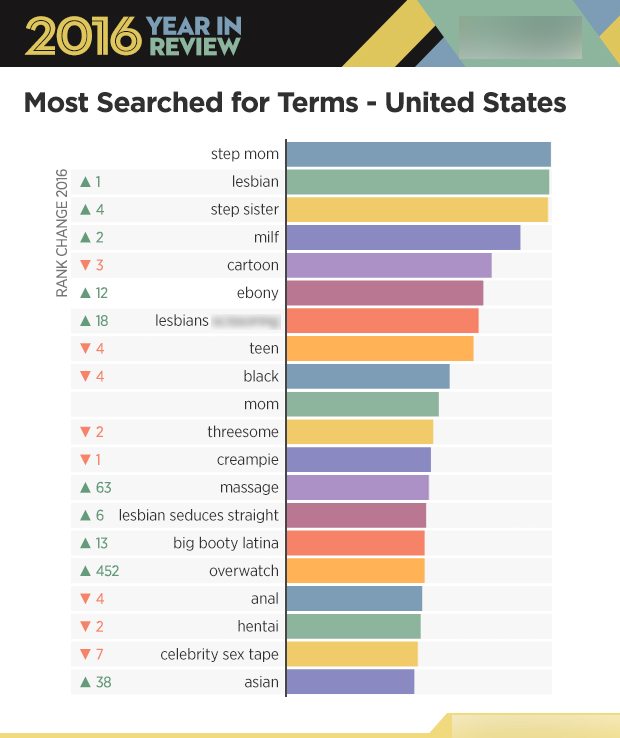 Yes, you read that right. For the second year running, step mom porn is the most-searched genre of porn in America.
As unsettling as this finding is, it's only when you really break it down and consider what it means that you really understand how harmful this is. The fact that 'step mom' is the most popular genre of porn throughout 2015 and 2016 means that there is a massive interest in sexually explicit videos of women who look and act like mothers, having sex with a male or female they are supposed to be related to. Not only is this an incredibly odd scenario, it's just plain disturbing. And if that's not bad enough, it's important to note that the search term 'step sister' has risen four spots from last year to become the third most popular category of porn. That's right, two out of three of the most-searched porn on the world's most popular porn site are incest.
After seeing this data, here is what people should be considering: If hundreds of millions of people are intentionally searching and viewing porn involving scenarios of moms having sex with sons/stepsons and daughters/stepdaughters (not to mention brothers/stepbrothers and sisters/stepsisters) what do you think this is doing to our society's sexual tastes and expectations? Is it fair to assume that this massive viewing and demand for stepmom and stepsister porn is making the viewer think that sex with family members is okay? Or at the very least, that if you are not technically related to someone in your family, that it is somehow exciting to have sex with them?
Due to the science and research on porn's effects on rearranging and rewiring people's sexual template, we can tell you that this is taking a serious toll on people. Unfortunately, porn has become a powerful and common version of sex education for many. What's most dangerous is that this distorted form of education is being delivered in a way perfectly tailored to how our brains learn. Studies have shown that images are an especially powerful teacher, since they can pack in a whole lot of information that the viewer can understand very quickly. And while words are often interpreted as opinions, our brains are more likely to interpret images as fact; after all, it's a lot harder to argue with something you're seeing happen right in front of you. Now here's the kicker: Research has shown that our brains learn better when they're sexually aroused. When you add in the focused concentration of clicking through endless pornographic images to find exactly what the viewer is looking for, and reinforcing what's being taught with the reward of sexual pleasure, it creates the perfect conditions for teaching and conditioning the brain.
"It's sad," said Dr. Gary Brooks, a renowned psychologist at Texas A&M who specializes in studies on porn's negative effect on men. "[Viewers] who are initiated in sex through these images become indoctrinated in a way that can potentially stay with them for the rest of their lives."
There you have it. Pornography is cultivating a generation of people who find the concept of stepfamily members to be the most sought after objects for sexual arousal.
Sound like a world you want to live in?
Not us.