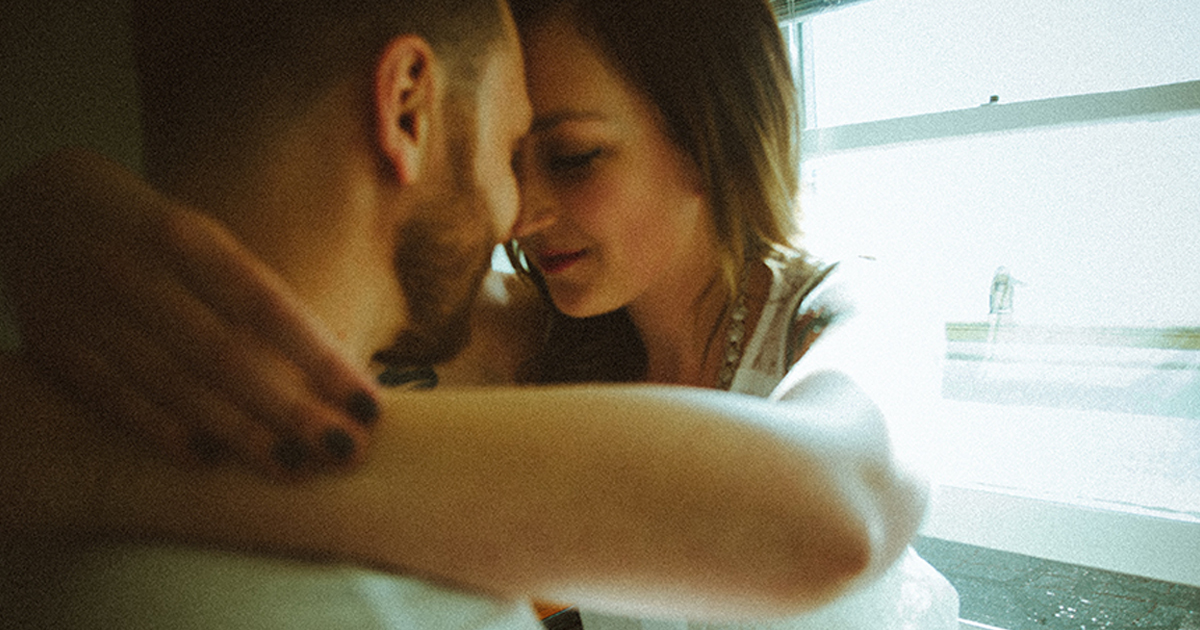 Let's talk about love for a minute.
Think about the people who have had the greatest impact on your life. Think of your parental figures, an awesome teacher, or your best friend. If you have a significant other, picture them and their happiness. Regardless of who that person is in your life, think of how much you cherish and love all that they are and what they bring to your life. Love is something that unifies us and gives us life.
Now, let's compare that to porn.
Porn is graphic and explicit, and shows the human body as a sex object to be used, exploited, and discarded. It's a twisted portrayal of real connections, a counterfeit, a lie to consumers. It shows transactional sex that's drained of any true passion or love or intimacy, infused with aggression and performance exaggeration. In the end, the consumer is left with a shocking spectator sport of sex.
Think of it this way: porn is a crude stick figure compared to the beautiful painting of relational sex. Is that really what anyone is truly looking for?
Which do you prefer?
Here at Fight the New Drug, we're all about fighting for real love and fighting for true passions that make life even better. We want you to love, to be loved, and to love life. Here are three ways porn can poison love, and infect healthy relationships.

1. Porn harms your sex life
Sex is ideally an incredible, beautiful expression of the deepest feelings of love between two emotionally connected human beings.
Pornographers want consumers to think that sex is all about getting what you want, when you want it, regardless of how anyone else is treated in the process. What they don't tell you is that consistent porn consumption weakens, hinders, and destroys intimate connections in relationships. We receive countless personal stories about relationships torn apart due to a partner's excessive interest in porn.
Not to mention that porn can lead to the objectification of the consumer's partner. Studies have shown that even casual consumption of porn can cause the consumer to feel less attracted to their partner. And when a person frequently watches pornography, they're far more likely to feel less satisfied with their partner's looks, sexual performance, and willingness to try new sexual acts. What's sexy or relationship-building about that?
2. Porn leaves you lonely
When people consume porn, it can have some serious mental costs. From body-image issues to depression and anxiety, the list of porn's side effects aren't pretty. For many people, porn becomes an escape from having to deal with problems, but it only leaves them feeling hollow, empty, and without purpose afterward. Plus, the shame that invariably accompanies watching porn leads to an increased strain on relationships and self-esteem, resulting in loved ones and friends pushed to the side as porn takes center stage.
Research suggests that depression, anxiety, and loneliness are closely linked to porn. Instead of escaping these real-life issues by watching porn, watching more of it only leads to more sadness, more emptiness, more darkness. Sometimes, this leads people back to porn, continuing a vicious cycle of relying on porn as an escape and it only makes the problem of loneliness worse. Choose love over something that will only make you lonelier.

3. Porn hurts your partner
The Family Research Council has reported some pretty compelling research on the damaging impact of porn in viewers' relationships. For instance, people who admit to having extramarital affairs were over 300% more likely to admit consuming porn than those who have never had an affair, according to a 2004 study in Social Science Quarterly. That study was 15 years ago, and porn has only gotten more available, affordable, and accessible. Additionally, plenty of other research shows it leads to increased disinterest in marriage and forming long-term commitments.
It is very common, when partners find out that their other half has been consuming porn, for them to feel a whole range of negative emotions including rejection, humiliation, abandonment, isolation, loneliness, jealousy, anger, and shame. [1] Even if they don't believe that porn is the same as cheating, they often feel a deep sense of loss, betrayal, and mistrust. [2] The secrecy, shame, isolation, and lies that are often introduced into a relationship by compulsive porn consumption can snowball into all kinds of problems. [3]
But even if porn isn't kept a secret—even if partners are open and honest about their consumption—it can still do real harm. We mentioned earlier that porn consumption can lead to less satisfaction and less interest in one's partner. [4] Why does that happen? Part of the answer is that porn rewires the brain, so that consumers of porn become less responsive sexually to their partner, even though they can still respond to porn. [5]

Why we fight
Real love is sexy, not fake pixels on a screen like porn.
Love is something that brings meaning and purpose to life, it's something that we are all after. The porn industry wants you to believe that all you need is a screen to be sexually satisfied, or that their product will only improve your existing relationships. Neither are true.
Porn is marketed as empowering, but it is really one of the most sex-negative things out there. Anything that claims people are just a compilation of body parts is not healthy. Love is worth fighting for, and porn can kill the love consumers have for them self, their partner, or the world around them.

[1] Kalman, T. P., (2008). Clinical Encounters with Internet Pornography, Journal of the American Academy of Psychoanalysis and Dynamic Psychiatry, 36(4), 593-618. doi:10.1521/jaap.2008.36.4.593; Bergner, R.M., & Bridges, A. J. (2002). The significance of heavy pornography involvement for romantic partners: Research and clinical implications. Journal of Sex and Marital Therapy, 28, 193-206. doi:10.1080/009262302760328235
[2] Bridges, A. J., Bergner, R. M., & Hesson-McInnis, M. (2003). Romantic Partners' Use of Pornography: Its Significance for Women. Journal of Sex and Marital Therapy, 29(1), 1-14. doi:10.1080/713847097; Schneider, J. P. (2000). Effects of Cybersex Addiction on the Family: Results of a Survey. Sexual Addiction and Compulsivity, 7(1), 31-58. doi:10.1080/10720160008400206
[3] Maddox, A. M., Rhoades, G. K., & Markman, H. J. (2011). Viewing Sexually-Explicit Materials Alone or Together: Associations with Relationship Quality. Archives of Sexual Behavior, 40(2), 441-448. doi:10.1007/s10508-009-9585-4; Wildmon-White, M., & Young, J. (2002). Family-of-origin characteristics among women married to sexually addicted men. Sexual Addiction and Compulsivity, 9(4), 263-273. doi:10.1080/10720160216042; Schneider, J. P. (2000). Effects of Cybersex Addiction on the Family: Results of a Survey. Sexual Addiction and Compulsivity, 7(1), 31-58. doi:10.1080/10720160008400206
[4] Park, B. Y., et al. (2016). Is internet Pornography Causing Sexual Dysfunction? A Review with Clinical Reports, Behavioral Sciences, 6, 17. doi:10.3390/bs6030017; Minarcik, J., Wetterneck, C. T., & Short, M. B. (2016). The effects of sexually explicit material use on romantic relationship dynamics. Journal of Behavioral Addictions, 5(4) 700-707. doi: 10.1556/2006.5.2016.078; Morgan, E. M. (2011). Associations between Young Adults' Use of Sexually Explicit Materials and Their Sexual Preferences, Behaviors, and Satisfaction. Journal of Sex Research, 48(6), 520-530. doi:10.1080/00224499.2010.543960; Maddox, A. M., Rhoades, G. K., & Markman, H. J. (2011). Viewing Sexually-Explicit Materials Alone or Together: Associations with Relationship Quality. Archives of Sexual Behavior, 40(2), 441-448. doi:10.1007/s10508-009-9585-4; Yucel, D. & Gassanov, M. A. (2010). Exploring actor and partner correlates of sexual satisfaction among married couples. Social Science Research, 39(5), 725-738. doi:10.1016/j.ssresearch.2009.09.002
[5] Park, B. Y., et al. (2016). Is internet Pornography Causing Sexual Dysfunction? A Review with Clinical Reports, Behavioral Sciences, 6, 17. doi:10.3390/bs6030017; Voon, V. et al. (2014). Neural Correlates of Sexual Cue Reactivity in Individuals with and without Compulsive Sexual Behaviors. PLoS ONE, 9(7), e102419. doi:10.1371/journal.pone.0102419; Kalman, T. P., (2008). Clinical Encounters with Internet Pornography, Journal of the American Academy of Psychoanalysis and Dynamic Psychiatry, 36(4), 593-618. doi:10.1521/jaap.2008.36.4.593