TRIGGER WARNING
Trigger warning for descriptions of pornographic content and inclusion of derogatory terms in porn video titles.
The porn industry seems to have no boundaries when it comes to who they'll exploit or dehumanize in the name of sexual entertainment.
In fact, if something is considered taboo, unacceptable, or off-limits in society, producers are all the more likely to exploit it for shock factor and sell it as a sexual "fantasy." This is a problem because porn isn't exactly like the movies—producers don't show things so people can learn, have empathy, be entertained by a solid joke or humorous situation, or gain an understanding of a complex issue through scripts and storytelling.
Porn does something entirely different.
Porn glorifies the abuse, degradation, and dehumanization of those on-screen by specifically intending their humiliation to be sexual entertainment. These fetishized situations in porn have no regard for the dignity or humanity of any one person depicted.
Porn intentionally makes objects out of people, some of whom are struggling with poverty, are young and vulnerable in age, are marginalized because of their sexual identity, or were born with certain disabilities or physical/mental challenges. Porn content exploits the marginalized situations of those depicted by sexualizing them, and turning a problematic situation deserving of attention or assistance into a sexually exploitive one.
Watch expert Taina Bien-Aime discuss how the issues porn fantasizes wouldn't be accepted under any other circumstances:
Now, it isn't news that pornographers prey on "plots" involving marginalized people, selling their vulnerabilities as sexual fantasy at the expense of those exploited as well as those consuming. Yet, isn't it interesting how in porn so many things are normalized that wouldn't be tolerated in any other scenario?
Here are six quick examples of societally marginalized groups of people who are exploited and fetishized by the porn industry.

1. Incarcerated persons
In today's extreme mainstream porn world, the illusion of scripted fantasy isn't enough—now, it's becoming more popular for "real" videos of exploitation to be sought after and demanded. And pornographers and porn content-creators alike have no issue with making content that satisfies that growing demand.
Consider the story of the Florida attorney who was accused of paying female inmates to take explicit photos and videos with him for his "Girls In Jail" porn series.
Related: Police: Florida Attorney Caught Filming Porn Videos In Jails With Female Inmates
Yes, this really happened, but he's no pioneer of the prison genre when it comes to porn. Consider how one quick search on the internet reveals thousands of prison abuse videos, specifically focused on violently mistreating incarcerated people—and all of these videos are created with the intention to sexualize this abuse and to arouse a consumer.
This is just one example of how the porn industry disregards people to sexualize and fetishize any and every situation possible, even if that person is a marginalized inmate.
2. Immigrants and refugees
One of the most popular pornography companies in the world launched a porn site a couple of years ago that featured the "fantasy" of American border patrol agents catching undocumented Mexican and Central American women attempting to cross the border, arresting them, handcuffing them, raping them, and then sending them back across the border. (To be clear, these are actors portraying these roles based on true events.)
While many may believe that porn fantasies are fair game, the actual reality of the series is too close for comfort. A recent Fusion investigation revealed that 80% of women and girls crossing into the U.S. from Mexico are actually raped during their journey. Porn fetishizes these real-life exploitative situations for the arousal of anyone who will click—and many people do click on immigrant abuse videos.
Related: Understanding The Disturbing Rise In Popularity Of Refugee-Themed Abuse Porn
Not only do porn companies capitalize on the vulnerabilities of immigrants, but refugees, too. Regardless of where anyone stands when it comes to the situation surrounding refugees globally, the abuse that many refugees endure isn't something that should be further exploited or fetishized. That doesn't stop the porn industry from making sure to capitalize on these exploitative situations and selling it as graphic fantasy.
Don't believe us? One of the most popular porn sites doesn't just have a few videos, but an entire section dedicated to "Syrian Refugee Porn," which is not exactly surprising given that over 6.7 million Syrians have fled their homes since 2011.
Here are a few real storylines from some of the most popular porn sites:
"Muslim refugee beautiful pregnant mom f— by white guy…"
"Afghan refugee f—ing for money…"
"Poor Arab refugee girl picked up from the side of the road. Lured into the car for a ride. Exploited as an easy piece of f— meat…"
These storylines all fetishize real-life situations. For being an industry that claims to care about current issues affecting our society, dedicating entire sites and genres to immigrant and refugee abuse doesn't seem very humanitarian.
Related: Mia Khalifa's Story Is Proof Of The Porn Industry's Predatory Business Practices
Exploiting the real-life tragedies of those who can't speak for themselves and reinforcing it as fantasy is in character for the porn industry. This isn't unique, but that doesn't make it any less concerning.

3. Those in the LGBTQ+ community
One quick Google search pulls up porn genres and entire porn sites specifically dedicated to the abuse, degradation, and humiliation of transgender persons. Many of these videos are clearly focused on "punishing" and humiliating them with forced, painful sex acts, often using highly derogatory terms such as "tranny" and "shemale," among others.
Here is a screenshot of what search results pop up when a user types in "tran" on Pornhub. (Note that as of 2021, this screenshot is a couple of years old, but consider this as proof that one of the world's largest porn sites hosted this content even if it has been deleted by now.)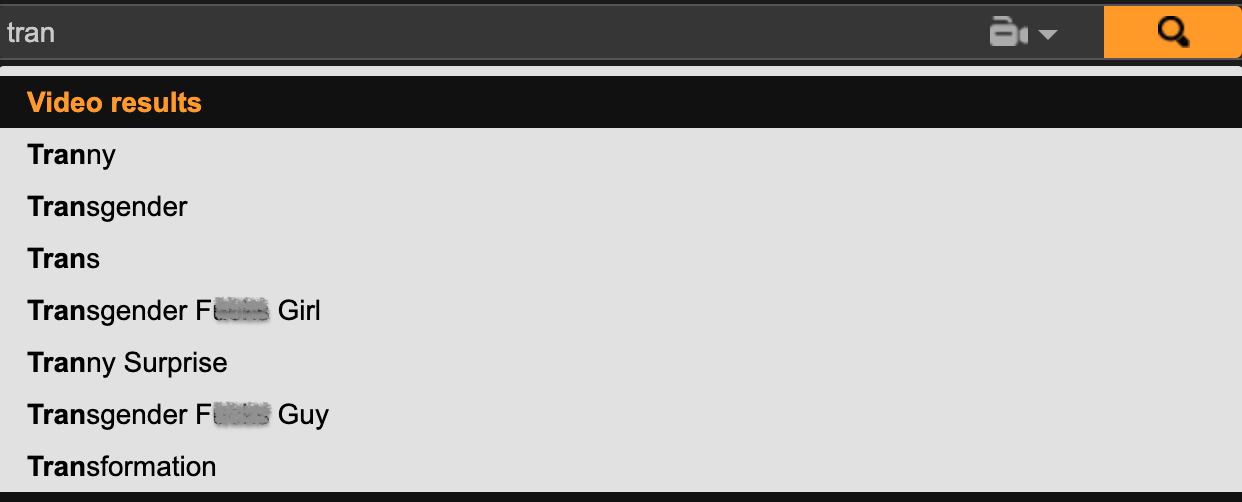 Many of these videos on certain sites have thousands of views and some are ranked by the grade of abuse.
Additionally, the most popular porn genre for more than a few years has been "lesbian porn." Exaggerated and inaccurate caricatures of female same-sex relationships are the focus of an objectifying fantasy in these videos, often produced for a male audience. These "girl on girl" scenes aim to fetishize a sexual orientation and play up stereotypes that often misrepresent what lesbian relationships are truly like.
Related: Pornhub Stats Reveal Women Search For More Hardcore Genres Than You Might Expect
As we've noted in previous posts, women do look up "lesbian porn" as well as male consumers. The theory behind this trend is that even if the content was not necessarily produced with a female audience in mind, often "girl on girl" content is less aggressive.
But what do real lesbians think about "lesbian porn?" Buzzfeed did a video on this and had women who are lesbians critique "girl on girl" porn. While it's too triggering to embed here, it shows something important about this content: it's not made by lesbians, for lesbians. It's made specifically for heterosexual men.
"This is definitely porn for men," one of the women in the Buzzfeed video says.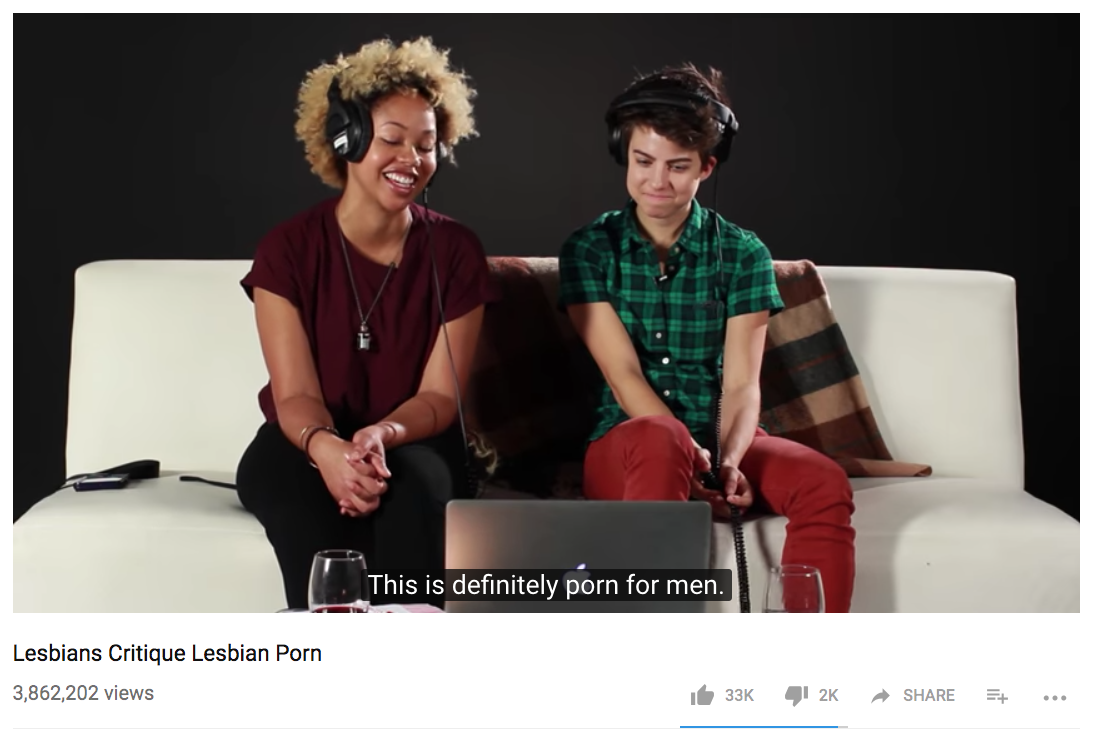 "It's not real, it's not honest, it's not for the people it's 'apparently' for. It sucked," another one of the Buzzfeed video participants said.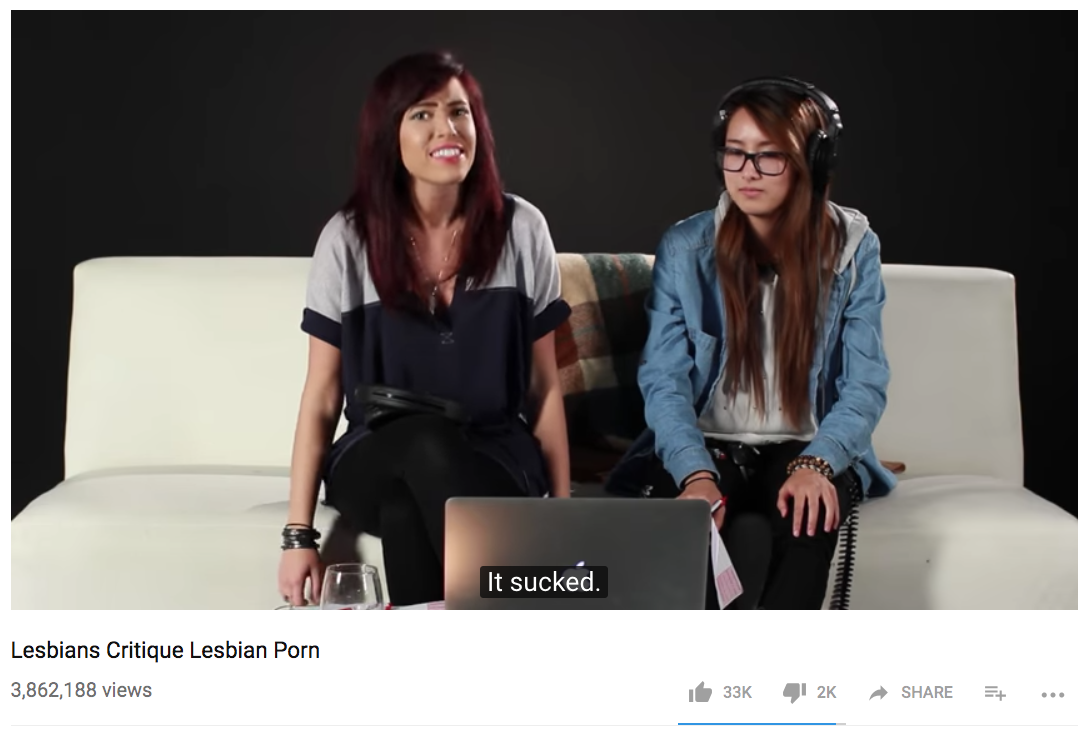 For an industry that often markets itself as being LGBTQ+ friendly, the specific use of these derogatory terms and exploiting and fetishizing LGBTQ+ relationships make it clear that nothing is off-limits or too far for porn producers.
4. Black, Indigenous, and People of Color (BIPOC)
The porn industry didn't invent racism, but it certainly profits from it.
According to a report by Dr. Gail Dines President and Founder of Culture Reframed and anti-porn activist, and Robert Jensen, "The racism of the industry is so pervasive that it goes largely unnoticed." (FTND note: this report focuses on political issues on which FTND has no position as a non-legislative organization.)
Here is a simple sample of titles that are/were reportedly available on a popular porn site:
– "Black Slave Punished by White Master"
– "White Cops F— Black Chick, Force Boyfriend to Watch"
– "Gang Banged by Blacks"
– "Skanky N—r gives a Blowjob"
– "Black Slave Girl Brutalized"
This is content that's easily accessible. On any mainstream porn site, even aside from Pornhub, it won't take long to stumble upon any number of racist titles that promote offensive and unwarranted ethnic and racial stereotypes. In a report titled Racism in Pornography, (trigger warning: link leads to explicit descriptions of porn) Alice Mayall and Diana E. H. Russell provide examples of blatantly racist titles including, "Animal Sex Among Black Women," "Geisha's Girls," "Gang Banged by Blacks," and the list goes on.
Related: Why Does The Porn Industry Get Away With Racist Portrayals Of Black People?

In porn, so many things are normalized that wouldn't ever be tolerated in any other scenario or industry, especially in our society today.
According to our sources, Pornhub's search bar used to auto-populate suggested terms with the n-word if a user typed it in. And, in summer 2020, information circulating on Twitter has shown that Pornhub reportedly approved ads and videos to be monetized that contained the name "George Floyd" in the title. If this was true, it means Pornhub reportedly profited from content that is exploiting his death. How was this at all acceptable?
This "Daily Beast" article by Aurora Snow exposed the realities of racism and racist casting in the general mainstream porn industry.
Related: Why The Racist Content On Mainstream Porn Sites Is Only Getting Worse
The article explains how black performers are treated differently not only on-screen, but they're also treated poorly on sets when the camera isn't rolling.
Additionally, in general, black women in porn are paid less than white women purely based on the fact that they're black. And the roles black women are cast in are often completely racially stereotyped.
From the article, performer Daisy Ducatti said, "There are people that genuinely don't give a f— because there is profit in racism, there are racist people willing to pay… It's not even a hush-hush thing. I've had directors straight-up tell me that they can't pay me as much as the white performer that I'm performing with."
Let's hold the porn industry accountable for the role it plays in promoting and normalizing racism and racist stereotypes.
At Fight the New Drug, we are listening and we are fighting—are you with us?
5. Children and teens
One of the most popular search terms on porn sites is problematic. "Teen porn" has ranked within the top ten genre searches on Pornhub in the last five years or so, making it pretty clear how much consumers look for "seemingly" underage performers even if the genre itself is marked as "Teen (18+)." The genre glorifies the fantasy of child porn and can introduce audiences to content that may not have otherwise looked for, and they may go on to search for younger and younger content.
But hold on a second. Child exploitation material is illegal in most countries. How do porn sites get away with underage "teen porn" if an actor has to be at least 18 years old? There are two answers to this. One is that, sometimes, those depicted in videos really are underage, and they're likely victims of trafficking, abuse, or exploitation.
Another answer takes us back to 2002, when the porn industry lobbied to change the 1996 Child Pornography Prevention Act.
Related: Investigation Reveals Sharp Rise In Hidden Links To Child Porn On Adult Porn Sites
Dr. Gail Dines explained that the Free Speech Coalition (FSC)—who happens to be the porn industry's chief lobby group—brought a case to the US Supreme Court to overturn the act, which prohibited any images that were or appeared to be of a minor engaging in sexually explicit conduct. The case was built around the phrase "appears to be" claiming "limitations on freedom of speech." Long story short, the FSC won.
As a result of the victory, the porn industry was free to create computer-generated images of children in content, or alter the aesthetics of real performers who are of legal age, making them appear childlike. It is these images, Dines said, that have made "teen porn" not only legal, but an incredibly popular genre.

6. Those with intellectual or physical challenges/disabilities
One simple search on a porn site yields multiple categories of explicit content that capitalizes on exploiting intellectually and physically challenged/impaired individuals. Videos depicting the abuse of amputees, paraplegics, and those who are on the Autism spectrum have tens of thousands of hits, some of them with hundreds of thousands of hits.
These videos specifically play up the difficulties of the depicted individuals, making entertainment out of their physical challenges or making light of their intellectual difficulties in order to embarrass them. There is a distinct "freak show" vibe about these videos, marketing these individuals as "bizarre" or "weird."
The porn industry will exploit anyone and everyone it possibly can.
Related: What Happened When This Porn-Consuming Teen Turned To Reddit For Real Sex Advice
Why this matters
Porn has a seriously powerful ability to influence what people see as acceptable and normalizes whatever is shown. The porn industry seems to get a free pass to promote endlessly harmful and abusive content in the name of sexual entertainment to anyone with an internet signal, and it's a problem.
Think about it: if the average film or TV show had the same kind of exploitive and extreme abuse content that you see on mainstream porn sites, you can bet that those studios would be shut down and condemned for promoting fetishization of LGBTQ+ individuals, or the abuse of refugees and intellectually challenged individuals. But this content was not created in a vacuum, unfortunately. This demand exists because of the escalating nature of porn, and because porn culture is all too present in our society.
Related: Sex Sells, But In Today's Porn Culture, Objectification And Dehumanizing Violence Sell More

Regardless of where someone stands on dividing political issues, we can all agree that people do not deserve to be abused, and that it is unacceptable for the most vulnerable individuals in society to be exploited for "entertainment."
The truth is, porn glamorizing abuse and exploitation of marginalized individuals wouldn't exist if there wasn't a demand for it. Every view, click, and download fuels the demand for the continued production of violent porn and reinforces attitudes and behaviors of degradation and objectification. Supporting the industry further perpetuates abuse and will continue to drive pornographers to create content that exploits and fantasizes abusing vulnerable and marginalized people.
We didn't get here by accident. As a society, we are generally too accepting of the porn industry pushing content to the extreme, and inspiring others to do the same. But no more.
We can fight for those who can't fight for themselves. Refuse to click, spread the word that the porn industry is far from a source of unity, equality, and respect. Together, we can help stop the demand.