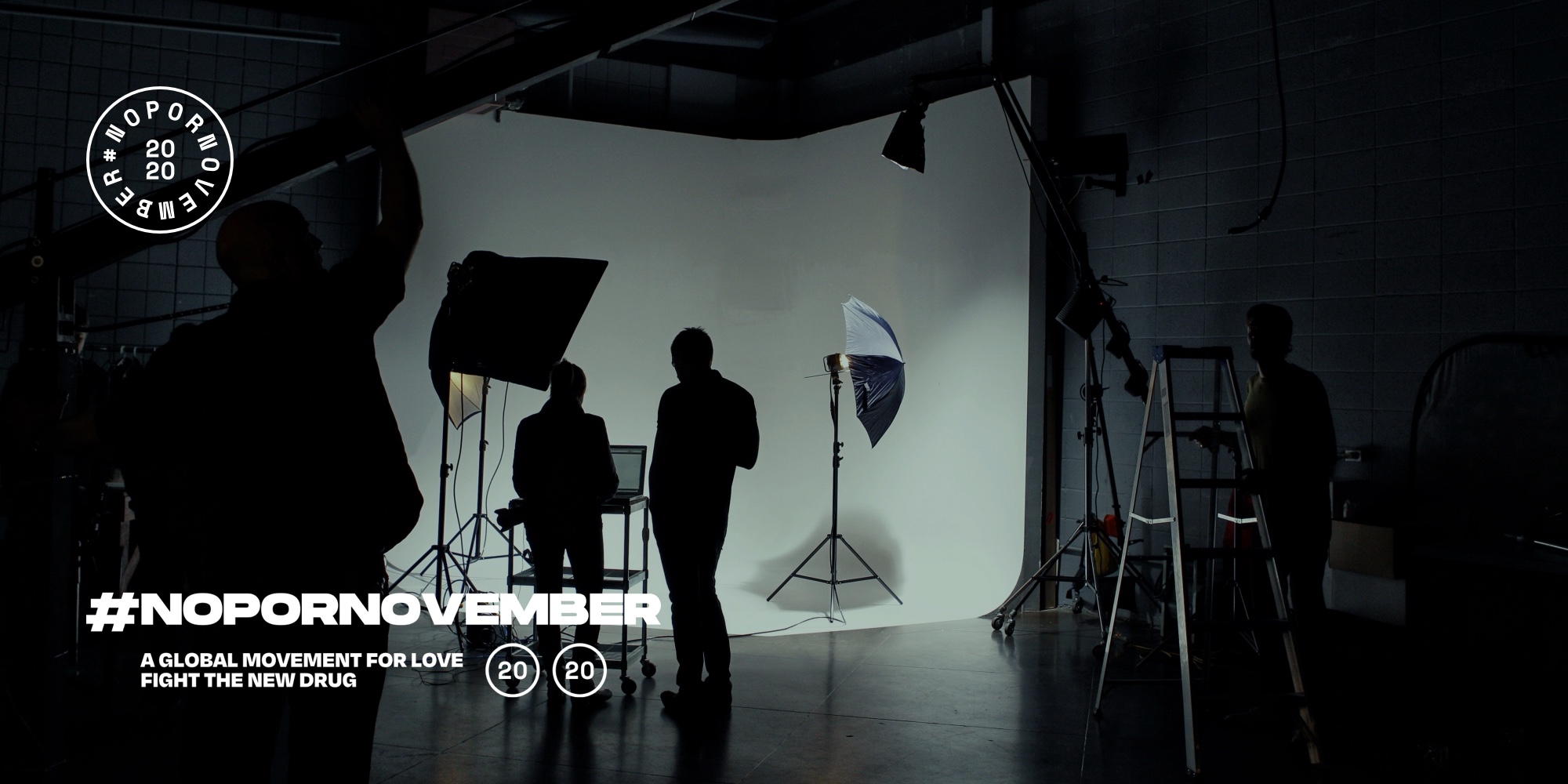 We've been told that there are tons of plastic in the ocean. In response, countries are saying no to non-recyclable, single-use coffee cups and plastic straws. It's also been publicized that many companies use unethical labor practices to create fast fashion. If cheap items are made in China or Bangladesh, many consumers want to know by whom and if that person was paid a fair wage. It's all a start to a healthier world, right?
We are more likely now to wonder how each product or service we use affects us and the world. We haven't completely fixed any of these or the thousands of other issues yet, but there is a shift in demand.
So why not porn? Porn and its negative effect on cultures are widely agreed upon in the research community, and yet it lives in this strange category of ambivalence, avoided in daily conversation yet widely accepted as a type of "self-care."
In reality, porn doesn't add any lasting health or positivity to consumers' lives, relationships, or the world. If you're yet to be convinced, consider these key points before consuming.
1. Porn is linked to sex trafficking
Perhaps the most convincing argument for not consuming porn is the direct link between the porn industry and sex trafficking.
We aren't just talking about children in Thailand sold into sex slavery or a young woman tricked into a brothel by the promise of a job. Sex trafficking takes many forms and can be found in every country. Sometimes victims are physically free to come and go, but they are kept in servitude by their trafficker through fraud, physical violence, and psychological intimidation.
Related: "I Didn't Know If They'd Kill Me": What Happened When This Jane Doe Was Trafficked By GirlsDoPorn
Not to mention that established porn performers can be forced, frauded, or coerced into commercial sex acts—sex trafficking, by definition—on mainstream porn sets.
Porn contributes in all kinds of ways to the supply and demand of sex trafficking by informing the fantasies sex tourists and buyers expect their victims to reenact. Porn also normalizes the trauma and abuse sex trafficking victims go through while enslaved.

2. Porn is linked to child exploitation
Last year, an American man living in the Philippines was arrested for abusing children in his home and streaming it live to customers in the US, Canada, Europe, and Australia. Most of the victims rescued were under the age of 12.
This is a devastating problem, but unfortunately, similar stories like it are reported daily around the world.
It's too easy to dismiss mainstream "adult" porn from conversations about child exploitation and say it is unrelated or irrelevant. But consider the genre "teen" porn, one of the most searched terms on Pornhub for the past five years. The performers themselves are usually not underaged, but the content sexualizes underage abuse. A common storyline in this category involves a teenage girl being taken advantage of by an older male. This is a toxic fantasy that can fuel actual abuse, and definitely normalizes it.
Related: 6 Ways The Mainstream Porn Industry Fuels Child Sexual Abuse
3. The porn industry often takes advantage of performers
The porn industry doesn't exactly take the best care of their performers. Of course, many performers report having positive experiences, while many have endured abuse on and off set by other industry professionals. The porn world doesn't exactly operate with many standards and regulations to keep performers safe, and even where it does, abuse still happens.
That is, perhaps, the porn industry's biggest, darkest secret: it's not all consensual.
Related: Not All Porn Is Consensual. Don't Believe It? Just Ask These Performers.
If you're not convinced content on mainstream sites isn't all consensual, read this Jezebel.com story, this story on Daily Beast, this story on Complex.com, this Rolling Stone story, this Daily Beast story, this Bustle.com story, this story on CNN, this NY Post story, this Gizmodo.com story, this BBC report, this Florida Sun-Sentinel report, this Daily Wire story, this Buzzfeed News profile, and this UK Independent story for further proof that the mainstream porn industry features nonconsensual videos and videos of trafficked individuals. And yes, this includes videos on Pornhub and other mainstream porn sites.
Popular and award-winning porn performer, Nikki Benz, was one of the first mainstream performers to come forward about her own abuse and call it out back in 2016. Describing the surprise attack she endured while filming a scene, she said that the director/performer and male co-star stomped on her head and choked her, even after she yelled "cut" during the filming. Keep in mind that she consented to rough sex acts prior to filming, but her calls to stop the scene were not heeded. Her consent was clearly violated.
Sadly, Benz's story is just one of many, but thanks to her allegation, a handful of performers have spoken out against other performers, directors, and even production companies despite the risks to their careers.

4. Consumers can't truly tell if porn is consensual
Many people believe that if a person is performing in a porn film that consent was confirmed. This is an assumption that cannot be truly confirmed.
No doubt, achieving and confirming continual consent would be a huge step forward in protecting and respecting performers, but this is really difficult in practice.
Consider this. In an attempt to establish consent between performers and producers, many shoots begin and end with performer interviews. On camera, they describe and agree to the acts that they will participate in, and after the shoot is complete, they film an agreement that all went according to their consent or else the day's footage is trashed.
Related: How To Tell If Someone In A Porn Video Is A Trafficking Victim
The problem with these interviews, particularly the exit interviews, is that performers have admitted to lying at times. There is, unfortunately, a lot of incentive to do so. If they feel they've been abused during the shoot, it would be unsafe to address those complaints with their assailant in the room. Also, agreeing that the shoot went according to their consent ensures they are still paid for the work and saves their reputation in an industry that often blacklists performers who are "difficult" or develop a reputation for saying anything but positive things about their experiences.
5. Porn can develop into an addiction or obsession
Continued porn consumption can develop into a strong and intense habit. Here's a quick crash course on how porn affects the brain:
The "reward center" of your brain motivates you to do natural human things that help you survive, such as eating to stay alive. Your brain then rewards you by flooding it with dopamine as a sort of a feel-good pleasure chemical.
That dopamine rush is to encourage repeat good behavior, but the brain doesn't always reward the right things. When a person is looking at porn, their brain is fooled into pumping out dopamine just as if they were seeing a potential mate.
As porn consumers become desensitized to repeat overloads of dopamine, they seek that feeling again and again. It's a habit, but it can develop into much more than that.
Related: Why Isn't Pornography Addiction An Official Diagnosis?

6. Porn consumption can escalate to more extreme content
Porn not only becomes an intense habit, taking up your time and attention from your daily life, it is also an escalating behavior.
Here's what we mean. A person who develops a strong habit of consuming hardcore porn develops a tolerance. The porn that used to excite them seems boring, and in order to get those pleasure chemicals flowing again, a consumer looks for more hardcore or even violent material.
It's not uncommon for a consumer to eventually begin exploring what was previously considered unacceptable or "disgusting" to them. This can ultimately shape the consumer's sexual tastes.
In extreme cases, this has lead to regular consumers viewing illegal child pornography. One real example was a man viewing adult sites and accidentally coming across material depicting child sexual abuse. He was shocked, but curious, and ultimately found himself pursuing more child porn.
7. Porn changes how consumers see other people
If you think whatever you watch on your phone or computer behind closed doors stays hidden, think again. Porn consumption leaks into every aspect of a consumer's life, including changing the way they see men and women in the world.
Related: Multiple Studies Confirm Connection Between Consuming Porn & Sexual Aggression
In a sexual sense, porn can alter a consumer's sexual preferences to the point that a person may no longer be able to respond sexually in the same way to their partner. Research has also found that watching porn affects attitudes and beliefs toward women and relationships. One such study analyzed 22 different studies from seven countries and concluded:
"On average, individuals who consume pornography more frequently are more likely to hold attitudes [supporting] sexual aggression and engage in actual acts of sexual aggression."

Obviously, not everyone who views porn will become an assailant or rapist, but such results should lead us to question how harmless porn is. How could this happen?
Both men and women are objectified in porn, portrayed as merely bodies with a single purpose: to give and receive sexual pleasure. If this is a form of media a person consumes every day, this viewpoint can become ingrained, making it much harder to see themselves and others as anything more than sexual objects.
8. Porn chips away at consumers' self-confidence
Consuming pornography has been correlated with higher levels of body dissatisfaction. For gay men in particular, it can result in social physique anxiety and a higher tendency to develop an eating disorder.
In a similar study, a group of college men who consumed porn rated how they viewed themselves in terms of body satisfaction, relationship satisfaction, and overall emotional well-being. As it turns out, guys who watch porn have a lower sense of emotional security. They are more likely to have anxiety in relationships and withdraw more so than guys who aren't consuming porn.
Women, too, report a lack of self-confidence and even hate toward their bodies after watching porn. This isn't too surprising, considering how porn features idealized or enhanced bodies and inaccurate portrayals of sexuality, making both male and female consumers feel unattractive and inadequate.
Related: "No Harm In Looking, Right?" A Study Of Porn's Impact On Self-Esteem

9. Porn is poison for romantic relationships
There is a myth we often hear that watching porn together as a couple is helpful for romantic relationships. We hate to be the bearer of bad news, but the reality is, porn is unhealthy for both the consumer and their partner.
Researchers have found that consuming pornography makes many individuals less satisfied with their own partner's physical appearance, sexual performance, sexual curiosity, and affection. Over time consumers tend to be less intimate committed in their relationships, less intimate with their partner, and less satisfied with their romantic and sex lives. Ironic isn't it? Watching sexually explicit content can actually damage your real sex life.
If you aren't in a relationship yet but would like to be, one of the best things you can do to up your dating game is deciding to avoid porn. Not only will you help your future relationships, but you'll also stand out the crowd in a world who thinks watching porn is a "normal" thing to do.
10. Porn is a fantasy, and it simply isn't worth it
As a society, we value truth and fact. We expect honesty in academic settings and aren't really into false reports or fraud. So then why are we okay with porn? Research has clearly shown how it construes fantasies and blatantly tells lies about love, the human body, and sex.
According to porn, women are eager to have sex at any moment, anywhere, and with anyone. According to porn, all men want in a relationship is sex, and they are entitled to it, even if force is required. Porn promises immediate satisfaction, endless excitement, and easy intimacy, but in the end, it robs a consumer of all three. How is this healthy for anyone?
Sure, it's easier to seek out an online fantasy. There's no fear of rejection, but you miss out fully experiencing life and love.
Need help?
For those reading this who feel they are struggling with pornography, you are not alone. Check out our friends at Fortify, a science-based recovery platform dedicated to helping you find lasting freedom from pornography. Fortify now offers a free experience for both teens and adults. Connect with others, learn about your compulsive behavior, and track your recovery journey. There is hope—sign up today.