Cover image credit to Getty Images.
Trigger warning: Trigger warning for those who have experienced abuse and/or struggled with porn.
Porn performer Nikki Benz filed a lawsuit recently in April against the porn production company Brazzers, its parent company MindGeek, and fellow actors Tony T. and Ramon Nomar for sexual battery, according to a Jezebel report (link trigger warning).
The suit, provided to Jezebel (link trigger warning) by Benz's lawyer, alleges that she was non-consensually "struck on the face, head, and breasts hard enough to cause her to bleed" during a shoot two years ago. Benz says she was then pressured into saying that it was consensual in order to receive her paycheck.
Related: Why You Can't Consistently Fight Sexual Abuse Without Also Fighting Porn
As we're learning, performers stating that violence in a scene was consensual while on camera, but truthfully being traumatized and feeling abused, is a common issue in an industry where performers aren't paid or re-hired if they speak poorly of their experiences.
Here's what happened to Benz.
The abusive shoot in question
In December of 2016, Adult Video News Hall of Fame inductee Benz spoke out on her Twitter just after a shoot, saying that she was assaulted by director Tony T. and Nomar on set while filming for one of the world's most popular subscription-only porn production companies and sites, Brazzers.
The Canadian porn performer was considered to be the most popular performer who partnered exclusively with the massive online porn production company. Describing the surprise attack, she said that the director/performer and male co-star stomped on her head and choked her, even after she yelled "cut" during the filming of the scene.
She said the attack left her shocked and crying for the first time in her 13-year career.

According to Jezebel, Benz alleges that during her on-screen exit interview after the scene, a standard practice during which performers confirm that everything was consensual, she was asked whether she would do the same shoot again and said that she would not. "Tony T immediately yelled, 'Stop!' He then turned off the camera," according to the suit. "Off camera, Tony T yelled, 'F*** Nikki, you can't say that!'"
Benz alleges that Tony T. then made her re-record her exit interview with a "yes" response, and told her that "if she did not do so, Benz would not receive her check," according to the suit.
Related: 3 Reasons Why Fixing The Porn Industry's Problems Won't Actually Fix Porn Itself
That didn't stop her from publicly speaking out, afterward.
"The director himself put his hands on me and was choking me," she tweeted after the shoot. "Never in a million years did I think Brazzers would allow it."
In one text message she posted, she writes, "Did you see the part where I said cut, where I said I'm not OK with this? … I said no."
She also tweeted, "I guess rape scenes are in now, huh?"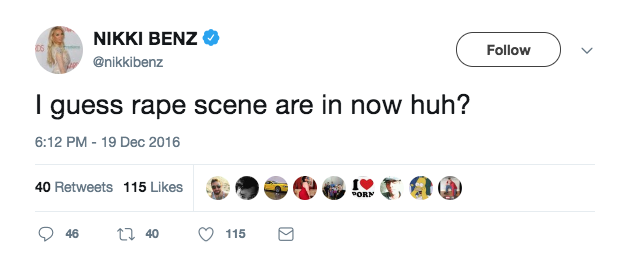 In addition to alleging sexual battery against MindGeek, Brazzers, Tony T., and Nomar, the suit alleges "gender violence," a "hostile work environment," and "sexual harassment," citing state civil codes. Benz is seeking an award of attorneys' fees and punitive damages.
Abuse as the growing industry standard
This is not the first time a major working adult performer has spoken about abuse on set. Just last month, porn performers Leigh Raven and Riley Nixen took to YouTube with allegations of abuse (link trigger warning) during a shoot.
Also, Lisa Ann, who many consider to be one of the most popular porn performers of all time and one of the few who have successfully transitioned into mainstream media by hosting her own SiriusXM radio show, spoke up not long ago in an interview with The Guardian about how the growing appetite for abuse porn is damaging new performers who are being required to take part in increasingly extreme scenes in order to get work.
Related: 3 Male Porn Performers Share Their Most Disturbing Experiences Doing Porn
And on the other side of the assault issue, porn "legends" James Deen and Ron Jeremy have recently come under fire in the wake of the #MeToo for abusive conduct.
It's clear that many consumers think pornography is a fantasy world of only consensual scenes and sex fantasies, but that couldn't be further from the truth. To those who actually create and participate in producing porn, their experiences are often flooded with drugs, disease, trafficking, rape, and/or abuse.

Why performers wait to speak out
As we can see from Benz's experience, there's a reason why many performers don't speak out right away when they're mistreated on set.
There are countless stories of former porn performers speaking out against the porn industry years after leaving it. Many of these former performers, male and female, talk about how they were abused, exploited, and coerced while working in porn. What they felt scared or unable to talk about while in the industry for fear of discrimination or no longer getting work, these ex-porn performers are now sharing with the world.
Related: "You're Gonna Be A Star": The Day I Was Drugged And Raped On A Porn Set
If you're not convinced content on mainstream sites isn't all consensual, read this viral New York Times story, this BBC report, this Jezebel.com story, another story from the New York Times, this story on Daily Beast, this story on Complex.com, this Rolling Stone story, this Bustle.com story, this story on CNN, this News.com.au story, this Buzzfeed News profile, or this UK Independent story for further evidence that the mainstream porn industry features nonconsensual content and videos of trafficked individuals. Unfortunately there are many, many more stories like these. And again, this is happening on virtually every mainstream porn site.
Of course, we are not claiming that all porn is nonconsensual, rather, we're raising awareness on the unfortunate reality of the porn industry—that there is often no way to tell whether the porn a consumer views is completely consensual or if it was produced with coercion.
We know that published stories of performer abuse are only a small representation of reality. Is watching worth it?
Support this resource
Thanks for taking the time to read through this article! As a 501(c)(3) nonprofit, we're able to create resources like this through the support of people like you. Will you help to keep our educational resources free as we produce resources that raise awareness on the harms of porn and sexual exploitation?
DONATE