What comes to mind when you hear the phrase "consume responsibly?" Maybe a beer commercial? Or basic behaviors society expects of those who want to consume alcohol, such as don't drink and drive, and don't drink underage or pressure others to join in if they decline.
While this classic cautionary phrase applies to other substances, its connection to porn is new. There's a growing feeling of acceptance that free online porn isn't going anywhere, and so teaching kids and teens how to consume responsibly must be the best—and "only"—way forward.
Related: 5 Marginalized Groups Of People Porn Has No Problem Fetishizing
Admittedly our society's current response to the ever-growing presence of porn—that is, saying and doing nothing—isn't working. Pretending teens don't look at porn to learn about sex isn't helping. The reality is, at least 60% do.
But is the "consume responsibly" approach telling the full story? Is this approach even possible when it comes specifically to porn?
Porn Literacy Class is a real thing in Boston
As reported in a New York Times article back in February, Porn Literacy is a curriculum being tested and tried out with high school age students in Boston. It focuses on not scaring kids about the potential harmful effects of porn, but giving them the tools they need to analyze what they see. Emily Rothman, associate professor, said this approach is more effective than wishing we live in a porn-free world.
Great in theory, right? This solution is a whole lot better than silence. In these classes, high school seniors were educated about cultural shifts in beauty standards, laws around sexting, and the porn industry's underbelly. They are told how 88% of porn scenes show verbal and physical aggression, and then encouraged to debate whether or not they felt watching those scenes could lead to violence.
In the first classes in 2016, the teachers didn't shy away from the tough topics. Even better, the classes were deemed a "success."
A year after the first students completed the curriculum, they were sent a survey to assess what had changed. They still showed signs of being normal, sexually curious teenagers, but some attitudes had shifted. From the 45% who believed at the beginning of the class that porn was a good way to learn about sex, only 18% agreed afterward.
Related: This Porn Performer's Online Confession About The Industry Is Going Viral (Must Read)
Originally, about a quarter of the students said porn was realistic, but none believed it by the end of the classes.
Bringing this level of awareness to kids and teenagers is what we are all about. But the underlying idea is this: "Porn is super normal, so if you are going to watch it, here's how to do so critically and responsibly."
So while the curriculum has been deemed "successful," we're not exactly celebrating. Here are two main issues with that idea that we don't think can be passed up.
It's free, but is it healthy?
While curriculums like Porn Literacy do a good job attacking porn culture and pointing out the serious toxicity of it, it bypasses porn's addictive potential altogether.
Researchers have found similarities in the way porn and other addictive substances affect the brain, namely the way they trigger the reward center in the consumer's brain, flood it with dopamine, and ultimately train the brain to crave the next dopamine high. This can lead to porn consumers returning again and again to porn in search of new—often more extreme—content to feel the same amount of excitement.
(The good news is, even after a serious porn habit is established, you can break out of it. Thousands of people have done so!)
The second issue that we need to make clear is that porn doesn't just harm the consumer. There is a direct link between the porn industry and the sex trafficking industry.
Related: Would Taking Away The Issue Of Performer Exploitation Make Porn More Acceptable?
The Trafficking Victims Protection Act (TVPA) defines sex trafficking as a situation in which "a commercial sex act is induced by force, fraud, or coercion, or in which the person induced to perform such act has not attained 18 years of age."
The trouble is, it's nearly impossible to tell who the performers are, their age, or if they gave their full consent. In more instances than people may realize, they are sex slaves. In other videos, a performer may have been abused or their objection is ignored—that, by definition, is sex trafficking as well.

Now more than ever, a performer's age is challenging to determine since recent court rulings now allow porn productions to alter the appearance of performers so they appear younger, and most recently gutted regulations so production companies don't have to keep a record the age of performers.
Related: Is "Exploitation-Free" Porn Possible, And Would It Be Harm-Free For Consumers?
Of course, none of these options may be the case. The problem is as a consumer, how can you tell?
The trouble is, you can't. Not even if you're a critically-thinking porn consumer who has been through the Porn Literacy classes.
Why this matters
While, on the surface, Porn Literacy classes seem to make huge bounds in the right direction by opening up the shame-free conversation about porn in the first place with students, we want to be clear that saying teens can "consume responsibly" is like saying they can also become responsible cigarette smokers. Is it a nice thought? Absolutely. But is it possible? No.
That's why we think if someone chooses to take up a habit, they deserve to know the full scope of porn. We can't ignore the facts, even if we can't keep them from seeking it out 100% of the time.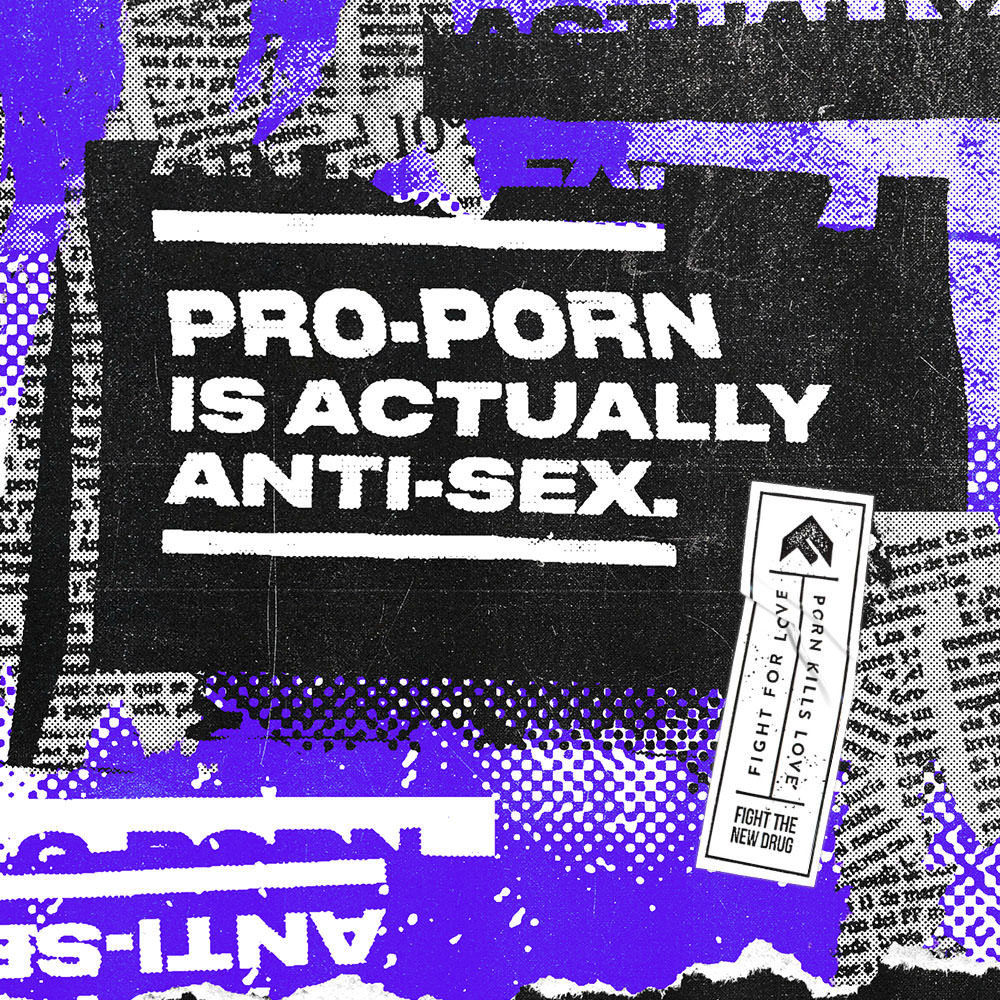 Get Involved
There is no safe way to consume porn "responsibly." SHARE this post and get the word out that there's no such thing as ethical porn consumption or production!
Let Your Street Team Kit Do the Talking
This movement is all about changing the conversation about pornography, even if there aren't any words spoken. When you rep a tee, you can spark meaningful change on how people think about porn, and inspire lasting impacts in individuals' lives and our world. This can happen even without a single word being spoken! Let your tee and an all-new Street Team Kit do the talking. Check out the kit in our online store, or click below to shop: