It's post-spring break and almost graduation season, and going back after a break can bring up some mixed feelings.
For one thing, it's sad to say goodbye to summer or winter break or spring break and its freedom. For another, a new school year or fresh semester brings a spirit of learning and academic possibility.
Especially at the university level, students around the world have the option of studying basically any subject imaginable. As our world grows, we can see these changes trickle down into the world of academia where they can be critiqued and considered.
Related: Should Teens Be Taught How To "Responsibly Consume" Porn?
So it is logical and relevant that the emerging field of "porn studies" and "porn literacy" curriculum is gaining ground. A topic as influential as porn in our world today deserves examination, right? After all, if you can study puppetry on the university level, you should be able to study a global industry as pervasive as porn.
But where did this all begin, and is it truly helpful?

The academic pursuit of porn
Scholar Linda Williams put the field on the map in 1989 with her book Hard Core. Considered the mother of the field, Williams continued to make strides in examining porn critically.
As Duke University Press writes of Linda Williams' 2004 book Porn Studies:
"[She] resists the tendency to situate pornography as the outer limit of what can be studied and discussed. With revenues totaling between ten and fourteen billion dollars annually—more than the combined revenues of professional football, basketball, and baseball—visual, hard-core pornography is a central feature of American popular culture. It is time, Williams contends, for scholars to recognize this and give pornography a serious and extended analysis."
The subject has now developed beyond Williams' critiques and is beginning to show up in more venues and academic settings. In 2014, the subject even got its own academic journal by the same name.
Related: Oral Before Kissing: How Porn Culture Has Changed Teens' First Sexual Encounters
Individual classes address the subject as well. Madita Oeming, a "public porn scholar" and professor at Freie Universität in Berlin, has announced her "Porn in the USA" class in the fall of 2019.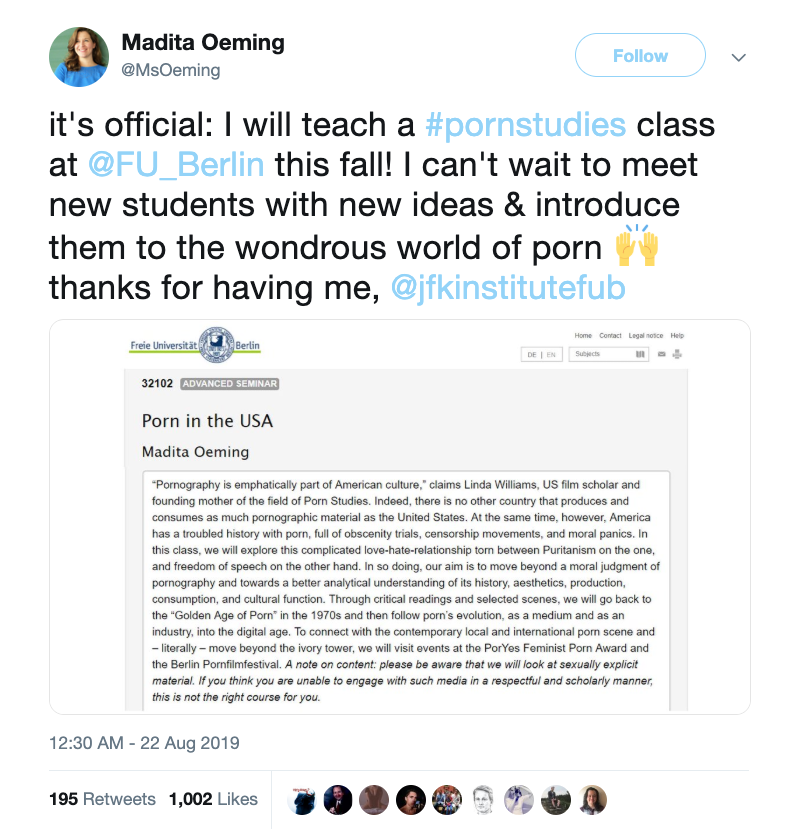 Professor Oeming's announcement provoked commentary from everywhere on the support spectrum. But amidst the whirlwind of emotional responses, it is important and necessary to think calmly and holistically about how this field could best move forward into the future.
A one-sided approach to the topic
The class description and Professor Oeming's tweet calling it "the wondrous world of porn" both suggest a bias toward pornography and a motive to support it as an industry.
It can't be understated how crucial it is to look at all of the scientific research about porn—including research about its harms.
If classes meant to examine porn are selecting material, speakers, and research out of a pro-porn bias, then that's ultimately a very narrow, limited scope of the issue. And ultimately, that does not serve students or academia.
Related: "Why Was The Rape Victim So Upset?"—Why Teens Need Better Consent Education
Sure, there are groups who put forward certain studies to deny porn's harm, and Professor Oeming and others should engage those critiques and points of view. But unless the much more research-backed harms of porn are also being discussed seriously, it cannot be a truly educational class—only an intellectually dishonest one.
At the heart of it, there is a significant amount of reliable, credible, and representative research suggesting that porn can have negative emotional, psychological, and societal effects.

The syllabus of this Porn Studies class highlights "censorship movements" and "moral panics" as making up "[America's] troubled history with porn" but does not include ties with sex trafficking, researched links to mental health issues and violence and abuse, or the issue of the porn industry profiting greatly from nonconsensual content and racist stereotypes.
Professor Oeming's tweet calls it the "wondrous world of porn." But what about when porn is not wondrous? Will she and other porn studies and porn literacy teachers call for class discussion about the times it is oppressive or dehumanizing?
Consider the multiple current, established studies clearly indicating how porn can be harmful.
Related: The 3 Misconceptions Commonly Believed About Porn And Sexual Health
This 2018 study found that porn consumption is associated with "greater acceptance of the objectification of women," which in turn is associated with "greater rape myth acceptance and more frequent acts of sexual deception." Or this study from 2018, which found that porn consumption leads to poorer executive functioning and greater impulsivity in brain processes.
Or else the estimates that as few as 1 in 3 porn videos (33.9%) and as many as 9 in 10 videos (88.2%) portrays violence or physical aggression, and that women are the targets of aggression 97% of the time.Fritz, N., Malic, V., Paul, B., & Zhou, Y. (2020). A Descriptive Analysis of the Types, Targets, and Relative Frequency of Aggression in Mainstream Pornography. Archives of sexual behavior, 49(8), 3041–3053. https://doi.org/10.1007/s10508-020-01773-0Copy Bridges, A. J., Wosnitzer, R., Scharrer, E., Sun, C., & Liberman, R. (2010). Aggression and sexual behavior in best-selling pornography videos: a content analysis update. Violence against women, 16(10), 1065–1085. https://doi.org/10.1177/1077801210382866Copy And consider the research indicating that compulsive pornography consumption is directly related to erectile dysfunction,Park, B. Y., Wilson, G., Berger, J., Christman, M., Reina, B., Bishop, F., Klam, W. P., & Doan, A. P. (2016). Is Internet Pornography Causing Sexual Dysfunctions? A Review with Clinical Reports. Behavioral sciences (Basel, Switzerland), 6(3), 17. https://doi.org/10.3390/bs6030017Copy sexual dysfunction for both men and women,Bőthe, B., Tóth-Király, I., Griffiths, M. D., Potenza, M. N., Orosz, G., & Demetrovics, Z. (2021). Are sexual functioning problems associated with frequent pornography use and/or problematic pornography use? Results from a large community survey including males and females. Addictive Behaviors, 112, 106603. doi:https://doi.org/10.1016/j.addbeh.2020.106603Copy problems with arousal and sexual performance,Sun, C., Bridges, A., Johnson, J. A., & Ezzell, M. B. (2016). Pornography and the Male Sexual Script: An Analysis of Consumption and Sexual Relations. Archives of sexual behavior, 45(4), 983–994. https://doi.org/10.1007/s10508-014-0391-2Copy difficulty reaching orgasm,Bőthe, B., Tóth-Király, I., Griffiths, M. D., Potenza, M. N., Orosz, G., & Demetrovics, Z. (2021). Are sexual functioning problems associated with frequent pornography use and/or problematic pornography use? Results from a large community survey including males and females. Addictive Behaviors, 112, 106603. doi:https://doi.org/10.1016/j.addbeh.2020.106603Copy and decreased sexual satisfaction.Szymanski, D. M., & Stewart-Richardson, D. N. (2014). Psychological, Relational, and Sexual Correlates of Pornography Use on Young Adult Heterosexual Men in Romantic Relationships. The Journal of Men's Studies, 22(1), 64–82. https://doi.org/10.3149/jms.2201.64Copy
Will these porn literacy and porn studies classes also discuss this research and these issues, too?
A startling trend
It does seem problematic that Professor Oeming's class announcement proclaims from the onset that students will dive into the "wondrous world of porn" but gives no qualifiers that the industry itself deserves challenge or pushback. Such is the same with many other announcements for similar classes.
She critiques the often political or moral responses to porn—which, for the record, do not come from FTND, as we are a non-religious and non-legislative organization—but, according to the syllabus, she doesn't critique porn itself, or those who have created and shaped it as an industry. This does a disservice to the class and discussion on the true impact of porn.
Related: Does The Porn Industry Really Care About Empowering Women?
Professor Oeming's course is not alone in this bias. In 2019, San Diego State University also hosted a series of talks on porn.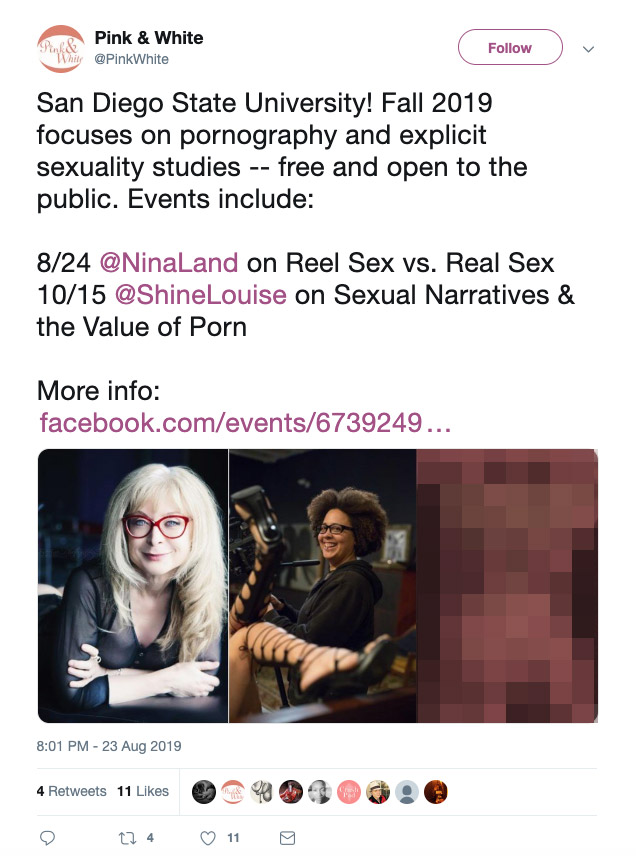 Nina Hartley and Shine Louise Houston were the highlighted speakers, yet both of them were and are active porn supporters who also perform.
For a university to harbor thorough and honest academic discussions, it would be worthwhile to also have an anti-porn representative speak on campus too, presenting about the proven harms of porn. (For example, FTND has a live presentation program and we present at college campuses around the globe.)
Related: Not All Porn Is Consensual. Don't Believe It? Just Ask These Performers.

Who does it benefit to ignore the facts?
In an ideal world, academic spaces consider issues from every side. Of course, it makes sense to study porn's impact in scholarly settings because the adult entertainment industry is a significant player in our world.
But it doesn't truly benefit scholarship, students, or the future of academic programs to consider the issue of porn without also discussing the many proven harmful effects according to decades of research from respected institutions.
We hope that professors and institutions who approach the issue of porn from an academic perspective will also consider all of the evidence, including and especially when it points to porn's harmful effects. This is too important of an issue to study with only one eye open.