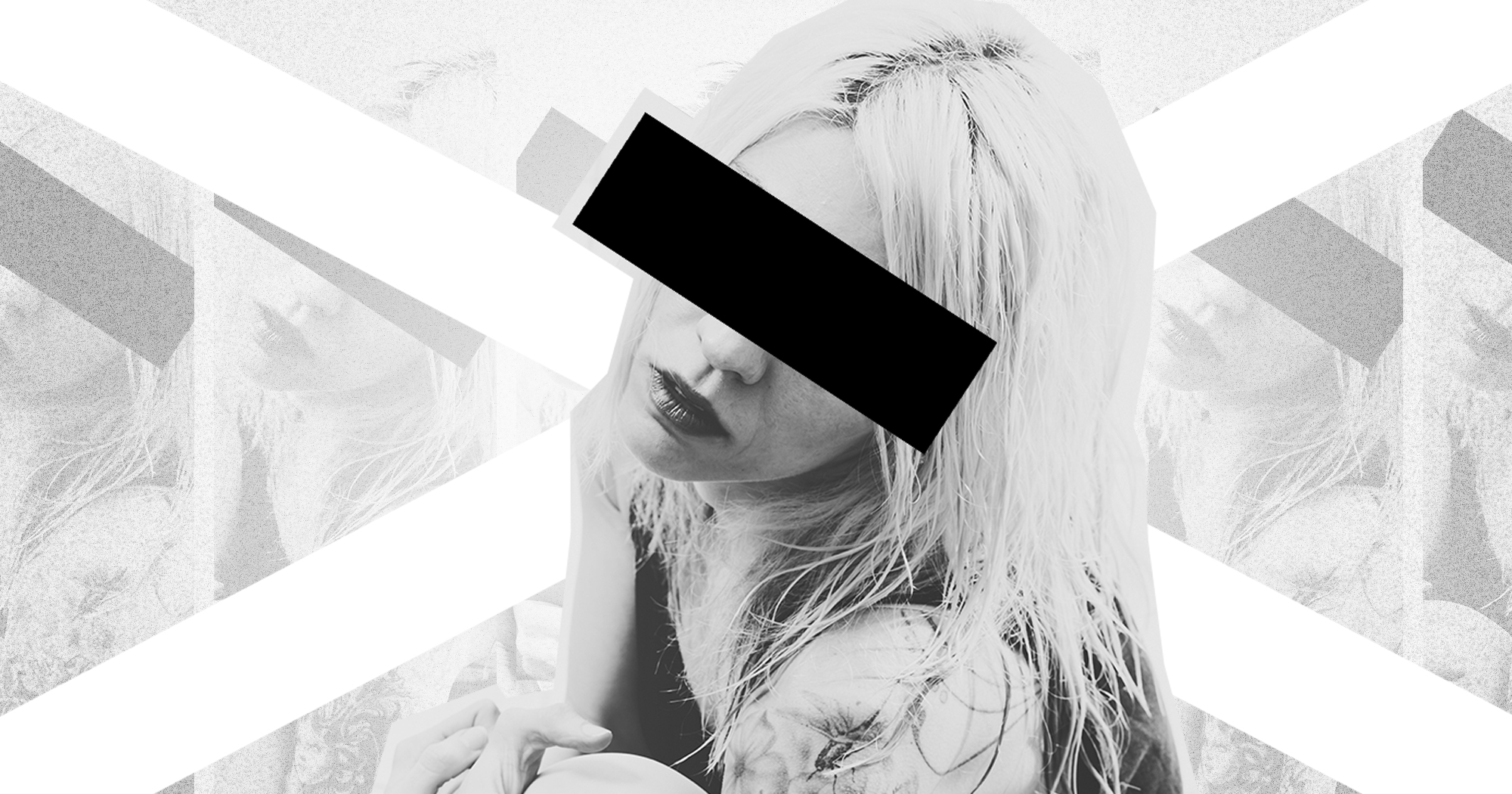 8-minute read.
TRIGGER WARNING
The following post contains descriptions of abusive situations.
Fight The New Drug publishes a lot about the behind-the-scenes of the pornography industry, oftentimes revealing the abuses that happen when the cameras are turned on, and off. We back our claims with references to numerous studies and researchers' investigations.
Yet, when we shed light on the abuses (link trigger warning) that go on within the industry, these are some of the most common objections in response from people who cannot believe that porn and exploitation are tied together:



So basically…
1) Porn performers enthusiastically agree to whatever they end up performing on camera, and even like it.
2) They're free to leave whenever, and only do whatever they're comfortable with.
3) They get paid, so mistreatment is just part of their job, just like every other job has its downsides.
Here's the catch—these arguments don't exactly represent reality.

Abuse blends in with fantasy
The pornography industry, as we've shown time and time again, is built on a fallacy that perpetuates violence [1] and stands as an accepted and promoted industry that gets away with abuse that is neither desired nor permissible in any other context. As Las Vegas Police Vice Lieutenant says, "there's a lot of opportunities to blend in" [2] when it comes to sex trafficking…and porn in "legal" areas.
"Blending in" is the biggest problem. When the "legal" stuff is recorded, consumable cases of abuse and the performers aren't even aware they are sex trafficking victims, how easy is it for the exploitation iceberg underneath to thrive? Especially when the abuse it imitates is filmed, packaged, and marketed on an exceedingly extreme but acceptable market?
That's the issue with all three arguments above: sex trafficking and other forms of exploitation blend right in with what's mainstream, normalized, and celebrated in our sex-obsessed society.

Woah. Sex trafficking?
In 2000, in response to reports of international human trafficking, one of the broadest U.S. bipartisan coalitions in history came together to pass the Trafficking Victims Protection Act, or TVPA. [3] The landmark legislation identified "severe forms" of human trafficking, imposed harsh criminal penalties for offenders, and provided support systems for the victims. [4]
The TVPA defines sex trafficking as a situation in which "a commercial sex act is induced by force, fraud, or coercion, or in which the person induced to perform such act has not attained 18 years of age." [5] It was designed in response to international sex trafficking like what we see in movies like "Taken," but it had an interesting result. It ended up shining a light on every form of sex trafficking, especially in the United States.
This means porn performers can be victims, and not necessarily realize what they just encountered. The best evidence of the trafficking and other abuses going on in the industry are from performers themselves. Their firsthand experiences speak louder than numbers (though we have those too), because it reminds us that porn performers are people.
Porn may be a fantasy, but the harms it causes are real.
So, here are their stories, and each real experience breaks down the misconceptions we may have about those in the porn industry.

Argument #1: "Porn performers agree to it, and even like it."
Even if an abusive situation isn't trafficking, by definition, it can still absolutely be exploitive. The following examples give us a look into the exploitive and abusive nature of the industry behind its glamorous facade, even apart from force, fraud, and coercion.
"Of course, different girls are gonna wanna say they're empowered by their sex work, because what you can't beat, you're gonna join. You don't want people to think you're weak when you're in porn; you wanna act like you love it and you love rough stuff, and you love being violated, and called degrading names. It's all just a pack of lies."
–Shelley Lubben, former porn performer
"They believe that you love sex, that you love what you do." [6] -Former porn performer
Former porn performer and Fighter, Jessica, explains: "The only difference between rape and that moment was the money."
"He was beating me, banging my head on his wooden floor to where my face and head was bleeding. He choked me to the point of passing out twice… It looks like the performers are having a blast…almost all go to their shoots high on something, whether it's painkillers, weed, ecstasy, or cocaine."
–Jessie Rogers, former porn performer describing an off-set encounter with a male co-performer
"When you're on a really strong painkiller, it's a lot easier to take something like anal and smile and act like you're having a good time."
–Alex Cruz (link trigger warning), former porn performer
"I was given Vicodin, Xanax, Norcos, Prozac, and Zoloft. The doctors knew I did porn but still gave me any prescription pills I wanted. All I had to do was tell them I needed them to get through hardcore scenes."
–Michelle Avanti, former porn performer
Do these performers agree to be abused? Do over 75% have drivers to take them to sets because they are addicted to drugs or alcohol, where they might be, "fed Xanax," [7] or worse because they "enjoy it"?
It's worth noting that the William Wilberforce Trafficking Victims Protection Reauthorization Act of 2008 added a new type of coercion that can be used in sex trafficking cases. Preying on a victim's drug use or addiction (whether pre-existing or created by the trafficker), in and of itself, forms the basis for convicting traffickers under the TVPA.
Regardless of what they may think they are agreeing to when they're signing up for porn—it doesn't matter. Exploitation and abuse are often intertwined with pornography production, and every consumer has the right to know what they're supporting with clicks, views, and downloads.

Argument #2: "They're free to leave whenever, and only do whatever they're comfortable with."
That smile on camera, the claims they only do what's comfortable, can too often mask the abuse the increasingly violent industry demands and the pressure to keep up with what consumers want.
Performers are often young—barely over the age of 18—and have no idea what they're getting into, and are coerced into doing scenes they didn't agree to.  This is, by definition, trafficking. If they protest, they can be ignored, and the camera keeps rolling.
Porn performer Nikki Benz is one of the first decorated, mainstream performers to come forward and call out this abuse, saying "she was…pressured into saying that [an abusive scene] was consensual in order to receive her paycheck."
Stories like Nikki's are far too common. Threats of legal action or the next paycheck forces performers to go through with things they are not actually comfortable with, often times coerced to make snap decisions when they arrive on set (upon arriving to a different scene than promised); or, it's a decision made for them in the midst of performing. This is textbook trafficking.
"A lot of people think that pornography fuels sex trafficking and it does. But it does that because [in some cases] it is sex trafficking….all of us have been coerced into doing a scene we didn't wanna do."
–Shelley Lubben, former porn performer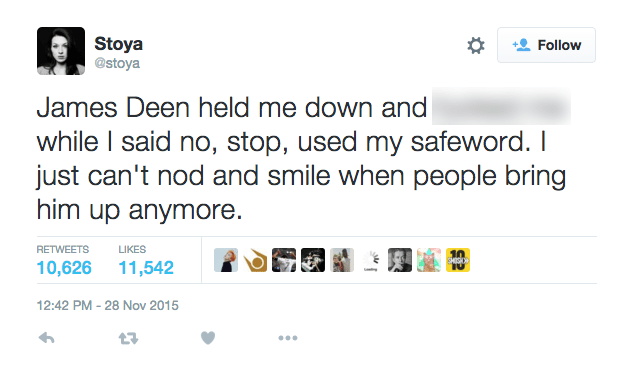 "James Deen held me down and f—ed me while I said no, stop, used my safeword…It took me months and months and months…to be able to call it what it was—which was rape."
–Stoya, current porn performer
"I agreed to do the scene thinking it was less beating, except the 'punch' in the head…Steve had worn his solid gold ring the entire time, and continued to punch me with it. I actually stopped the scene while it was being filmed because I was in too much pain."
–Alex Devine, former porn performer
"My agent didn't let me know ahead of time… I did it and I was crying and they didn't stop. It was really violent. He was hitting me. It hurt. It scared me more than anything. They wouldn't stop. They just kept rolling."
–Sierra Sinn, former porn performer
How free are these performers, if at times, they aren't aware that what is being done to them is criminal? Someone in a situation where they feel like they don't have the freedom to say "no"—or have their "no" be heard—isn't exactly doing a job they initially they signed up for, are they?
The Human Trafficking Hotline clarifies what a trafficking situation can look like, and defines that, "For sex trafficking to occur, initial consent to a commercial sex act labor setting prior to acts of force, fraud, or coercion…is not relevant to the crime, nor is payment."

Argument #3: They get paid, so mistreatment is just part of their job, just like every other job has its downsides.
Performing in porn is no "regular" job. Think of it this way: no other job or career permits the abuses porn does. Again, for some, it's not even a choice they make completely freely. Some performers enter the industry out of financial desperation and coercive circumstances that force them to endure situations they naturally would never accept.
"I saw an ad on Craigslist that said, 'Makes 20,000 to 30,000 dollars a month modeling'…it looked appealing to me to say the least."
–Former porn performer, Jessie Rogers
"I had two or three jobs…I lived off of ramen and instant mashed potatoes. I never want to go back to that. I would've taken me until I was 46 to pay off my student loans…I make 8 times that now." [8] -Bailey, current porn performer and webcammer
As the examples above illustrate, money is often the greatest motivator for why people enter the porn industry. Performers may face physical and verbal abuse, rape, and addiction in the industry but not speak out because they don't want to lose the paycheck they desperately need.
Understanding that coercion occurs when someone or a situation forces a person to act in a way they may not choose to on their own is part of understanding how exploitation and human trafficking happen in the industry.
Porn performers can enter into trafficking situations in the industry because of coercive personal situations, while others can be trafficked into the industry by the force of other people. The sad part?
There's no way for porn consumers to know if they're supporting exploitation or not.
We are not claiming that all porn is non-consensual, but rather, raising awareness that there is often no way to tell if the porn a consumer views is completely consensual or produced with coercion.
Related: 5 Ways You Can Help Fight Human Sex Trafficking In Your Daily Life
And if you're still not convinced content on mainstream sites isn't all consensual, read this Jezebel.com story, this story on Daily Beast, this story on Complex.com, this Rolling Stone story, this Daily Beast story, this Bustle.com story, this story on CNN, this NY Post story, this Gizmodo.com story, this BBC report, this Florida Sun-Sentinel report, this Daily Wire story, this Buzzfeed News profile, and this UK Independent story for further proof that the mainstream porn industry features nonconsensual videos and videos of trafficked individuals. And yes, this includes videos on Pornhub and other mainstream porn sites.

Is all hope lost?
Of course, there's hope to confront exploitation where it thrives in the shadows of the industry. So what can we do?
Consider how even a single click continues to fuel abuse, some of it deemed "acceptable" and some not so much. A large collection of individuals who refuse to click porn, and drive down the demand porn solicits make a big difference. This movement that says "no" to contributing to an industry that promotes violence and degradation has already made a dent in the issue.
The biggest efforts we can do are to get educated on the realities of porn and its harms, and then educate others. Fight the New Drug's mission is rooted in this principle that awareness drives action, and we believe we can change an industry if many of us truly know what's really going on. We can inform you, so the misconceptions surrounding this industry aren't the manipulative education we receive about sex, love, and relationships.
We can fight for real love by fighting against exploitation. Are you with us?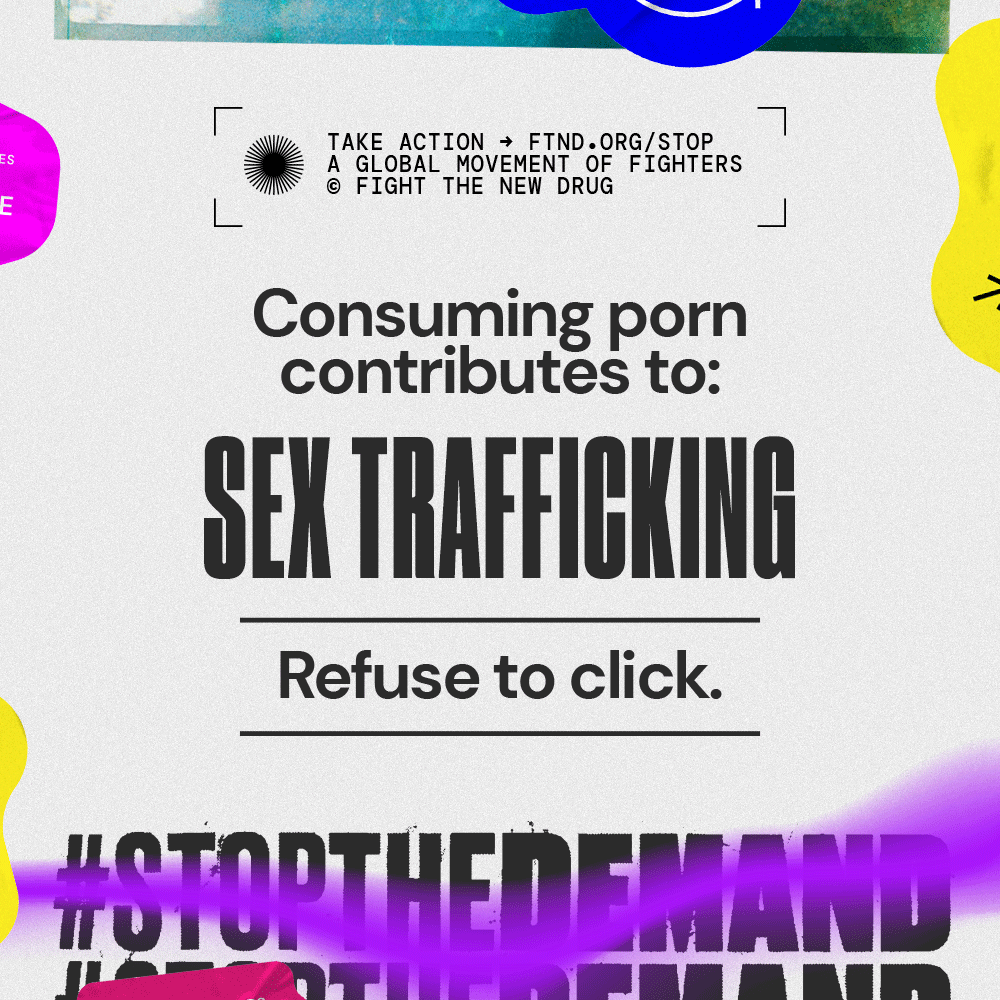 [1] DeKeseredy, W. S. (2015a). Critical criminological understandings of pornography and violence against women: New directions in research and theory. International Journal for Crime, Justice and Social Democracy, 4, 4-21.
[2] "Tricked." Netflix.
[3] Trafficking Victims Protection Act (TVPA) Of 2000, Pub. L. No. 106–386, Section 102(A), 114 Stat. 1464.
[4] Trafficking Victims Protection Act. (2009, November 29). Retrieved From Https://Fightslaverynow.Org/Why-Fight-There-Are-27-Million-Reasons/The-Law-And-Trafficking/Trafficking-Victims-Protection-Act/Trafficking-Victims-Protection-Act/
[5] Trafficking Victims Protection Act (TVPA) Of 2000, Pub. L. No. 106–386, Section 102(A), 114 Stat. 1464.
[6] "Tricked." Netflix.
[7] "Hot Girls Wanted: Turned On." Season 1, Episode 3. Netflix.
[8] "Hot Girls Wanted: Turned On." Season 1, Episode 3. Netflix.