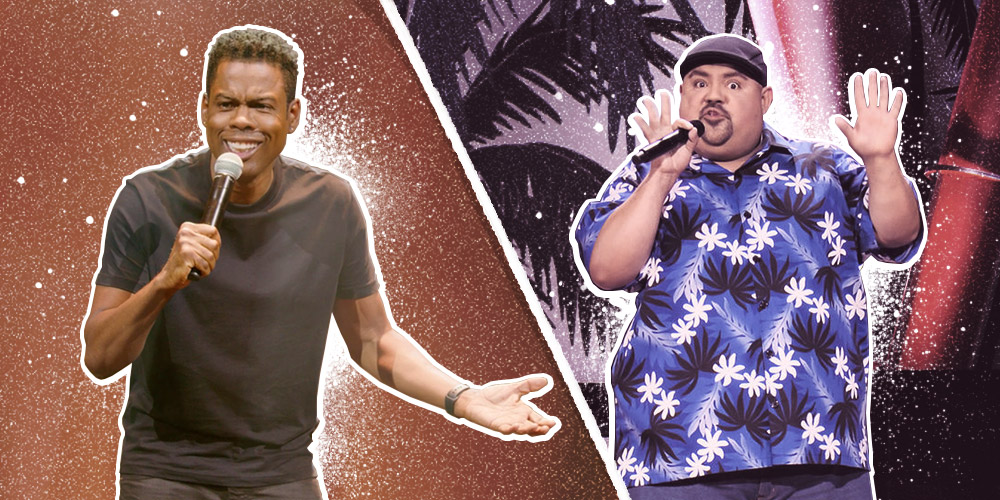 Early this year, comedian Gabriel "Fluffy" Iglesias released a new Netflix special featuring stories about his son and meeting Snoop Dogg. We're going to fast forward through chatting about Snoop and move straight on to the time Iglesias caught his 19-year-old son watching porn.
His son was embarrassed and asked his dad to not tell his mom. In his special, here's Iglesias's response:
"Look, I know you're not going to stop watching stuff like this, so just do me a favor and don't do it here. You're old enough to watch whatever you want to watch, but for as long as you live in this house, you cannot be watching stuff like that where your mom can catch you. You're not going to stop, so just don't do it here."
His son asked how his dad knew he wasn't going to stop watching porn. Iglesias responded, "Because I haven't stopped." Woah.
Contrast this exchange with Chris Rock's 2018 Netflix comedy show, where he said he was addicted to porn and that contributed to his infidelity and eventual divorce after 16 years of marriage. In his special, he said watching lots of porn negatively affects a person's sex life:
"When you watch too much porn, you get desensitized. When you start watching porn, it's like, any porn will do. Then later on, you're all f—d up and you need a perfect porn cocktail to get you off."
Related: Adam Savage From "Mythbusters" Explains Porn's Harms In A Genius Way
These are two very different accounts of porn. One story says it's normal and suggests it's a healthy pastime every teenager will engage in, while the second points to porn as being a huge contributing factor in ruining relationships.
They're obviously saying very different things about porn's effects, so which is more on target with the facts?

The truth about porn and relationships
Porn is bad news for relationships. Every now and then a magazine suggests that watching porn together as a couple is a bonding experience and encourages intimacy, but study after study shows that porn is toxic for long-term relationships.
As Chris Rock said in his show, porn messes with a person's sex life. If we're talking about the facts, he'd be right on target.
Research shows that porn is directly related to problems with arousal, attraction and sexual performance, such as trouble having an orgasm. Many porn consumers who view content regularly reach a point where it's easier for them to be aroused by a video online than having sex with a real partner. They need that "perfect porn cocktail" as Rock put it to get remotely aroused. He isn't alone in this experience.
Related: 9 Celebrities Who Use Their Platforms To Help End Sex Trafficking
Also, there is an increasing amount of research showing that people who view porn are less satisfied with their real-life partners. After consuming porn, one study showed both men and women were more judgemental of their partner's physical appearance and sexual performance.
In couples where one partner consumes more porn than the other, a common pattern, researchers concluded, "greater discrepancies between partners in pornography use were related to less relationship satisfaction, less stability, less positive communication, and more relational aggression."
In other words, none of this sounds like a winning love-making combination, and Chris Rock is just one man out of millions who has experienced it for himself.

Is watching porn "normal?"
"People all over the world watch porn—so why be ashamed of it?" said Corey Price, Vice President of the world's largest free porn site, Pornhub. "We want to push the conversation into the general public as something that's acceptable to talk about, while letting people know that watching porn shouldn't be an underground activity that's to be seen as shameful. Everyone does it, why not bring that out in the open?"
In recent years, we've seen just that—porn culture being normalized from advertising, TV shows, to video games. We've even seen Pornhub's try-hard marketing campaigns to position themselves as a lifestyle brand as opposed to a taboo porn site.
Related: "Learning Sex From Porn Is A Terrible Idea": Jameela Jamil Is Sounding The Alarm On Porn, And We're Here For It
Now, we don't disagree with everything Price said, but we need to interject fact into the conversation. For starters, we agree that when talking about porn, shame has no place in healthy conversations. Where we differ is on scientific facts that point to porn being harmful for the consumer, relationships in a consumer's life, and even the world.
We don't disagree that people all over the world do watch porn, but that's not enough of a reason to consider it "normal" or harmless to spend hours viewing it. So is it normal to watch porn? Many people think so, but we don't think it should be a given.
This idea that "everyone does it" or as Iglesias said, "you're not going to stop," is classic peer pressure. Porn culture, including objectification, may be more visible and normal in our mainstream media today than ten years ago, but we aren't about to accept that as a positive or healthy change.
Related: 10 Public Figures Who Have Joined The "Porn Kills Love" Movement
We too want to bring porn to the public conversation as something to talk about, but not for the same reasons as Pornhub. Keeping quiet does breed shame, but acceptance without any responsibility is the opposite extreme. Let's settle for somewhere in between where we encourage a productive conversation about porn, acknowledging that it's super easy to access online, but be critical of how it affects our individual lives as well as cultures.
The take-home message from both comedy shows is this—we should be talking about porn in a shame-free way, though we need to be ready to talk about the truth about porn and its proven negative effects.