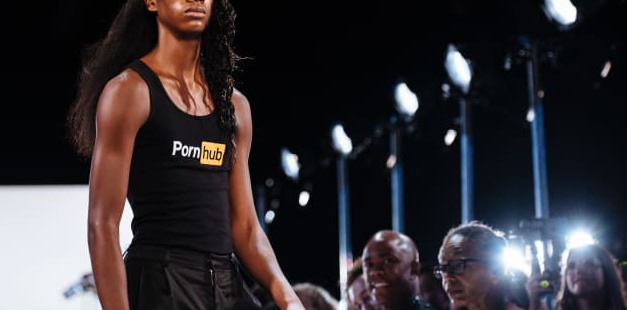 Image via The Washington Post/Getty Images. 5 minute read.
TRIGGER WARNING
The following post contains links to sites that contain triggering content. Reader discretion advised.
There's one company we can attribute to completely changing the porn industry over the last decade. Mindgeek is the gigantic parent to a network of "tube" sites that disrupted the previous studio system and brought free porn to anyone with an internet connection.
But you probably haven't heard of Mindgeek. The name nearly everyone does know—even if they aren't willing to admit it—is Pornhub.
Related: World's Largest Porn Site Has A Weekly List Of Most-Watched Videos, And Its Top Titles Are Disturbing
While Pornhub may not be the biggest "adult entertainment" site on the web, it still manages to attract 81 million daily visits. For a little context, that's about the same traffic Amazon gets per month. But Pornhub's sole goal as a company isn't just getting more consumers and customers. They want to take their business out from behind closed doors, and into living rooms and closets across America.
They want to be a "normal" lifestyle brand.
The strategy
So how does an industry as taboo as porn go completely mainstream? Alex Katz, co-founder of the creative agency behind Pornhub's brand strategy, put it this way:
"[In online porn], everyone has the same product, so the only way you can differentiate yourself is by building a brand. We only want to create advertising that can go viral. [Pornhub] has enough porn; they need content that's shareable."
In other words, Pornhub is going PG-13. Well, sort of.
For a bit of brand recognition, the porn site started out a couple of years ago with PR stunts that had a philanthropic twist. They teamed up with performer Bree Olson and sent her around Manhattan in the "Boob Bus" offering free instruction to women about self-examinations for breast cancer.
Then there was the time Pornhub offered to plant a tree for every 100 videos viewed from their "Big D—" category and called the project "Give America Wood." The campaign went viral with about 1.5 million videos watched, equating to nearly 15,500 trees.
Related: Playboy To Pornhub: 4 Figures That Made Porn What It Is Today
And then Pornhub sent out branded snow plows during a blizzard to Massachusetts, New York, and New Jersey. Again, free of charge but with social media heavy on the #pornhubplows puns. Classy.
These campaigns weren't as crude as you'd imagine from a porn site. They were heavy on the kind of jokes the internet loves, and so major media outlets picked up the stories, giving the hardcore site free publicity. As a society, we got used to seeing Pornhub in the headlines, exactly as planned.
That's when the porn company launched into lifestyle consumerism. They released a personal lube brand and created a giant lube slide to celebrate, designed an adult coloring book, collaborated on apparel with designers like Richardson and Moose Knuckles, went to New York Fashion Week with Hood By Air models displaying outfits calling them a "HUSTLER" or a "WENCH," and most recently they hosted their own Pornhub awards ceremony with none other than Kayne West as creative director. His fashion label, Yeezy, also dressed (or…didn't dress) the presenters—all to somewhat mixed reviews.
Related: What Kanye West Probably Doesn't Know About The Porn Industry
This long list goes to show one main thing. Pornhub wants to be everywhere, involved in everything, and ultimately accepted as a normal media outlet for all ages. That story sounds familiar, doesn't it?
We've seen this before
Over 60 years ago, Hugh Hefner launched a magazine with quality journalism and fiction writing, placed face to face with topless centerfolds. Playboy became the adult entertainment brand with the bunny symbol still immediately identifiable whether it be in print or embroidered on bed sheets. It sought after a sophisticated air suitable to the times juxtaposed with enough nudity to propel the sexual revolution and change the way society viewed pornography—both literally and ideologically.
Pornhub's game in today's digital era of viral content and memes is straight out of Hefner's book—or rather, magazine. The objective? It's pretty simple: Making porn normal equals big money.
Hefner's first magazine issue sold 54,000 copies and reached peak circulation of 7 million in 1972. Teeny tiny digits, in comparison to porn sites today, but it's Pornhub's massive consumer base that's just the sort of thing to tempt advertisers.
Related: From Playboy To Pornhub: Confessions Of A 71-Year-Old Porn Addict
Here's the thing. Advertising on porn sites is still taboo. You won't find Apple, Hugo Boss, or Mercedes-Benz showing off their sleek products next to the latest pirated porn film. But some brands—like Diesel—are bridging the gap over to Pornhub knowing that's where their customers spend time, and Pornhub in turn is pointing out that fact.
Slowly, with a few more Pornhub snowplows and sweatshirts, Pornhub just may become a household name, and with that, wrangle in the power of advertising dollars. But that's only if nothing is done to stop them.

The problem with accepting porn
"People all over the world watch porn—so why be ashamed of it?" said Corey Price, vice president of Pornhub. "We want to push the conversation into the general public as something that's acceptable to talk about, while letting people know that watching porn shouldn't be an underground activity that's to be seen as shameful. Everyone does it, why not bring that out in the open?"
If there's anything we can agree on, it's that there's no place for shame in a conversation about porn. Where we differ is in accepting porn as normal and refusing to accept its scientifically proven harmful effects.
For a quick refresher course, porn has the potential to harm society because our brains treat porn similarly to an addictive drug. It has the potential to damage consumers' sex lives, harm relationships, negatively alter the attitudes towards men and women through objectification, and last but not least, porn is directly linked to sex trafficking.
These things aren't normal. They endanger our progress as a society to become more equal, fulfilled, and happy. It's not shaming to say "no to porn," or simply alert potential and present consumers to its very active risks and dangers. It's not shaming to say it shouldn't be widely accepted as a normal passtime. It's taking a stand and choosing love, which is exactly what we're doing.
Refuse to let Pornhub take space in your web browser, and home. They're a toxic brand with an even more toxic product that peddles the idea that people are nothing more than body parts to be used and discarded, and capitalizes on sexual exploitation every day.
Get Involved
The only thing Pornhub should be known for is selling a toxic product. SHARE this post and join the conversation about what this massive porn site is actually saturating society with: exploitation.
Spark Conversations
This movement is all about changing the conversation about pornography. When you rep a tee, you can spark meaningful conversation on porn's harms and inspire lasting change in individuals' lives, and our world. Are you in? Check out all our styles in our online store, or click below to shop: