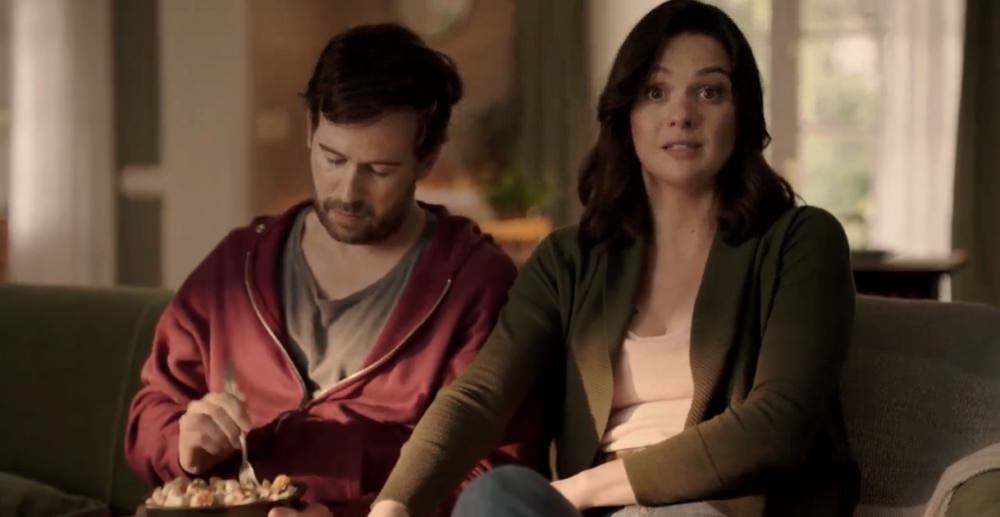 Cover photo a screenshot from YouTube/DevourFood.
It's that time of year again, the Super Bowl is here and companies are beginning to compete for the informal, but coveted, "best commercial" prize in households around the country.
One ad that was released weeks before the big game caught our attention, and that of many others online. This ad is apparently banned from being shown in its entirety during the Super Bowl because it contains the word "porn," even though it's advertising (as we're told) mediocre microwave meals.
If you haven't already seen it, this is what we're referring to:
In addition to this ad, Devour Foods has also set up a "food porn" hotline, mimicking that of a phone-sex center with varying voice actors reading microwavable meal options in sultry tones. Yes, you read that right. They've also been sponsoring popular porn performers on social media to give them shout outs and promos.
Aside from this commercial, Devour Foods has an entire previous line up of similar videos, describing their meals as "food you want to fork" while featuring men who like to talk to their food with phrases we can't say here.
Needless to say, this try-hard Super Bowl commercial serves to shine a light and raise awareness on the very thing that they're mocking: porn addiction, and porn's impact on consumers and relationships. We're glad this ad campaign exists because it gives us the opportunity to talk about "food porn," porn addiction, and the impact of porn on real relationships.
"Food porn" isn't a flattering description
For most people, labeling something as "porn," even if it's just microwavable mac 'n cheese, implies that it's the most perfect, most sexy ideal. It's their way of saying that this is a "scandalously delicious meal" that everyone would want. So when "porn" is used to describe the sexiest ideal of food, it logically follows that the origin of the word and its usage comes from the belief that actual pornography is supposed to be the sexiest ideal of sex; the best, most attractive, most desirable version of it. Right?
Not according to science.
Research shows that porn changes the consumer's brain, dampens their sex life, and leaves them feeling lonely and isolated. Engaging with pixels on a screen instead of a real person drives a consumer into buying the lie that porn is perfection, that "porn sex" is the best sex. In a world that increasingly celebrates the cheap and temporary thrills of porn, those who consume the most will likely end up losing the most.
Related: Why The Internet Needs To Stop Using #FoodPorn
Have we mentioned that porn is connected to sexual exploitation and fuels sex trafficking? Definitely not ideal, or sexy.
So you might be wondering right now, why have we said this Devour Food commercial is relatable? Well, it does get something right—porn is about as good for you as a cheap, microwave meal. Both are dressed-up, synthetic versions of the real thing they're attempting to imitate.
So the next time you want to post a picture of your Devour microwavable meal, remember the hashtag #foodporn only applies if you think it's cheap, fake, and damaging to your health like these people on Twitter:

After all, that's what porn is—unhealthy. Let's rid our society of the idea that porn is the most desirable form of something. Given the facts, it's definitely not.
The real dish on porn and relationships
Another thing this ad did get right in its own way: porn isn't a relationship-builder. Microwavable meals may not drive couples apart, but porn definitely does.
Research shows how porn makes both men and women feel inadequate, and it warps the consumer's ideas about what sex means or looks like. Porn commonly normalizes and romanticizes disrespect, abuse, incest, infidelity, and aggression, leading to relational issues even aside from sex. Consuming porn violates the trust, love, and fidelity that healthy relationships are built on—how is that ideal?
When porn enters a partnership, partners often feel cheated out of the natural, loving affection that healthy relationships are built on. We can't say that research shows the same thing for cheap microwavable food. By mocking these issues in their food porn ad, they're also validating that this is something thousands of couples go through. Some might even find it laughable, because it's relatable. While Devour might be making light of situations like this that some couples find themselves in with porn, we're here to help people understand the true impacts of porn on relationships.
The real idea they're selling
What does it say about Devour Foods if they, as a brand, think men will be more likely to buy their products if they can relate it to over-exaggerated sexualized marketing and porn, all while portraying men as Neanderthal-like brainless food machines in their videos? While they certainly aren't the first to use this advertising tactic, we hope they are the last.
As an organization, we fight for real love and awareness on the harmful effects of porn because we believe everyone should have the chance to choose for themselves whether to consume porn or not. If people truly understood the science and research that shows how porn is harmful to the consumer, relationships, and our society, we've seen how they'd choose not to engage.
In other words, we believe that people know quality information when they see it, and will choose the healthiest option when given a choice. We can't say Devour Foods believes the same thing, given their Food Porn marketing campaign.