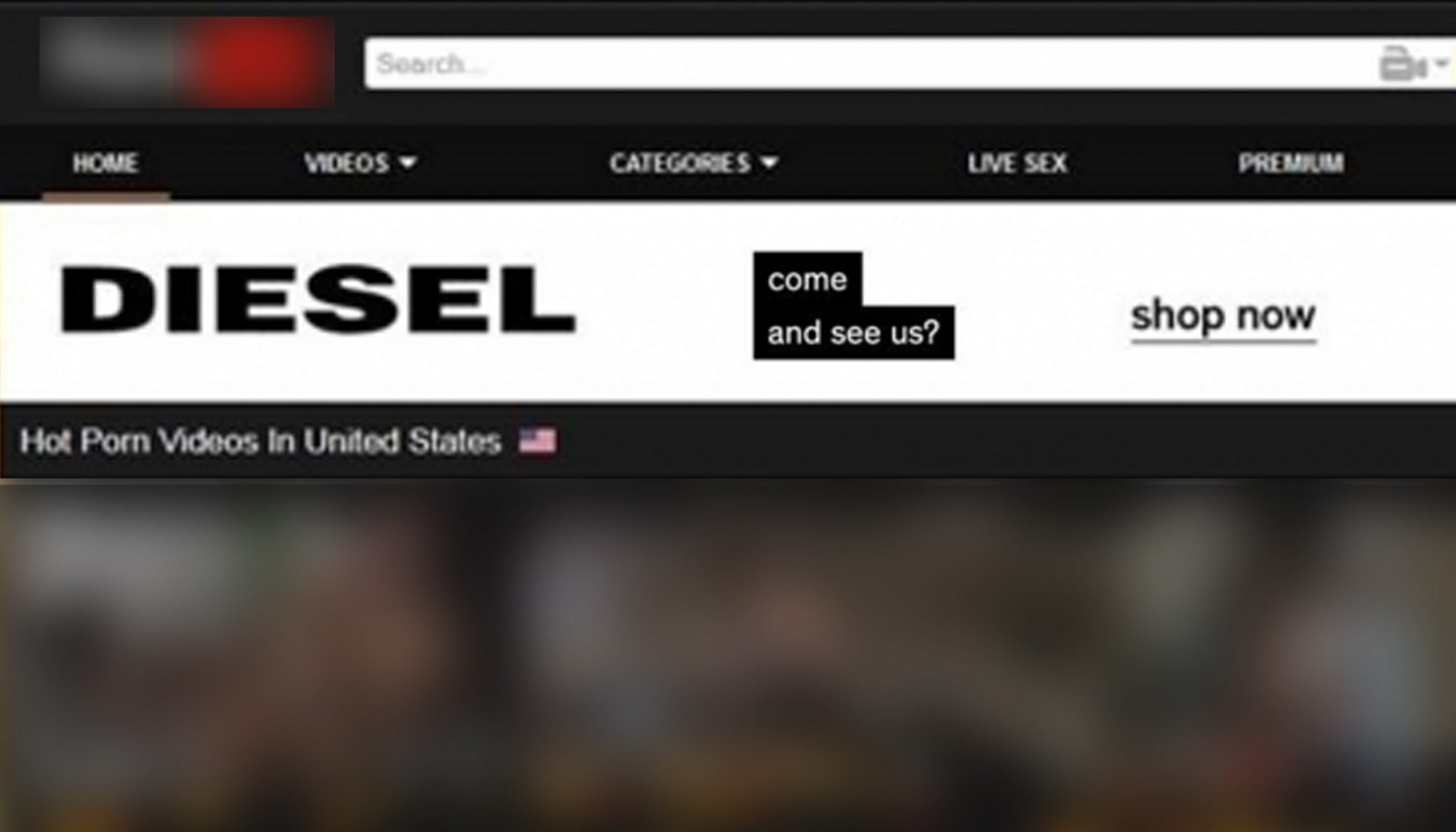 The following information was taken from an article by CBC.

---
In our generation where porn has become so mainstream, the line between advertising and porn is becoming very blurry. There has always been a line advertisers wouldn't cross to promote their product, but now some marketers have tiptoed over that line to advertise on porn sites. From food companies to fashion brands to Hollywood movies, marketers have breached the final frontier in their search for bigger, more affordable audiences. And on the flip side, porn sites are beginning to advertise in mainstream media.
Let's start at the beginning. The adult film industry has been disrupted by the unlimited availability of free online porn. The internet helped and hurt the porn industry by allowing porn to be instantly accessible but making it completely free. Meanwhile, the advertising industry is struggling to stretch limited marketing budgets while the porn industry needs to find new revenue streams. The advertising industry needs to find bigger and bigger audiences while the porn world offers huge viewership. Marketers need to reach big audiences at the lowest media costs possible while porn sites offer dirt-cheap ad rates.
Advertising… meet the porn world.
In the early days of online porn, sites would tease with a thumbnail photo or an 5-second clip, and the link would send you to a pay site. Then, in 2005, this happened:
It all led to a perfect storm in the porn industry in 2009. Wide scale piracy in addition to the increase in amateur porn and the unlimited availability of free porn met the Great Recession. After that, traffic to pay-sites plummeted big time. DVD sales practically disappeared. Porn producers reported revenue drops of 50%, with some experiencing drops of 80%. Work for porn actors disappeared, gigabytes of videos were uploaded and streamed without any money changing hands. Production of porn films is now reportedly down 75% from what it used to be. The cost of porn has now reached zero. As a result, making people pay for porn has never been harder.
With all that bad news for the porn world, the irony is that online porn viewership has never been greater. As a matter of fact, porn has been cited by some as the reason for the rapid growth of the internet. According to tech site Gizmodo, the world's top porn sites are on par with Google and Facebook for web traffic. One site alone averages 4.4 billion page views per month – triple what CNN gets. Which means it's not unrealistic to say up to 30% of the traffic on the Internet is porn-related. Over 50% of that porn is now viewed on smartphones. PornHub says the U.S. ranks #1 for page views, followed by the UK, India, then Canada.
(Related: 2015's Most Popular Genre of Porn is Disturbing, To Say The Least)
The reason porn sites can track user activity so in-depth is because today's pornographers are also software engineers. The porn game has become a tech game. Much of the world of porn is controlled by one company called Mindgeek, owned by a group of friends who met at Concordia University in Montreal in 2007.
Now, let's talk about how the insane popularity of online porn is pushing it into the mainstream.
Sex tapes used to destroy careers, now they create them. Think of Paris Hilton, Pamela Anderson and Kim Kardashian. As a matter of fact, Kardashian's video has been watched over 147 million times on PornHub – making it the most viewed video in the history of the porn site.
The Parents Television Council in the U.S. reported a 407% increase in the incidents of full nudity on TV compared to the previous year. Many of the top porn stars have over one million Twitter followers. Certain ex-porn stars have appeared in mainstream movies and TV shows, host their own radio show on Sirius XM, have their own wax figure at Madame Tussaud's and have even written a New York Times best-selling book.
And if you want to continue connecting the dots when it comes to the subtle ways porn has been normalized, there is the popularity of books/movies like 50 Shades of Grey – with stores like Target even carrying themed sex products.
Meanwhile, on the other side of the tracks…
The one thing advertisers are always in search of is an audience. And because times are tough, they have to stretch their ad budgets to do more with less. The greatest number of eyeballs for the least amount of money is the main goal.
In this digitally splintered world, it gets harder and harder to find big audiences. That's why events like the Super Bowl are so desirable, and so expensive. Where else can you find 100 million people in one place at one time?
Well…there is another place:
Porn sites.
So here we are at an interesting crossroad. The porn world finds itself in need of revenue, and the ad world is in need of huge, affordable audiences. Could mainstream advertisers be tempted to tiptoe into the world of porn? Is it possible?
Well, it's more than possible, it's happening.
Eat24 is an online food delivery service in the United States. It represents over 30,000 restaurants in 1,500 cities.
The slogan:
The company was started without any venture capital funding, so it had a limited budget and couldn't afford expensive traditional media advertising. So that got the company thinking about porn sites.
When it did some research, it discovered 85% of porn was viewed between 7pm and 3am, which happened to coincide with Eat24's busiest delivery period. When it looked at the top websites by traffic count, many of them were porn sites. When it looked at the cost of running a campaign on Facebook, Twitter and Google, then compared running that same campaign on porn sites, Eat24 realized it could get more ad exposure than the big three combined – at roughly one-tenth the cost.
Next, Eat24 looked at all the ads on porn sites and realized they were just more porn. So in order to stand out, the company decided to go with humor.
So one ad said:
Another one said:
Meaning – order food and watch porn at the same time.
Then Eat24 submitted their ads to the porn network.
Eat24 experimented by putting its ads on the PornHub homepage page, and on the actual video landing pages – and discovered that five times as many people clicked on the banner ad when it was next to a video.
The overall result of the campaign?
Tens of thousands clicked the ads and ordered food. There was a huge spike in orders and app downloads – especially late at night. And Eat24 generated that business by spending 90% less than it would have spent on Google, Twitter or Facebook. At that price, it was able to maintain its campaign for weeks – unlike on Google, where it would have spent its entire budget in just a few days. What's more, 90% were first-time customers, so Eat24 reached an entirely new market. And those customers kept coming back. Retention on porn banners was four times higher than the company's Facebook ads.
Eat24 gained a few other insights with their porn advertising. The top three cities ordering food from porn sites were Chicago, Vegas and Washington DC. New Yorkers ordered most of their food at lunchtime. Interesting. Washington DC ordered late at night. And Houston, Texas, surprised everybody by doing most of its porn food ordering first thing in the morning.
There was an additional bonus, too. The mainstream press picked up on the fact Eat24 was advertising on porn sites, and ran several stories on the food delivery service – giving it even more reach and awareness. In the end, Eat24 was thrilled with its porn site campaign, and according to its website, is still advertising there with great success. Controversy fueled their limited budget to get more attention.
As marketers toy with crossing the dangerous line into porn advertising, not every brand is able to get by the stigma. But some don't mind at all.
For a long time now, the world of fashion advertising has used sex to sell. Many of those ads have included nudity and very suggestive imagery. So maybe it shouldn't be surprising that Diesel, the Italian fashion giant, has begun advertising on multiple porn sites.
There was another practical marketing reason, too. Diesel is a global company, and it needs to talk to millions of people to be successful. The porn site they chose offered 60 million daily visitors – at very affordable rates – and an increasing percentage of those visitors are women. Diesel's advertising strategy is all about digital culture – which according to the company – includes dating apps, Facebook, Snapchat, Instagram… and porn.
As AdWeek magazine pointed out, there has been a generational shift with regard to the stigma of watching porn. According to the Globe & Mail, a survey showed that 40% of Canadian teenage boys in grades 7 to 11 frequently view porn. That means some of those boys are as young as 11 years old. Kids no longer have to be 18 years or older to access adult sites. And when they grow up surrounded by it, it becomes normalized.
(Related: The Number of 12-Year-Olds Who Admit To Struggling With Porn Will Shock You)
As a result, young consumers don't consider it taboo. And the majority of advertisers want young consumers.
Even upscale fashion designers are open to an association with porn. Marc Jacobs once gave a porn movie crew permission to film a scene in his Soho store location. According to Forbes Magazine, it was a calculated decision: In the jaded world of fashion and entertainment, association with porn is becoming a way to demonstrate "edginess."
Other companies are jumping on the porn wagon as well. Groupon, the online coupon company, offered deals for tours of the largest torture porn studio in San Francisco, as well as tours of the Playboy Mansion in Los Angeles. MeUndies.com is a subscription underwear company that's based in LA, and initially launched the company on a Canadian porn site. When asked why it chose to launch on a XXX site, founder Jonathon Shokrian said they don't mind controversy at all. Like Eat24, controversy got them lots of attention with a small budget.
Advertising on porn sites is one thing, but French fashion company Shai went even further. The fashion brand created online XXX video catalogues of their clothing, featuring models wearing its clothes, stripping, and then engaging in hardcore sex. The theme: "There's no reason to be shy."
Before the models stripped, viewers could mouse over small green dots that would freeze the video and bring up price and sizing information about the clothing. Within the first four months, over two million people from 117 countries had watched the videos. The strategy, according to the fashion company, was to create notoriety.
Clearly, advertising and porn are no longer strangers. There's always a tipping point that leads people – and industries – to cross the fault line. The porn industry gave into the temptation of the global reach of the Internet, but free porn overtook pay porn, and now it needs advertising revenue.
The advertising industry has been racked with contracting budgets and punishing recessions, and now finds itself handling prickly clients demanding they do more with less. A call the porn industry is happy to answer.
For these advertisers, huge audiences delivered at dirt-cheap prices is too powerful to pass up. Meanwhile, the porn industry is polishing its act to attract more advertisers so they can continue to reel in the cash.
We're not okay with companies using porn to make a profit. Fueling sexual exploitation may serve their bottom line, but there are countless negative consequences linked to supporting the porn industry. Each year we join with the National Center on Sexual Exploitation in exposing 12 major companies who are making money off porn and others forms of sexual exploitation. This 'Dirty Dozen List' has led to major changes by big corporations who need to understand that profiting through porn is making the world a darker place.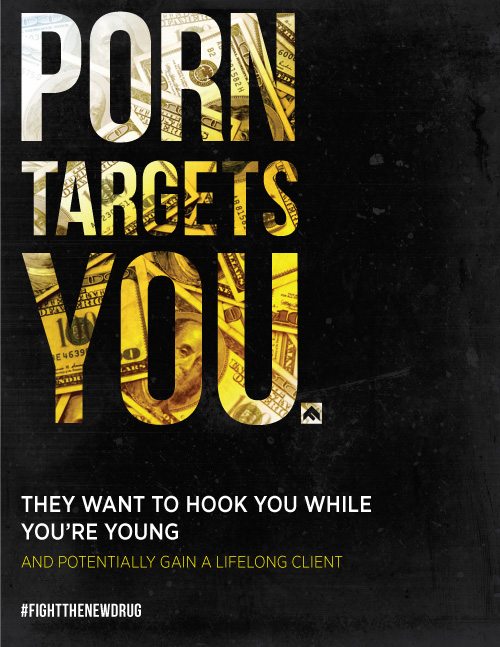 What YOU Can Do
Expose these companies for profiting off porn and speak out so other companies don't cross that line. SHARE this article to spread the word and stop the demand for sexual exploitation.