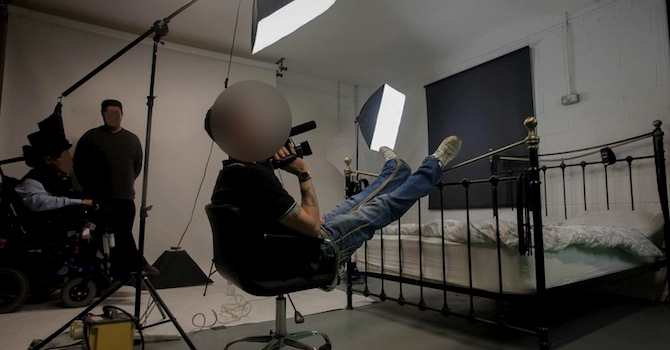 Cover photo by Isabelle Andarakis, posted on Vice News (trigger warning: link contains NSFW images). 7-minute read.
Many industries in our global economy have at some point in their existence cut corners to make a profit. Initially, it's overlooked or hidden for a time and then exposed as the consumers ask for better (as they should).
For example, only since the early 90's did people start asking about the ethics of the clothing industry. Brands were pushed to show more transparency about their business practices—particularly labor policies—which sparked a revolution of people all over the world asking #whomademyclothes?
But even clothing brands aren't considered "shady" businesses, right? So what are? A few examples are found in a dictionary definition: illegitimate, corrupt, suspicious, shifty.
Related: How Is The Porn Industry Worth Billions Of Dollars?
Sound like an industry that's widely accepted and normalized in our society?
The porn industry is infamous for its lack of transparency regarding business practices. Shira Tarrant, an author and professor, said official records are hard to come by. When the studio system reigned more than 10 years ago, it was at least easier to track the numbers of DVDs and magazines sold even though many productions weren't keeping official records. The issue has only worsened since internet porn has taken over, making official numbers and tracking hard to come by.
Related: Death To Porn: How The Internet Is Killing The Porn Industry
Beyond looking for numbers, the business of porn relies on other concerning behaviors that we do know from documentary investigations and firsthand accounts from performers. They give us legit reasons to believe the porn industry is one that needs a spotlight to sweep out those shady corners, so we'll start with the most basic.

Accusations of money laundering
Recently, the documentary Pornocracy that debuted at the 2017 SXSW film festival attempted to uncover the modern world of porn by tracing its history since the internet, from a group of computer geeks to Goldman Sachs brokers. Then there are the allegations from one man interviewed in the documentary who suggests the main business isn't porn, but moving money from one country to another—otherwise known as money laundering.
There have been other accusations pointing to porn sites who upload content and then hide their funds in offshore companies, but clearly documented proof is once again hard to come by.
Related: Porn Tube Sites Are Free, So How Does The Porn Industry Actually Make Money?
To look at one recorded example, we go back to October 2012. In LA county, a political campaign called Measure B was underway. The AIDS Health Foundation (AHF) supported the "yes" vote as the ballot required producers of adult films to obtain a public health permit and required the use of condoms.
Then came a $75,000 donation from a Luxembourg company called Manwin (now we know it as Mindgeek). It was the largest single donation, thus sparking some investigation.
Related: Does The Porn Industry Use "Tobacco Industry Tactics" To Hide The Dark Truth?
The AHF filed a formal complaint against Manwin because the "murky" origins of the funds raised questions about money from a foreign porn cartel being sent to an election campaign in the United States—which is considered an illegal act as campaigns are not allowed to accept foreign money.
Here's what Michael Weinstein, president of the AHF, noticed after the complaint:
"It's worth noting that after we spoke out about the questionable source of Manwin's initial $75,000 donation in early October, the 'No' campaign amended its latest campaign finance filings on Friday in order to do what looks like a shell game—shuffling money around, or at least the reported source of the money. First it was $75K from Manwin. Then, a quick switch of the name of the donor from Manwin to the Cyprus-based Froytal Services LTD. Next, an additional $150K from Manwin was donated to the 'No' campaign on October 16; finally, the campaign then paid $75K out to Froytal. This back and forth simply does not pass the sniff test."
In the end, the clearest illegal activity was not a charge against money laundering, but that a US campaign accepted foreign money. Mindgeek was fined $61,500. But we all know that's only the tip of the iceberg.

Coercion of employees, aka "performers"
For those who still believe that porn doesn't harm anyone, let's set the scene for a common situation in the porn world.
A young female performer shows up for a modeling gig. Maybe she's over 18, maybe not. She was promised a high paycheck and maybe even generously flown out of state to the location, but when she arrives the truth comes out about what she's expected to do—have sex on camera. At that point, she's already signed a contract and doesn't feel like she can object to being in a porn film. Think this doesn't really happen? Then read this. And this.
Related: Which Is Better: Paying For Porn Or Watching It For Free?
It's a shady and corrupt industry that doesn't care to protect the very people who create their product, or worse, resort to tricking or coercing vulnerable people into work they don't enthusiastically want to do. Film producers are at fault, as are the free websites that pirate the producers' work, driving up the demand for more edgy content and continuing the vicious cycle of exploitation.
As we see in the documentary "Hot Girls Wanted," even the girls who knowingly signed up to perform are misled and mistreated. In one scene, a girl tells her story about arriving for a shoot only to find out that the gig was just one man at his house with a camera. She didn't know when she agreed to the job that he was going to force her to endure aggressive sex acts while he filmed, and she felt unsafe.
Related: The Porn Industry Isn't Just Selling Sex, It's Selling Violent Abuse Of Women
For many performers, it doesn't get easier as they continue. Since the rise of the porn tube sites, both male and female actors are under pressure to perform increasingly hardcore scenes. This is not necessarily because work opportunities are slim (though less extreme content is becoming more passé). It's because there is an endless amount of content to compete against.
Competition is tough everywhere in the business world, but it's unethical and unsafe the way performers are often coerced to perform. And as far as we know, there isn't an official porn performer complaint system, holding producers or companies accountable for their behavior.
"Many female performers suffer through coercion and inappropriate behavior on set and on screen," porn producer Erika Lust wrote. "No, not all [porn performers] are victims, but many are." And even one victim is one too many.

Lack of responsibility to clients
More ethical industries generally hold themselves accountable for the effects their products have on their customers—there's usually a toll-free number on the back of any given product that you can buy at the grocery store, providing a way to give feedback to companies or file complains about their product.
Businesses want to make money, but usually provide value and accountability of service at the same time, right?
Related: The Surprising Secrets The Porn Industry Is Hiding From Consumers
But not porn. The porn industry instead puts an emphasis on making money and completely ignores responsibility for the damage caused to society and consumers. That damage being freely releasing an endless supply of addictive material, fueling the demand for sex trafficking, and altering sexual tastes to accept otherwise unacceptable or disturbing violent acts.
In other words, not only is the porn industry a shady business, but their care for their consumers is based on how long a person watches and what they click on, not their wellbeing. If the large tube sites were concerned, perhaps they would make it more difficult for underage viewers to access their content. But we all know how simple it is for anyone—no matter their age—to find hardcore porn online, whether on purpose or by accident.
From the perspective of a large company like Mindgeek, lifelong clients are loyal clients. They know that targeting young kids in particular by stimulating their natural sexual curiosity, can get them hooked.
Related: Seven Major Corporations That Say "No" To Profiting Off Porn
Alexander Rhodes, the founder of NoFap, told how he grew up with technology. His father was a computer programmer and he himself spent time playing video games. This lead to his first interaction with porn. Around 11 years old, he accidentally clicked on a banner ad which led to an image of simulated rape. It was enough to spark his young curiosity, and throughout his adolescence, the internet grew as did his increasing dependence on high definition porn.

We can do better
Alexander's story is not unique. He was right around the average age when a person is first exposed to porn. His story as well as thousands of other young people who stumbled upon porn at a young age, the young actors who are outright lied to and coerced beyond their boundaries are who we fight for.
We expect more from other industries, so why should porn be pushed aside and given a free pass when it too needs to be held accountable? And we're convinced that if they were actually held accountable for their many crimes to society, there would be no industry left.