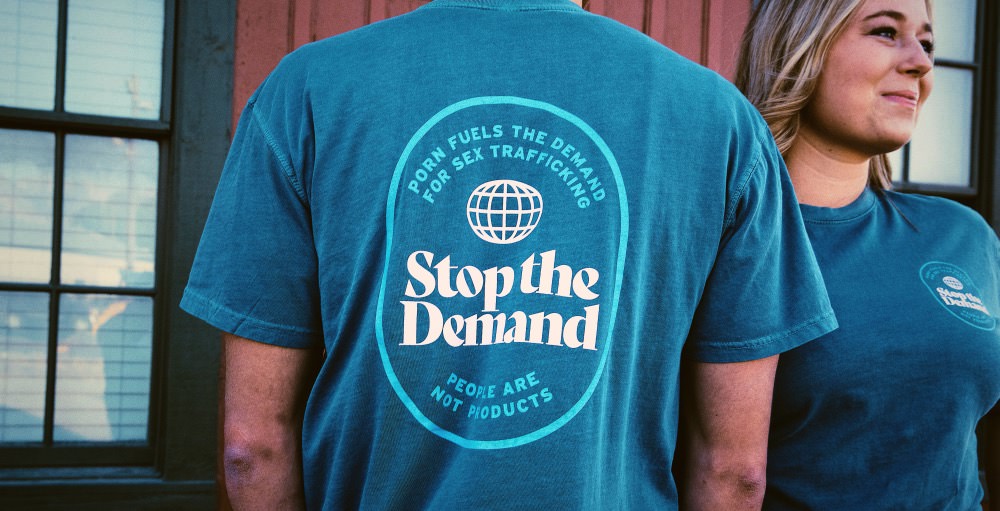 8-minute read.
If you're reading this, it's probably because you or someone you know is participating in #RepTheMovement Day. Firstly, welcome to Fight the New Drug's site! We're stoked you're here!
While wearing Fighter gear is awesome, today thousands of Fighters have agreed to rep this movement for real love all at the same time, and it's more than just a photo op and a great chance to get views on an IG story. This day is all about collectively taking a stand against the normalization and acceptance of pornography and sexual exploitation in our society. And by repping, we're actually making a huge, measurable impact on people's lives and the world.
Now, let's give you some backstory on who we are, and why we're choosing to fight for real love by taking a stand against sexual exploitation.
Related: 5 Ways Porn Can Harm Your Brain, Body, And Quality Of Life
To the average person, porn may seem like an awkward topic to discuss, but it's one we have to be bold about and willing to shine a light on. To put it simply, science and research are showing how pornography is robbing people of meaningful, healthy relationships and blocking a countless number of people's true happiness. By taking a stand and fighting for real love, we are not only bettering our own lives and protecting our relationships with those who mean the most to us, we are also bettering our world as a whole.
Allow us to explain.
What's the issue?
Just like it took decades for society to believe the science that proved that smoking cigarettes is harmful, we are learning a similar lesson with porn in our world today. And since we're an awareness campaign first and foremost, we're all about educating by sharing the science, research, and personal accounts that all point to the fact that porn is anything but harmless entertainment.
Here at Fight the New Drug, we've been dropping knowledge on the harmful effects of pornography since '09. We're a registered 501(c)(3) nonprofit, and we're also non-religious and non-legislative. We are not out to ban porn, or even talk about it from a moral perspective, but to give people the opportunity to make an educated choice about it. At the heart of what we do, our goal is to stop the demand for sexual exploitation and pornography through allowing educated people to choose for themselves not to contribute.
And if right about now you're asking what the facts of the issue are, you've come to the right place!
What are the facts?
Research has shown that porn negatively impacts the consumer's brain, relationships, and our society as a whole. In a pornified world that sells the idea that porn is healthy for consumers and good for their relationships, the data tells a much different story.
Let's dive in for a minute. And if you're more of a movie person and less of an article person, click below to watch our docuseries for free.

Brain
Believe it or not, studies show that those who make more frequent use of pornography have brains that are less connected, less active, and even smaller in some areas. [1] Not only that, but research also shows that of all the forms of online entertainment—like gambling, gaming, web-surfing, and social networking—porn has the strongest tendency to be addictive. [2]
Related: Can Watching Porn Make Existing Mental Health Issues Worse?
Porn consumption also has a tendency to be a strongly escalating habit, and can warp a consumer's perception of healthy sexuality over time. [3] Many users find themes of aggression, violence, and increasingly "edgy" acts creeping into their porn habits and fantasies after continuous consumption. [4] In fact, many porn consumers eventually find themselves getting aroused by things that used to disgust them or that go against what they think is healthy and acceptable. [6] In many cases, porn consumers find their tastes so changed that they can no longer respond sexually to their actual partners, though they can still respond to porn. [7]
For more empirical data about how porn can harm and rewire the consumer's brain, click here.
Heart
Research also shows that porn consumers report less love and trust in their relationships, are more prone to separation and divorce, and often see marriage as a "constraint." [8] Overall, they are less committed to their partners, [9] less satisfied in their relationships, [10] and more cynical about love and relationships in general. [11] That doesn't sound very sexy, does it?
They also have poorer communication with their partners and are more likely to agree that, in their own relationships, "little arguments escalate into ugly fights with accusations, criticisms, name-calling, and bringing up past hurts." [12]
Not only that, but study after study has shown that porn is directly related to problems with arousal, attraction, and sexual performance. [13] Porn leads to less sex and to less sexual satisfaction within a relationship. [14] And that's not even the worst part.
For more empirical data about how porn can fuel loneliness and drive a wedge in relationships, romantic and otherwise, click here.
World
In a world where porn is so normalized, you'd never guess that it's also directly tied to sex trafficking. Surprised? Allow us to explain.
When a consumer watches porn, there's no real way to know what kind of "consent" the actors have given. You can't assume, just because someone appears in a porn video, that they knew beforehand exactly what would happen or that they had a real choice or the ability to stop what was being done. This is especially true of victims of sex trafficking, whose images and videos end up all across the internet with no way of knowing.
Related: 7 Cases Of Nonconsensual Porn And Rape Tapes Pornhub Doesn't Want Consumers To Know About
The victim is not going to turn to the camera and announce they are being trafficked, and these images and videos make their way onto mainstream porn sites, where they are indistinguishable. In fact, even if the victim does register their distress, it's still impossible to know, because rape and abuse-themed porn have now become mainstream.
That doesn't even begin to cover all the ways that porn and sex trafficking are connected.
For more empirical data about how porn fuels violence and is connected to human sex trafficking, click here.

Why does repping make a difference?
By now, you might be asking yourself, "But how does simply wearing a tee shirt with a bold phrase actually make an impact on such a massive issue?"
We're glad you asked!
How do we build relationships, convey ideas, and spark social change, as humans? Through relational communication, right? That's why transparent conversations are an important part of what this movement is, and for the last nine years, we have specially designed merch that is eye-catching and conversation-starting. We've also created content that is informative, cool, and shareable, while paying particular attention to the messages we send through our resources so that they are as educational and approachable as possible.
You're not reading this article by accident. You didn't visit our website by some fluke (probably). You're here because you saw a tee, or clicked a link, or read an article, and you're wondering what this is all about. And millions of people, just like you, are wondering the same thing, and are having their minds and hearts opened to a new way of thinking about an issue that has no doubt affected each one of our lives, whether we realize it or not.

Our hope is that our resources inspire individuals to make the decision for themselves to take action and decrease the demand for sexual exploitation. And the best part about that is hundreds of thousands of people are making that decision daily, and they're spreading the word right now and telling us all of the ways that this fight for love is growing—and ultimately that is changing our world.
Related: Porn Is Fueling Sexual Harassment Cases In Schools—Here's Why
This is how the revolution against a multi-billion dollar porn industry, with dangerous influence over consumers' minds and hearts begins. This is how we change the conversation around porn, one face-to-face conversation or post-share at a time. One by one, it might seem small, but together, our collective efforts are making and have already made a huge difference.
All around the world, our generation and the next are starting to take notice of pornography's harmful effects and are speaking out against it more than ever before. It is up to us to choose to speak up and speak out against sexual exploitation, rather than turn a blind eye to the harmful epidemic impeding on our society. It is up to us to fight for love.

What does "repping the movement" actually do?
So, back to #RepTheMovement Day. The truth is, this day is so much more than just getting a tee, taking some pics, and sharing it with some friends. This is much bigger than that.
Repping this movement is literally representing the stand you're taking against porn and sexual exploitation, and the stand you're taking to fight for real love. If you want to continue to further the impact you're making, share the research we've gathered and made easily accessible and start conversations with your friends and family, share FTND's translated resources for non-English speakers, or have us come and present in your community.
All of these things, no matter how small they seem, make a huge difference and visibly move the needle on an issue that is embedded within our culture.

What is Fight the New Drug actually doing to help?
Since Fighters all over the world have generously agreed to say YES to sharing the facts on the harms of porn, we want to be clear about where the funds from donations and tee shirt purchases go, and why that support is so massively important to continuing to help educated individuals on the harmful effects of pornography.
Related: "Fighter Club": How You Can Make A Lasting Impact With Fight The New Drug
The fact is, a large part of our organization is fueled by Fighters just like you purchasing conversation-starting gear or making donations. That support directly helps to mobilize our education and awareness campaign that has reached hundreds of thousands of people through live presentations, thousands of others through our three-part documentary series, and millions of people around the world through social media. Not to mention our present and future projects that will continue to educate vast numbers of people and add to this tidal wave of social change.
Let's break it down for you. By someone choosing to rep the movement and actively support this organization, they're supporting:
Education
One of the biggest ways we do this is by traveling around the country, and now the world, presenting to universities, junior highs and high schools, conferences, parent presentations, and other community events. Another way we do this is by developing online resources that are easy to share and easy to read, geared towards a youthful audience and aimed at delivering the facts.
Related: Everything You Need To Know About Fight The New Drug's Three-Part Docuseries
Not to mention our massive undertaking in producing a three-part documentary series, Brain, Heart, World, which has tons of expert interviews and interviews with real people whose lives have been deeply affected by porn. And these projects are just the beginning of our efforts to educate the world.
Check out the trailer for our series, right here:
Mobilization
The mobilization of our efforts is what keeps this movement growing. We have spent countless hours and consulted with many experts in developing programs that will best reach people around the world, and educate youth on why porn is harmful to their health and well-being. This includes our blog that has hundreds of posts on how porn is connected to sex trafficking, relationship dissatisfaction, and harms to the porn consumer. Everyday readers can access this information because we've gathered it from existing research studies and optimized it for sharing and conversation-starting.
Other awesome mobilization programs include our ongoing translation projects, which involve professionally translating select FTND materials and resources into 4 other languages (for now): French, Portuguese, Spanish, and German. Not to mention our other social media efforts, including partnering with researchers and experts in writing our Get the Facts articles and getting the word out on social media with professional writers and bloggers.
Behind every post, every tweet, every blog is an entire team of people dedicated to making sure that we're delivering the best, most accurate and relevant information available to the public relating to porn's harms.
When you choose to rep the movement, you're choosing to fuel these efforts and contribute to the cause in a big way. When you choose to rep, you're giving further light and power to the facts that society desperately needs to learn. When you rep and start conversations, you are the movement in motion.

How can you join in?
There are over 7.7 billion people in the world.
According to the world's largest hardcore porn site, Pornhub, 42 billion videos were viewed on that site in 2019 alone. That's over 5 videos viewed for every person on the planet.
If pornography is a global, $97 billion industry, what can a single person—1 of 7.7 billion people—do to fight this?
The reality is, a lot. One little drop can send out far-reaching ripples. And luckily, you are not alone. We have over 5,500,000 Fighters repping the movement all over the world, and we believe in changing the status quo. If one drop can break the surface tension and create a ripple effect, a lot of drops can make some serious waves.
Related: 4 Reasons Why Valuing Real Love Means Raising Awareness On Porn's Harms
The first step to joining this global community of Fighters is signing the Fighter Pledge and taking a stand against sexual exploitation. You can also sign up to partner with us on a monthly basis by joining Fighter Club!
Next, share the facts and spark those conversations, even if it's from someone asking about your tee while you're out buying groceries. It all matters!
In the end, all the little steps add up to big changes, and it's all part of our global initiative to change the conversation around porn, forever. And the good news is, we've already made a measurable impact. Are you in?
Get involved by signing the Fighter Pledge. Bring FTND to your school by booking an event. Or even join our street team to educate your community on the facts that pornography is dangerous.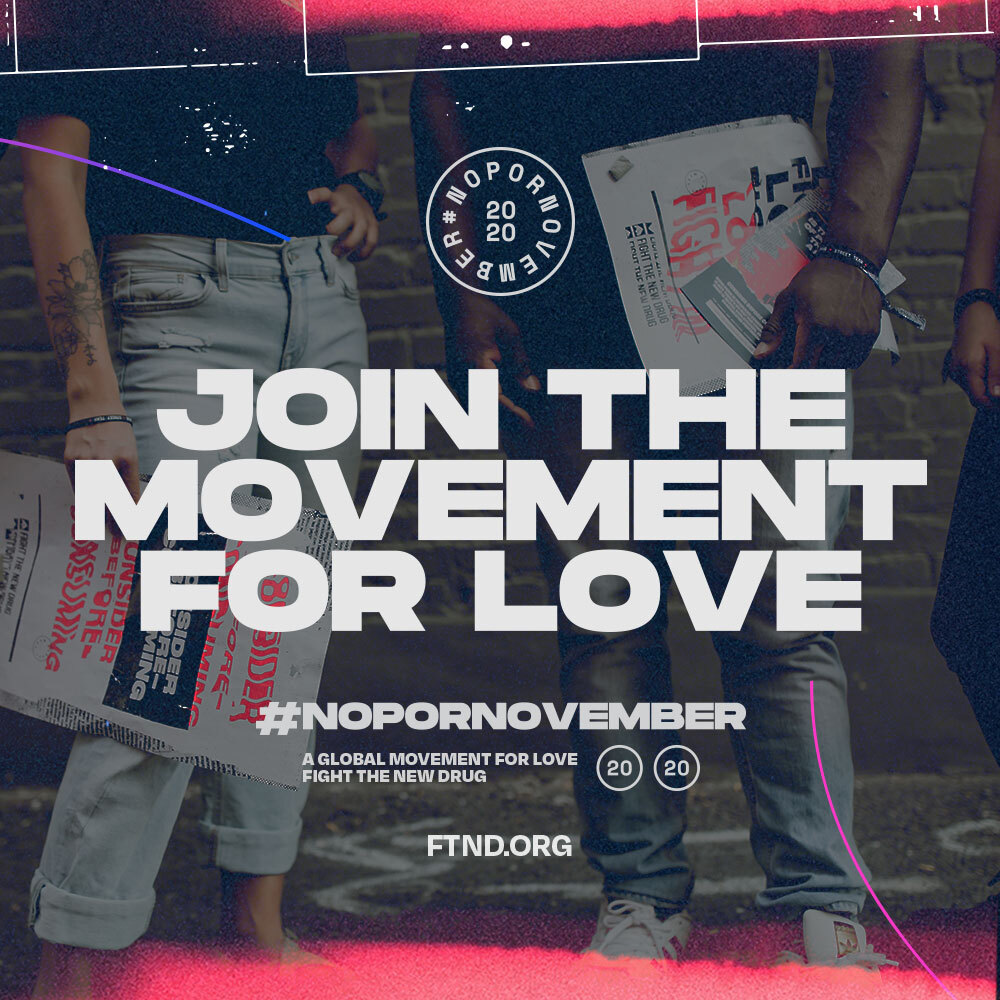 [1] Love, T., Laier, C., Brand, M., Hatch, L., & Hajela, R. (2015). Neuroscience Of Internet Pornography Addiction: A Review And Update, Behavioral Sciences, 5(3), 388-433. Doi: 10.3390/Bs5030388; Kuhn, S., & Gallinat, J. (2014). Brain Structure And Functional Connectivity Associated With Pornography Consumption: The Brain On Porn. JAMA Psychiatry, 71(7), 827-834. Doi:10.1001/Jamapsychiatry.2014.93; Love, T., Laier, C., Brand, M., Hatch, L., & Hajela, R. (2015). Neuroscience Of Internet Pornography Addiction: A Review And Update, Behavioral Sciences, 5(3), 388-433. Doi: 10.3390/Bs5030388; Wehrum-Osinski, S., Klucken, T, & Rudolf, S. (2015) OR-95: Neuronal And Subjective Responses In Patients With Excessive Pornography Consumption, Journal Of Behavioral Addictions, 4(S1), 42; Arnow, B. A., Et Al. (2002). Brain Activation And Sexual Arousal In Healthy, Heterosexual Males. Brain, 125, 1014-1023. Doi:10.1093/Brain/Awf108. See Also Kuss, D., & Griffiths, M. D. (2012). Internet And Gaming Addiction: A Systematic Literature Review Of Neuroimaging Studies, Brain Science, 2(3) 347-374. Doi:10.3390/Brainsci2030347 (Discussing Brain Atrophy Among Persons Addicted To Internet Use.)
[2] Meerkerk, G.J., Van Den Eijnden, R.J., & Garretsen, H.F. (2006). Predicting Compulsive Internet Use: It's All About Sex!, CyberPsychology And Behavior, 9(1), 95-103. Doi:10.1089/Cpb.2006.9.95; See Also Korkeila, J., Kaarlas, S., Jaaskelainen, M, Vahlberg, T., Taiminen, T. (2010). Attached To The Web—Harmful Use Of The Internet And Its Correlates. European Psychiatry 25(4) 236-241. Doi: 10.1016/J.Eurpsy.2009.02.008 (Finding "Adult Entertainment" To Be The Most Common Reason For Compulsive Internet Use.)
[3] Park, B. Y., Et Al. (2016). Is Internet Pornography Causing Sexual Dysfunctions? A Review With Clinical Reports. Behavioral Sciences, 6, 17. Doi:10.3390/Bs6030017; Kalman, T.P. (2008). Clinical Encounters With Internet Pornography. Journal Of The American Academy Of Psychoanalysis And Dynamic Psychiatry, 36(4) 593-618. Doi:10.1521/Jaap.2008.36.4.593
[4] Park, B. Y., Et Al. (2016). Is Internet Pornography Causing Sexual Dysfunctions? A Review With Clinical Reports. Behavioral Sciences, 6, 17. Doi:10.3390/Bs6030017; Kalman, T.P. (2008). Clinical Encounters With Internet Pornography. Journal Of The American Academy Of Psychoanalysis And Dynamic Psychiatry, 36(4) 593-618. Doi:10.1521/Jaap.2008.36.4.593
[5] NoFap Survey (2012) Http://Www.Reddit.Com/R/NoFap/Comments/Updy4/Rnofap_survey_data_complete_datasets/
[6] Wery, A. & Billieux, J. (2016). Online Sexual Activities: An Exploratory Study Of Problematic And Non-Problematic Usage Patterns In A Sample Of Men. Computers In Human Behavior 56, 257-266. Doi:10.1016/J.Chb.2015.11.046; Park, B. Y., Et Al. (2016). Is Internet Pornography Causing Sexual Dysfunctions? A Review With Clinical Reports. Behavioral Sciences, 6, 17. Doi:10.3390/Bs6030017; Paul, P. (2010). From Pornography To Porno To Porn: How Porn Became The Norm. In J. Stoner And D. Hughes (Eds.) The Social Costs Of Pornography: A Collection Of Papers (Pp. 3–20). Princeton, N.J.: Witherspoon Institute.
[7] Park, B. Y., Et Al. (2016). Is Internet Pornography Causing Sexual Dysfunctions? A Review With Clinical Reports. Behavioral Sciences, 6, 17. Doi:10.3390/Bs6030017; Voon, V., Et Al. (2014). Neural Correlates Of Sexual Cue Reactivity In Individuals With And Without Compulsive Sexual Behaviors, PLoS ONE, 9(7), E102419. Doi:10.1371/Journal.Pone.0102419; Hall, P. (2013). Sex Addiction—An Extraordinarily Contentious Problem. Sexual And Relationship Therapy, 29(1) 68-75. Doi:10.1080/14681994.2013.861898; Sun, C., Bridges, A., Johnason, J., & Ezzell, M. (2014) Pornography And The Male Sexua Script: An Analysis Of Consumption And Sexual Relations. Archives Of Sexual Behavior. 45, 1-12. Doi:10.1007/S10508-014-0391-2. Doidge, N. (2007). The Brain That Changes Itself. New York: Penguin Books. (130).
[8] Henline, B. H., Lamke, L. K., & Howard, M. D. (2007). Exploring Perception Of Online Infidelity. Personal Relationships, 14, 113-128. Doi:10.1111/J.1475-6811.2006.00144.X; Stack, S., Wasserman, I., & Kern, R. (2004) Adult Social Bonds And The Use Of Internet Pornography. Social Science Quarterly, 85, 75-88. Doi:10.1111/J.0038-4941.2004.08501006.X; Schneider, J. P. (2000). Effects Of Cybersex Addiction On The Family: Results Of A Survey. Sexual Addiction And Compulsivity, 7, 31-58. Doi:10.1080/10720160008400206
[9] Minarcik, J., Wetterneck, C. T., & Short, M. B. (2016). The Effects Of Sexually Explicit Material Use On Romantic Relationship Dynamics. Journal Of Behavioral Addictions, 5(4) 700-707. Doi: 10.1556/2006.5.2016.078; Perry, S. (2016). Does Viewing Pornography Reduce Marital Quality Over Time? Evidence From Longitudinal Data. Archives Of Sexual Behavior, 46(2), 549-559. Doi: 10.1007/S10508-016-0770-Y; Sun, C., Bridges, A., Johnason, J., Ezzell, M. (2014). Pornography And The Male Sexual Script: An Analysis Of Consumption And Sexual Relations. Archives Of Sexual Behavior, 45, 1-12. Doi:10.1007/S10508-014-0391-2; Poulsen, F. O., Busby, D. M., & Galovan, A. M. (2013). Pornography Use: Who Uses It And How It Is Associated With Couple Outcomes. Journal Of Sex Research 50(1), 72-83. Doi:10.1080/00224499.2011.648027; Stewart, D. N., & Szymanski, D. M. (2012). Young Adult Women's Reports Of Their Male Romantic Partner's Pornography Use As A Correlate Of Their Self-Esteem, Relationship Quality, And Sexual Satisfaction. Sex Roles, 67(5-6), 257-274. Retrieved From Https://Yourbrainonporn.Com/Young-Adult-Women%E2%80%99s-Reports-Their-Male-Romantic-Partner%E2%80%99s-Pornography-Use-Correlate-Their-Self.
[10] Park, B. Y., Et Al. (2016). Is Internet Pornography Causing Sexual Dysunction? A Review With Clinical Reports, Behavioral Sciences, 6, 17. Doi:10.3390/Bs6030017; Perry, S. (2016). Does Viewing Pornography Reduce Marital Quality Over Time? Evidence From Longitudinal Data. Archives Of Sexual Behavior, 46(2), 549-559. Doi: 10.1007/S10508-016-0770-Y; Maddox, A. M., Rhoades, G. K., & Markman, H. J. (2011). Viewing Sexually-Explicit Materials Alone Or Together: Associations With Relationship Quality. Archives Of Sexual Behavior, 40(2), 441-448. Doi:10.1007/S10508-009-9585-4; Morgan, E. M. (2011). Associations Between Young Adults' Use Of Sexually Explicit Materials And Their Sexual Preferences, Behaviors, And Satisfaction. Journal Of Sex Research, 48,(6), 520-530. 8(6):520-30. Doi:10.1080/00224499.2010.543960; Zillman, D., & Bryant, J. (2006). Pornography's Impact On Sexual Satisfaction. Journal Of Applied Social Psychology, 18(5), 438-453. Doi:10.1111/J.1559-1816.1988.Tb00027.X
[11] Zillman, D., & Bryant, J. (2000). Influence Of Unrestrained Access To Erotica On Adolescents' And Young Adults' Disposition Toward Sexuality. Journal Of Adolescent Health, 27(2 Suppl), 41-44. Doi:10.1016/S1054-139X(00)00137-3
[12] Maddox, A. M., Rhoades, G. K., & Markman, H. J. (2011). Viewing Sexually-Explicit Materials Alone Or Together: Associations With Relationship Quality. Archives Of Sexual Behavior, 40(2), 441-448. Doi:10.1007/S10508-009-9585-4
[13] Carvalheira, A., Traeen, B., & Stulhofer, A. (2015). Masturbation And Pornography Use Among Coupled Heterosexual Men With Decreased Sexual Desire: How Many Roles Of Masturbations? Journal Of Sex And Marital Therapy, 41(6), 626-635. Doi:10.1080/0092623X.2014.958790; Voon, V., Et Al. (2014). Neural Correlates Of Sexual Cue Reactivity In Individuals With And Without Compulsive Sexual Behaviors, PLoS ONE, 9(7), E102419. Doi:10.1371/Journal.Pone.0102419; Sun, C., Bridges, A., Johnason, J., & Ezzell, M. (2014). Pornography And The Male Sexual Script: An Analysis Of Consumption And Sexual Relations. Archives Of Sexual Behavior, 45(4), 1-12. Doi:10.1007/S10508-014-0391-2; Poulsen, F. O., Busby, D. M., & Galovan, A. M. (2013). Pornography Use: Who Uses It And How It Is Associated With Couple Outcomes. Journal Of Sex Research 50(1), 72-83. Doi:10.1080/00224499.2011.648027; Stewart, D. N., & Szymanski, D. M. (2012). Young Adult Women's Reports Of Their Male Romantic Partner's Pornography Use As A Correlate Of Their Self-Esteem, Relationship Quality, And Sexual Satisfaction. Sex Roles, 67(5-6), 257-274. Doi:10.1007/S11199-012-0164-0; Maddox, A. M., Rhoades, G. K., & Markman, H. J. (2011). Viewing Sexually-Explicit Materials Alone Or Together: Associations With Relationship Quality. Archives Of Sexual Behavior, 40(2), 441-448. Doi:10.1007/S10508-009-9585-4; Morgan, E. M. (2011). Associations Between Young Adults' Use Of Sexually Explicit Materials And Their Sexual Preferences, Behaviors, And Satisfaction. Journal Of Sex Research, 48,(6), 520-530. 8(6):520-30. Doi:10.1080/00224499.2010.543960; Janssen, E., & Bancroft, J. (2007). The Dual-Control Model: The Role Of Sexual Inhibition & Excitation In Sexual Arousal And Behavior. In Janssen, E. (Ed.), The Psychology Of Sex (Pp. 197-222). Bloomington, IN: Indiana University Press; Zillman, D., & Bryant, J. (2006). Pornography's Impact On Sexual Satisfaction. Journal Of Applied Social Psychology, 18(5), 438-453. Doi:10.1111/J.1559-1816.1988.Tb00027.X
[14] Minarcik, J., Wetterneck, C. T., & Short, M. B. (2016). The Effects Of Sexually Explicit Material Use On Romantic Relationship Dynamics. Journal Of Behavioral Addictions, 5(4) 700-707. Doi: 10.1556/2006.5.2016.078; Doran, K., & Price, J. (2014). Pornography And Marriage. Journal Of Family And Economic Issues, 35(4), 489-498. Doi:10.1007/S10834-014-9391-6; Sun, C., Bridges, A., Johnason, J., & Ezzell, M. (2014). Pornography And The Male Sexual Script: An Analysis Of Consumption And Sexual Relations. Archives Of Sexual Behavior, 45(4), 1-12. Doi:10.1007/S10508-014-0391-2; Poulsen, F. O., Busby, D. M., & Galovan, A. M. (2013). Pornography Use: Who Uses It And How It Is Associated With Couple Outcomes. Journal Of Sex Research 50(1), 72-83. Doi:10.1080/00224499.2011.648027; Maddox, A. M., Rhoades, G. K., & Markman, H. J. (2011). Viewing Sexually-Explicit Materials Alone Or Together: Associations With Relationship Quality. Archives Of Sexual Behavior, 40(2), 441-448. Doi:10.1007/S10508-009-9585-4; Morgan, E. M. (2011). Associations Between Young Adults' Use Of Sexually Explicit Materials And Their Sexual Preferences, Behaviors, And Satisfaction. Journal Of Sex Research, 48,(6), 520-530. 8(6):520-30. Doi:10.1080/00224499.2010.543960; Yucel, D., & Gassanov, M. A. (2010). Exploring Actor And Partner Correlates Of Sexual Satisfaction Among Married Couples. Social Science Research, 39725-738. Doi:10.1016/J.Ssresearch.2009.09.002