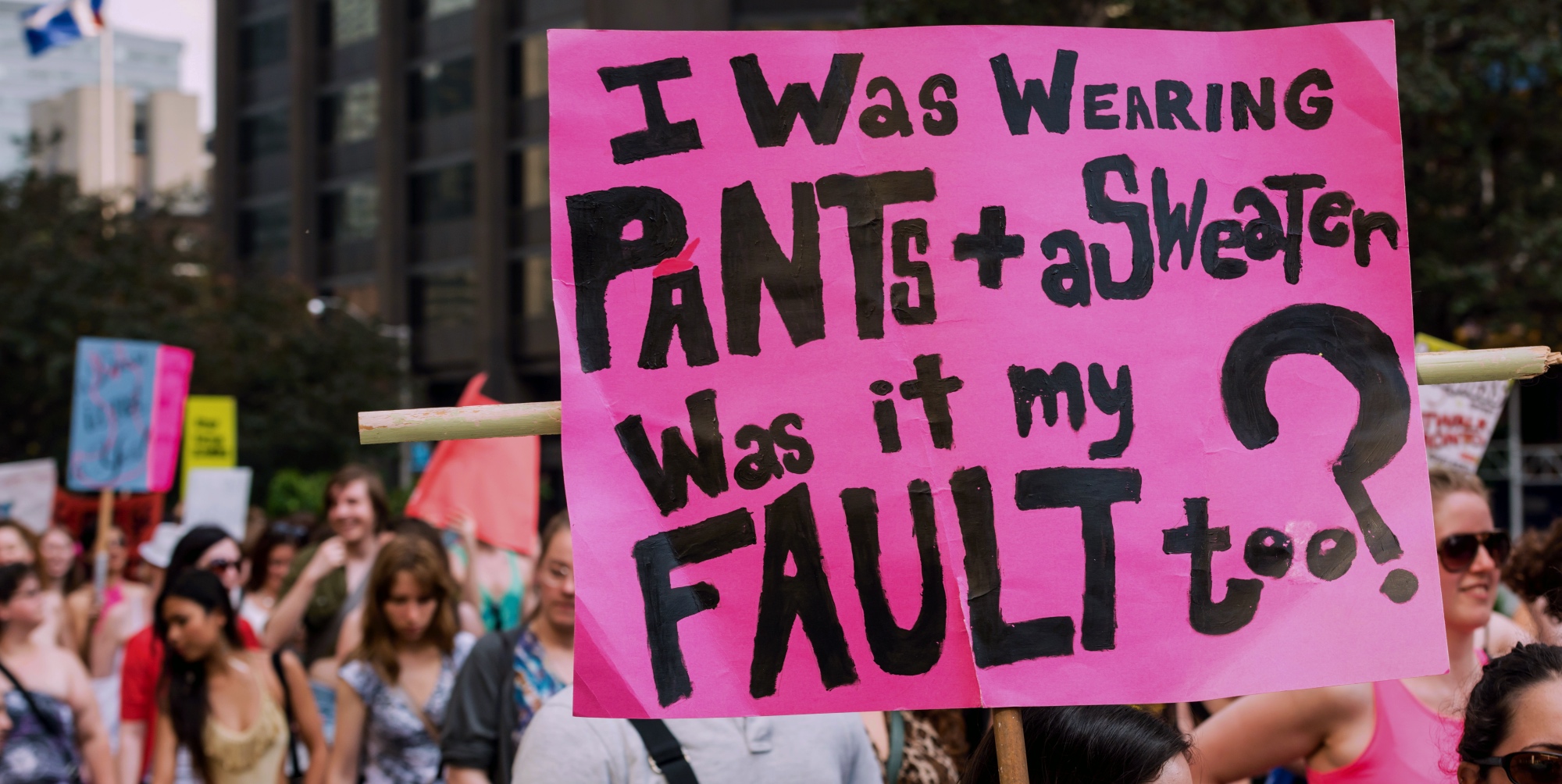 For so many in our society, porn is the new norm. For the average consumer, it's the go-to entertainment when boredom hits, the default for sex education when there are questions or curiosities, or the quick fix for when feelings of loneliness strike.
But what if we told you something so accepted and so normalized in our digitally-driven society is also driving the acceptance and normalization of harmful behaviors, like rape and violence?
But wait, doesn't porn lessen instances of assault and violence?
Almost everyone has heard the pro-porn cliché that "porn helps to lower instances of rape" and "porn is a great outlet for someone's violent fantasies," etc. Just check out these tweets: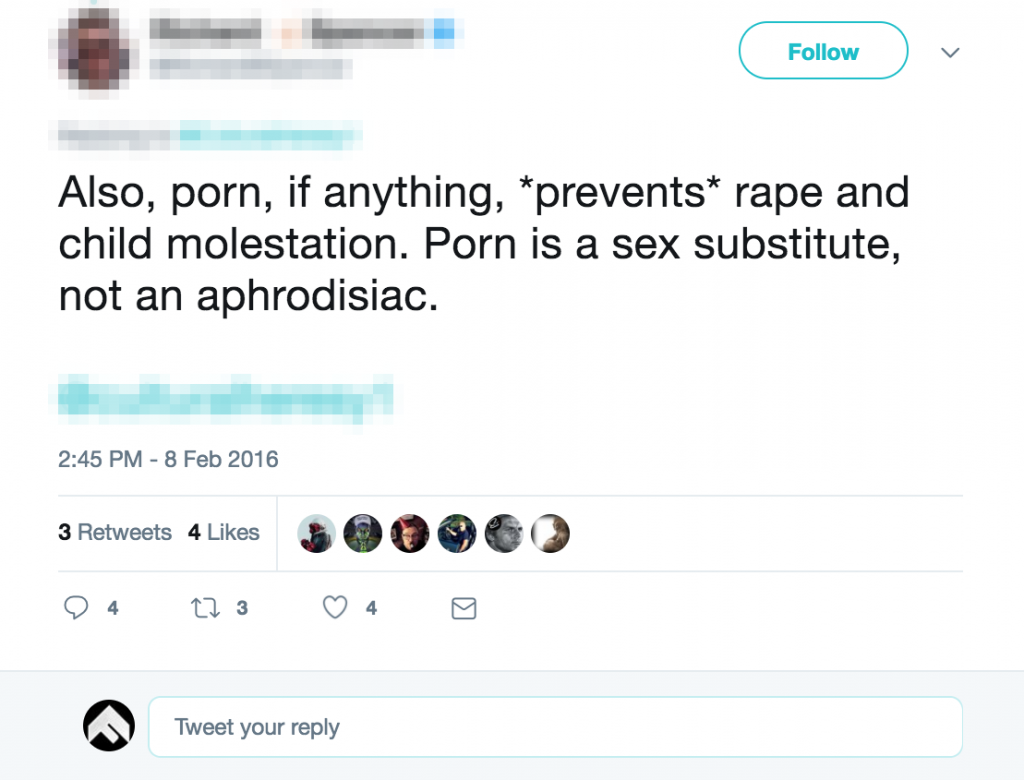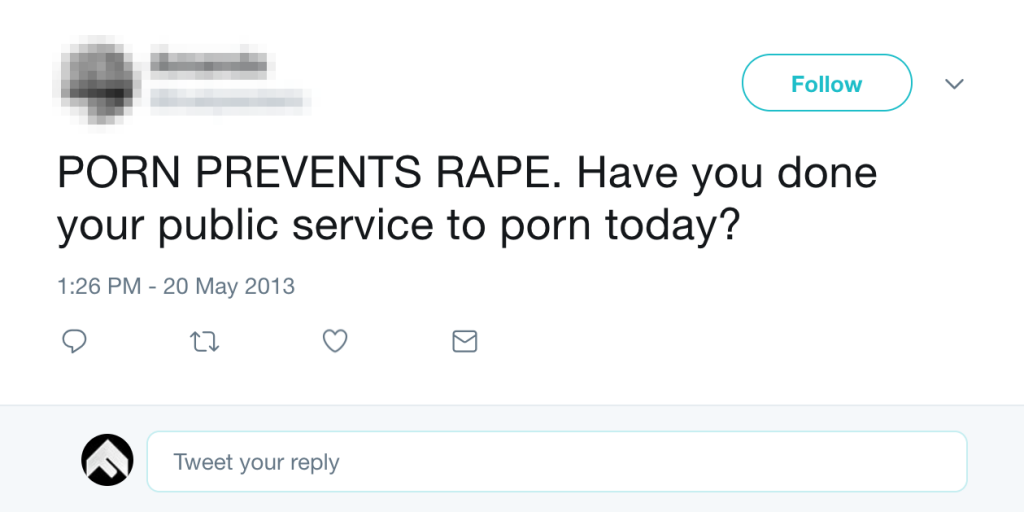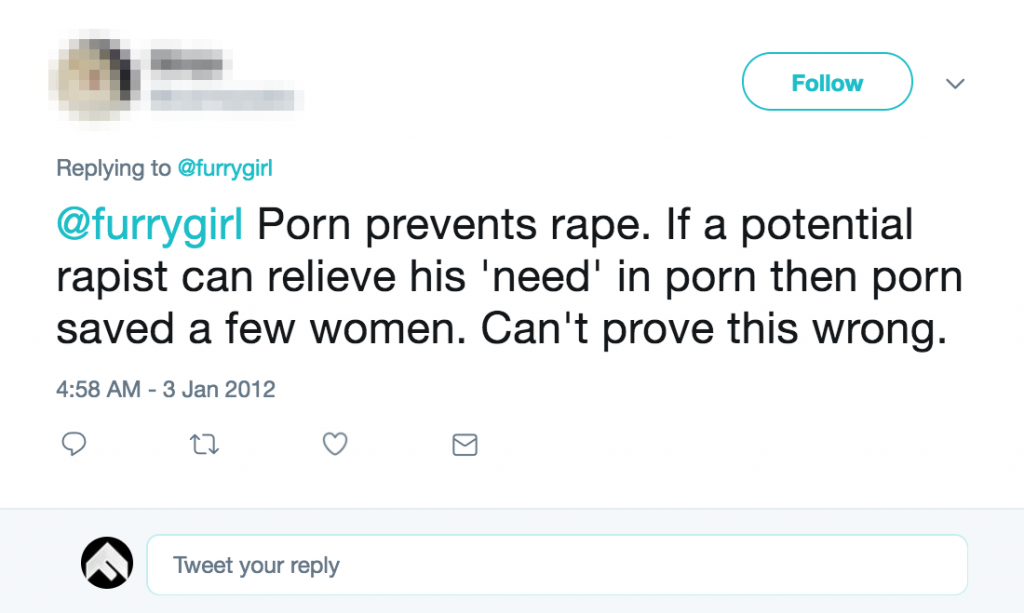 But what if it actually isn't helpful in stopping violence, or a "safe" way to express abusive tendencies? What if it's further complicating the already complex and heartbreaking issue of sexual assault and sexual violence, usually against women?
Allow us to explain.
Recently, the National Center on Sexual Exploitation (NCOSE) released an eye-opening report on what pornography is doing to our youth, our society, and our collective culture. And to put it shortly, it's not good news. We encourage you to read the full 33-page report, but here are just 5 research examples where porn is clearly negatively affecting attitudes when it comes to rape and sexual violence.

Porn and rape myth acceptance
Before we go any further, for those who don't know what the term "rape culture" means, it's defined as a "sociological concept for a setting in which rape is pervasive and normalized due to societal attitudes about gender and sexuality. Behaviors commonly associated with rape culture include victim blaming, sexual objectification, trivializing rape, denial of widespread rape, refusing to acknowledge the harm caused by sexual violence, or some combination of these."
For some background, rape myths are a part of rape culture—they're erroneous, stereotypical, prejudicial beliefs about reasons of sexual assaults, rapists, and rape victims, which serve to justify sexual aggression. Click here to read common rape myths from Rape Victim Advocates, a nonprofit dedicated to helping empower survivors of rape.
A recent study done, cited in NCOSE's report, says that women who were exposed to pornography as children were more likely to accept rape myths and to have sexual fantasies that involved rape. [1]
Porn and intent to rape
In one study, fraternity men who consumed mainstream pornography expressed a greater intent to commit rape if they knew they would not be caught than those who did not consume pornography.
Those who consumed sadomasochistic pornography expressed significantly less willingness to intervene in situations of sexual violence, greater belief in rape myths, and greater intent to commit rape. Among those who consumed rape-themed pornography, the researchers described "serious effects" including less bystander willingness to intervene, greater belief in rape myth, and greater intent to commit rape. In other words, there was no type of pornography that did not result in a greater intent to commit rape by a user if they knew they would not be caught. [2]
Porn and increased verbal/physical aggression
A 2015 meta-analysis of 22 studies from seven countries found that internationally the consumption of pornography was significantly associated with increases in verbal and physical aggression, among males and females alike. [3]
Here's a snippet from the results of their study:
"[Porn] consumption was indeed associated with sexual aggression in the United States and internationally, among males and females, and in cross-sectional and longitudinal studies. Associations were stronger for verbal than physical sexual aggression, although both were significant. The general pattern of results suggested that violent content may be an exacerbating factor."

Porn, domestic violence, and sexual abuse
The consumption of pornography by batterers significantly increased a battered woman's odds of being sexually abused.
Porn consumption alone increased the odds by a factor of almost 2, and the combination of pornography and alcohol increased the odds of sexual abuse by a factor of 3.46. Other research has found that pornography use by batters is associated with learning about sex through pornography, imitation of behaviors seen in pornography, comparison of women to pornography performers, introduction of other sexual partners, filming sexual acts without consent, and the broader culture of pornography (e.g., fetishes). [4]
In one recent news report of the domestic violence crisis in Australia, Director of the Gold Coast Centre Against Sexual Violence Di McLeod said this: "What research is finding and what we are seeing at our centre is that pornography is clearly influencing sexual expectations and practices between intimate partners, so that the correlation between pornography, rape, and domestic violence can no longer be ignored."
Porn, sexual harassment, and coercion
A study of 804 Italian males and females aged 14 to 19, found that males who viewed pornography were significantly more likely to report having sexually harassed a peer or forcing someone to have sex. [5]
Consider the facts of what porn shows. According to Dr. Robert Jensen of the University of Texas, in his paper "Pornography and Sexual Violence", pornography facilitates toxic rape culture: "My own studies and reviews of other examinations of content suggest there are a few basic themes in pornography: (1) All women at all times want sex from all men, (2) women enjoy all the sexual acts that men perform or demand, and, (3) any woman who does not at first realize this can be easily turned with a little force, though force is rarely necessary because most of the women in pornography are the imagined nymphomaniacs about whom many men fantasize."

What can we do?
First off, we want to emphasize that this is an issue that involves everyone—both men and women can be porn consumers, and both men and women can be victims of sexual violence.
We also want to be clear in saying that by sharing these studies and stats, we are not saying that every porn consumer will develop into a violent abuser.
By sharing this info, we simply want to help you re-evaluate what you think you know about porn. Our goal as an organization is to shine a light on the facts and spark conversations that are based in research, instead of what you might read on magazine covers or hear around school. Porn isn't healthy, it isn't cool, and it doesn't help us to be better partners or friends. Porn, violence, and rape are all more closely connected than you might realize, and it's our time to raise awareness on these important facts.
Once you know this information, you can't un-know it. Once you read the stats and facts, you can't forget them. If you're down to read more empirical evidence on the harms of porn, click here to see our Get the Facts pages. In the end, it's up to us to spread the word that porn is anything but harmless entertainment, and we all deserve better than what porn provides in society.
Join us in fighting for love, and taking a stand against the status quo of porn.
[1] Shawn Corne, John Briere, and Lillian M. Esses, "Women's Attitudes and Fantasies about Rape as a Function of Early Exposure to Pornography," Journal of Interpersonal Violence 7, no. 4 (1992): 454–461.
[2] John D. Foubert, Matthew W. Brosi, and R. Sean Bannon, "Effects of Fraternity Men's Pornography Use on Bystander Intervention, Rape Myth Acceptance and Behavioral Intent to Commit Sexual Assault," Sexual Addiction & Compulsivity: The Journal of Treatment & Prevention 18, no. 4 (2011): 212–231.
[3] Paul J. Wright, Robert S. Tokunaga, and Ashley Kraus, "A Meta-Analysis of Pornography Consumption and Actual Acts of Sexual Aggression in General Population Studies," Journal of Communication 66, no. 1 (February 2016): 183–205.
[4] Walter S. DeKeseredy and Amanda Hall-Sanchez, "Adult Pornography and Violence against Women in the Heartland: Results from a Rural Southeast Ohio Study," Violence against Women (May 2016), 1–20.
[5] Silvia Bonino, Silvia Ciairano, Emanuela Rabagliette, and Elena Cattelino, "Use of Pornography and SelfReported Engagement in Sexual Violence among Adolescents," European Journal of Developmental Psychology 3, no. 3 (2006):265-288.