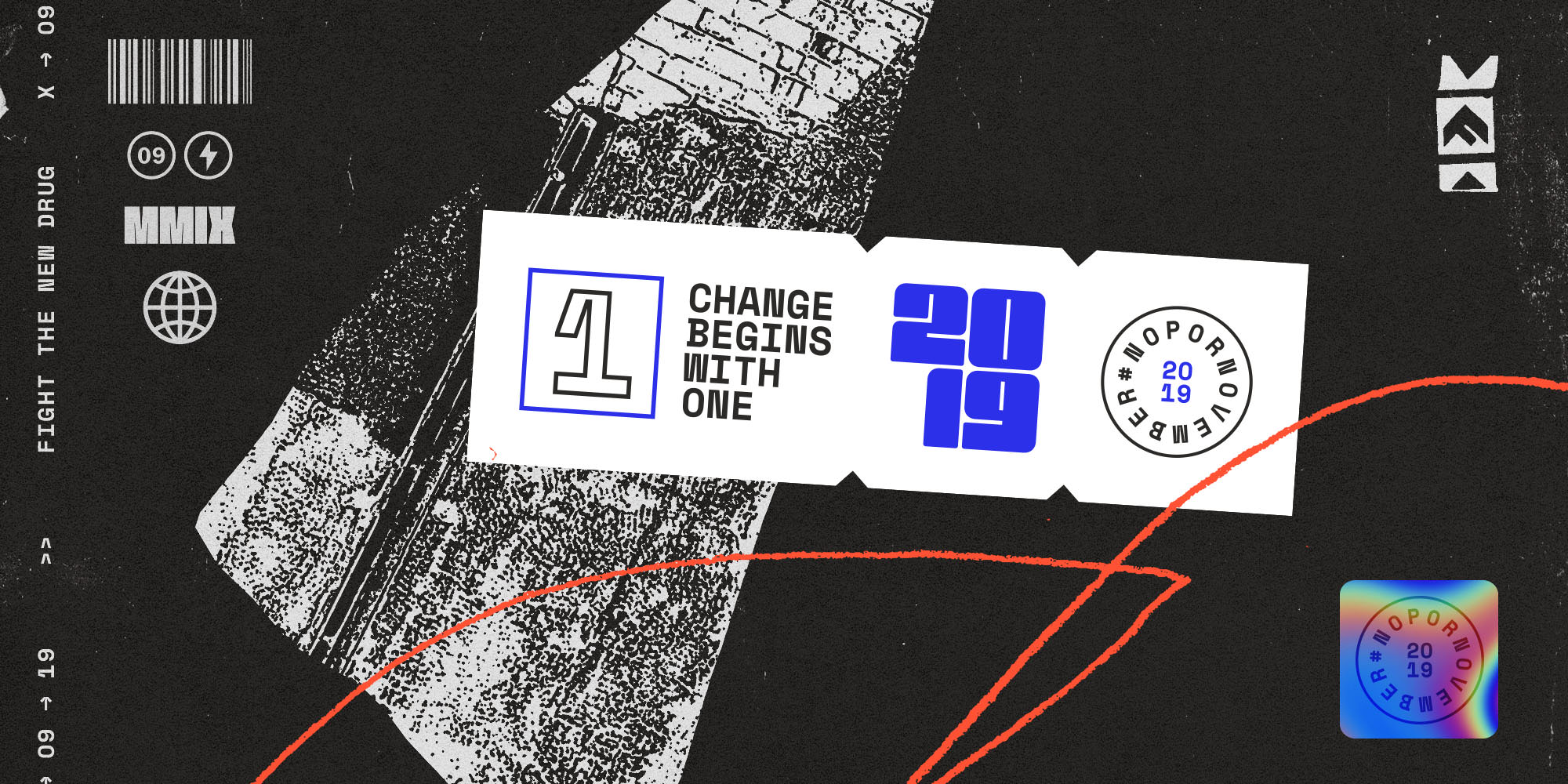 It's officially November! And do you know what that means? It's the most wonderful time of the year…
🎉 
#NoPornovember is here!

🎉

Our annual #NoPornovember campaign is the biggest campaign we have all year! We'll kick off Day 1 of our "Change Begins With One" campaign with the release of the all-new Fighter resources and our limited edition #NoPornovember tees, tens of thousands of Fighters across the world are already generating buzz on this month-long campaign to raise awareness on the harmful effects of pornography.

To get involved this month, check in with our #NoPornovember landing page to see what resources you can share throughout the month. Each week, we'll be highlighting different areas that individuals can improve when they speak out about porn. During November, each week we'll highlight how you can improve your own mental and relational health by getting education about porn's harms, improve your relationships, improve your communities, and together, we can improve the world.

Here are a few things you can do to participate in this month-long awareness campaign:
1. Join our #NoPornovember challenges
Take part in one of our two challenges to learn more about the movement and change perceptions about porn. It's an event that's happening all month long, so check out our landing page keep up with everything!
•Change Begins With One Challenge: For Fighters who want to speak up and create real change! We challenge you to check out our Get The Facts articles this month to become well-rounded in your knowledge of what we're fighting for. Share, repost, or retweet something that speaks to you. Help others get educated by bringing the movement to them.
•30 Days Without Porn Challenge: Have you ever thought about giving up porn for good? Try it this month for 30 days to see what can happen. Feeling like you need some support to accomplish it? Our friends at Fortify can help! Fortify is an online recovery platform dedicated to helping individuals find lasting freedom from pornography. Learn, connect, and track your recovery journey. Plus, it's now free to use! Try it out for #NoPornovember. What do you have to lose?
For more details, visit fightthenewdrug.org/nopornovember. And make sure to follow FTND on Facebook, Instagram, Twitter, Pinterest, and YouTube!
2. Film a submission for our Fighter Pledge video
This year is our 10th as an organization. 10th! That's one whole decade of fighting for real love. And 5 million Fighters later, we're continuing to grow and spread across the globe. To commemorate our 10th year, we want to celebrate the people who made it happen: you, our Fighters. One of the ways we're doing that this month is to make a video compilation of as many people as possible saying the Fighter Pledge. If you haven't signed the Pledge, you can do that now by clicking here.
The pledge details what it means to be a Fighter, and adds you to our global army of supporters so you can get updates on how to get more involved in the movement. Join the fight and help us spread the word that porn affects the consumer, damages relationships, and negatively affects society as a whole.
If you want to be in our video, follow these steps below:
INSTRUCTIONS:

Most importantly

, we need to be able to hear you without any noise in the background.

Be sure to wear your

Fighter gear

and display it clearly.

Please film with your camera set up

horizontally

and have your

hands empty

! (So set the camera on a tripod or have a friend film you)

Speak to and look at the camera!

Try not to read the pledge. If you don't have it memorized, put a paper with it right next to the camera and say each sentence right to the camera.

Have fun! 
How to submit:

 


a) Send in a direct message on Instagram @fightthenewdrug


OR




b) Submit via Google Form

https://ftnd.org/pledgevideo
Let's get it, Fighters! Learn more about the Fighter Pledge https://fightthenewdrug.org/fighter-pledge/

3. Donate to Fight the New Drug and get a messenger bag as a thank you!
We would not be where we are today without the incredible, continued support of our worldwide network of Fighters. All of your donations to this fight for love are tax-deductible in the U.S. and directly used to develop new resources, translate materials, and reach more people around the world.
As an extra "thank you" for your support, donations made during #NoPornovember will receive one (1) FREE messenger bag from our friends at Elios! Click this link and use code FTNDFB at checkout to redeem your bag from Elios: ftnd.org/elios

4. RSVP to our #RepTheMovement event on Facebook.
Fighters, get ready to sport your favorite Fighter gear on #RepTheMovement Day! On Friday, November 22nd, you and 5 million other Fighters have the option to rep one of our conversation-starting tees, or a tee from another organization whose message resonates with you, to educate others on the harms of pornography and sexual exploitation.
Remember to tag us on social media (@fightthenewdrug) and use #RepTheMovement and #NoPornovember wherever you post on November 22nd! Don't have Fighter gear yet? There's still time! Get up to 60% OFF your favorite Fighter gear at ftnd.org/shop.
Not sure what to say when someone asks "what does 'Porn Kills Love' mean?" and other questions about your Fighter gear? Check out this guide: ftnd.org/gearguide
For more inspiration on how to get involved during #NoPornovember, visit ftnd.org/npn! RSVP to our Facebook event by clicking HERE:

5. Get limited edition Fighter gear
Each #NoPornovember we release a limited edition tee to commemorate our activism and remind our Fighters that change begins with one.
In 2015, it was a teal "Porn Kills Love" colorway. In 2016, we launched a charcoal and metallic gold design that sold out in one day, and then brought it back for good in 2017. In 2017, we introduced our first ever 80's/90's inspired PKL design. And last year, for the 5th anniversary of our "Porn Kills Love" classic red tee, we released a special edition blackout tee.
This year, we released not one but two exclusive limited tees to commemorate the 10th anniversary of our organization and our ripple effect around the world! Check them out: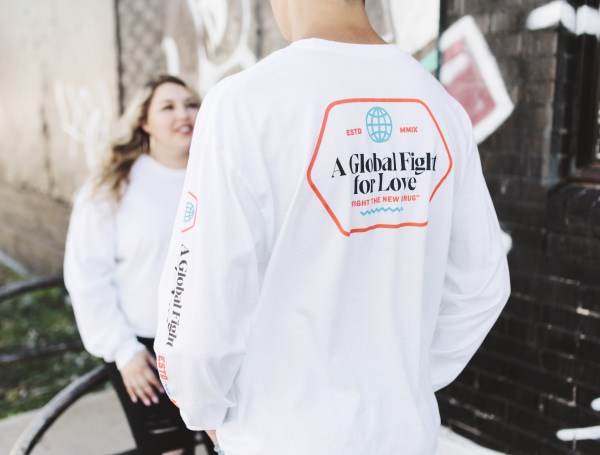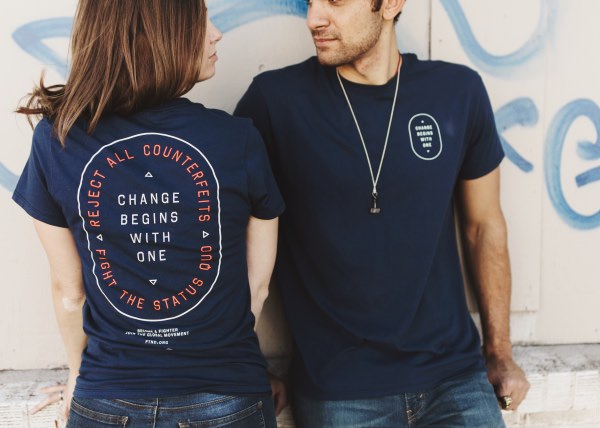 But hurry—they're selling out fast! Each year, our tees have sold out, and once they're gone, they are gone!
The real meaning of #NoPornovember
This year, we're all about "Change Begins With One."
This month is all about highlighting how changing the conversation about pornography begins with you, our Fighters. You are capable of creating real change—change to better yourself, your relationships, and your community—even if this is a difficult topic to discuss. Real change is happening, and if you're talking about porn's harms in any way, you're a part of it.
As cool as it is to launch exciting new additions to the movement, the #NoPornovember campaign has a much larger purpose. The purpose of this month is to blitz social media and our communities, spreading the facts on the harms of pornography and being a strong voice on social media. We want to help our Fighters change the conversation surrounding pornography by providing them with ammunition to spark a discussion, no matter where they are in the world.
The new content we release during #NoPornovember is meant to be shared, reposted, and talked about. For the rest of the month, we will be releasing new articles, videos, resources, and graphics so that you Fighters can help others to change attitudes and perceptions in society about pornography. That is the whole purpose of #NoPornovember. We want everyone to feel they are part of this movement of social change and to give them the tools and resources to start making a difference right in their own circle of friends and followers. Got it?

This is going to be the best and biggest #NoPornovember yet, but we need your help to do it! All throughout the year, we get Fighters messaging us asking how they can get involved. Well, now is your chance! By repping your exclusive Fighter gear, hosting viewing parties of our free-to-watch documentary series, and sharing facts on your social media, you are single-handedly helping push this movement forward. We can't do this without you. Change begins with one and the collection of all your voices will be what makes society see the real harms of pornography.
So, are you with us?
Remember to check out the official #NoPornovember homepage so you can keep up with this month's resource and Fighter gear launches, and keep up with our social media to be the first to know about all our exciting things happening throughout the month!
You won't want to miss a single thing—#NoPornovember is just getting started.