Have you ever thought about how, in so many ways, pornography is the complete opposite of real love and intimacy?
So many people try to pursue a version of love that they see in movies or TV, or read about in books. Watching porn is another version of that pursuit for connection, feeling alive, and chasing after the high that really only really connecting with a real person can give. The truth is, porn can only offer exaggerated and warped depictions of a loving relationship, and we're here to tell you that reality with real connections is better than any pixelated porn fantasy.
That's not to say that reality is "easy" or always perfect, but life's ups and downs have more to offer you than even the most HD porn out there.
Porn tries to convince you that it's the best possible version of sex and relationships, and that you don't really need anything else to be a happy, healthy and well-rounded person. The hard work of meeting someone, getting to know them, and building a relationship with them isn't worth the time or effort, from what is shown in porn.
If what we see in porn is true, all you need is unfiltered, constant sex for a fulfilling and healthy lifestyle. These performers out the most exaggerated situations, and the consumer  might not realize it's all completely fake, from what they're seeing to what they're hearing. Someone who consumes porn may think, "If only I had a partner like that." Watching porn may feel good temporarily, but we're here to tell you that real, committed love is so much more authentic than anything pornography could ever show.
Here are just a few reasons why.
1. Love is better because love makes the good things in life even better.
All the great things that life has to offer are made infinitely better when shared with a partner, or even a friend, who's experiencing it all beside you.
Porn leaves out the best parts of love and relationships. Love and being connected to another person are so much more than extreme sex all the time. Porn cuts out the before and after of sex, fast forwarding through the awesome and beautifully complicated process of meeting someone and falling in love. It skips the close bond that can come from a having a committed relationship.
In porn, they don't show the hand-holding, or the dates, the getting-to-know-you phase, or overcoming obstacles in the relationship. Porn is so fake and disingenuous, it leaves out everything that's real about sex and really connecting with someone. Watching porn is like watching the most synthetic, shallow version of one part of a relationship, complete with exaggerated acting and a bad script. No matter who you are, you deserve better than to be compared to a fake fantasy.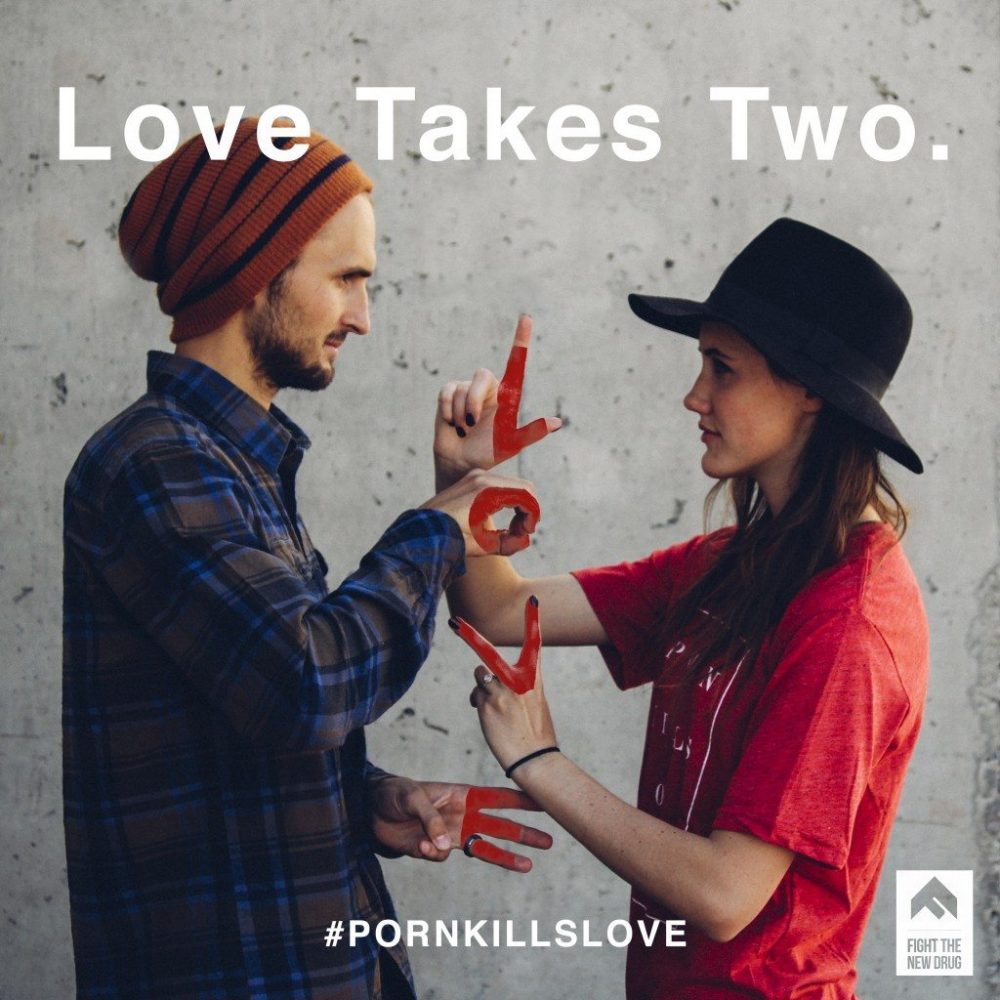 2. Love is better because love is more valuable than anything porn offers.
Porn can't love you, it will only leave you just as it found you—completely alone.
Porn can't fight for you, it can't look after you, and it won't make you appreciate the little things in life. On the flip side, love offers companionship, friendship, and a close bond that no porn on this earth can rival.
Here's the biological fact: humans are wired to feel love, and to bond to another three-dimensional person that can live life alongside them. Love can push you to to be a more generous person and give unselfishly, lifting your partner's wants and needs above your own.
Porn capitalizes on the idea that your pleasure and your enjoyment are the most important things regardless of anyone else's pain, suffering, or abuse. The performers you see in porn will never hold your hand or grow old with you, but love can last through trials and seasons of life and fight for you until the end. Fighting for love means fighting for the things in life that are healthy, and worthwhile, and fighting against the toxic ideas in porn.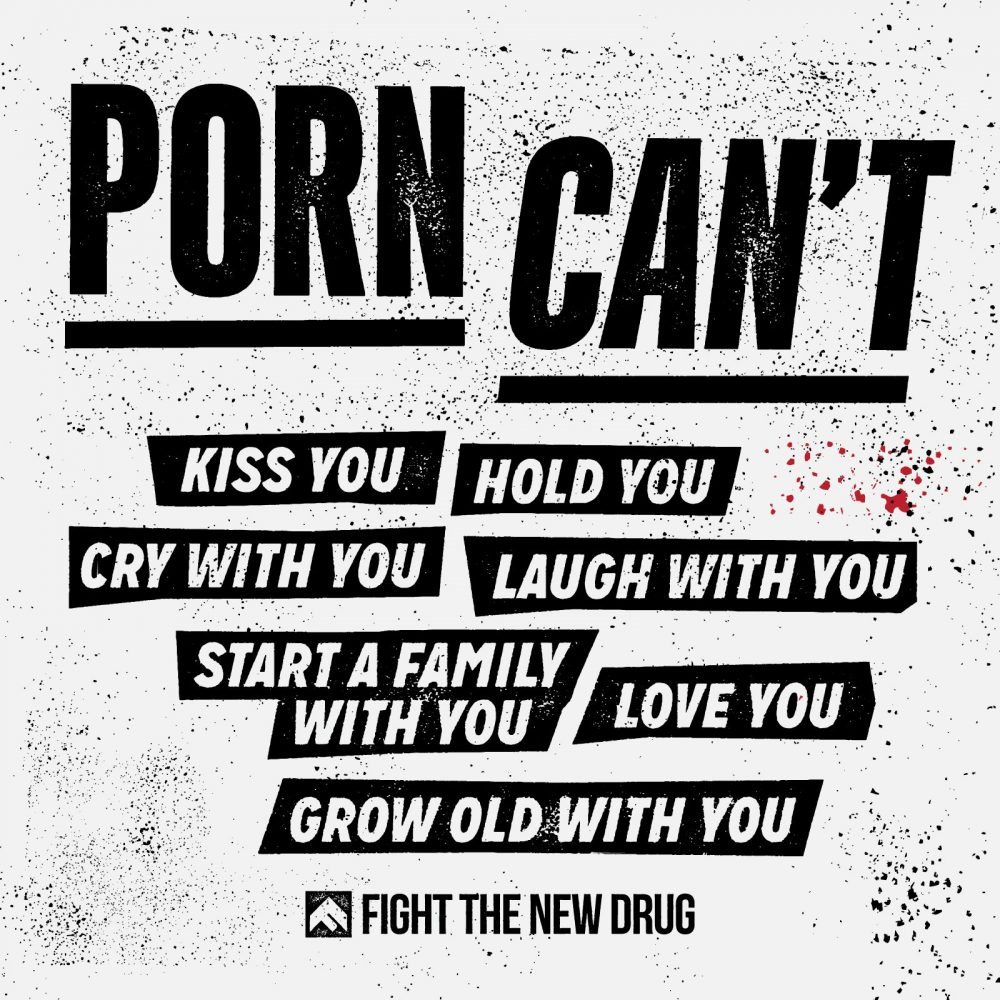 3. Love is better because it challenges you to be a better person.
Similar to other drugs or addictive behaviors, people often turn to porn when they experience negative emotions they don't want to cope with.
The truth is, watching porn as an escape from reality doesn't work. What may seem like an easy distraction from anxiety or depression will likely just add to those issues and make them worse in the long run. Life throws curveballs and they can be difficult to deal with, but porn will never be the answer to making them better or living a healthy life, or shaping you into a healthier person.
The truth is, real, healthy love inspires you to be the best possible version of yourself that looks out for others and puts others' happiness before yourself. Love inspires you to make better choices to take care of yourself, and unconditionally look out for others. When people are motivated by selfless love, their relationships and friendships thrive. Love is what unifies people, helps our society, and makes life so much better and more vibrant. Love inspires us to make healthier choices, while porn only hinders them. Choose reality and love, not porn, and you're choosing to live a healthier life.
Related Video: Matt's Story – I Quit Watching Porn And I've Never Been Happier
4. Love is better because people are more than a collection of body parts.
Porn reduces real, living people with stories and lives to a mere collection of parts to be used, often abused, and discarded.
When looking at a pornographic image, no one considers a performer's life outside of the shoot. To do so would be to "ruin the fantasy" that these performers exist only for your viewing pleasure, and no other reason. They don't eat, they don't feel heartbreak, they haven't experienced abuse, they aren't in desperate need of money, they don't have families. They aren't trafficked, or trying to escape poverty or cope with past abuse by working in the porn industry.
Consuming porn encourages consumers to objectify men and women who are much more valuable than that and have more to offer than what the porn industry asks or shows of them. Those are people, not parts, and studies show that objectifying people in porn can transfer to objectifying people in real life. Fighting for love means fighting for the humanization of those around us, and those on screen.

5. Love is better because it's real.
Living in the hardcore fantasy world doesn't teach you how to cope with reality. Porn doesn't require anything from you, except your time. Hardcore, extreme porn doesn't challenge you to be a better, more compassionate person, and in fact, it can have the exact opposite effect.
It can be a roadblock for totally capable people, and inhibit them from taking on the challenge to build and maintain a meaningful relationship with another person. The reality is, the porn industry couldn't care less about its consumers, their health, or their successful relationships.
Why not live for something that matters, and live for love? Do what your brain and body are wired to do and connect with other people in real life. Don't settle for anything less than real and fight for your love.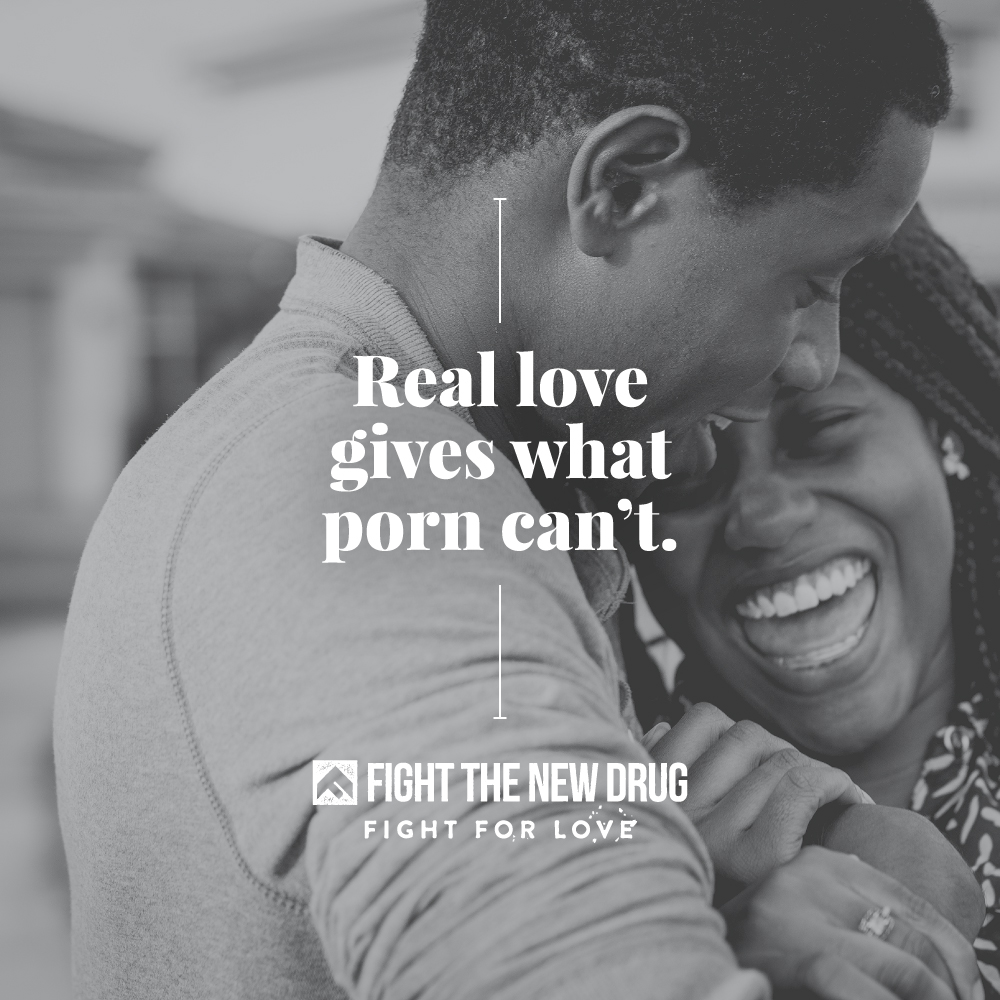 We don't believe anyone who watches porn is a terrible person, while we do believe people who consume porn are selling themselves short of what life and love have to offer. We aren't fighting for love just because porn is so harmful (though it's really harmful), we fight for love because it's so much better than anything anyone could see on screen.
We're fighting for love because it is legitimately worth fighting for, and we are willing to hold out for it. We will be the generation that will stand up for love, and demand better than what porn offers because we are better than what porn has to offer.
Get Involved
Love is worth the fighting for because we're wired for connection. SHARE if you agree that fighting against porn means fighting for love.
Spark Conversations
This movement is all about changing the conversation about pornography and stopping the demand for sexual exploitation. When you rep a tee, you can spark meaningful conversation on porn's harms and inspire lasting change in individuals' lives, and our world. Are you in? Check out all our styles in our online store, or click below to shop: