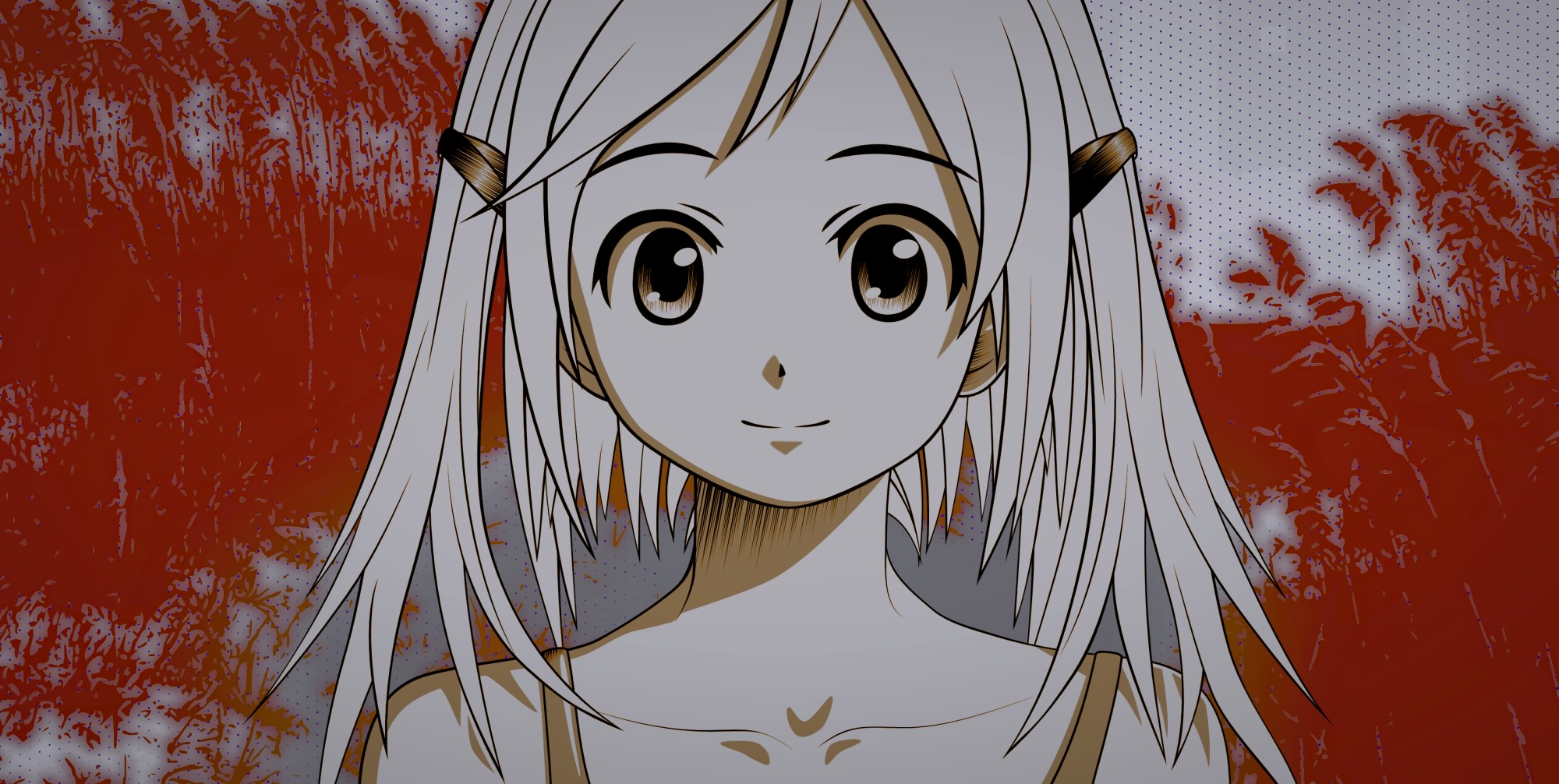 Cover photo by Niabot. 5 minute read.
According to cartoon porn consumers, animated sex is preferable to realistic because real people are "gross," animation offers more fantastical scenarios, and they can avoid feeling guilty for seeking out even more twisted and violent depictions of sex. But no matter how you slice it, animated porn still isn't healthy to consume, and it doesn't actually stop the demand for sexual exploitation. Basically, it's a lose-lose situation.
Our generation is the first in history to be fully immersed in the world wide web. We are the generation that Googled our way through our awkward phases, blew up our Snapchat as a new form of flirting, and invented the viral video. We are the first fully digital generation.
With modern-day digital design technology, we're able to create worlds that are completely new and unique from our own. This makes for great cutting-edge sci-fi films and old Hollywood remakes (Star Wars, anyone?), but what happens when we rely on special effects or even entirely fabricated animations to create moments of sexual arousal?
Recently, the world's most popular porn site released its year in review for 2017. What did it reveal? For one, it showed how search terms for animated pornography increased by 190%. The reality is that animated porn is on the rise in popularity—but why?
The history
While you can date cartoon pornography as far back as pornographic films themselves, the evolution of animation technology has created an entirely new animated pornography experience. Besides Disney knockoff cartoon porn, or cartoon knockoffs of other animated shows and movies, there's one specific genre of animated porn that has piqued the interest of many adult content consumers.
It's called "hentai"—have you heard of it? (Trust us, don't Google it. We'll explain all you need to know here.) The word "hentai" is a short translation from its Japanese origin "hentai seiyoku," which literally means a "perverse sexual desire." Sounds nice, huh? (Sense the sarcasm.) Click here to read our more in-depth post about it.
Hentai is a subgenre of anime or manga, though not all anime or manga is sexually explicit or even pornographic. Popular themes in hentai involve airbrushed and exaggerated renders of humans and non-humans play out sexual fantasies that often defy the laws of gravity and nature (you know, as cartoons usually do). While hentai has been popular in Japan for quite some time, its international popularity has skyrocketed somewhat recently, ranking at number two on the world's most popular porn site, with "cartoon" just behind it at number twelve.

The appeal
Not all animated porn is hentai, obviously, but explicit cartoons have all seemed to experience an uptick in traffic on major porn sites. But what's with all the big hype of animated pornography? Like we mentioned, "cartoon" and "hentai" have been amongst some of the top searched terms on popular porn sites for the past several years. The reason for the appeal can be seen as a three-fold argument. Here's a real comment we pulled from a porn site, and while it's about hentai, the reasoning can be applied to animated porn in general: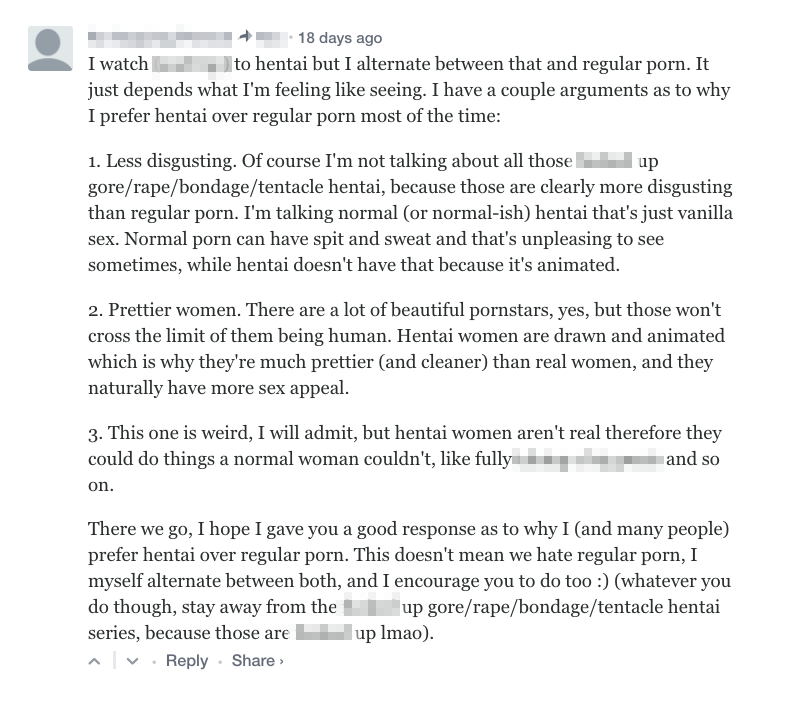 We know. We wish this weren't a real comment from a real person, either. But in order to raise awareness on the harmful effects of porn, we have to understand exactly what issues we're addressing and why consumers are drawn to specific content so we can be prepared to respond. So, ready to dive in?
The "humanitarian"
One of the reasons, and probably seen as the "most important" reason, consumers get behind the animated porn bandwagon is because it doesn't involve real people. These cartoon sex scenarios involve animated humans (and other… "non-humans"?) in extreme, fantasy situations, without involving basically anything realistic.
The avoidance of using living, breathing people invites the consumer to indulge in the darker side of their sexual fantasies without feeling badly for subjecting an actual human to twisted sex acts. Consumers often say they don't feel as horrified (warning: link contains triggering content) when they watch animated porn versus regular porn, because they don't have to ask themselves, "Did she want that to happen to her?" or wonder if characters are performing against their will. This helps them feel justified in their porn habit, if it's exclusively animated (which it often isn't, as we read in the comment above).
To bring you up to speed, we've shone a light on the ugly underbelly of the porn industry and its inseparable link to sex trafficking. So watching an animated flick might seem like an easy way out for consumers to get their porn fix without the worry or wonder. But what happens when the animation is no longer enough, when consumers become desensitized to abuse or violence because of the fantastical scenarios, or move on to real live-action porn, or, like the guy below, become repulsed by the idea of real human sex or bodies?
Clearly, cartoon porn isn't harmful effect-free, even if real humans or animals aren't directly harmed during the production.
The extreme fantasy
For some consumers, the science fiction aspect of animated adult videos can spark a real interest. After all, Trekkies aren't the only ones who like a good sci-fi plot. Digitally-developed porn allows the designer to create scenes that would be impossible or even illegal to act out in real life. After all, gravity and human rights aren't issues in a world that only exists on the screen.
Hentai, in particular, is known for glorifying and fetishizing the gross mistreatment of women and childlike characters through horrific scenes of bestiality and rape. This is a common theme in cartoon porn, where it isn't rare for the producers to create scenes where monsters, demons, animals, giant insects, and even cartoon plants rape cartoon women, and sometimes men.
Consuming unrealistic sexual fantasies aren't at all harmless, especially when they depict rape and abuse as sexual fantasy or entertainment, no matter the improbability of the animated scene.
The nostalgia
What's another argument in favor of cartoon pornography? Childhood nostalgia.
According to Certified Sex Therapist Melissa Novak, a lot of people's "first memories are of being turned on by Beauty and the Beast or Snow White." While we all wanted our princess or prince charming, it's hard for us to justify the continuation of animated pornography because of a childhood cartoon crush. It doesn't take long to find knockoff animated porn involving your favorite Disney or Cartoon Network characters, unfortunately.
What's worse is that this argument can actually encourage the consumption of cartoon pornography amongst children. When cartoons are created (let's face it) for children, and pornographic videos are being produced with their favorite character as the lead, the chances dramatically increase for kids to be exposed and then hooked. This is already an issue considering the age of first exposure at only 11-years-old, and the crazy percent of 12-year-olds who admit they struggle with pornography.
The facts
The reality is, animated or non-animated, violent or sci-fi fantasy, there is nothing healthy about consuming porn whether it is live-action or digitally designed. Animated porn may not be as directly tied to sex trafficking as live action porn is, but the toxic messaging of romanticized abuse and unrealistic expectations for relationships is still the same and can easily have the same effect on your brain and even harm your relationships.
Cartoons and porn are designed to help the consumer escape reality, and while we don't mind the latest Pixar film, it's best to stay away from the erotic versions of Disney movies or twisted hentai and other animated adult videos that normalize detrimental ideas and relationship practices. And if someone offers to show you the latest cartoon/hentai porn, here's a quality response:
Get Involved
Want to stop the rise of animated pornography? Spread the word on the harmful effects of hentai and other cartoon porn by sharing this post.
Spark Conversations
This movement is all about changing the conversation about pornography and stopping the demand for sexual exploitation. When you rep a tee, you can spark meaningful conversation on porn's harms and inspire lasting change in individuals' lives, and our world. Are you in? Check out all our styles in our online store, or click below to shop: