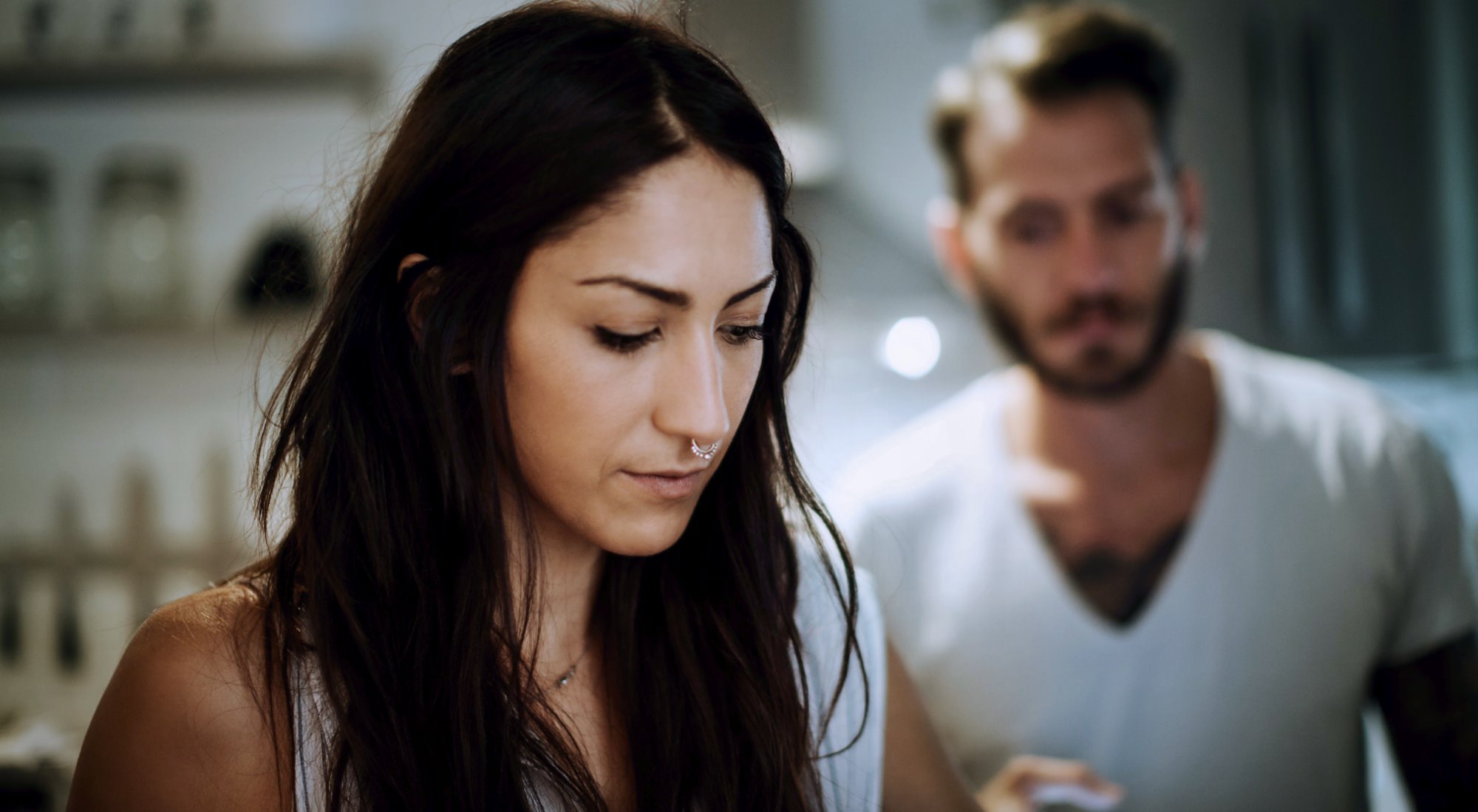 This message we received on our Facebook page is just one of thousands of personal stories we receive from people all over the world who have had their life negatively affected by pornography.
---
Hey FTND,
My boyfriend and I have been together for just over four years now. But it breaks my heart to say that our true relationship might only just be starting. You see, I have found porn and dating sites on his phone multiple times over the years, but since we're in a long distance relationship, I never have a choice but to believe his excuses.
Related: How To Tell If Your Partner Is Struggling With Porn And What To Do If They Are
My discoveries started with a magazine collection under his bed, an entire box filled to the top with nude or barely clothed women. When I confronted him, he told me it was his brother's and that he was only storing it for him. I had my doubts, but believed him. A few weeks later, after he had gotten rid of the magazines, I found a collection of nude women cut outs in a flip file in his bedside table as well as porn DVDs. He told me that it had been there for years and that he had forgotten all about it.
I tried my best to believe him. Numerous times, I would find him on dating and singles groups, sometimes international. He told me it was an unfortunate coincidence and I believed him. One morning, he spent about an hour in the bathroom. I checked his browser history after, and found that he had watched porn while he was in there. When I confronted him, he told me it had been his friend the day before, that he had played games on his phone and added dating sites and pornographic bookmarks without his permission. The only problem with his story is that the evidence stated that he had done it only minutes before. That's when my heart lost the fight and my head took over. I knew he had a problem, a secret I knew he was lying about.
Related: A Letter Of Encouragement From One Girlfriend, Whose Boyfriend Struggles With Porn, To Another
Being the person that I am, I was too scared of losing him to battle him, so instead I tried to guilt trip him out of his habits. When that didn't work, I would try to be the best possible girlfriend to make him see that I was better than porn. All to no avail. I kept on finding porn, nude and suggestive images and videos on his computer and phone. No matter how hard I tried, the problem only got worse. He soon had secret accounts on numerous chat sites, that I only found out about because one of my friends came across his profile. When I confronted him, he got real angry and told me that it was his friends playing a joke and that he had nothing to do with it.
For years I have been carrying this hurt with me. It eats away at my very being. I never believe his compliments, because all I can think about are the types of women he prefers looking at and how they are so much different from me. I am not the fittest girl, but I am also not fat, I'm just average. I am way too modest compared to the things he watches and though I don't have the smallest pair of breasts or butt, they certainly don't compare with his frequent delights on the computer. I just feel terrible terrible about myself. I feel worthless, ugly, and boring. I feel like I have to be ashamed of who I am, because if I was good enough, he wouldn't be looking for satisfaction from porn, but rather would love me the way I am.
Related: Why Being Anti-Porn And Anti-Shame Go Hand In Hand
In December, I found four years worth of porn and other inappropriate content on his computer. And that was it. The final straw that broke the camel's back. I was alone at home while he was working. I told my mother that I might need an earlier ride home and to be on stand-by and I packed up all of my things. When he got home, he was shocked to see that I was leaving. Instead of apologizing, he did it again—he blamed his friends. He said he had never watched anything like that and he eventually talked me into staying.
It was only two days later that I found even more shocking things on his phone. I silently handed him the evidence and retreated to the bedroom to cry and be alone. Minutes later, he entered very upset and very down. He told me that he would finally be honest with me—he had viewed all those things. He asked me what I wanted to do and I told him that since he was finally being honest with me, I wasn't going to leave. He confessed to even more secret accounts where he chatted with foreign girls. Over the next few days, we talked about it a lot, and he would go on to explain that he felt dirty and ashamed but that he couldn't help himself. Even though he felt bad, he had no comprehension of my feelings. I felt sickened, ashamed, worthless and betrayed. What's worse, I felt guilty because he had led me into almost falling into the same trap. I told him that I had grown curious in our third year of being in a relationship and wanted to "learn about sex" so I started looking at porn. Luckily I hated the feeling so much that I didn't want to do it again. I hated how I felt like I was being cheated on and there was nothing I could do about it. That's how I first found Fight the New Drug.
A lot of my friends whom I had questioned told me that "it's normal" and "all guys do it." They said, "he probably just misses you" and "it's because you wanted to wait to have sex until marriage." But I still felt worthless and betrayed. So one day I searched "Is watching porn cheating?" I came across your article and learned the facts about how porn is indeed cheating. For the first time, I felt like someone was on my side and knew how I was feeling!
Related: 'Just Let Him Watch Porn, He Can't Help It.' NOT!
I have been having terrible nightmares and flashbacks ever since he confessed, and I find it hard to trust him. We made an arrangement to install a safe browser on his phone, but it doesn't cover Facebook, YouTube, and other social media sites. In other words, he can still get his fix without having to go to actual porn sites. This very morning, I found more suggestive videos on his Facebook. I know his recovery is hard and it's a journey, but it still hurts. But after telling him it's over, he finally, in the heat of the moment, admitted to having a problem. But after talking about it further, he refused to do your Fortify Program and also refuses to see a therapist. My heart is broken; it has been four years! At least he's being more honest with me but what do I do now? How do I get him the help he so desperately needs, if he refuses to accept it? I feel hopeless, worthless and alone . Having depression doesn't help either. In fact, my depression has gotten worse since finding out about his addiction. He has also developed depression, and I honestly believe it's because of the porn, since he has never struggled with being depressed before.
How do we get through this? I know my beloved is in there somewhere, he's just been poisoned by this drug. Please help, I don't know how to deal with it anymore. Thanks for all that you've done up to this point. Without Fight the New Drug I wouldn't know where to turn. If it weren't for you, I wouldn't be educated on his problem at all. I'm seriously considering joining your Fighter Club and Street team, I just have to save up first since I live in South Africa and the currency is quite weak. (I'm a student, so I make peanuts from waitress work and use the money to relieve some of my parents' stress of keeping me at school). I want to spread awareness about the problem and specially signed up for Facebook to spread the message! I even convinced my boyfriend to like your Facebook page and we both are subscribed to your newsletter. He even voluntarily signed your pledge. I hope to hear from you soon, I really need advice and guidance!
Kind regards,
– C.
---
Relationships At Risk
The truth is, this is an "everyone issue" because porn's harms don't discriminate based on gender or preference. Regularly, both men and women message us, asking for help and advice on what to do in their porn-saturated relationship. Facts are facts: porn can really harm viewers and their relationships. Countless studies have been done, showing the connection between watching porn and decreased satisfaction in yourself, your partner, and your relationship as a whole. It's sad, but it's true. Research has found that after men are exposed to pornography, they rate themselves as less in love with their partner than men who didn't see any porn. On top of that, another study found that after being exposed to pornographic images, people were more critical of their partner's appearance, sexual curiosity, sexual performance, and displays of affection.
The good news is there are plenty of ways to support your partner as they battle a porn struggle—and we want to emphasize that does not include shaming them or judging them. It's important to remember that the best way for someone to recover from porn is to choose to get help for them self, and we've got just the thing that can help.
Getting Help
We want to help anyone who needs it to break free from porn. Our Fortify Program is an awesome video-based recovery program that will give users the tools and resources that will help them learn the steps to overcome a struggle with porn. For anyone who's interested, CLICK HERE to join thousands of other teens and adults who are currently using the Fortify Program and seeing awesome results.
Related: Want To Quit Watching Porn But Can't Seem To Stop? This Can Help
Any relationship is threatened when porn is brought into it. We don't say porn kills love just for the fun of it. It's what science is telling us about porn. Those who have experienced this first-hand tell us how they feel like they need to do more to please their porn-struggling partner, that they don't feel like they're enough. Porn creates the illusion that there is always someone sexier out there and that sex is just a game to play. Not true. Healthy people expect their intimate relationships to be built on trust, respect, honesty, and love. When that person finds that their partner is watching porn—which typically glorifies the opposite: disrespect, abuse, aggression, and infidelity—it can only damage that relationship.

What YOU Can Do

Show support for this Fighter who shared her story with us. SHARE this article to take a stand and help spread the facts about the scientific harms of pornography. Get educated and take a stand with us and add your name to the movement for love.