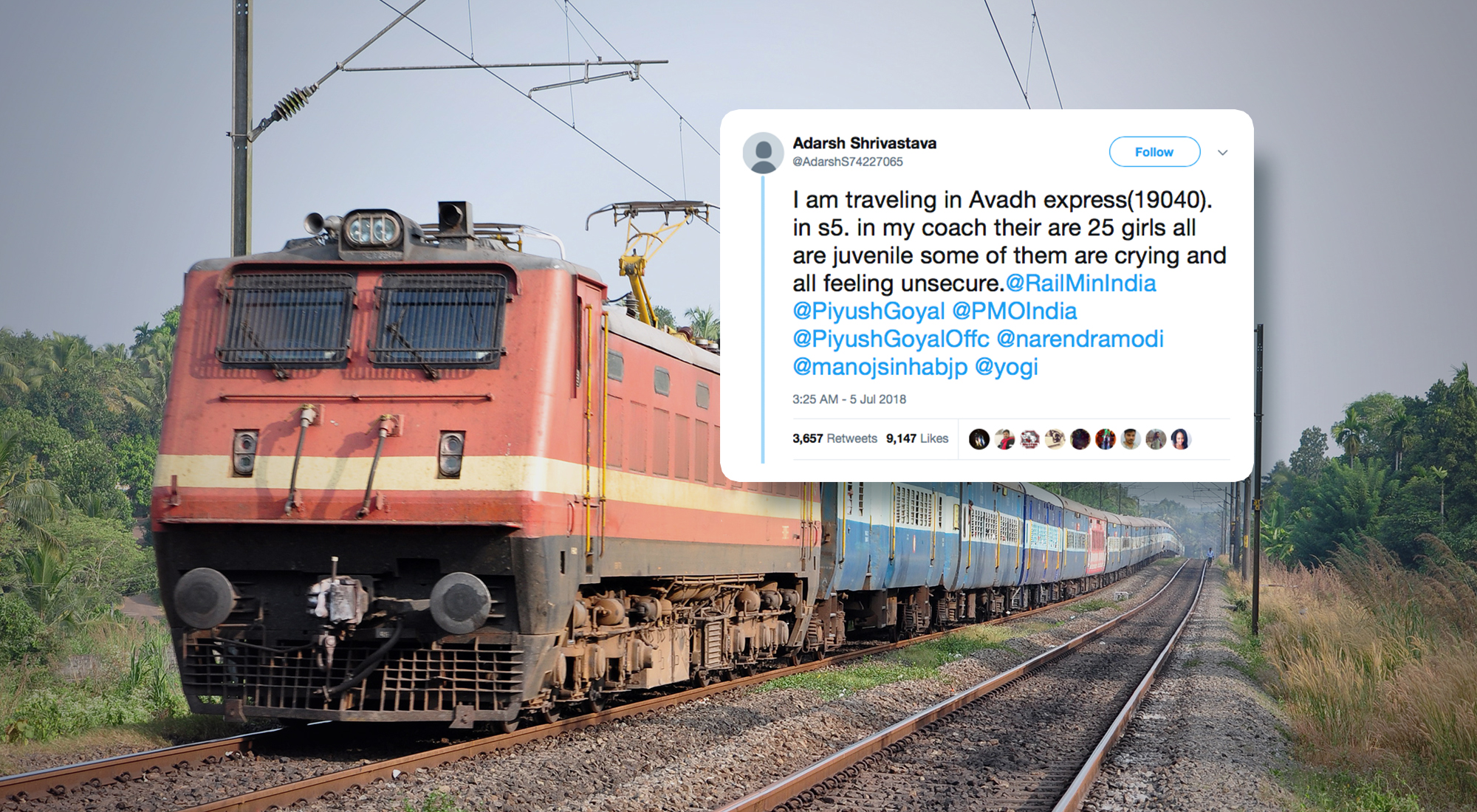 "If you see something, say something."
Many of us see this phrase plastered on posters and signs at public transportation stations, but how many of us take the time to actually say something when we do see something sketchy?
More than two dozen Indian girls are safe from human traffickers after a man alerted authorities with just a couple of tweets.

Speaking up with just two tweets
This story is not a new one—it's from the summer of 2018—but from it, we can learn so much about the importance of speaking up.
Reports circulated about an Indian man named Adarsh Shrivastava was traveling through the Northern Indian State of Uttar Pradesh when he noticed a suspicious situation on his train: 25 girls, all between the ages of 10 and 14, appearing restless and nervous in his cabin.
So he did what he could, and tweeted out a call for help, tagging India's railway authorities along with a few others in two tweets. And after further inspection of his twitter account, it looks like he created this twitter specifically to alert the authorities: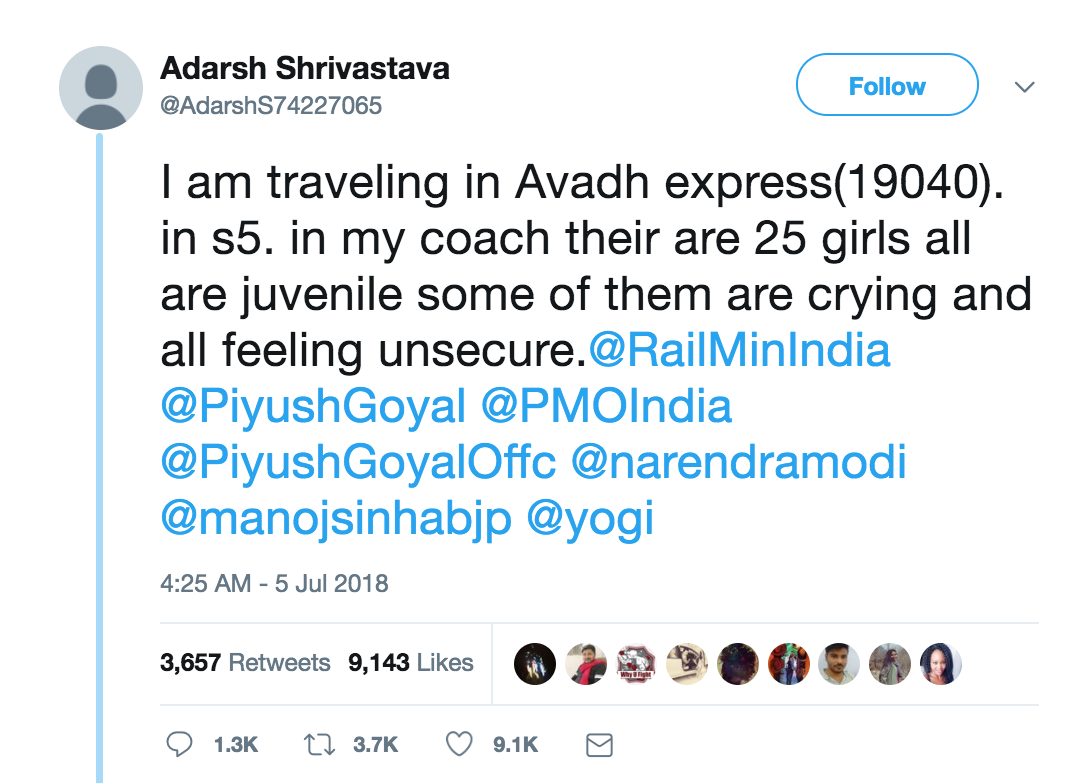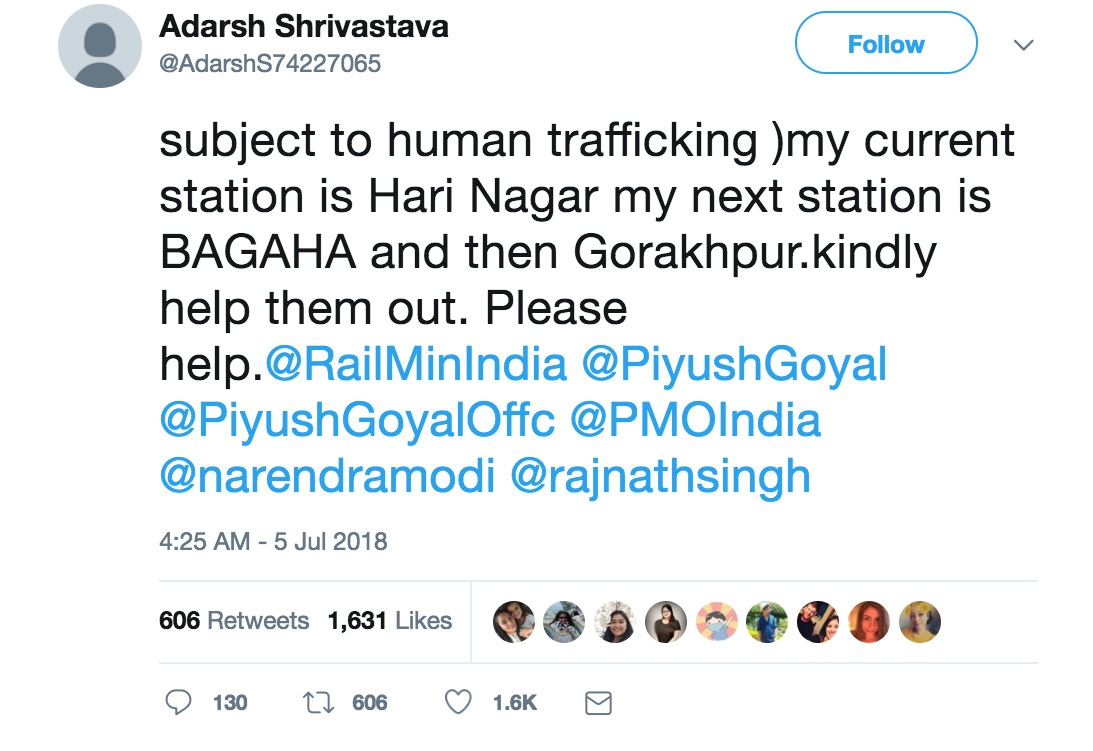 Less than a half-hour later, reports say the Ministry of Railways had alerted local rail authorities to the situation. After a few additional stops, plainclothes officers boarded the train and arrested two men and took the young girls into custody, according to a report from the Press Trust of India, citing railway officials.
A classic sign of a trafficking situation, the girls struggled to provide authorities with details on who their parents or guardians were. They were later transferred to state child welfare authorities, who are working with the girls to reconnect them with the rightful guardians. The Indian government's Indian Railway Protection Force determined that all the girls were from West Champaran in Bihar, which is located in northeast India.
Related: 14-Year-Old Trafficking Victim Took Down California Trafficking Ring With One Text
When media outlets and people from all over the world have reached out to Shrivastava, giving him kudos for speaking up, he simply replies, "Thanks, but as a sitizen [sic] of India it's our responsibility to help people." What a cool guy.
Uttar Pradesh and the issue of exploitation
Seeing a positive story like this come out of Uttar Pradesh is awesome, considering the rampant issue of sexual exploitation that the region is dealing with.
The Times of India (TOI) reports that shops are selling hundreds, perhaps thousands, of real-life rape videos every day across Uttar Pradesh. Unfortunately, this is happening right under the nose of the police and the government. Depending on the "exclusivity" of the clips, which range from 30 seconds to even five minutes long, they are priced anywhere from 50 to 150 Rupees, which is about $.75 to $2.25.
Related: Sexploitation Stats: Over 6,000 Sex Trafficking Cases Reported In The U.S. In 2017
According to reports, it's still "under the counter" and dealers will talk only to those who've come armed with a trusted customer's "reference," but it is open and rampant.

"Porn is passe. These real-life crimes are the rage," said a shopkeeper at Agra's market. "Dealers will download videos directly into your smartphone or put them in your pen drive."
This is unacceptable. We hope that those who are capitalizing on the actual abuse and torture of real people will be caught and held accountable.

But what does any of this have to do with porn?
As an anti-porn, pro-love, and pro-healthy sex organization, it might seem confusing that we're talking about "sexual exploitation" and human trafficking. What's the relevance?
We're glad you asked.
Of all the millions—likely billions—of porn consumers in the world, not many know this fact: porn, sex trafficking, and sexual exploitation are all inextricably linked.
Related: 10 Surprising Facts About Human Trafficking In The U.S.
Obviously, human trafficking is an underground business, making firm statistics hard to come by. But the facts in cases that come to light are chilling. For example, in 2011, two Miami men were found guilty of spending five years luring women into a human trafficking trap. They would advertise modeling roles, then when women came to try out, they would drug them, kidnap them, rape them, videotape the violence, and sell it to pornography stores and businesses across the country.
Not to mention that a very popular Japanese porn company was busted a few years ago for forcing dozens of unsuspecting women into shooting porn. They advertised the porn shoots as modeling opportunities, made the models sign complicated contracts, and then blackmailed and forced these women into degrading and abusive shoots. One woman was even forced to perform in over 100 pornographic movies. How is that acceptable?
Related: The Problem With Saying "If You Don't Like Porn, Don't Watch It"
Here is the reality of how porn fuels trafficking and vice versa, as stated by Dr. Karen Countryman-Roswurm:
"Through the cycle of pornography-fueled physical and sexual abuse, pornography perpetuates further perpetration. Many of the individuals photographed or filmed for the use of pornography have a history of sexual abuse. Many still, while being materialized for citizens all across the world, are seemingly accepting such abuse and exploitation under the force, fraud, or coercion of a trafficker…

Pornography is the material means of sexual exploitation. Pornography is the proof, the very evidence that commercial sexual exploitation occurred. Pornography is verification of violence. And pornography is used again and again to prime, promote, and perpetuate the perpetration of boys and girls for the purpose of sex trafficking."

Bigger industry = more difficult for victims to speak out
The bigger the porn industry gets, the more challenging it will be for performers to step out and speak out without backlash when they've been exploited and abused in the name of sexual entertainment. As of now, there is no easily-accessible system of support or reporting for those who have been forced, frauded, and coerced into shooting even one porn scene, and blacklisting outspoken performers is currently the informal industry standard.
We are not claiming that all porn is non-consensual, but rather, raising awareness that there is often no way to tell if the porn a consumer views is completely consensual or produced with coercion.
Related: 5 Ways You Can Help Fight Human Sex Trafficking In Your Daily Life
And if you're still not convinced content on mainstream sites isn't all consensual, read this Jezebel.com story, this story on Daily Beast, this story on Complex.com, this Rolling Stone story, this Daily Beast story, this Bustle.com story, this story on CNN, this NY Post story, this Gizmodo.com story, this BBC report, this Florida Sun-Sentinel report, this Daily Wire story, this Buzzfeed News profile, and this UK Independent story for further proof that the mainstream porn industry features nonconsensual videos and videos of trafficked individuals. And yes, this includes videos on Pornhub and other mainstream porn sites.
Not clicking isn't always easy, since porn is everywhere and so many people struggle, but it's an action that we can all take, and it's an action that matters.
We fight to bring awareness to the fact that porn isn't harmless entertainment, and the porn industry wouldn't be where it is today without sex trafficking and exploitation. Now that you know, will you join us in raising awareness?