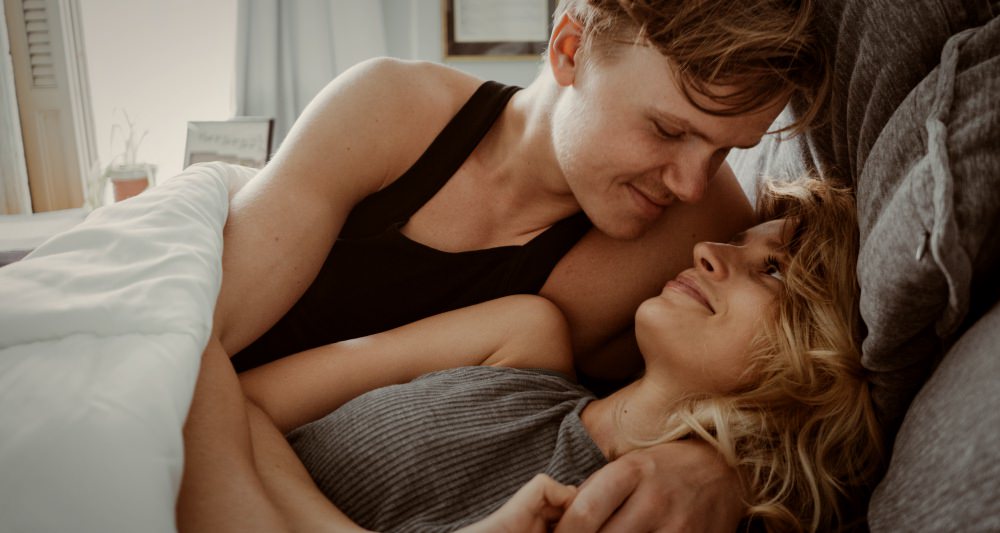 When most people think of the term anti­-porn, they tend to automatically think that means anti-­sex. Images of people waving protest signs and petitions in people's faces probably come to mind when people picture anti-porn organizations.
But when it comes to Fight the New Drug, that's just not what we're about. We're the total opposite.
We are all about infusing more sexiness into the world. One reason why fight against porn is because research shows how it harms the sexual health of individuals and intimate relationships.

What makes FTND so sex-positive?
As humans, we are wired to sexually connect with another person and express deep feelings through physicality. We are a pro-healthy sex and a sex-positive organization because we view sex as something that's natural and normal, to be desired by everyone. We see sex as an extension of expression and love, and an awesome part of committed, loving relationships. We think it should be freely discussed without awkwardness or shame attached. We value consensual relationships, and consider sex as a healthy part of life that consenting partners should enjoy.
While all of that is healthy, research is showing how there is a twisted counterfeit that seeks to hijack the sexual health in individuals and relationships: porn.
Related: Why Quitting Porn Is Like Giving A Sex-Positive Gift To Your Relationship
See, pornography is a synthetic, unnatural, and very temporary solution that people use to satisfy a natural desire. Much like eating food is a natural desire we all have, this doesn't mean that a frequent diet of Twinkies is a natural or healthy way to satisfy hunger.
Porn is just sexual junk food—an unhealthy, synthetic, pre-packaged product made to create an addictive chemical rush in the brain. Pornography will not and cannot love you back like every human needs. And when you consider what porn actually provides to consumers and how it inhibits sexual desire for another real human, [1] it's the total opposite of sex-positive and sexy.
But love and real relationships pave the way for the best and most meaningful sex that humans can experience, more often than porn does. So how does that change the definition of what's actually sex-positive and sex-promoting in relationships?

Authenticity is sex-positive.
Porn is not real. It's literally pixels on a screen made by a stranger that is acting, has been edited, photoshopped, and altered. There is nothing real about it. Love, however, is very much real and very much satisfying. While the fakeness of porn can drive partners apart and bring comparison in the relationships that will kill passion, love and authenticity only serves to pave the way for sexual health.
Real love is sex-positive.
Porn cannot love you back and meet your needs. Porn leaves consumers more lonely than before because it's just a reminder that they don't have a person to share real-life intimacy experiences with. Love is the most worthwhile pursuit in the world, while porn is just an empty waste of time and energy. Love opens the door for more meaningful sexual encounters with your partner, while porn drives a wedge between partners.
Related: 3 Reasons Why Not Watching Porn Is Sex-Positive
Trust is sex-positive.
Porn introduces secrecy and shame in a relationship, and ultimately dissolves trust. Partners often feel betrayed when they learn their loved one seeks out other people's naked bodies, leaving distance and frustration in the partnership. Porn damages relationships and destroys intimacy, but trust encourages safe and consensual sex within relationships.
Care is sex-positive.
Porn doesn't care about you, aside from what's in your wallet. The porn industry's only goal is to keep you coming back for more so they can continue making money off of your clicks and views. Porn couldn't care less if it ruins your life or relationships while you seek more and more of their product. Real, caring relationships physically connect and consider the value of people as more than a collection of body parts to be used and discarded.
Related: 5 Essential Sex-Positive Traits That Mainstream Porn Doesn't Support
Loyalty is sex-positive.
Porn will not be loyal to you, while a loyal partner will always have your back and love you through life. Porn offers a few minutes of selfish pleasure, and then disappears as soon as the web page is closed. The performers will never know their consumers' names, and porn producers only want to give the illusion of connection. But it's not real, and none of them are loyal to any one consumer, but loyalty and fidelity and knowing your partner only has eyes for you is more than sexy.

Porn is not truly sex-positive
Some might think, "porn is sexy and sex-positive to me," but we would ask the following question to those people: which is more sex-positive? A person sitting alone in front of a computer screen, looking at strangers acting out exaggerated pleasure, or two individuals so in love they can't keep their hands to themselves?
Given how porn divides people in relationships, stunts sexual pleasure, and messes with consumers' arousal and sexual function, it's clear porn is anything but sex-positive, once you look past the surface.
Related: "No" Means "Yes": 6 Messed-Up Ideas About Sex That Porn Normalizes
So, is being anti-porn sex-positive? We think the answer is obvious. And we think you deserve the real thing, not an airbrushed counterfeit.
We are pro-sex and anti-porn.
And we say, keep it sexy.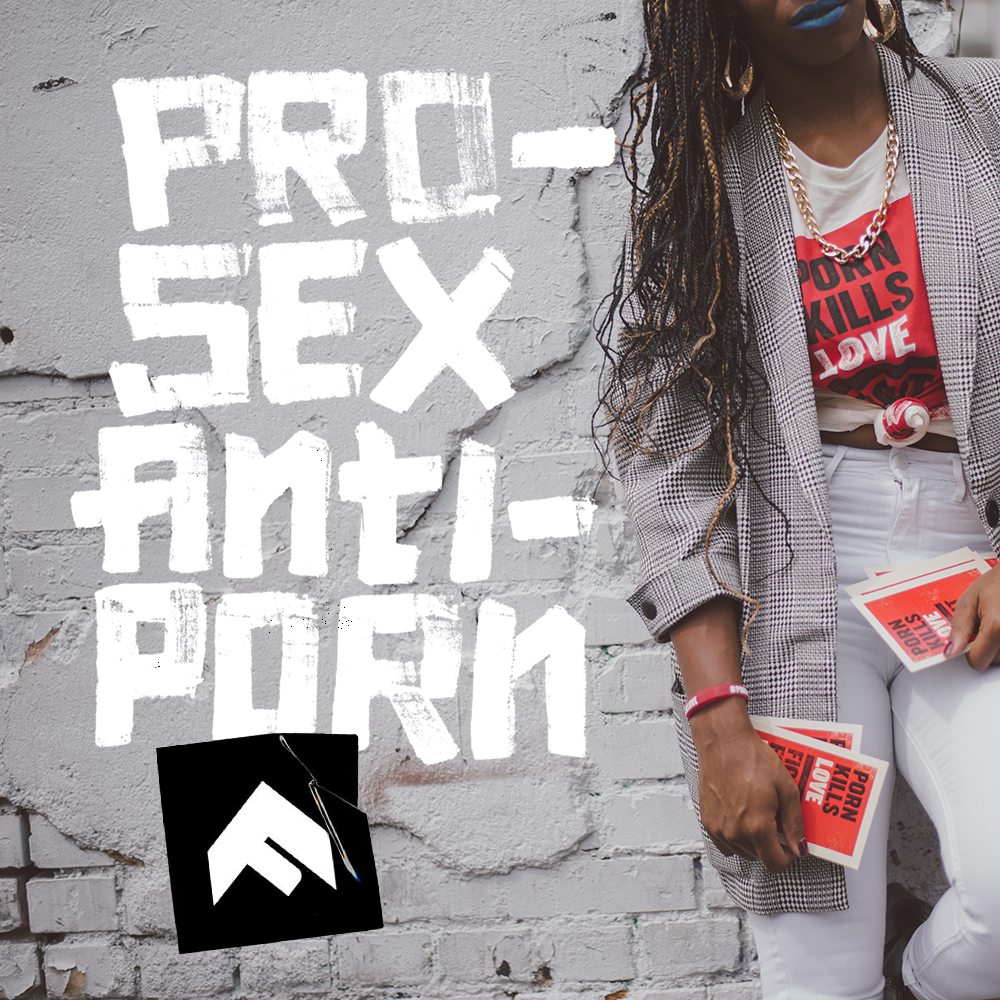 [1] Carvalheira, A., Traeen, B., & Stulhofer, A. (2015). Masturbation And Pornography Use Among Coupled Heterosexual Men With Decreased Sexual Desire: How Many Roles Of Masturbations? Journal Of Sex And Marital Therapy, 41(6), 626-635. Doi:10.1080/0092623X.2014.958790; Voon, V., Et Al. (2014). Neural Correlates Of Sexual Cue Reactivity In Individuals With And Without Compulsive Sexual Behaviors, PLoS ONE, 9(7), E102419. Doi:10.1371/Journal.Pone.0102419; Sun, C., Bridges, A., Johnason, J., & Ezzell, M. (2014). Pornography And The Male Sexual Script: An Analysis Of Consumption And Sexual Relations. Archives Of Sexual Behavior, 45(4), 1-12. Doi:10.1007/S10508-014-0391-2; Poulsen, F. O., Busby, D. M., & Galovan, A. M. (2013). Pornography Use: Who Uses It And How It Is Associated With Couple Outcomes. Journal Of Sex Research 50(1), 72-83. Doi:10.1080/00224499.2011.648027; Stewart, D. N., & Szymanski, D. M. (2012). Young Adult Women's Reports Of Their Male Romantic Partner's Pornography Use As A Correlate Of Their Self-Esteem, Relationship Quality, And Sexual Satisfaction. Sex Roles, 67(5-6), 257-274. Doi:10.1007/S11199-012-0164-0; Maddox, A. M., Rhoades, G. K., & Markman, H. J. (2011). Viewing Sexually-Explicit Materials Alone Or Together: Associations With Relationship Quality. Archives Of Sexual Behavior, 40(2), 441-448. Doi:10.1007/S10508-009-9585-4; Morgan, E. M. (2011). Associations Between Young Adults' Use Of Sexually Explicit Materials And Their Sexual Preferences, Behaviors, And Satisfaction. Journal Of Sex Research, 48,(6), 520-530. 8(6):520-30. Doi:10.1080/00224499.2010.543960; Janssen, E., & Bancroft, J. (2007). The Dual-Control Model: The Role Of Sexual Inhibition & Excitation In Sexual Arousal And Behavior. In Janssen, E. (Ed.), The Psychology Of Sex (Pp. 197-222). Bloomington, IN: Indiana University Press; Zillman, D., & Bryant, J. (2006). Pornography's Impact On Sexual Satisfaction. Journal Of Applied Social Psychology, 18(5), 438-453. Doi:10.1111/J.1559-1816.1988.Tb00027.X