In January of this year, Dawn Giannini, a 50-year-old teacher from Redwood City, California, was sentenced to nearly 7 years in state prison for engaging in sexual acts with an underage female relative.
The victim was just 16 to 17 years old at the time of the abuse.
Giannini, wife of a US Army Lieutenant Colonel and mother of two, not only filmed herself sexually assaulting the teenage girl but uploaded the content to free porn sites—including PornHub.

Giannini's documented rape of an underage female relative
Giannini was arrested on October 18, 2018, after a student at Woodside High School recognized the teen engaging in sex acts with Giannini in several videos posted to porn websites.
The student alerted the principal who immediately notified the local Sheriff's Office to launch an investigation. Giannini was allegedly substitute teaching in a special education class when the arrest was made.
Related: Why This Massively Popular Porn Site Doesn't Care If Their Content Shows Rape
The videos date back as early as 2014, with many recorded between September 2016 and March 2018 in Redwood City and Santa Cruz County.
The DA's office initially charged Giannini with 24 felony accounts, with several later dismissed as part of a negotiated plea bargain according to San Mateo County District Attorney Steve Wagstaffe.
Giannini pleaded no contest to 19 felony charges including lewd acts with a child, sexual penetration with a foreign object, and oral copulation with a person under 18 years.
Related: "Fauxcest": Understanding The Rise In Popularity Of Incest-Themed Porn
San Mateo County Superior Court Judge Jeffrey Finigan stated that Giannini's case involving the young girl is one of the worst he has ever seen—emphasizing the negative impact Giannini's actions have had on her family and the local community.
Judge Finigan sentenced Giannini to almost seven years behind bars.
Mainstream porn normalizes incest and rape, claiming "consent"
The sad truth is that this case is one of many stories that illustrate how porn consumers can't be sure of the origin of what they can view on mainstream porn sites—even despite claims that everyone in porn videos consented to being there or are over the age of 18.
Not only was this content the documented abuse of a child, it involved incest—two categories that are best-sellers, so to speak, on these platforms.

Here's an example.
PornHub, one of the top free online porn sites, regularly posts a ranking of the week's most viewed videos worldwide. In October of 2019, the #1 top-viewed video on the platform with over 7 million views was titled "My Stepbrother Brazenly Took Advantage of My Helplessness."
Related: Pornhub Reportedly Profits From Nonconsensual Videos And Real Rape Tapes—Here Are The Latest Examples
After this was publicized, many people expressed their outrage on Twitter.
In response to a tweet about the video, PornHub defended it by saying "this was made by a consenting and very creative sex worker."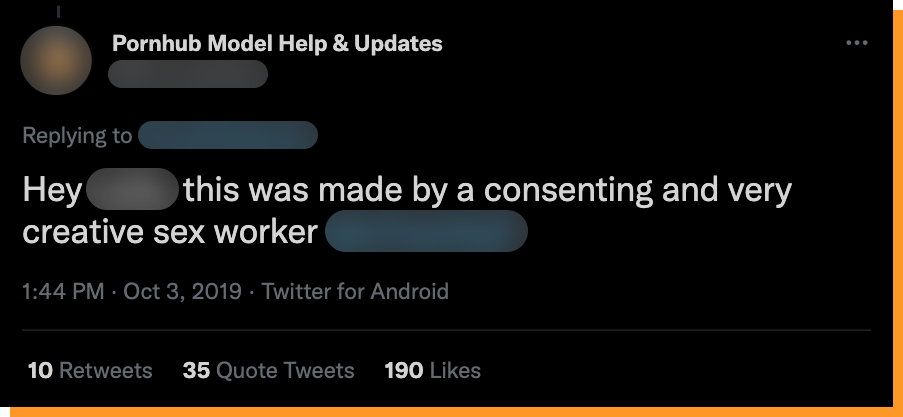 Clearly, accountability for normalizing harmful themes of rape and incest on their platform isn't a priority of PornHub's—no surprise there—even if they do emphasize consent.
But not all content on Pornhub is consensual.
Not only do porn sites fail to acknowledge the harm this type of content can have on viewers, they're quick to claim that all of the content on their platforms is consensual—which is dangerous territory, and simply false.
Related: "Why Was The Rape Victim So Upset?"—Why Teens Need Better Consent Education
It can be extremely difficult or impossible to prove that any particular piece of content is 100% consensual, or posted consensually even if the sex act depicted was consensual.
Aside from the fact that mainstream porn sites profit off of real rape tapes, even paid performers are misled, coerced, and forced on set, sometimes in the middle of filming a scene they signed paperwork for and consented to. Just because someone is being paid to act out a scene in porn doesn't mean they actually enjoy it. And just because a performer is paid at the end of a shoot doesn't mean they weren't exploited during filming.
Unfortunately, many consumers take porn at face value and are unaware of what's actually going on in the scenes they're viewing.
Related: Even If All Porn Was Consensual, Would There Be Any Issue With Watching It?
The fact is, consent can be virtually impossible to guarantee. And even if the performer consented at the time of filming the video, do they still consent to their videos being shared today? Take popular former performer Mia Khalifa. She says she consented to shooting sex on camera for the porn industry in 2014, but she wishes her videos were off of the internet today in 2020.
It's time the porn industry to acknowledge their shady business practices and stop writing off their accountability on claims of consent.

Holding the porn industry accountable
Aside from the issue of consent, the porn industry also disregards the impact this material can have on consumers—especially youth.
Consider the fact that millions of viewers consume porn that normalizes violent rape and sex between family members. Now think about how research confirms the influence porn can have on the brain, attitudes and behavior, and sexual tastes, and that consuming it can even lead to violence and decreased empathy for rape victims.
Is that really the type of world we want to live in? One that's been influenced by violent porn fantasies?
Why can the porn industry hide behind often false claims of consent, and even if consent is legitimate, ignore the impact this content has on both performers and consumers? Where is the accountability for these sites that will now forever hold virtual evidence of this underage girl's rape—and so many others?
The porn industry profits off of both documented rape and fantasized depictions of real-life tragedies, and it's time for our porn-obsessed society to learn the facts. We can help create a better world by demanding accountability, giving a voice to survivors, and instigating positive change. Are you with us?