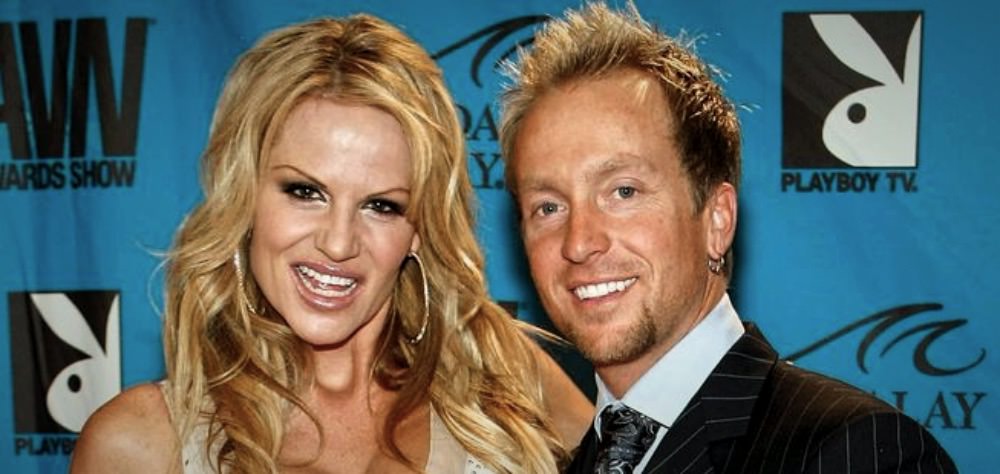 Actor Ryan Madison with his wife, Kelly. Cover image credit to Getty, retrieved from Meaww.com. 5-minute read.
Female performers are again calling on the porn industry to reckon with allegations of abuse and the dismissive attitude toward victims who speak out.
During the COVID-19 period, there has been a wave of new accusations of sexual misconduct as well as the arrest of the "legendary" Ron Jeremy who was outed for reportedly abusive behavior back in 2017.
While some people believe that professional porn productions are safer and more ethical than amateur videos that may include nonconsensual images or rape tapes, professional porn productions still have their own problems. Abuses like pushing boundaries and ignoring consent happen more than the average porn consumer may think.
Despite efforts to enforce consent with signed contracts stating which sex acts performers agree to during filming and recorded statements of consent before and after a scene, we know from performers speaking out that it isn't uncommon for someone to be motivated to say their boundaries were not violated when they were in order to receive their pay or escape the situation.
Related: If A Porn Performer Is Abused During Filming, Where Do They Report It?
Obviously, not all professional porn productions are abusive to their performers. Many performers publicly stand up for the industry, saying there may be a few bad apples but they have never faced abuse.
While this is their valid personal experience, we cannot ignore the others who have been victimized by a culture in the industry that encourages performers to stay quiet and get through a scene.

The allegations
These are just a few of the more recent allegations of abuse by some well-known performers in the porn world.
Ron Jeremy arrested and charged
At the end of June, Ron Jeremy—the famous performer known for his decades in the porn industry and hundreds of acting credits to his name—was arrested in Los Angeles and charged with sexually assaulting four women.
Claims against his conduct first emerged in 2017 when camgirl Ginger Banks released a video on YouTube compiling allegations ranging from groping to rape. Jeremy was always known for his brash nature around women, but the video was the first time the reality of his nonconsensual behavior was revealed.
Related: Award-Winning Porn Director Suspended After Sexual Assault Allegations Surface
"He does things without asking," said Alana Evans, president of the Adult Performers Actors Guild. "There's a lot of people who assume because we're adult actresses that it's OK to just touch us inappropriately."
Days after the news broke of his arrest, prosecutors said 25 women across the US reached out with allegations ranging from "misdemeanor sexual battery to rape." The L.A. County Sheriff's Department received 30 allegations of forcible rape and groping that took place by Jeremy within L.A. County since 2000, and since Ginger Banks went public years ago, she said she has spoken with 50 other victims. So far it is unclear how many of these allegations overlap, but it is clear Ron Jeremy used his fame within the industry to prey on women for at least two decades.

Allegations against Ryan Madison 
Just before Ron Jeremy was arrested, accusations against director and performer Ryan Madison snowballed online. Madison is a porn industry success with over 46 million channel views on Pornhub, several awards, and husband to producer Kelly Madison, but another side of Ryan Madison came to light when performer Annabel Reed tweeted asking people not to watch her video with Madison because he "violated [her] boundaries." Prior to the shoot, Redd said she made clear what acts were on her "don'ts" list, and yet those were the very acts Madison did to Redd without her consent.
After Reed spoke out, many female performers followed. Ginger Banks, the same performer who first accused Ron Jeremy, started a petition for tube sites to remove Reed's video and others so that the websites and Madison would not profit from nonconsensual content.
Related: Five Female Performers Accuse Top Porn Industry Agent Derek Hay Of Sex Abuse And Trafficking
Upwards of ten women have accused Madison of abuse, and each story shares similar details. These details include being welcomed to the set by Kelly Madison or other women, the sudden realization of being alone with Ryan Madison and that all other producers, makeup artists, or crew had disappeared, and then enduring Madison's abusive treatment.
"I thought, 'I'll get paid and it will make this experience worth it in some way, even though it's awful,'" said Jane Wilde. She was 19 when she booked a shoot with Madison. She said Madison's justification seemed to be that he was paying her and so he believed he could use her body however he wanted. She said that was what made her feel the most violated. "He didn't even have the decency to give me the opportunity to consent. He just took it."
Madison hasn't been formally charged or arrested at the writing of this article.
Other allegations against directors and talent agents
Performers have also called out talent agents like John O'Byrne, who was Jane Wilde's and Annabel Reed's agent at the time of their bookings with Ryan Madison. Some performers claim he was complicit in the abuse by continuously sending young women to Madison despite the open secret that Madison pushed boundaries and preyed on young women new to the industry who didn't know about him. The more bookings an agent organizes for a performer, the more money they make, and some agents were willing to risk the young women for the money.
Additional accusations were made by performer Aria Lee who said director Craven Moorehead assaulted her twice at the end of 2019, once while shooting a scene and another occasion off-set.
Related: Harvey Weinstein Sentenced To 23 Years In Prison For Rape And Sexual Assault
Another performer named Maya Kenrick said Dave Rock, CEO of Motley Models, used his position as a talent agent at the time to coerce a model into having sex with him.
Every claim has been denied by the accused, and as with many public accusations, many of the women have been subjected to online harassment. But the performers also say this could finally be the porn industry's moment of reckoning.

More than a few bad apples
These claims further confirm that the porn industry runs a very good PR campaign that covers over a multitude of misconduct and keeps consumers from knowing the reality behind the scenes. These allegations reveal a culture of mistreatment, abuse, and silencing tactics. How is any of this acceptable?
Some performers said they felt like something had changed in the porn world during the COVID-19 pandemic. Many productions have stopped and so these women are no longer concerned about losing bookings if they speak out.
This is an improvement from the dozens of Ron Jeremy victims who felt like no one would believe them if they reported the abuse because of the long-standing stigma around porn performers that they cannot be abused because of the nature of their work. Many critics ask, "What did they expect would happen?"
Related: How Shaming And Victim-Blaming Porn Performers Adds To Their Mistreatment
But this line of thinking is like the toxic idea that women who have been raped must have encouraged it by wearing a short skirt or tight clothes. Both are victim-blaming, and neither are okay.
No matter the industry, no matter the person, no one deserves to be sexually harassed or assaulted. Mistreatment should never be expected because of a job, even for those who voluntarily enter the porn industry. We can do better than blame abuse victims—they deserve better than that. Consider porn's glamorous perception in society, and how these women likely didn't fully know about the possibility of assault or rape off and on set.
This is not the first round of abuse allegations in the porn industry, but the performers hope this time will be different. We hope so, too.