Cover photo by Cedar Sioux Photography.
The 2018 Fighter of the Year winners came as a package deal, not only because they're twins, but also because they've been mutually dedicated alongside each other to spreading the facts in their part of the world on porn's harms and the value of real love.
Meet Carmel and Lynae, two U.S. Fighters from the state of Wisconsin.
The beginning of their involvement
Their journey of getting involved with Fight the New Drug began around 2015, when they saw a Facebook post from a friend in a red "Porn Kills Love" tee. What started as a mutual interest in our posts on the social network grew into an active following of our blog and other social platforms for both Lynae and Carmel. Then, the conversations started—with their friends, parents, siblings, peers at school, and mentors. Anywhere they could talk about the issue, they did.
During that time, a speaker came to their high school and gave a talk about the harms of porn in a presentation they say marked them from that point on.
"For the first time ever, kids in my school were opening up about experiences and struggles with porn. Some kids didn't see a problem with it. But I did. Porn was hurting almost all of my friends, and I wasn't okay with it. I remembered FTND," Carmel said of her growing involvement with the movement in an email interview with us.
And all along, her sister had been growing more invested in the issue also.
"Since I have heard of FTND, my passion for raising awareness has grown," Lynae said. "I have heard so many testimonies from my peers, I have seen a significant amount of more people be brave and vulnerable to share their stories for the first time. My first year out of high school, I attended an FTND presentation, and absolutely loved it."
They decided they wanted to dive in even deeper, so they both grabbed their own bold, red "Porn Kills Love" tees. That's when things really took off.
"In my first year of college," Lynae said, "I gave a speech in one of my classes about the harmful effects of pornography and the feedback I received was amazing!"

The movement's big break in their community
And not long ago, they made huge waves in the Wisconsin community of La Crosse after a local university paid thousands of dollars to a porn performer to give a talk to students about sex education and porn, intended to help the campus celebrate their Free Speech Week.
In response, Lynae and Carmel posted on Facebook wearing their "Porn Kills Love" tees with fellow Fighter friends and talked about how porn harms the consumer, relationships, and society in general. The attention the post received and the wider conversations it sparked were unexpected, but amazing.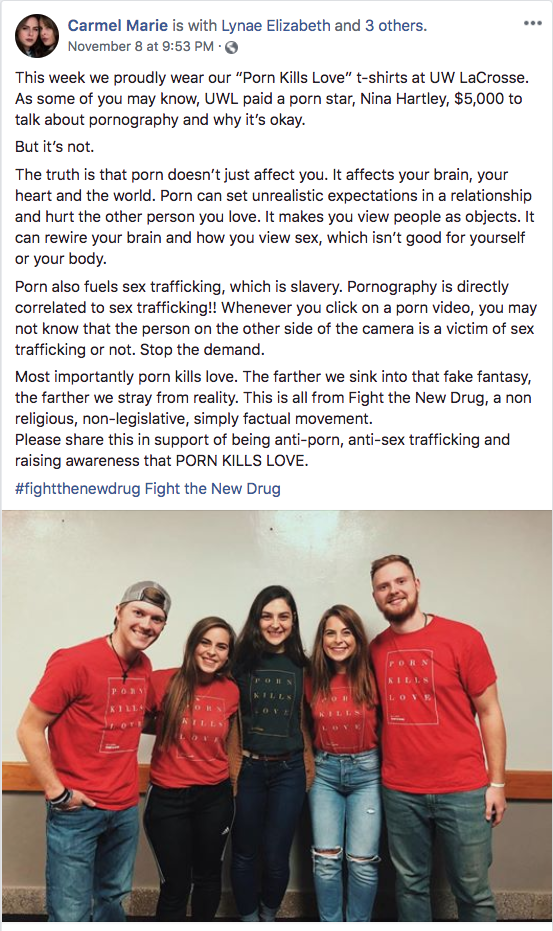 "It got a lot of publicity over the weekend [after the talk]. Monday morning, we got the glorious news that the university's chancellor is having FTND come to the University of Wisconsin-La Crosse because of all the social media attention," Carmel said. "We want what's best for our community and we want everyone to know the truth behind pornography."
The news also got out that the university's chancellor was personally reimbursing the school the thousands it paid to the performer.
"We don't hate the chancellor or the performer," the girls told us in an email interview. "We just thought our community deserved to know the truth about porn. It was scary to read some of the comments in conversations on Facebook. So many people thought it was okay and harmless. Also, it wasn't just us! We all saw so many students wearing FTND apparel the week after it happened on campus. And we are thankful for that…
We've had so many people reach out to us because of this situation."
Listen to our interview with Lynae and Carmel on Consider Before Consuming, a podcast by Fight the New Drug.

We would be nowhere without Fighters like Lynae and Carmel
Thanks in part to these incredible Fighters, the national attention of a porn performer being paid to speak to university students is being punctuated by our upcoming presentation on campus. Without these Fighters speaking out, who knows how the story would have ended?
Support this resource
Did you like that article? Help us keep our educational resources free to access! Fight the New Drug is a registered 501(c)(3) nonprofit, which means the educational resources we create are made possible through donations from people like you. Just one dollar can make a difference!
Give $1