*READER DISCRETION ADVISED. Many may find the following language describing porn to be graphic, disturbing, and/or triggering.*
Another year, another insane annual porn report from the world's largest free porn site, Pornhub, that gives us a look into society's twisted obsession with hardcore porn.
It's a sad truth that internet porn is more varied than just about anything else you can find online. The infamous Rule 34 of the internet—a comical list of protocols and conventions which first appeared years ago on a popular online forum—states, "If it exists, there is porn of it. No exceptions."
So, if you can think of a pornographic scenario, theme, or style—no matter how random or innocent it may seem—then such porn will already have been made and will be available online. If it's somehow not out there, then it is only a matter of time before such porn is made.
For example, would you have ever expected that porn involving fidget spinners would be some of the most popular in the world in 2017? But let's not get too ahead of ourselves.

Pornification of Society
To see the reality of this pornification of society, one needs to look no further than the annual report released by the world's largest porn site at the beginning of each year. Beginning in 2013, the company has released a "year in review" on its blog that shares detailed analytics from the site, containing information like Favorite Porn Star, Most Popular Search Terms, and Average Time Spent Per Visit.
Now that we have officially entered 2018, Pornhub has finally released its analytics from 2017 and is now giving people a look into society's porn habits and sexual preferences as shown by their site.
And, of course, they're as disturbing as they've ever been.
Let's dive into the sheer number of people who visit this mega porn site each year:

That's right. There were more than 28,500,000,000 site visits to Pornhub last year, which equates to about 3.75 visits per person on earth. And this is a huge uptick from the year before, considering that Pornhub only received about 23,000,000,000 visits in 2016—an increase of more than 5.5 billion visits last year. That's a difference of 64 million average visits to the site per day in 2016, versus 2017's 81 million average visits a day in 2017. Long story short: that is a lot of visits, and that's a big increase from the last report.
This year's report also focused on content uploaded, rather than content watched. And with the equivalent of 68 years of porn added to the site's already overloaded content, and enough data transferred to fill the memory of every iPhone in use in the world, that puts into clearer perspective just how massive this site really is.
Think of it this way, as per the site's report: "in 1949 (68 years ago), the world's first commercially available computer was released. If you somehow managed to log into Pornhub on your new Ferranti Mark 1, you would still be watching new videos from 2017 today." Wow.
But let's be real: we already knew that lots of people watch porn, right? That's not a surprise. It seems to be completely normalized in our society, so it's not groundbreaking that porn tube sites like Pornhub are getting insane amounts of traffic. However, what's truly concerning is what consumers are looking for and watching while they are there.
So were the search terms that defined the year 2017, and made it stand out from previous years?
See for yourself:
Fidget spinner? We can't make these things up. And cheerleader and hentai, two porn categories that focus on the sexualization and degradation of young girls? Yeah, we wish we didn't read that, either.
But what's the most surprising is the fact that "porn for women" defined 2017's porn browsing. This has us raising our eyebrows, considering that Pornhub's average female population makes up only 26% of visitors to the site. And yet they're breaking into the top searches? Something tells us that it's more than just women looking for female-friendly porn.
It might be that the average heterosexual male consumer is seeking out what women want in bed rather than actually asking their partner, or trying to get their female partner to support porn through specifically seeking it out for them. Either way, we don't see it as an indication of anything healthy, or like the positive breakthrough that Pornhub is advertising it to be.
And while the results above are the general searches that defined 2017, let's take a look at the specifically most searched for content on the site: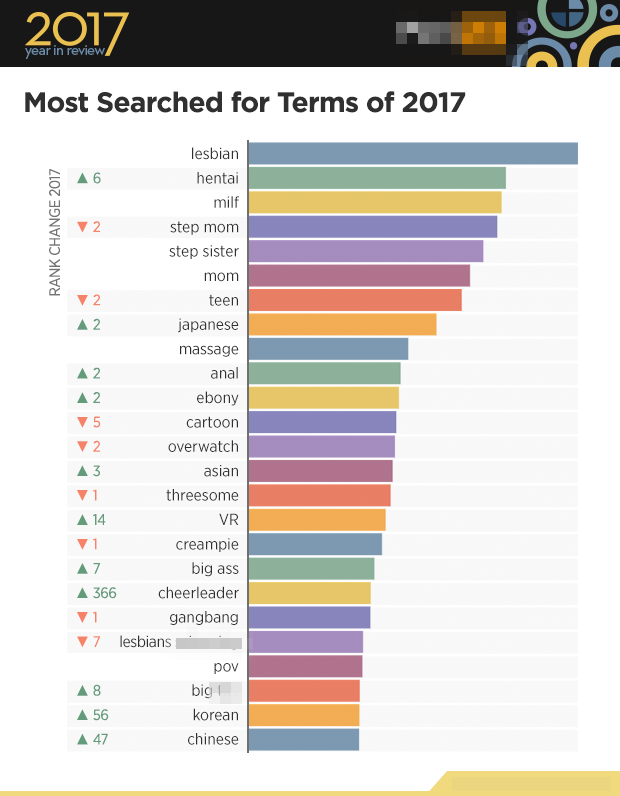 Total Eclipse of the Heart
But there is a bit of good news. One of our favorite natural phenomenon last year was the incredible total solar eclipse that went from coast to coast in the United States. And you know what people weren't doing while they were staring at the sun, hopefully with the proper protective eyewear? Watching porn.
People were too busy staring at the eclipse in most parts of the country to log on and watch the most hardcore content imaginable. Check out the drop off in viewership in the path of totality:
So what can we learn from these stats? Well, for one thing, natural displays of awesomeness in nature can get people away from their computers and outside. And for another thing, our society does believe that there is, in fact, cooler stuff to look at than porn.
What did we learn?
Clearly, porn is more accessible, more normalized, and more mainstream than ever before, and there's no real change to that in sight.
Related: So You Realize You Have An Unwanted Porn Habit—Now What Do You Do?
But fortunately for us, information about the harmful effects of porn has also never been more accessible or mainstream than ever before. Did you know we have a free documentary series on the harmful effects of porn? Also, check out our podcast, Consider Before Consuming, which discusses the harmful effects of porn, not to mention our blog with over 1,000 educational articles.
So while people are logging on to Pornhub and daily adding to their massive stats, we'll continue sharing the facts and raising awareness that porn is anything but harmless entertainment. And judging by the hundreds of thousands of messages we've received over the 12+ we've been an organization, this movement for real love has already made a huge impact in changing the conversation around this issue.
Soon enough, our society will be less interested in the most degrading and humiliating content possible, and more invested in real relationships. It's only a matter of time. You with us?
Support this resource
Thanks for taking the time to read through this article! As a 501(c)(3) nonprofit, we're able to create resources like this through the support of people like you. Will you help to keep our educational resources free as we produce resources that raise awareness on the harms of porn and sexual exploitation?
DONATE