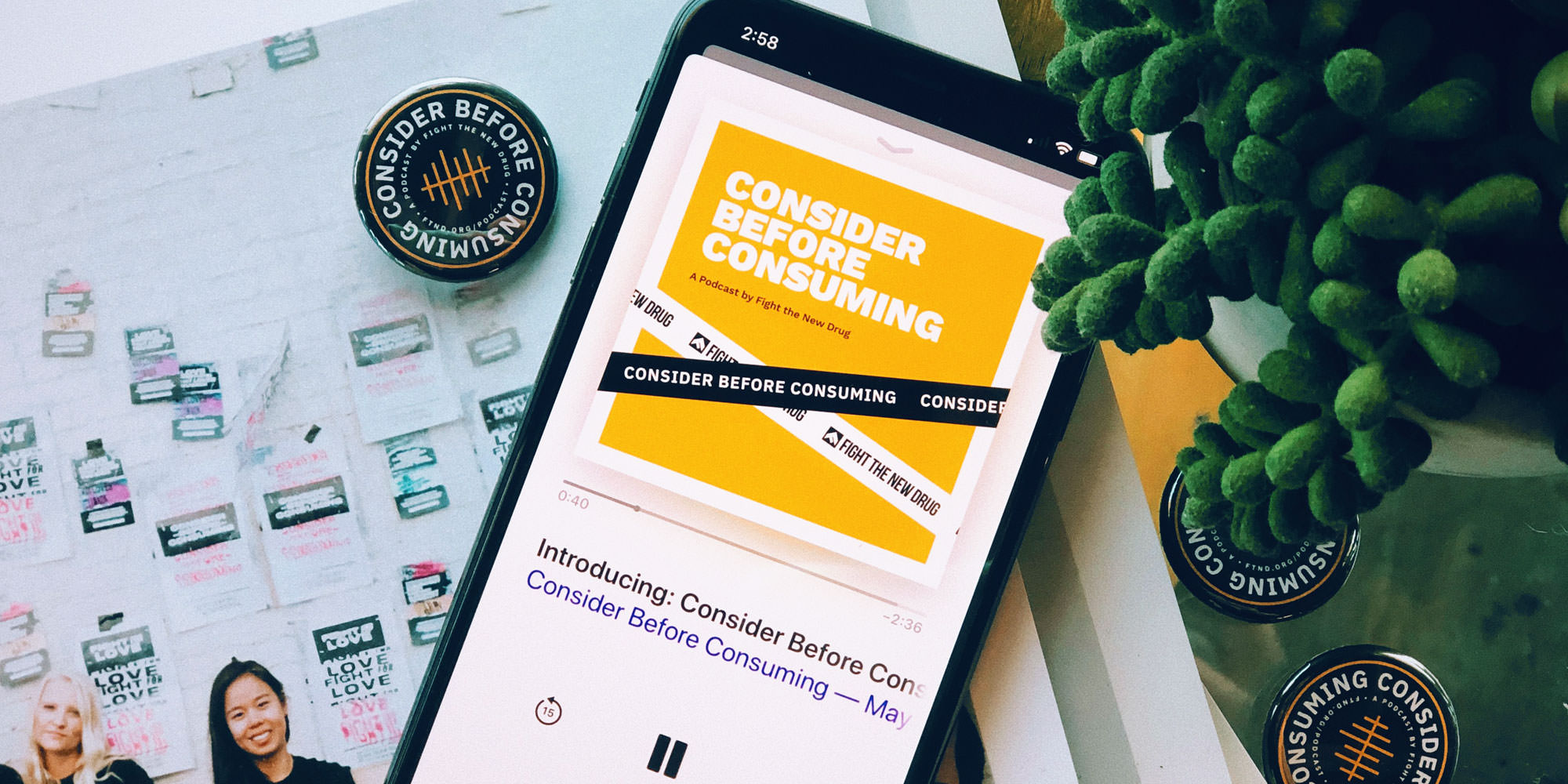 If you aren't familiar with Fight the New Drug, we're a non-religious and non-legislative 501(c)3 nonprofit organization that aims to educate youth on the harmful effects of pornography using only science, facts, and personal accounts.
In other words, think of us like the Truth Campaign (they raise awareness on the harms of smoking), but for porn.
Founded in 2009, our organization is all about giving visibility to the already-existing data, studies, and personal experiences that illustrate how porn is anything but harmless entertainment. We also create resources to help friends, families, youth, partners, parents, and community groups have healthy and productive conversations about the proven harms of porn.
Until now, we've created resources including conversation-starting apparel, thought-provoking video campaigns, social images and infographics to spark conversations on social media, over 1,000 blog posts to help educate the millions of people visiting every year, and our brand new three-part docuseries that's great for all ages and free to watch. We also give interactive and age-appropriate school presentations.
Now, we're adding a new resource to our growing resources: Fight the New Drug's first-ever podcast.

Consider Before Consuming, a podcast by Fight the New Drug
Think about all of the things you consider every day to help keep yourself, your loved ones, and your community happy, healthy, and hopeful.
Now consider this: There is an ever-growing body of research demonstrating significant negative impacts, for yourself and the ones you love, in the consumption of pornography. It can change the way you think, harm your ability to connect with other people, and can contribute to changing the world in negative ways.
Join us every other week starting on July 10th as we consider the harmful effects of pornography using science, facts, and personal accounts. But, we're not just inviting you to consider the potential negative consequences of pornography but also the benefits to a life free of porn and its influence.
Who is the podcast host?
You may have seen our podcast host give a school presentation or featured elsewhere in our resources. His name is Garrett Jonsson, and he's more than a force to be reckoned with—he's a Fighter.
Fight the New Drug first discovered Garrett when he took it upon himself to run 30 marathons in 30 days—and then rode a bike 3,800 miles across the United States—all to raise awareness on the harms of pornography.
Check out our video coverage of his journey below.
Since he confronted his own battle with pornography, Garrett dedicated himself to this fight to educate others. As one of Fight the New Drug's presenters, Garrett has spoken to more than 10,000 students around the globe about the harmful effects of porn. He's beyond stoked to host our first-ever podcast, and looks forward to introducing this issue to listeners in a fresh way.
What topics will CBC cover?
In each episode of Consider Before Consuming, we'll discuss the science and research behind the negative effects of pornography so we can better understand the issue and help connect people with the facts they need to make an informed decision on porn.
Our host, Garrett Jonsson, will interview an expert, public figure, survivor, or fellow Fighter about their thoughts or personal experience surrounding this topic in each unique episode. You might laugh, you might cry, but you'll definitely think about how porn influences the world around you.
Where can I listen?
Episodes will be released every other week for a 5-month season, starting on July 10, 2019. Don't miss the launch, subscribe to Consider Before Consuming wherever you listen to podcasts. Click below to learn more about which platforms we'll be streaming from.

Who is this podcast for?
Given the available information about porn's harmful effects, we believe everyone should be given the opportunity to make an informed decision regarding porn for themselves, similar to anything else someone might consider consuming. Ultimately, we respect the right of adults to choose for themselves whether to click porn or not. The least we can do is contribute thoughtfully to an important conversation that is absolutely relevant to youth growing up in the digital age, today.
The bottom line is, because of the science and research, anyone and everyone can care about porn's proven effects. If you have a brain, desire healthy relationships, and care about living in a healthy society, this podcast is for you.
Why is this issue important? Is it relevant to me?
For years, porn has often been thought of as an isolated issue—something that can be easily compartmentalized in the lives of consumers, unrelated to anything else that's going on. Thanks to decades of research from major institutions, the world beginning to see just how inaccurate that line of thinking is.
Given the growing field of scientific research and studies, it can no longer be denied that repeated porn exposure does have a tangible effect on consumers, and is connected to declining relationship satisfaction as well as various forms of exploitation. This isn't a moral argument, it's simply something to consider given the facts. Now, it's possible to see how porn is connected to societal issues that are greater than all of us—issues like sexual assault, rape culture, sexual exploitation, human trafficking, gender inequality, self-esteem, quality information about sex, body-image, and many others.
We hope this resource adds and helps to shape meaningful conversations in your community, wherever you are. Happy listening!