Cover photo by Ken McKay/ITV/REX/Shutterstock.
In July of 2017, we reported on the extraordinary story of a 20-year-old British model disappearing after traveling to Italy. After being drugged, assaulted, and held captive in a suitcase, Chloe Ayling was made to believe she was trafficked to be sold in an online auction on the dark web. She was released after 6 days, and a suspect named Lucasz Herba from Poland was immediately arrested in connection with the case, reported CNN.
Now, reports are saying that Herba has been found guilty of attempted extortion and carrying false documents. He's been sentenced to over 16 years in prison for this elaborate kidnapping plan, executed in the hopes of winning Ayling's affections.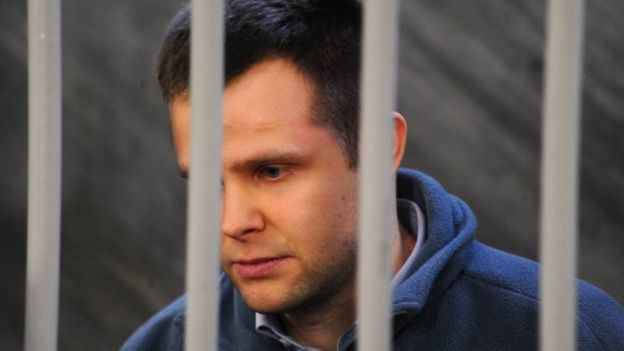 It was testified in court that Herba only pretended to be from an international trafficking group, involved with selling models as sex slaves in Saudi Arabia, but ultimately released Ayling after discovering she had a child. The BBC's correspondent added: "This, according to the prosecution, was another elaborate lie, set up in an attempt to win the model's sympathy and affection before releasing her."
During his defense arguments, Herba said he had previously met Ayling and had fallen in love with her. He claimed he wanted to create a scandal to help her career by creating extra publicity. Insane, right?
According to the BBC's report, Herba said that he was inspired after watching the film "By Any Means"—in which a similar kidnap plot was carried out.
The court ruled out any involvement from Ayling, vindicating her after countless people refused to believe she was put through the nightmarish ordeal. At the start of the trial in Milan in February, a police officer told the court that Ayling had suffered mental and physical abuse during the six-day ordeal.
The Terrifying Ordeal
"A person wearing black gloves came up from behind and put one hand on my neck and the other on my mouth, while a second person, wearing a black balaclava, injected me in my right arm," Ayling described to police shortly after she was set free.
Related: How Teen Girls Get Tricked And Trafficked Every Day Into Doing Porn
Italian prosecutor Paolo Storari told the BBC that the model was "doped with ketamine" before being locked into a suitcase and loaded into the trunk of a car.
"I think I lost consciousness. When I woke up I was wearing a pink bodysuit and the socks I'm in now," she said at a press conference after the ordeal was over. "I realized I was in the boot of a car, with my wrists and ankles tied and my mouth taped. I was inside a bag, with only a small hole that allowed me to breathe."
Related: This Buzzfeed News Piece About Exploitation And Abuse In The Porn Industry Is Eye-Opening
She was then driven to a house located in a remote area outside the city of Turin, police said. There, the model was allegedly handcuffed to a wooden dresser and kept captive for six days.
Heba, her trafficker, claimed to be working on behalf of the "Black Death group," a dark web organization that has been linked to the illegal trafficking of people. Herba claims to have made millions of Euros off the sale of trafficked European women, though now we know this was an elaborate lie.
The Realities of Sex Slavery Today
You may be asking, "FTND, you're an anti-porn, pro-love organization. What does this insane story have to do with 'legit' pornography?" Plenty, and we'll tell you why.
Although Ayling—thankfully—was not actually sold as a trafficked sex slave, there are plenty of men, women, boys, and girls around the world who face this reality. A fueling and exacerbating factor to their situations is hardcore porn. The truth is, porn, prostitution, and sex trafficking are more closely linked than the average consumer may realize.
Related: By The Numbers: How Porn And Sex Trafficking Are Inseparably Connected
Unfortunately, since sex trafficking is an underground business, the hard data of how widespread this issue is, is hard to come by—but that's changing. A lot of what we do know about the current state of the dark industry comes from survivors, and they have a lot to say about how porn was largely connected to or was included in their trafficking. And even aside from their survivor testimonies, the information is getting clearer and clearer about exactly how huge this issue is:
– According to anti-trafficking nonprofit, Rescue:Freedom, in 9 countries, 49% of prostituted women said that pornography was made of them while they were in prostitution.
– By some estimates, 4.8 million people are trapped or forced into sexual exploitation globally. (International Labor Organization)
– Sex trafficking is big business—it generates $99 billion annually, just from commercial sexual exploitation alone. (International Labor Organization)
Related: Why Fighting Sex Trafficking Absolutely Includes Fighting Pornography
What does any of this have to do with porn? It means that exploiting vulnerable people for profit in the sex industry is a sure way to make a lot of money. And seeing as the porn industry is worth an estimated $97 billion on its own, it's clear why many traffickers choose to capitalize on the opportunity.
Why This Matters
This is the reality of what the porn industry fuels: real people being sexually abused and exploited at the hands of family members, traffickers, and pimps. Each click to porn content fuels the demand for sex traffickers to make money by selling videos of their sex slaves to porn sites.  But what about major porn studios and porn sites—aren't they completely separate from the sex trafficking issue?
Absolutely not.
Related: 5 Simple Ways You Can Fight Sex Trafficking In Your Daily Life
After all, when someone is sex trafficked, there are undoubtedly videos and images taken of them to advertise them online, if nothing else. But sometimes, these images and videos end up on popular sites.
So the higher the demand for porn, even porn that was produced in professional studios (which, newsflash, also abuse their performers), the more sex traffickers will want to profit from that lucrative porn demand, and the more they'll exploit vulnerable people to get there. After all, as we've seen from the numbers, and this story about Chloe Ayling, it's big business to do so.
Related: The Inseparable Link Between Porn And Human Trafficking
We fight because we don't believe anyone's abusive reality should be sold as a sexual fantasy. Join us in fighting to stop the demand for sexual exploitation.

Get Involved
Porn and sex trafficking are inseparably connected. SHARE this article and get the word on porn's harms to society.
Spark Conversations
This movement is all about changing the conversation about pornography and stopping the demand for sexual exploitation. When you rep a tee, you can spark meaningful conversation on porn's harms and inspire lasting change in individuals' lives, and our world. Are you in? Check out all our styles in our online store, or click below to shop: