We get messages and comments all the time from people who are convinced that porn doesn't hurt anyone, or doesn't hurt very many people.
They can't believe that the actors in the videos they watch would ever be coerced into having sex on camera because they're being threatened or were led there under false pretenses. If they look like they're enjoying what's being done to them, there can't possibly be any issue, right?
Take a look at this real tweet that was sent to us a while ago in response to our resources that shine a light on the connection between porn and sex trafficking.

While it's completely false, this one person's tweet sums up basically what most of society believes to be true about porn and sex trafficking. We're here as a reality check to that misinformation, and we're going to show real-life examples of trafficking and porn to illustrate how closely connected they really are.
Related: Pornhub Reportedly Profits From Nonconsensual Videos And Real Rape Tapes—Here Are The Latest Examples
Right off the bat, we want to be clear about what we mean by "sex trafficking," since most of society has this idea that trafficking only happens in faraway countries where the victim is forced into a life of slavery in the most severe ways imaginable. While that is trafficking and it does happen, the actual definition of "severe forms of trafficking in persons," as stated by the Victims of Trafficking and Violence Protection Act of 2000 is as follows:
"Sex trafficking in which a commercial sex act is induced by force, fraud, or coercion, or in which the person induced to perform such act has not attained 18 years of age."
This means that sex trafficking can be a commercial sex act, as well as repeated sex acts that are induced by force, fraud, or coercion. So by definition, even one teen being forced into a porn shoot in Miami by fraudulent or coercive means has experienced sex trafficking. Make sense? Understanding this might change the way you think about the issue of trafficking.

How producers exploit vulnerable teens
Some of the porn industry's biggest resources are naive or desperate teens and early twenty-somethings looking to make a quick buck. What's one way that they snag vulnerable and unsuspecting girls?
Online classifieds.
You might have heard about a recent case involving 22 women who sued the owners of a site called "GirlsDoPorn" for luring them to San Diego and coercing them into signing complicated contracts, shooting porn, and uploading these videos to mainstream sites. Many of the women involved in the case found "modeling jobs" posted to sites like Craigslist without any mention of the pornographic nature of the shoot.
Related: 22 Women Paid $12.7 Million And Given Rare Ownership Rights In GirlsDoPorn Lawsuit
This is what happens every day to unsuspecting aspiring models—many of them women in their teens and early 20's.
But don't take our word for it, take a look at the reality that is the underbelly of amateur "adult entertainment" recruitment. "Agents" post ads on sites like Craigslist or (the now-shut down) Backpage looking for "models." They're promised money, fame, and fair treatment, but the reality behind these posts is a dark one. And keep in mind that while we know these posts look shady to a trained eye, an unsupervised teen with no experience and no frame of reference wouldn't necessarily expect these ads to be from someone with dangerous intentions.
.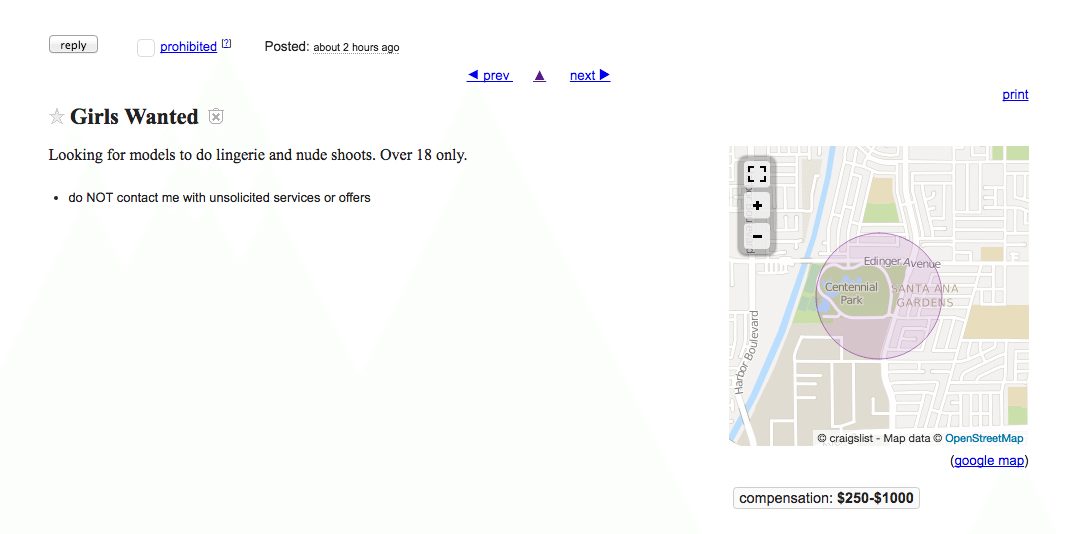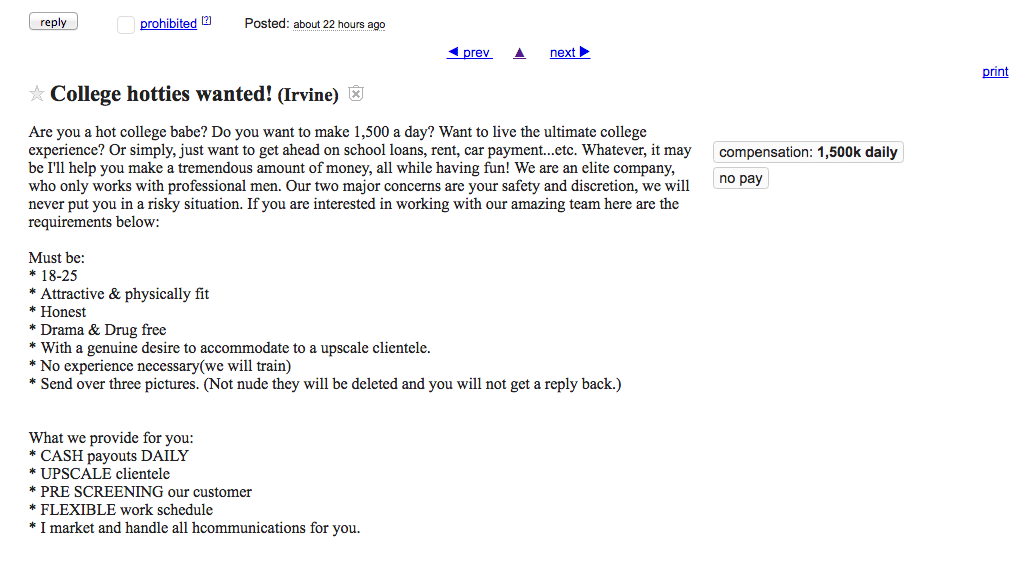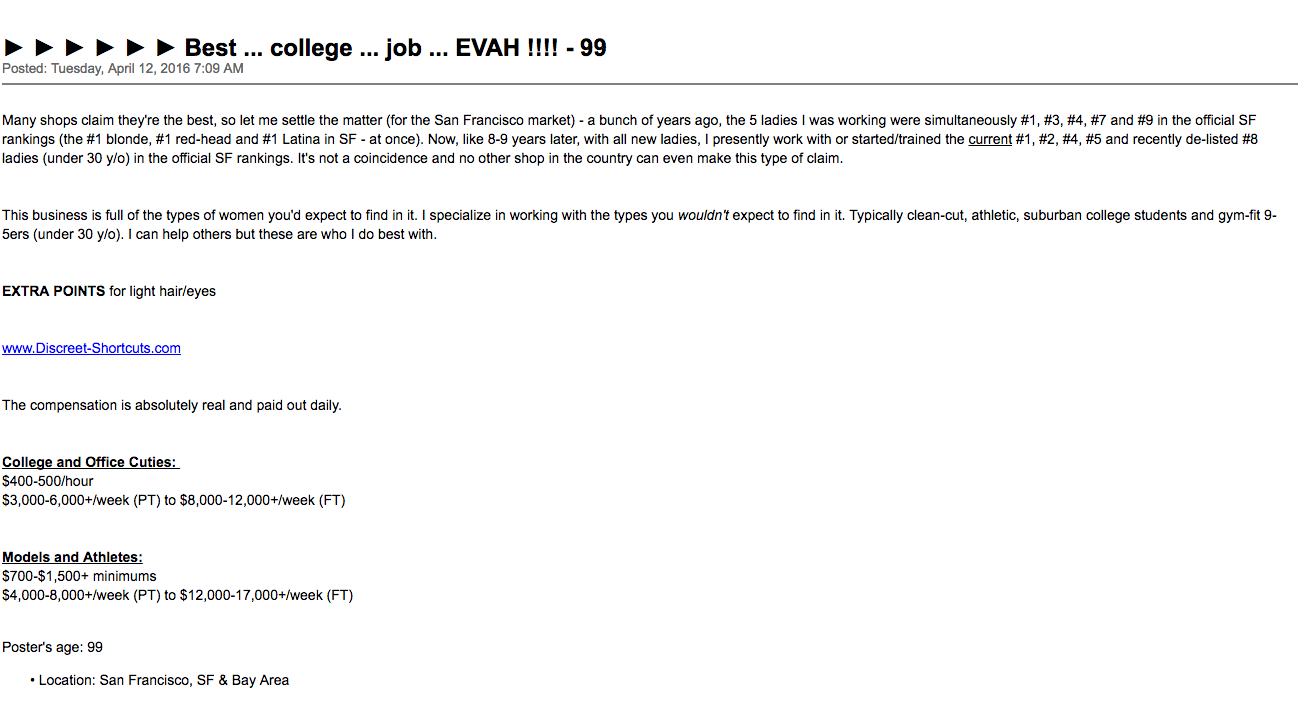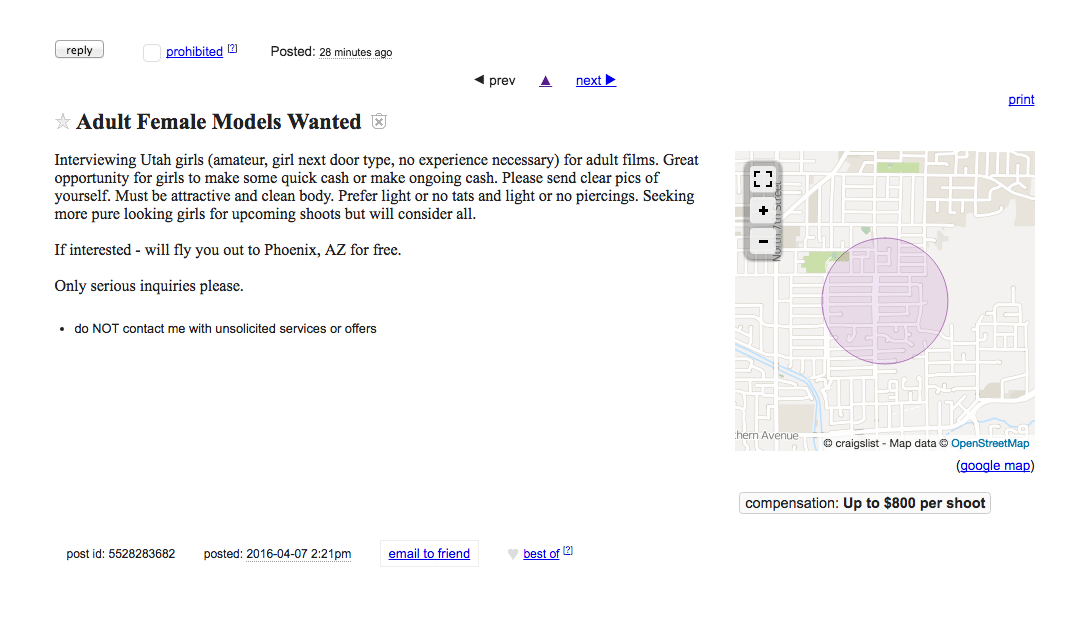 Again, these ads may look suspicious to the trained eye, but to a teen with limited experience and a need for cash, the posts seem like an easy opportunity to make money.
Distributed among other talent ads seeking musicians, makeup artists, and other legitimate modeling jobs, these "agents" reel in hundreds of prospects a day who are willing to take the bait. And even if they know that porn is probably the end product, they may not truly understand or have the ability to change their mind once they agree.

This is what trafficking looks like
While some of them mention "nude modeling" or working in "lingerie," or workign with "upscale men" (for the purposes likely of escorting), the base intention is to get as much out of these teens as possible. The ideal for these agents is to get their performers into situations where they can't say "no" to doing porn or selling sex. Yes, some of these ads clearly state that they're for "adult films," but they don't mention that the teens will be forced to perform the most degrading acts imaginable for consumers to play on repeat. This isn't some innocent recruitment where they only have to pretend to have sex with a stranger and get paid in return.
Related: Inside The Industry: Performers Speak Out On Trafficking And Exploitation In Porn
A lot of times, if they say "yes" and show up to the shoot, they will be unable to back out even if they wanted to. That, by definition, is coercion—which falls under the definition of sex trafficking.
Often, these teens are threatened and humiliated into giving these agencies what they want, and then disposed of without a second thought. Whether it be a fat check or a hidden clause in their "modeling" contract, posts like the ones above yield hundreds of victims a day who never truly understand what they're getting themselves into or were told what they were signing up for.

True stories from teen survivors
Here's a real-life example.
A while ago, we posted a video of an interview with the mom who dropped her daughter off at her first porn shoot. After Fight the New Drug posted the clip, we quickly learned there was much more to the story.
We received a message from the teen in the video herself, telling us what really went down that day. Here is a screenshot of the actual message we received from the girl in the video.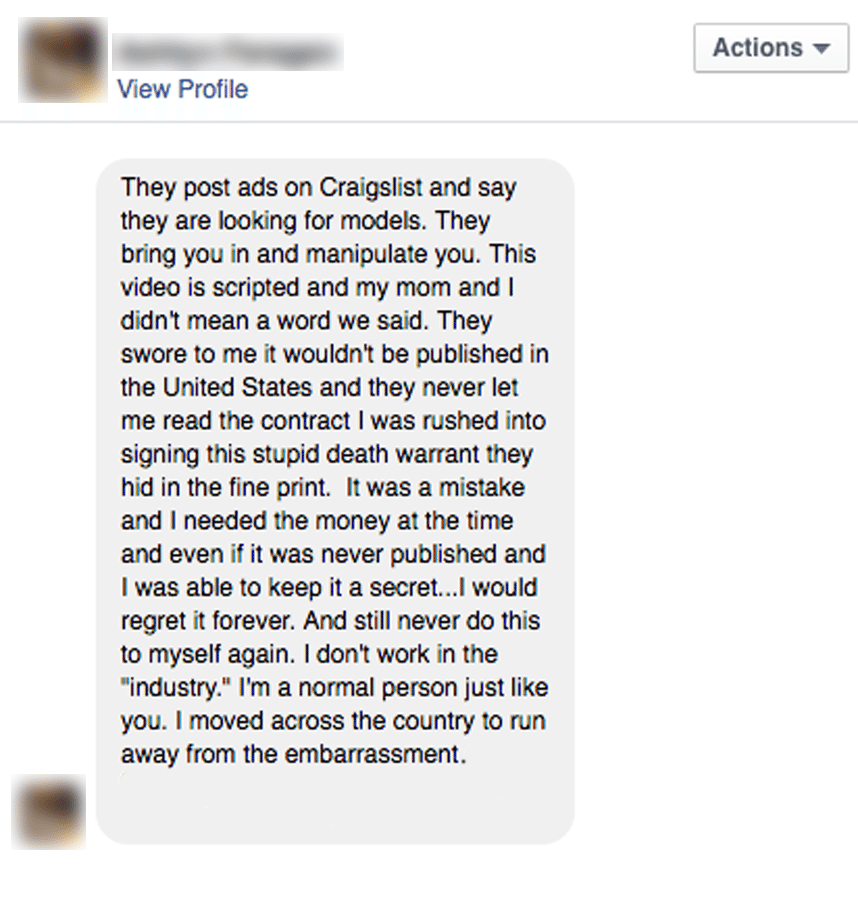 She fell for an online classifieds gimmick, exactly like ones listed above. She was barely 18 when an ad caught her eye, and off she went to her first porn shoot without being told what she was really signing up for.
Related: Force, Fraud, And Coercion: Uncovering When Sex Trafficking And Porn Production Overlap
But this is just one girl, right? The rest of porn performers are actually happy to perform for the camera, and this is just a single situation, right?
Wrong.
This happens way more than people realize. The day after she reached out to us, her legal representation told us another piece to the story.
"You may not know the entire backstory but there is a company that poses as a real and legit modeling agency who targets young barely 18 girls (18-20). They fly them out of state, put them up in a hotel and not until then do these innocent girls find out they will be performing porn. Their interviews are faked. They are told that if they don't go by the written script in the videos (which will be shown later online) and look like they are happy to do it, then they will be put out and have to find their own way home at their own expense. All of this while several large scary looking men menace over them. We have 19 of these girls on our caseload, all of which told us the same story. These girls are victims." –DMCA Defender
The underbelly of the amateur porn industry is filled with situations like these. As we see in the Netflix's documentary, Hot Girls Wanted, not even the girls who knowingly sign up for porn truly understand what they're getting themselves into.
The porn agent featured in the film says, "Every day a new girl turns 18, and every day a new girl wants to do porn. I will literally never run out of girls." (This porn agent was recently sued  for exploiting the girls he worked with.)
In one scene, a girl tells a story of how she showed up for a shoot one day, only to find that the gig was just one man at his house with a camera set up. She didn't know he was going to force her to endure aggressive, forced sex acts while he filmed it.
"I was scared. I was terrified," she says. "I didn't know what to do. I didn't know if I could tell him no."
Related: How Porn Fuels Sex Trafficking
Afterward, she asked herself why she didn't fight back. As someone who signed up to do porn because of the "freedom" and the money, she realized that she'd been hooked into an industry that thrives off of deception and coercion.
And consider the "GirlsDoPorn" case we mentioned before. We recently interviewed one woman who was sex trafficked by the porn production company in her early 20's. How did they trick her? Through an online ad that said it was looking for cute girls to do a fitness shoot. When she showed up, they forced alcohol and drugs on her and coerced her to sign a contract without reading it. Then, she was raped on camera for 8 hours, and those videos were distributed to Pornhub.
Read her full account here. Trigger warning, it's extremely graphic.
Why this matters
This is just a glimpse into what goes on before and after the cameras roll. Supporting the porn industry is supporting the exploitation of young people who get themselves in over their heads, and are unable to back out when they realize what they really signed up for.
We're here to speak out and say that porn and sex trafficking are inseparably connected in ways society doesn't yet understand. We're here to speak on their behalf and say that performers are worth so much more than the porn industry values them for.