Trigger warning: Content warning for explicit descriptions of sexual abuse, drug addiction, and suicide ideation.
My name is Brittni De La Mora, and I'm a former porn performer.
I am 34 years old. I'm from San Diego, California. I love doing anything and everything with my husband and daughter. We love riding bikes, jumping on our trampoline, going to the beach, and swimming. But life wasn't always so wonderful.
My childhood was traumatic for me. I was verbally and emotionally abused. I was cursed out and yelled at almost daily. I felt unloved, unworthy, and rejected. I felt like I'd never be good enough for anybody.
Looking for belonging and love
We live in a society that normalizes porn. Many kids in my high school watched porn, and one of my classmates often told me I'd be a porn star. I had never even had sex when he started saying that. I used to get pretty upset with him because I had bigger plans, and doing porn wasn't one of them.
At 16 years old, I had sex for the first time with my boyfriend. I loved him (at least I thought I did—I was only 16). After I slept with him, he cheated on me, and I was heartbroken.
A few of my friends invited me to Tijuana, Mexico, to party because you could get into any club there with a valid high school identification card. That night, I found myself drunk, standing in line at a strip club to take my clothes off on stage.
Related: What Causes People To Choose To Go Into The Porn Industry?
I was nervous but also heartbroken, and drunk. That combo will make you do things you never imagined for yourself. As I took my top off, people started shouting, "Wooo! You're beautiful! I love you!"
That night, I learned that when I'm naked, not only will people affirm me, they will also pay me.
What children don't get at home, they will look for in the outside world. I was an abused child starving for affirmation, attention, belonging, and love. I found a false version of what I was searching for in a strip club in Mexico.

The start of my career in the adult industry
Fast forward to college, and I started stripping. One night, a couple of producers came into the club and said, "You are beautiful! You are destined to be a star. We make romance movies. If you're ever interested, here's our card. Give us a call."
I knew they were talking about porn, and I was interested. The affirmation and the promising destiny of becoming a star were everything I thought I wanted. I was sexually active and already taking my clothes off for money. Why not take it one step further?
Performing in porn wasn't what I expected, especially in the beginning.
I had minimal boundaries and let my agent book all my scenes without giving my input. I was 18 years old and looked very young when I first started performing in porn. The scenes I got booked for were basically child molestation fantasies. I hated it! They used to put me in schoolgirl outfits and pigtails, and they'd book me with much older men.
I got to a point where I had to put my foot down and eventually said no to those scenes. I refused to normalize pedophilia any more than I already had.
Related: "I Thought I Was Keeping Marriages Together": True Stories From A Former Porn Performer
I experienced abuse, but I knew what I was getting into. My agent would say things like, "This is going to be a really rough scene. Can you handle that?"
I remember wanting to cry during one scene. The male performer pulled my hair with so much strength that tons of it fell out. I've also done a scene where they whipped me with all kinds of things.
I didn't see it as abuse back then, but now that I look back, clearly, I agreed to let people abuse me.
Drugs, trafficking, and selling sex
I had anorexia in high school and dabbled with cocaine to keep my weight down and hunger at bay. When I got into porn, a director (also a well-known bully) told me I was fat and needed to lose weight. I was only 105lbs, but that triggered me.
It had only been about six months since I was treated for anorexia. That rude comment set me back, and I started using cocaine again.
I used cocaine daily but couldn't stand the comedown. My then-boyfriend told me to use norcos to cut the comedown. So I would snort coke and then take norcos to avoid the comedown. It was a vicious cycle.
Related: Alia's Story: How I Was Sex Trafficked As A Popular Mainstream Porn Performer
Eventually, norcos quit working, so I started using oxycontin, and eventually heroin.
I was a fully-fledged addict. I needed drugs to get me through porn scenes. I needed drugs to numb my pain. I needed drugs to make me feel "happy." Drugs are an escape, and I was running from my pain rather than running to healing. We can never get healed by avoiding our pain. We must confront it.
The last three years that I was in porn, I had a pimp. Keep in mind that "pimp" is just another word for human trafficker.
He had me do things that I wish I had never done, like sell sex on Backpage. Because of his coercion, I also said yes to porn scenes I would have said no if I had a free choice.
I wouldn't have been in porn still if it weren't for the pimp. Before I met him, I had quit porn after three years. But after I met him, he got me back into the industry.

The realities of working in the commercial sex industry
My expectations weren't met by what the industry had to offer.
I thought porn was glamourous, and I didn't know that most people used drugs and wasn't aware catching STIs was a thing. Before porn, I never had unprotected sex. The industry promised me safety because "we test every 28 days." However, just because there's testing doesn't mean you're safe as a performer.
Let's say you get an STI test, but then you have unprotected sex with someone, and they give you an STI that same day. Now, for the next 28 days, you're spreading the STI you contracted until you get tested again and treated for it.
Porn sex isn't safe sex.
Listen: Brittni De La Mora: Former Porn Performer, Author, & Speaker
In porn, the only time I felt unsafe was when we'd hear about someone contracting HIV. Everyone would go into panic mode at that point, hoping you didn't work with someone that worked with the person who had HIV. That happened twice in the seven years I performed. It was terrifying.
Other than that, I felt unsafe selling sex on Backpage. You never know who's going to show up at your hotel room door.
Drugs numbed the feeling of fear. But you never know if the person who shows up is there for a sex exchange or to possibly rape and kill you. I've heard of those things happening before, and I always had those thoughts in the back of my mind. Like, "Is today the day I'm going to die?"
I realized I didn't want to be in porn after just one year. But I stayed for a total of seven years.
Related: Uncovering The Realities Of STI Testing In The Porn Industry
My pride kept me stuck. Pride will always keep you stuck in a season of life you don't even want to be in, all because you're too afraid to admit you've made a mistake and need help.
Trying to leave the industry I'd embedded in
The first time I left the porn industry, I was a heroin addict. I couldn't get my next fix because my dealer was dry. I contemplated suicide because the withdraws were horrific.
Rather than taking my life, I called my grandma and asked for help. She moved me in with her, but after getting detoxing from heroin, I got connected with a pimp, and he got me back into the adult industry.
After having a pimp for three years, there was a voice within me that led me away from my pimp. This voice inside me told me to call my mom and ask her to help me get away from him. My mom was there for me within 20 minutes!
After that, I had to film porn again because I needed money. I was broke because, for the past three years, my pimp kept everything I had made. I was on an airplane on my way to film a porn scene, and I just felt this feeling within me that made me stop and examine what I was doing.
Related: Desperate For Money And Validation, I Joined The Porn Industry—This Is How It Changed Me
I knew I wasn't living the life I was meant to live. I knew there was so much more out there for me, and it wasn't attached to the porn industry.
I made a radical decision that day in 2012 to quit porn for good.
It was a truly difficult transition. I went from making $30,000+ per month to $11.25/hr. I had to humble myself and live a completely different lifestyle than the one I was accustomed to. But I worked my way up.

Life after porn: free and healing
I was a real estate agent for some time, but now I travel the world sharing my story and raise awareness of the harmful effects of pornography.
Now, I am married with a beautiful baby girl. My husband and I just released our third book, and we also have a podcast. We believe the condition of our heart determines the course of our lives, so our mission is to help people get healed and whole so they can lead a full life.
To heal from the hurts and traumas of the past, I did a lot of inner soul work by looking in the mirror and encouraging the broken child that lived within me. I also continue to meditate and read.
Related: Joshua's Story: Why I Left The Porn Industry After Winning Awards And Performing In Over 1,000 Films
Now, I get to help people understand the impact the porn industry has on both sides of the screen.
My husband and I have counseled people who, in extreme cases, started off believing porn was harmless until they got so tangled up in it that they lost everything.
Every unhealthy, dark thing can seem harmless at first. Porn can be like a drug, so what fills you now won't forever. Eventually, a consumer can get deeper and deeper into the spiral. It's not worth it. And ultimately, watching porn is a symptom of a deeper issue.
If you watch porn, I would encourage you to ask yourself, why are you watching it? Keep asking questions to get to the deeper issue. Is it to replace physical intimacy because your spouse isn't sleeping with you? Why aren't they sleeping with you? Is it because women have rejected you, so rather than pursuing a relationship, you pursue porn because porn can't reject anyone?
Or, maybe you've experienced childhood abuse, and porn is your escape. There is always a deeper reason that people watch porn. Porn is simply the fruit of a far deeper root.
Related: 3 Factors That Can Predict If Someone Will Struggle With Porn
A message of hope to those still in the industry
To those who are still in the industry, I'd tell them that every dark thing seems harmless and enjoyable for a short period of time. But porn can't ultimately satisfy what humans are hardwired for: love, relationships, community. Porn is a symptom of a deeper issue.
Instead of overlooking sex work like it's "no big deal," for anyone who is in the commercial sex industry, I'd encourage them to ask themself, "Am I posting these pictures because I'm looking for validation?" "Did I never experience a father's love, so the attention I gain from men is fulfilling that need?"
I personally believe that people deserve to be healthy, to have true love in their life, and to have respect for themselves—that's just not the culture of the porn industry. I feel like I can speak to that because I worked in porn, escorting, and stripping for seven years. I've been there. And I get it.
If you feel stuck, I want you to know, many of us have felt that way. But being "stuck" is an idea you can to choose to believe. And if you can choose to believe it's true, you can choose to see it for the lie it is.
Related: If You're In The Sex Industry And You're Thinking Of Leaving, Here's What You Can Do
You can have a second chance at life. You just need to believe that a better life is available to you. Do everything you can to get unstuck.
My life has changed, and yours can, too.
Brittni De La Mora

What we can learn from Brittni
Brittni's story is powerful and unique, but she isn't the only former performer to pull back the curtain and expose the reality of the commercial sex industry.
The fact is that the adult entertainment and commerical sex industries wouldn't be what they are today without human trafficking, sexual exploitation, drug addictions, and sexual violence.
While those in adult entertainment rarely speak out about the abuse and exploitation they experience due to fear of being blacklisted in the industry they've turned to for survival, in many cases, many survivors of these industries do have the opportunity to share their unfiltered experiences once they leave the industry.
Unfortunately, these personal stories shine a light on what the world of commercial sex is truly like, and they're often heartbreaking. Hear a few survivors' personal stories for yourself, here, from this panel hosted by Fight the New Drug.
Related: This Anonymous Performer's Reddit Post About The Realities Of The Porn Industry Is Chilling
The harms of porn aren't just confined to the ones in front of the camera or behind the screen. There is a growing body of research that shows how consumers, relationships, and society are all harmed by porn. This isn't a moral argument, it's simply something to consider, given the facts.
Click here to read more about the proven harmful effects of porn, and make a decision for yourself.
Consider before consuming, and fight for real love.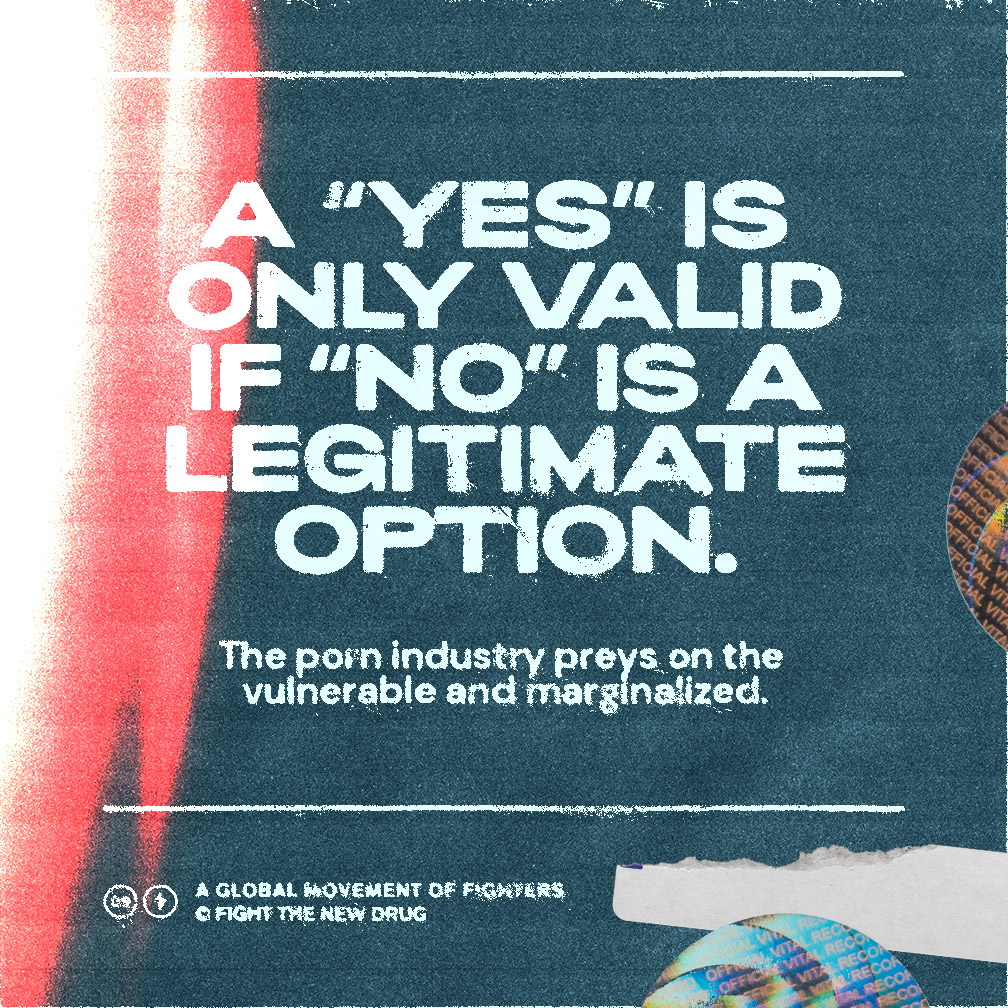 About the Author
Brittni De La Mora was known as one of the world's most famous porn stars. The adult industry left her broken, with a drug addiction, and contemplating suicide. She left her "fame and fortune" behind ten years ago and is now a wife, mother, author, speaker, and the founder of a nonprofit. Her new book helps people discover healing, wholeness, and freedom from pornography. She is living proof that second chances are attainable. You can connect with Brittni, @BrittniDeLaMora, on all social media platforms.
Fight the New Drug collaborates with a variety of qualified organizations and individuals with varying personal beliefs, affiliations, and political persuasions. As FTND is a non-religious and non-legislative organization, the personal beliefs, affiliations, and persuasions of any of our team members or of those we collaborate with do not reflect or impact the mission of Fight the New Drug.