Cover image credit to Mia Khalifa's IMDB page. 6 minute read.
Trigger warning: The following post contains names of porn performers and may be triggering to those recovering from an unwanted porn habit.
It is equal parts heartbreaking and hopeful to hear a former mainstream performer tell her story of what it was really like to spend time in the industry.
Heartbreaking because those stories aren't what they seem to be on Pornhub, and the regret and social aftermath can haunt for years those who were involved in the industry. Hopeful because, more than any other spokesperson, an ex-performer can shed unique light on the reality of porn's inner workings and call our society to take exploitation seriously.
Mia Khalifa has one of those complicated and somewhat controversial stories worth telling, and we recommend reading the following with an open mind, free of judgment, shame, and victim-blaming.
If you don't know who she is, she's one of the top most-searched porn performers in the world in recent years, even though she was only in the mainstream industry for three months in  2015 and created a small number of videos with producers.
In the past few years, Mia has unabashedly shared her ongoing fight with the mainstream industry.
FTND note: Though Mia is still involved with creating pornographic content on an individual basis through her personal avenues apart from the organized industry, her experiences and perspective are worth listening to and considering, especially in a world where the porn industry is endlessly glamorized and celebrated. It is not necessary to agree with all of her personal choices,  past and present, to see that she has been and continues to be exploited by the mainstream porn industry.

Entering the industry out of rebellion
In a 2018 interview with Lance Armstrong on his podcast The Forward, Mia described her unplanned entry into the porn industry. Twenty-one years old at the time, Mia was struggling with low self-image. When a man from a "nude modeling agency" approached her outside a restaurant in Miami, Florida, she spent a couple of weeks mulling over his offer, eventually deciding to go for it.
"I wasn't doing it for money," Mia told Armstrong. "I just wanted to let loose and rebel a little bit."
She didn't want fame. In fact, she wanted to fly under the mainstream radar: "If anyone finds out, if my parents find out, this would ruin my life. The way I rationalized it was, there is so much porn out there, there is no way anyone is going to see me."
Her decision to enter the porn scene led her into a life she didn't expect or want. Only in the industry for a few months before realizing her "dumb" mistake and leaving, Mia rose to immediate fame. "As soon as I started to gain popularity that's when I was like 'get the f— out of this' … this was not what I was trying to do whatsoever," she said.
"It didn't validate me. Nothing like that ever does. That's not what you should be doing to try and build your self-esteem…Looking back on it I don't know what I was thinking."
As it turns out, a three-month-long mainstream porn career can actually last for years—even without someone's consent.
The nonconsensual aftermath of three months in porn
Mia became one of the world's most popular porn performers, and that popularity continued long after her mainstream industry exit in early 2015.
This is the heartbreaking part of Mia Khalifa's story. Porn production companies have repeatedly capitalized on her three short months of filming, profiting from her popularity by releasing remixes and repurposed video compilations over and over again, attaching her name to whatever they can.
Related: Popular Male Porn Star Talks About The Difficulty Of Being A Part Of The Industry
And all of this has happened—and continues to happen—without Mia's renewed consent (though she independently creates her own suggestive "safe for work" content).
Last year in 2021, Mia still ranked in the top ten on the most searched-for performer Pornhub list.

But as she told Armstrong, she just wants to rebrand herself and move on from porn, "changing the narrative" of her life. She moved to Austin, Texas, in hopes of recreating her identity. That is proving difficult when production companies do whatever they can to prolong her money-making fame against her will, and at her expense.
This is where the issue of consent gets tricky in the porn industry—Mia may have signed consent forms and releases at the time of porn production, but would she do the same today?
Either way, she's essentially powerless in the face of production companies continuing to capitalize on decisions she regrets.
And the scariest part? They own that footage forever. They can use it to their advantage as long as they want, and their actions with Mia prove that many companies are totally willing to exploit performers for financial gain.
How many other performers are just like her?
(FTND note: Mia's Instagram and social media accounts contain suggestive content. We highly recommend not looking her up if you find suggestive photos to be triggering.)
Check out Mia's Instagram post showing a text convo between her and the head of a company from her porn days: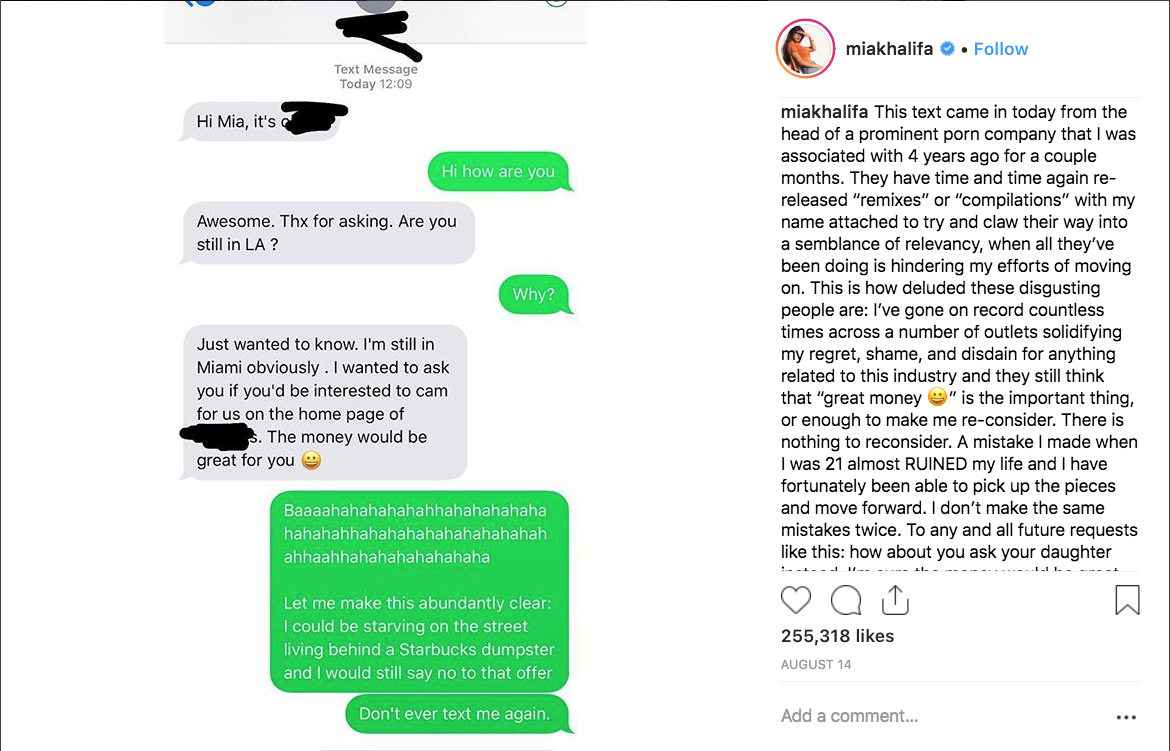 Her full caption reads:
"This text came in today from the head of a prominent porn company that I was associated with 4 years ago for a couple months. They have time and time again re-released 'remixes' or 'compilations' with my name attached to try and claw their way into a semblance of relevancy, when all they've been doing is hindering my efforts of moving on. This is how deluded these disgusting people are: I've gone on record countless times across a number of outlets solidifying my regret, shame, and disdain for anything related to this industry and they still think that 'great money 😀' is the important thing, or enough to make me re-consider. There is nothing to reconsider. A mistake I made when I was 21 almost RUINED my life and I have fortunately been able to pick up the pieces and move forward. I don't make the same mistakes twice. To any and all future requests like this: how about you ask your daughter instead. I'm sure the money would be great for her 😀"
Mia is clear and vocal about her wishes, as you can see. But the problem is that consumers only know this if they go looking for it themselves. If they find her videos on porn sites, they will have no way of knowing the woman on screen wishes she had never been there.
Thus Mia, and performers just like her, are exploited over and over again.
It should be noted that it seems she's given in somewhat to her previous porn identity, getting involved with webcamming and selling explicit photoshoots to paying customers on her social media. Perhaps society wouldn't let her truly forget and move on from her role in porn, so she reverted to what people largely knew her for as a way of trying to reclaim her identity?
Either way, it's clear that the porn industry marks performers for their lifetimes, whether they knew and understood this when they signed up or not.
An empathic look at porn's destructive influence
Mia isn't the only one in this situation.
The New York Times' advice column recently published a conversation with a reader whose girlfriend had a sex tape uploaded without her consent a decade ago—and that tape is still circulating on porn sites racking up millions of views. NYT's Steve Almond responded with spot-on insight into the ruthless exploitation of so many people living with regret and shame:
"The larger tragedy you're up against is a culture that converts private acts into engines of profit, often via the commodification of young women's sexuality. Your own consumption of pornography fuels those engines, as does your girlfriend's, as does mine. That's something for all of us to think about: Behind every porn clip are real human beings, many of whom come to regret being exposed, regardless of whether they gave consent or received compensation."
It may be easy for a consumer to watch porn in the solitude of their room and think that it doesn't affect anybody else. But as we can see from Mia's message and the woman's non-consensually uploaded sex tape, it does.
Here's something to consider: try seeing this explicit content from a human angle—these are not sexual objects but real people who so often enter into the industry without full knowledge of what they're entering into, and often regret it later. They deserve our compassion. While porn producers jockey for money and fame, performers often wish they could just have a normal life.
"I'm going to accept that I'm Mia Khalifa now and try to be successful at that, doing something else," Mia told Armstrong.
Who deserves our support more—the commercial industry that owns the footage, or the people behind the scenes?
Support this resource
Thanks for taking the time to read through this article! As a 501(c)(3) nonprofit, we're able to create resources like this through the support of people like you. Will you help to keep our educational resources free as we produce resources that raise awareness on the harms of porn and sexual exploitation?
DONATE