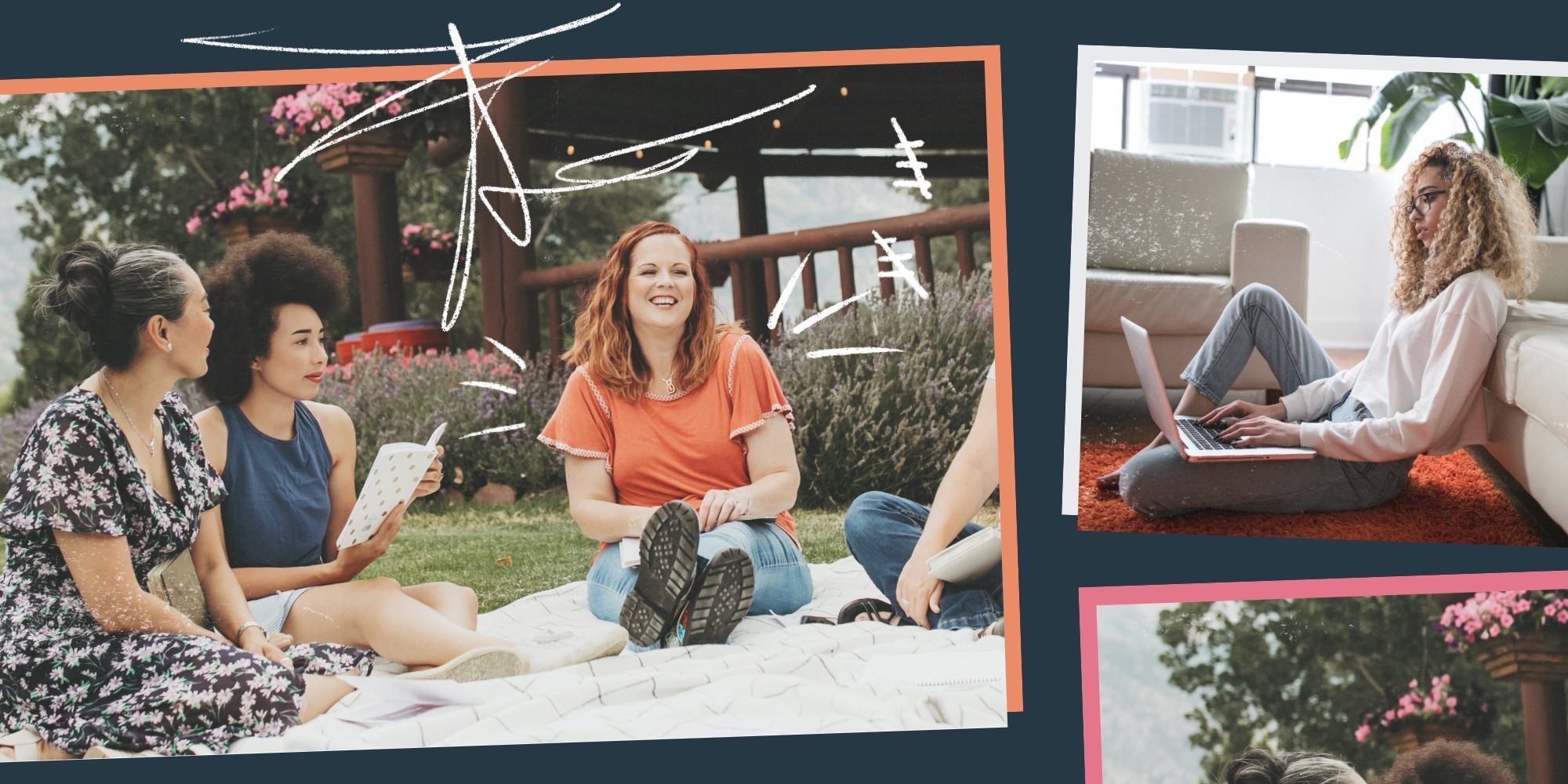 Child sexual abuse isn't rare, and if it's happened to you or someone you know and love, healing is possible.
Did you know that child sexual abuse affects every race, every income level, every age, and every neighborhood? Chances are, you know someone who is a survivor of child sexual abuse. The question isn't whether there are children in your community who have experienced or are experiencing abuse, the question is how many.
April is National Child Abuse Prevention Month, so let's talk about child sexual abuse, how it can be prevented, and where you can seek help and healing if you experienced sexual abuse as a child.

How common is child sexual abuse?
While child sexual abuse and sexual assault can be difficult topics to discuss, education and awareness on these issues can help to prevent and combat further harm. This issue affects more people than you might expect—more than 1 in 4 girls and 1 in 20 boys are sexually abused or assaulted before they turn 18, according to an analysis of national surveys in the U.S.Finkelhor, Shattuck, Turner, & Hamby, 2014. https://pubmed.ncbi.nlm.nih.gov/24582321/COPY
But if being abused as a child is so common, why don't more people talk about it?
Related: This Child Abuse Expert Says Many Abusers Started By Watching Mainstream Porn
Although disclosure of child sexual abuse is becoming increasingly common, an estimated one-third of survivors still don't tell anyone they've been abused. Among those least likely to disclose abuse are younger children, male victims, and those who have never before disclosed abuse.Azzopardi, Eirich, Rash, MacDonald, & Madigan, 2019. https://www.sciencedirect.com/science/article/abs/pii/S0145213418304411COPY
You might think that children are resilient, and they are, but child sexual abuse is a traumatic experience that often leads to years or decades of psychological and physical challenges.
In fact, according to one longitudinal study, 85.8% of child sexual abuse survivors developed mental health issues, 44% experienced suicide ideation, 14.2% had attempted suicide, 19.1% experienced alcohol dependence, and 22% experienced illicit substance addiction.Fergusson, McLeod, & Horwood, 2013. https://psycho-trauma.nl/wp-content/uploads/2015/11/Fergusson-McLeod-Horwood-2003.-30-year-longitudinal-study-child-sexual-abuse-in-New-Zealand.pdfCOPY
In addition to the disheartening statistics above, survivors may also experience a range of shame and guilt, difficulties with relationships, flashbacks, sleep disturbances, and even revictimization. These are people who desperately need support and hope.
While most estimates of child sexual abuse focus primarily on contact abuse, online forms of child sexual exploitation are becoming increasingly common and have especially increased during the pandemic. Through the use of technology, abusers can exploit children without ever coming into physical contact with them. With children and adolescents spending more time on the internet during the pandemic, they're unfortunately more available to online predators.ECPAT, 2020. https://www.ecpat.org/news/covid-19-sexual-abuse/COPY Parks, et al., 2020. https://link.springer.com/content/pdf/10.1007/s10508-020-01750-7.pdfCOPY
Technology is increasingly a part of grooming young people for sexual abuse. According to research on victims who were trafficked in 2015, over half (55%) met their traffickers through the use of technology (i.e. online enticement, texting, app usage).Thorn, 2018. http://www.thorn.org/wp-content/uploads/2018/01/Thorn_Survivor_Insights_012918.pdfCOPY
Related: Report Reveals One-Third Of Online Child Sexual Abuse Images Are Posted By Kids Themselves
Another increasingly common form of child sexual exploitation is image-based abuse (sometimes called "revenge porn") and/or child sexual abuse material (sometimes called "child pornography"). With this in mind, it's important to remember that:
Any explicit content of a minor is legally considered "child pornography," even if a child takes an image or video of themselves.

1 in 3 teens say they have seen non-consensually shared nudes Thorn, 2020. https://www.thorn.org/blog/thorn-research-understanding-sexually-explicit-images-self-produced-by-children/

COPY

 
According to the Internet Watch Foundation, approximately one-third of child sexual abuse images are originally shared by the depicted minors themselves. While some children are groomed by predators to send images of themselves, even self-generated content originally sent to peers can be uploaded to CSAM-sharing sites. IWF, 2020. https://www.independent.co.uk/news/uk/home-news/paedophiles-online-child-sex-abuse-images-self-generated-streaming-iwf-a9272876.html

COPY
While there's no way to eliminate all chances of abuse for yourself or your loved ones, working to educate yourself on consent, internet safety, abuse prevention, and recognizing the signs of abuse can help reduce risk.
If you have experienced or are experiencing sexual abuse, please know that you are not alone and that healing is absolutely possible.

What one foundation is doing to help survivors heal
That's a lot of doom and gloom, right? Child sexual abuse is a serious issue, but it doesn't have to be a life sentence of suffering. In fact, there are a lot of causes, foundations, and organizations that are actively working to combat the issue of child sexual abuse, provide safe spaces for survivors to heal and are shining a light on this dark issue.
One organization that's making a profound difference and a measurable impact in fighting this issue is The Younique Foundation. They're not the only organization out there providing healing resources for child sexual abuse survivors, but they're a great one.
The Younique Foundation is a 501(c)(3) nonprofit public charity dedicated to inspiring hope in women who were sexually abused as children or adolescents through educational retreats, support groups, and online resources.
Related: Samantha's Story: How She Survived Child Sexual Abuse And Became An Advocate For Other Victims
Defend Innocence, a brand of The Younique Foundation, focuses on educating and empowering parents and caregivers to protect children from sexual abuse. Their resources aim to encourage conversations between parents and children on topics such as: signs of sexual abuse, online safety, boundaries and consent, and more.
The Younique Foundation was founded in 2015, and since then, they have grown to have over 70 professionals, including a team of eleven licensed clinicians who research best practices, present applicable educational tools and strategies, foster community and support, assess
programs and services, and offer meaningful volunteer opportunities. Since its founding The Younique Foundation has:
Hosted more than 170 healing retreats
Helped more than 3,500 survivors on their healing journeys
Supported the creation of more than 60 support groups around the world
Created more than 300 free videos, discussion guides, and other educational resources
One cool thing about The Younique Foundation is how focused they are on helping survivors heal and find their footing in a world that doesn't often acknowledge the difficulties that child sexual abuse can cause.
How survivors can find hope and healing with The Younique Foundation
The Younique Foundation has developed and refined three core services to assist survivors at whatever point they may be in their healing journey. And the best part? All of these services are provided free of charge to the survivor.
The first service they offer is what's called the "Haven Retreat," a four-day (Monday through Thursday) on-site educational experience at a secure and beautiful location owned and operated by The Younique Foundation. During the retreat, survivors learn about the impact of trauma on the brain and body, strategies for improving sleep and nutrition, tools for coping with triggers, practices for reconnecting the body to the mind, and activities to increase feelings of well-being and empowerment. Additionally, survivors build a sense of community in support groups, engage in physical activity, and eat meals prepared on-site by a culinary staff. It's an all-encompassing life-changing moment that female survivors of child sexual abuse can experience for themselves, leaning into the healing and hope that is possible.
And these retreats have shown lasting benefits for survivors, too. Using data collected from retreat attendees, a team of university researchers has identified that survivors experience a 19% improvement in coping self-efficacy, a 45% increase in life satisfaction, and a 37% reduction in PTSD symptoms.
Related: In Order To Fight Child Sex Abuse, We Need To Stop Fetishizing It

The second service is survivor-led support groups. The Younique Foundation believes in the power of survivors helping survivors. The Younique Foundation facilitates the groups by hosting a website, Finding Hope, where survivors can find groups to join in their area. If support groups have not yet been established, they encourage survivors to start their own. The Younique Foundation provides all of the tools any survivor needs to successfully begin a group wherever they are, and they also have the option of starting or joining a Finding Hope Support Group online and attending virtual meetings.
The third and final core service The Younique Foundation offers survivors and supporters of survivors is a comprehensive library of online resources that includes the same concepts and information shared at The Haven Retreat and in the Finding Hope Support Groups, but adapted for online consumption. The Younique Foundation's resources include multimedia content that is researched, written, and presented by educators and writers. Each of these resources is reviewed and approved by The Younique Foundation's clinical staff.
If you're a woman who is a survivor of childhood sexual abuse, The Younique Foundation may have the resources you need on your healing journey. What are you waiting for? Dive into their site, and see if what they have to offer is right for you.
Now, it's your turn
This month, The Younique Foundation is encouraging everyone to do five things to support survivors of child sexual abuse: speak up about the issue, let survivors know you believe them, educate yourself about child sexual abuse, create a safe space to talk about it, and join the Younique Foundation in their #FightForZero campaign. The #FightForZero campaign aims to fight for zero cases of child sexual abuse—wouldn't the world be a better place if we could achieve that?
Related: 6 Ways The Mainstream Porn Industry Fuels Child Sexual Abuse
If you're a survivor, we stand with you in love. If you know a survivor, we encourage you to be a support for them and let them know there's hope and healing. No one ever has to carry their pain alone.
To learn how porn and child sexual abuse are connected, click here.