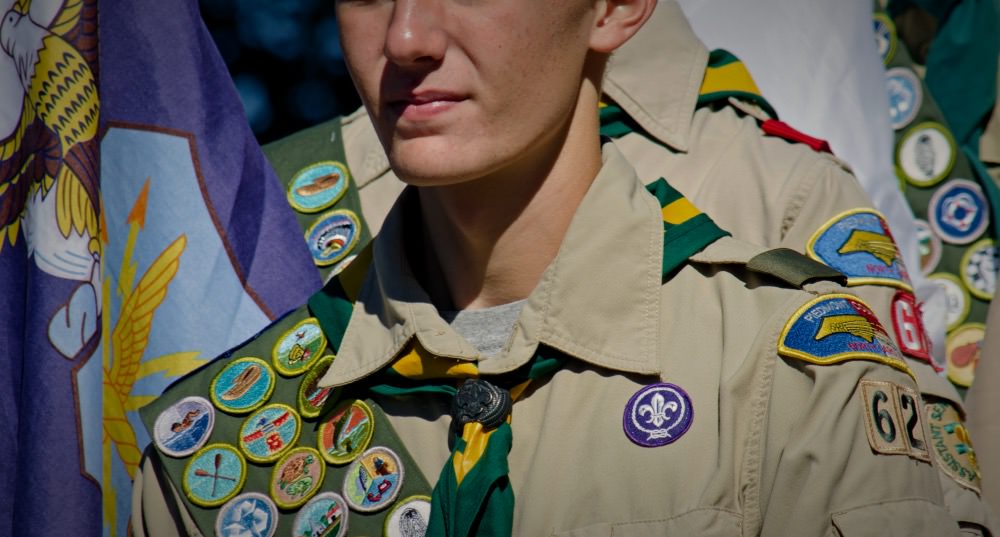 Decades of studies from respected institutions have demonstrated significant impacts of porn consumption on individuals, relationships, and society. #NoPornovember is all about giving visibility to these facts and inspiring our world to be porn-free. Learn more by clicking here.
Close to 90,000 sexual abuse claims have been filed against the Boy Scouts of America as the Monday deadline arrived for submitting claims in the organization's bankruptcy case, the Associated Press reported.
The number far exceeds the initial projections of lawyers across the United States who have been signing up clients since the Boy Scouts filed for bankruptcy protection in February in the face of hundreds of lawsuits alleging decades-old sex abuse by Scout leaders.
Andrew Van Arsdale, a lawyer whose firm is part of the coalition Abused in Scouting, said, "People are just coming forward in droves."
"We are devastated by the number of lives impacted by past abuse in Scouting and moved by the bravery of those who have come forward," the Boy Scouts said in a statement. "We are heartbroken that we cannot undo their pain."
Attorney Jason Amala added that the sheer number of Boy Scout victims has far surpassed similar cases. "It's three to four times the claims filed in all the Catholic bankruptcies combined."
Related: What The Porn Industry Has To Do With Sexualizing Minors

Who are the alleged abuse victims?
The advocacy group Child USA recently evaluated anonymous data from 1,576 plaintiffs. The study reveals a chilling look into the alleged abuse that took place within the Scouting program over the course of decades.
According to the study, 94% of cases involved Scout leaders who had one-on-one contact with a child. Here are a few more stats from the study:
-71% of alleged victims were abused multiple times
-79% of abuse occurred at a Scout-related activity
-50% of the incidents took place specifically at Scout camps
-20% of victims were abused by more than one person
Accused abusers threatened their victims over half the time according to the study, while 45% groomed the victims with gifts and 63% gained the trust of the victims' families. A staggering 64% of attackers stayed in the Scouting program after the abuse was reported.
The authors of the study emphasized the dangers of allowing children to go into remote areas without parents or law enforcement present. "Scouts is mistaken in their belief that teaching a child to build a fire or earn a badge is equivalent to situational strength," the report said. "This creates repeated instances in which children are susceptible to abuse."
According to Child USA founder Marci Hamilton, the Boy Scouts model is "doomed to fail" and "highly problematic." She added, "It's so important that parents have the facts."
Related: What Porn And Shame Have To Do With Child-On-Child Sexual Assault
Carter Timon, Child USA researcher and social scientist, shared, "Most people do not know that claims of sexual abuse are rarely, rarely false."
Timon also emphasized that while an estimated two-thirds of reported child sex abusers are adults, within the Boy Scouts, an overwhelming 82% of perpetrators are adults—with just 3.8% of the abuse being child-on-child cases.
"There's something going on in this setting that makes it way more likely for adults to abuse a child than is typical," Timon said.

On average, victims were abused around the age of 12 and took nearly 30 years to come forward. One former Scout first revealed his abuse at the age of 94.
"These people are suffering, most of them for their whole lives," Timon said. Nearly 100% of victims reported suffering lifelong consequences from their abuse, including post-traumatic stress disorder, intimacy issues, difficulties holding down a job, and substance abuse problems.

Jeff Williams, now age 49, said he was just 9 years old when two years of abuse by an assistant Scout leader began in Ohio. The married father of two urges others to come forward. "There's safety in numbers… We all share a story. It's tremendous to know you're not floating out there alone."
The Boy Scouts says it has banned one-on-one interactions between adults and scouts since 1987, and has conducted criminal background checks on leaders within the organization since 1994. The Boy Scouts also claims that the study information was "unverified" and that according to its own research, 90% of the abuse allegations occured "more than 30 years ago."
The organization recommends the formation of a federally overseen national database for all organizations serving youth, in an effort to prevent abusers from going from one organization to another. The Boy Scouts also affirms to be "committed to compensating victims through its restructuring" and says the safety of children is its "most important priority."
What does porn have to do with child sexual abuse?
Above all, this issue is another sobering reminder that men and boys are sexually abused, too.
Related: 6 Ways The Mainstream Porn Industry Fuels Child Sexual Abuse
Sexual assault victims are often stereotyped as young females. While this perception may be true in many cases, it also dismisses countless male victims whose stories are too often kept in the dark. Tragically, trafficking, exploitation, sexual assault, and rape can and do happen to anyone—regardless of gender.
So why the disconnect?
While many victims across the board often fail to report their abuse, men and boys tend to underreport due to both societal and personal stigma and shame. That's what makes instances like the Boy Scouts cases so significant—not because we're seeking a takedown of the organization, but because victims stepping forward can be a significant step on the road to healing, and also help society better acknowledge and fight the issue of child sexual abuse.

And if we're really serious about the fight against sexual assault, porn is a key contributor that must be brought to light.
Mainstream porn fetishizes and normalizes these very issues that are so heartbreaking. But think about it—if much of society is appalled by headlines like these involving rape and sexual assault, why is consuming those same attitudes and behaviors through clicks, views, and downloads on porn sites so widely accepted?
Another fact to consider is how porn is used to groom children for sexual abuse.
Related: Understanding How Child Sexual Abuse Images Are Used To Groom Abuse Victims
Child grooming is defined as "befriending and establishing an emotional connection with a child, and sometimes the family, to lower the child's inhibitions with the object of sexual abuse."
Sound familiar?
In her book called Understanding Child Abuse and Neglect, Dr. Cynthia Crosson-Tower describes how showing potential victims videos of their peers engaging in and enjoying sex may lead the potential victim to be "more likely to comply with the molester's demands."
Many victims of sexual exploitation and abuse confirm that porn was used to desensitize and manipulate them. Porn is often used as a sort of instruction manual for perpetrators to indoctrinate their victims. Listen to one survivor's story of how this happened to her.
While not always the only factor, porn plays a major role in many cases of child sexual assault—including normalizing the abuse and grooming victims. Porn is a guilty party, and we must no longer be silent.
Click here if you or someone you know would like to report sexual abuse.