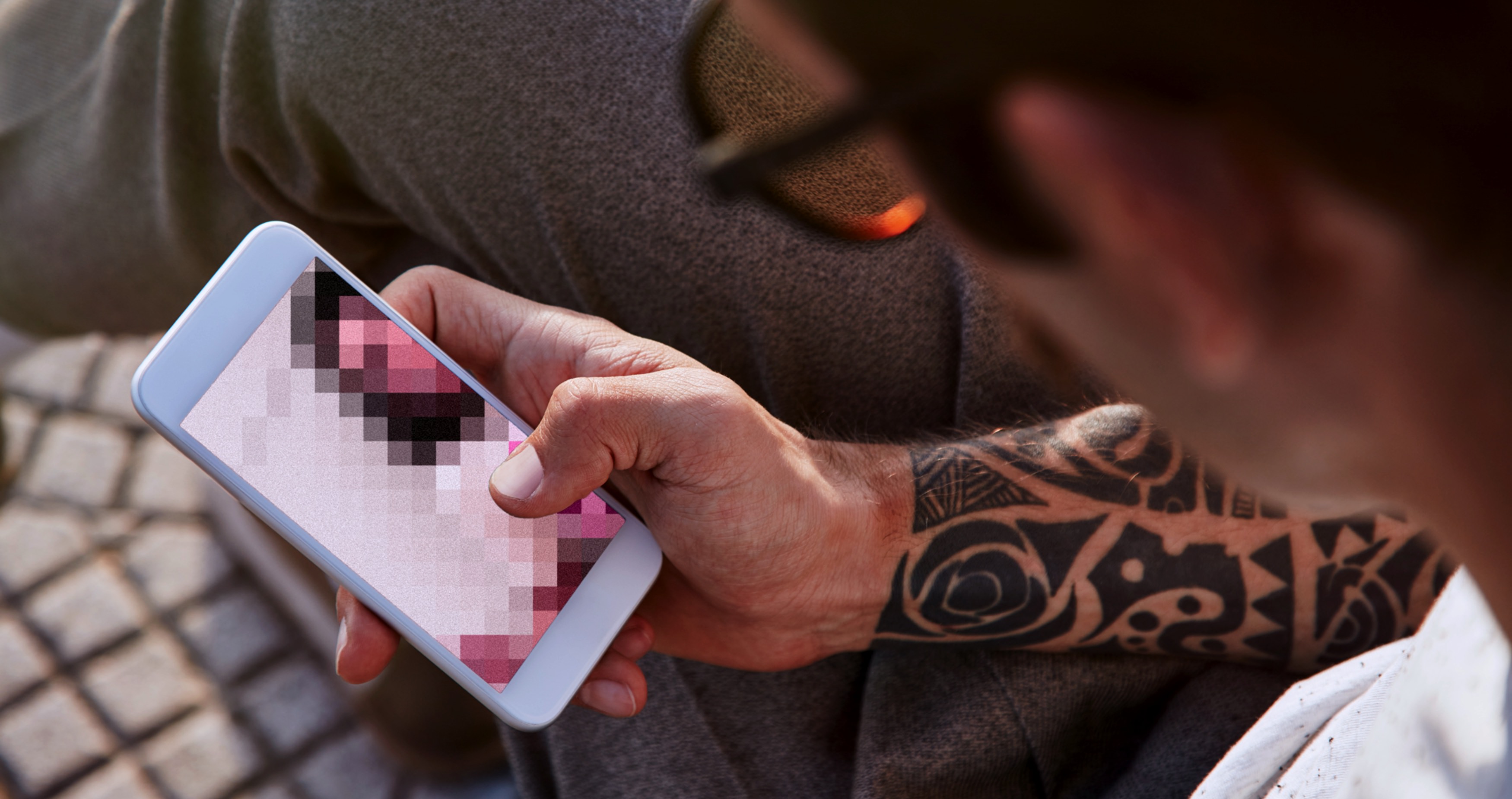 In our porn-saturated society, the majority of people will be able to remember their first experience with seeing pornography.
For the Playboy generation, they might have experienced it for the first time by finding a hidden magazine, stuffed under a mattress or hidden in a dresser drawer. For today's Pornhub generation, too many stumbled across it while playing an online video game, scrolling through social media, or because of a Google Image search gone wrong. Or maybe a friend pulled out their phone during a sleepover, showing you images that you would never have believed existed until you saw them for yourself.
There's no doubt that today porn is more accessible, affordable, available, and anonymous than ever before, and it's a big problem.
And since the explosion of the readily available internet porn in the 90's, you don't have to go looking very hard for porn to find it at the click of a button. It can be accessed on any mobile device with zero effort, and zero limitations on what consumers might find. And while it might seem like the consumer is in control of the situation every time they access porn, that couldn't be further from the truth.

1. The industry is in control.
The adult entertainment industry wants to make consumers feel like they are in control.
Free tube sites and paid subscription sites would love for consumers to keep clicking play and watching their content, day in and day out. These sites don't care about the mental health of consumers, the status of their relationships, or their career dreams and goals. It's all about money, and it's always been about money—how they can get whoever is watching to be hooked for longer, and stay on sites for as long as possible.
Think about it this way. With consumers getting hooked on hardcore pornographic content and not being able or willing to give up watching, even when they say it isn't harmful, who is really in control? Hint: not the consumer.
No matter how many times the pornography industry says that "sexual freedom" is their aim, science and research keep confirming the opposite reality. In a number of ways, the porn industry continues to be scientifically proven to be exerting considerable influence on people's sexuality.
This is particularly true of children and teens. The porn industry makes no meaningful efforts to keep their products out of the hands of children and youth. Our generation and the upcoming generations are coming of age with views and understandings of sex that are significantly shaped by porn. How is that healthy? Plus, only the porn industry stands to financially profit off of becoming entangled in people's sex lives. The idea that the porn industry is simply reflecting sexual culture, rather than shaping it, is naïve.

2. Not every performer is in the industry voluntarily and/or consensually.
The porn industry would also like its customers to think that they're learning valuable information like sex tips and how to be an excellent lover. Not to mention that it would love for consumers to believe that everyone who performs in hardcore, abusive videos are enjoying themselves, and they "love their job." Video after video, with categories like "gang bang" and "teen," porn sites sell people as sexual objects without real needs, without real dreams, families, or hardships they're facing in real life.
This, again, could not be further from the truth. What the average consumer doesn't know is that many men and women are forced into the industry, either through coercive means, blackmail, or with bogus "modeling" contracts that force them into having sex on camera for money. Or, what also happens very often is that established performers are coerced or tricked into shooting sex acts they are uncomfortable with or simply don't want to do.
This is all in addition to the fact that many performers have health problems, both mental and physical, from having a job which includes having rough, unprotected sex with multiple people on a weekly basis. Also, many porn performers fall into hard drug or alcohol addiction problems in their attempts to numb the physical pain of filming scenes, or even prescription drug problems to continue performing unrealistic sex acts.
Related: Tricked Into Porn: Countless Japanese Actresses Forced Into Sex On Camera
Like this woman who walked on to a porn set, and the first thing she was handed were drugs to help with the filming of what she didn't know would be a rape scene:
'"You're gonna be a star.' That's what he told me as he handed me several Xanax and a muscle relaxer. 'You're gonna need those, trust me,' he said. Can any of you tell me if you've ever shown up at work on an empty stomach and told to take drugs? Something isn't right here."
The truth is, when consumers click on hardcore porn sites, they might be fueling someone else's pain and suffering. We're not claiming that all porn is non-consensual. We're just pointing out that some of it is and some of it isn't, and when you watch it there's no way to know which is which.
So, would you buy from a company if you knew that some, but not all, of their products were made with child labor? Would you support a store that abused some, but not all, of their employees?
How can it be ethical to say that "porn is okay because participants give their consent," when we know for a fact that some—probably much more than you think—do not?

3. Porn has negative effects on consumers
The industry's negative effects don't stop at damaging their employee's lives and health, though. The $97 billion dollar global industry would love to get young consumers hooked as lifelong clients, and they wouldn't care that a compulsive user's life will be more difficult because of porn, or that their product can worsen depression and anxiety.
The industry wouldn't want you to know that watching a lot of porn over a long period of time can make consumers less aroused when in a real-life situation with a real partner, or that porn sex tips are actually pretty useless when it comes to having good, healthy sex. The fact is, the way men and women have sex on camera is set up for the consumer at home to see what is going on, and that's it. After all, just because something looks good on camera with lighting and editing and specific angles doesn't mean it'll feel good in real life with a real person.
Related: I Thought Watching Porn Would Make Me Great In Bed, But It Did Just The Opposite
In reality, real love and healthy physical relationships involve romance, intimacy and touch. Real love doesn't skip to mechanical, formulated sex moves. Real love involves hand-holding, caresses, embraces, communication, and an emotional connection. Porn doesn't capture any of that, and instead, portrays sex as an act of powerful dominance, abuse, violence, and humiliation. Porn sex is rough and abrasive, and would never feel good in real life, but porn producers want consumers to believe the fantasy and buy the lies.
But that's a problem, because porn also sells the idea that relationships aren't worth the hard work. Because of this, some consumers would rather have a relationship with their laptop, as opposed to a real connection with a person, because a real person takes effort and porn will never reject you. But that's not cool, or healthy. This is one of the saddest things that the porn industry does to people, is help them to forget that they are hard wired for real relationships. Porn can take the beauty and excitement out of building a committed relationship, and turns the consumer into an isolated creature who would rather be glued to a computer screen than go out and have a meaningful experience with another person. How is that healthy?

There is hope
But no matter what the industry says, there is always hope.
You can choose to refuse to click porn and fight for real love instead. You can choose to see people as people instead of just as sexual objects, and you can stop the demand for sexual exploitation in society. You don't have to buy the lies the industry is selling, that relationships aren't important and the performers all "love their job." In the end, watching isn't worth it, and it's always possible to ditch porn and choose reality instead.