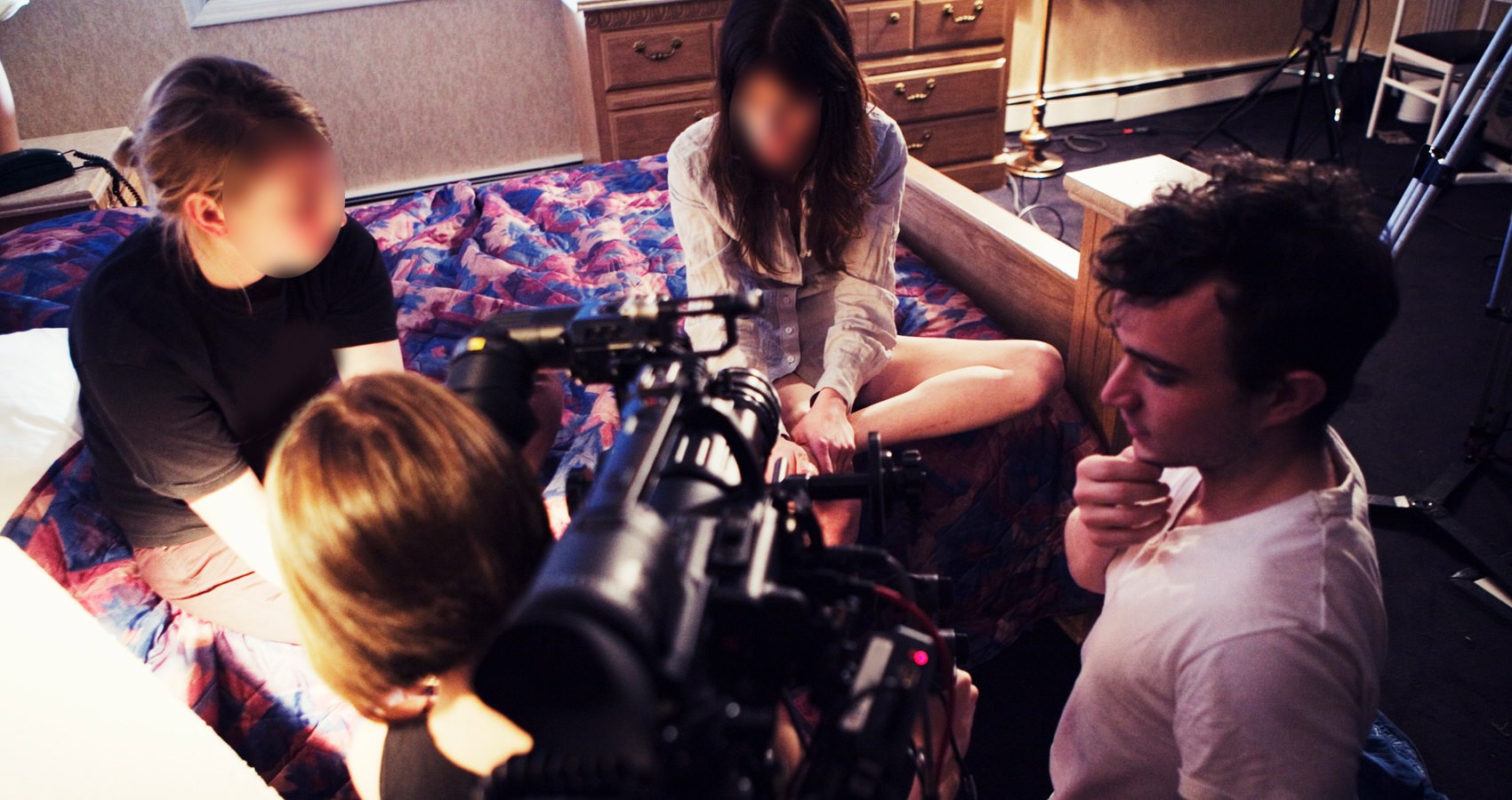 Wouldn't you feel better if you knew that everything you consumed—from your coffee to your clothes—was made ethically, without any exploitation and was 100% fair-trade certified? Of course you would. So why is porn any different?
It happens all the time. Porn consumers can often justify their habit by believing the XXX material they are watching is legitimate, legal, and free of any exploitation. The problem with this seemingly sound mindset? There really is no way to tell if what is being watched is free of exploitation.
The world wide web provides a way to make the click-happy porn-obsessed culture we live in today be able to consume new explicit content for hours on end, and with the way the porn industry dissipates its content, the amount of material you can watch is virtually endless. That begs the question: how do you really know if the porn you're seeing is exploitation-free?

Let's Pretend "Exploitation-Free" Porn Exists
In order to explore this idea, for a minute, let's pretend that exploitation-free porn exists.
Let's suppose that the consumer started watching pornography, made by people they absolutely knew were creating this content according to their own free will, and that they completely understood and agreed to everything that happened before, after, and during the filming.
Related: Not All Porn Is Consensual. Don't Believe It? Just Ask These Performers.
Now, if the consumer knew for an absolute certainty that this pornography was made free of exploitation, would watching pornography still be harmful? Absolutely.
Even if there was a way to tell that everything you clicked on was exploitation-free, there are still harmful effects pornography leaves on the consumer's brain and relationships that makes it a public health crisis in our society.
Harmful to Your Brain
Even the myth of "exploitation-free" porn can change and rewire a consumer's brain.
Pornography has been proven to be an escalating behavior, where some consumer may start by watching less hard versions of porn, only to find that they grow bored of it, resulting in the need to actively seek out more hardcore material to get the same level of arousal.
Not only that, but porn can rewire the brain of the consumer—regardless of any exploitation happening on screen. Similar to a drug or any other addictive substance, porn triggers the release of dopamine into a part of the brain called the reward center (a.k.a. reward pathway or system). Think of it like this: the reward center's job is to make you feel good whenever you do something you enjoy, like eating your favorite meal, getting in a good workout, or even having sex.

When the consumer sees porn, the neural pathway if their brain can get used to the imagery it is being fed. Compare this to a trail in the woods which widens and becomes a little more permanent every time it is used. With enough repetitions, the pathway will begin to change, and the consumer will need more explicit material in order to receive the same reaction.
Related: The Harsh Reality Of Sexual Exploitation And Trafficking In Pornography
So porn changes the brain—big deal, right? Well, it also can change a consumer's sexual tastes.
The consumer may think that they're just being entertained and aroused, but what their brain is busy doing is changing the connections between their feelings of arousal and whatever's happening on their screen. Even if what's happening is violent, degrading, and fantasizes non-consensual scenarios—even if the performers claim to have consented.
This is the reality of easily accessible, mainstream porn.
Trending pornographic genres like "gangbang" and "painal" are the norm, and research is showing that 88% of porn videos contain violence. So the consumer isn't only rewiring their brain for more explicit sexual material, they are also tricking it into thinking that violence is sexy and arousing. Eventually, watching scene after scene of dehumanizing, violent submission will begin to seem normal for the consumer, taking a toll on the way the consumer sees their partner or (often—not always) other people.
Related: Sexploitation Stats: Over 6,000 Sex Trafficking Cases Reported In The U.S. In 2017
Consuming this violent content can also make the porn consumer act out in violence themselves, in extreme cases.
Multiple studies have found that exposure to both violent and nonviolent porn increases aggressive behavior in the consumer and can actually lead to committing violent assaults. To make matters worse, when porn shows victims of violence who seem to get pleasure being hurt—as porn performers are often paid to do—the consumer is fed the message that people like to be treated that way, giving them the sense that it's okay to act aggressively themselves.
That's harmful for the consumer and for their victims, no matter what kind of exploitation or lack thereof is happening on screen. Not cool.

Harmful to Your Heart
Still thinking the idea of exploitation-free porn is harmless? Think again.
Pornography is the furthest thing from love or showing healthy relationships. In fact, it is a synthetic form of connection that shows little or no real intimacy between the people it shows on the screen.
Porn gives the false promise of immediate satisfaction, endless excitement, and easy intimacy—and then it leaves the consumer feeling more alone than they did before. That is because the more porn a person consumes, it is common that the more he or she tends to withdraw them self from real people, emotions, and relationships. And because the consumer is rewiring the way they receive sexual arousal, they can be left feeling less satisfied with the relationships they have, resulting in further isolation and loneliness, fueling the need for more porn. It's a perpetual porn cycle.
Related: Inside The Industry: Performers Speak Out On Trafficking And Exploitation In Porn
There are also harmful effects in the romantic relationships that the porn consumer can have with their partner. Often times, the partners of porn consumers report feeling angry, confused, and betrayed by their other half who watches pornographic material. In fact, studies show that people who watch porn tend to be "less stable in their relationships and have higher rates of infidelity and divorce." Consumers are also found to be less committed to their partners, less satisfied in their relationships, and more cynical about marriage, love, and relationships in general.
See how porn can be harmful, even in a hypothetical world of "exploitation-free" porn?

"Exploitation Free" Porn Is Impossible
This may or may not be surprising, but exploitation-free, ethical porn is a fantasy, just like what's on screen in porn films. It doesn't exist, it's not reality.
In fact, it is near impossible to know if what a consumer watching was created in a legitimate, safe, completely consensual environment. There is no way to tell if the performers on screen are there on their own will, or if they were forced or coerced into taking part in the film.
If you don't believe us—or the many studies and personal accounts—believe this: pornography, no matter how "ethical" you believe it to be, is still harmful, and a public health crisis. No amount of "exploitation-free" porn can erase the facts.