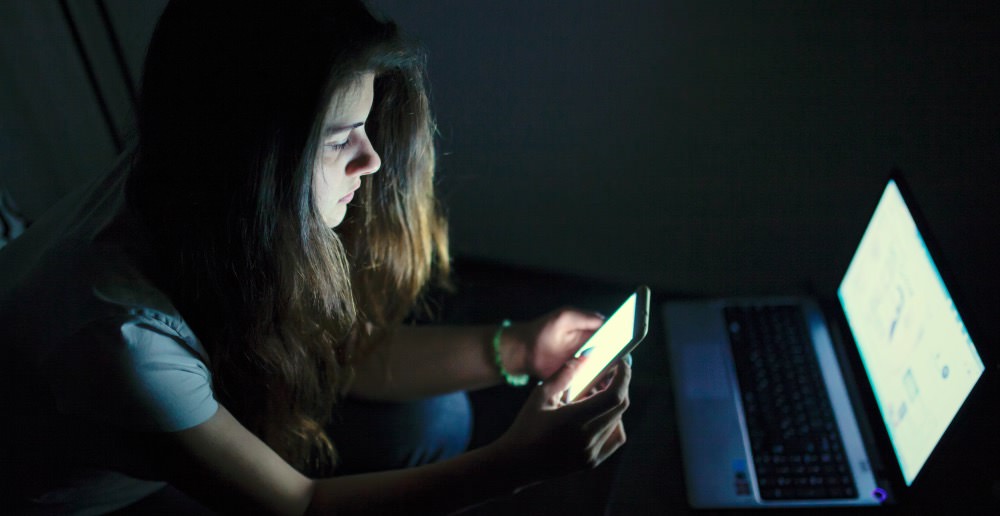 Many people contact Fight the New Drug to share their personal stories about how porn has affected their life or the life of a loved one. We consider these personal accounts very valuable because, while the science and research is powerful within its own right, personal accounts from real people seem to really hit home about the damage that pornography does to real lives.
Girls struggle with porn, too. This true story shows that porn is more than a guys' problem, it's a human problem. Also, read on to learn how to fight being sextorted.
Hello,
I just wanted to tell you that I really like what you're doing and I have struggled with porn ever since I was around seven.
I never told this to anyone, but when I was seven, one of the girls who was my neighbor introduced me to it, and then I couldn't stop looking for it on my own. This girl also assaulted me many times. (Honestly, I actually didn't realize that until a few months ago.) I compulsively looked at porn for a while, and then I stopped for about two years. But after that, I could not stop.
Partly because I got so into porn when I was really young, when I was 13, I sent explicit pictures to a man from India. He then threatened me that if I didn't continue to send photos, he would send the pictures to everybody I know and follow. So, feeling scared, I just continued to send photos.
Related: 7 Things You Can Do If You're A Victim Of Deepfakes Or Revenge Porn
Then on my 14th birthday, he contacted me again. That was the worst birthday ever. I finally told my parents when I was 15, which was the hardest thing I've ever done. I thought I was going to be disowned.
But there's hope for change. As of tonight, I am 18 days clean, and I'm not going to stop being clean. Thank you for spreading awareness and showing me that I'm not a bad person for struggling with porn and that I'll be okay.
I'd like to also add that it has affected my personal relationships. To help me recover, I joined Fortify and do NOT regret it! It's a fight, but it's worth it to end up where I want to end up!
Much love,
–L.

The realities of sextortion
What this Fighter went through is, sadly, not unique. Sextortion is a real problem that has and continues to affect many in our digital age.
If you or someone you know is being sextorted or blackmailed with revenge porn, know that it is not worth your sanity, nor is it worth your life. While having explicit personal photos distributed can be humiliating, it's always better to talk to someone rather than attempting to fix the problem on your own.
Related: The Tragic Case Of Tevan: Why Digital Sextortion Cases Are On The Rise
Read up on the risks of sexting, and think of how you can best protect yourself from sextortion, first. We encourage you to talk to a trusted adult, whether that be a parent, a mentor, a counselor, a community leader, a police officer—someone older and wiser than you who can help you find a solution.
And click here to read some other tips based on what victim advocates say.
You can also utilize online resources from organizations like Thorn and the National Center for Missing and Exploited Kids, who both defend children from sexual abuse.
Remember that help is available and that you are never alone.
How minors can be groomed and coerced to send explicit images
This Fighter's story also speaks to the fact that online predators are increasingly grooming minors to send explicit images of themselves.
The sad fact is that child sexual abuse material—also known as "child pornography"—has been on the rise in recent years. Some reasons for the rise in numbers are a result of improved awareness and reporting, but tragically, also increased demand.
New data from IWF revealed that about a third of sexual images or videos of minors online are self-generated. Young people are increasingly groomed to send selfies or perform for a webcam. These selfies are mostly of girls with three quarters being between 11 and 13 years old. They are still victims, even when they are controlling the camera.
Related: Jessa's Story: I Survived Being Sold Into Child Exploitation & Sex Slavery (VIDEO)
In response to the growing epidemic of online sexual abuse, particularly of young people, IWF created an easy and anonymous way for anyone to report explicit images of someone who may be underage.
Hopefully these efforts can prevent future abuse of young people who need protection.

Often, we hear the unhelpful suggestion that if girls don't want their images online then they just shouldn't take them, but the blame only belongs to the perpetrators behind the messages manipulating young girls to perform.
Related: Belgium Detectives Shut Down Massive Child Exploitation Ring With Over 9 Million Images
Susie Hargreaves CEO of IWF explained that these girls are victims in a "terribly coercive and manipulative relationship." She said they are often groomed, coerced, and tricked into performing sexually for webcam shows.
"Online sexual abuse is not a victimless crime," said Tink Palmer Chief Executive of the Marie Collins Foundation. "The children in these images and videos are real and they are harmed every time the content is viewed and shared."
So what is expected of you when you're sent a sext, or requested a pic of yourself sans clothing and you're a minor? For starters, it's never up to us to judge or shame the person featured in the photo or video. As we've pointed out, you don't know the full story. Secondly, don't forward any content to another person, tell a trusted adult what happened.
You are not alone, and there is hope.
Need help?
For those reading this who feel they are struggling with pornography, you are not alone. Check out our friends at Fortify, a science-based recovery platform dedicated to helping you find lasting freedom from pornography. Fortify now offers a free experience for both teens and adults. Connect with others, learn about your compulsive behavior, and track your recovery journey. There is hope—sign up today.
To report an incident involving the possession, distribution, receipt, or production of child exploitation images, file a report on the National Center for Missing & Exploited Children (NCMEC)'s website at www.cybertipline.com, or call 1-800-843-5678.