FTND note: The aim of this post is to challenge the shaming narrative that happens all too often in this fight against porn, and offer up an alternative narrative. It is not our intention to imply that anyone is obligated to date someone with a past or current porn issue, if they aren't comfortable with dating them. In the end, it is up to every individual to decide what is best for them.
Porn is harmful, plain and simple. It can destroy relationships, it harms those who watch it, and it negatively affects our society as a whole. Research shows that watching porn has no lasting benefit to the porn consumer or their relationships. [1]
But does that mean that the people who watch it are automatically "terrible people?" Can we make that judgment?
Not necessarily. If we haven't made one thing clear before, let us clarify it right now—we do not believe people who watch porn are "bad" people. Do a lot of them choose to not care about porn's harms? Maybe. Are many misinformed about porn? Absolutely.
In a society that judges someone's "cool factor" based on how much porn they consume, it wouldn't be fair to automatically make everyone out to be a "bad" person who falls victim to getting swept up with the crowd. A lot of the time, they're just seriously misinformed.
Related: So You've Struggled With Porn? That's Okay, Here's Why
Science is constantly showing that watching porn contributes to an unhealthy lifestyle, and the objectification of others, [2] and opens the consumer up to the possibility of having a porn compulsion or addiction, [3] and that's not healthy. But much of our culture is still coming around on this issue, and there should never be a place for discrimination or judgment just because someone chooses to live differently than you, right? We are here to bridge that gap of understanding, so those people who are watching porn can understand the real scientific effects. Education will help, demonizing people won't.
And remember, we're a nonreligious organization, so this isn't about morality—these facts that porn is harmful and research shows that are simply something to consider.
There is a difference between seeing a person as wholly "bad" because of something they've done, and recognizing a behavior they're engaging in as unhealthy and harmful. We as a movement for love want to do the second, and avoid the first. Get it?
Here are three reasons why we believe porn consumers are not "bad" people, and they shouldn't be thought of as bad people.

1. Many people watch porn as an escape
An interest in porn can start from being exposed to a single image by accident, and then, looking for it can turn into a habit. Just like any other drug or addictive behavior, people turn to porn when they experience negative emotions they don't want to cope with.
Counselor Kurt Smith, in his article Why Men Watch Porn stated it simply: "The real world has a lot of stress and uncertainty. The world of porn is predictable and controllable." Porn offers the consumer complete control and reinforces every click of new shocking material with a rush of chemicals to the brain.
However, it is not just negative emotions that make porn consumers turn to their fix. One blogger on a worldwide Reddit group dedicated to helping people overcome porn struggles, said that "boredom is often the surprising cause of watching porn. Why? Because boredom is uncomfortable. So we try to fix it with porn. The problem is, the boredom will keep coming back because porn is not a sustainable way to combat uncomfortable feelings."
Related: Why It Can Be Problematic To Refuse To Date Anyone Who Has Struggled With Porn
Boredom, depression, and stress are human emotions that everyone deals with at some point in their life. One of the most alluring promises of porn is that there is never rejection and always pleasure. Can you see how that's an appealing idea, even if it is a lie? Porn never says no, porn is always available, and porn sells itself as always being sexier than any real sexual experience with a real person could be. At the end of the day, none of it is real and will leave the consumer feeling emptier and lonelier than before, even though they were searching porn out to feel better about themselves.
It's not healthy to cope with anything by turning to porn. It doesn't make someone a "bad" person when they do, while it does set them up for a lot of unhealthy choices that don't benefit them (or their loved ones) in the end.
2. Many people have zero clue porn is harmful
Still, many porn consumers have no idea about the harms they're getting themselves into.
The mainstream opinion on porn is that it's generally awesome and good for you, so it's no wonder people are constantly emailing us to tell us they had no clue it was so unhealthy. Once people see the research behind why watching porn can fuel sexual exploitation and lead to compulsive use or addiction, and contributes to aggressive behavior, they suddenly get it. [4] But before then, a lot of people have no clue, and that's why we're here to drop knowledge on the real harms of pornography. But does being uninformed make someone a "bad" person?
Related: Why I Am Terrified To Tell My Partner I Still Struggle With Porn
Porn is so normalized, it's not often you'll hear the flip side of the "porn is awesome!" argument. When someone is looking at porn, while they think they're just being entertained, their brain is busy at work building pathways between whatever's happening on their screen and feelings of arousal. [5] Here's where it gets tricky: The kind of porn a consumer watches can—and usually does—change over time. [6] So as their brain continually wires together what they're seeing with feeling aroused, what turns them on can change, too. [7]
A lot of times, a consumer can have no idea that this is what's happening to them. There are no clear warning labels on porn videos like there are on cigarette packs. We're here to change that, and help to inform them to make the healthier decision.

3. Many people struggle to keep their porn habit under control
On the flip side, a lot of porn consumers DO know about the real-life harms of porn. They know, and they want to stop, but the addictive nature of porn has rendered them stuck against the steady pull to log on and binge-watch. That behavior can get to a point where it's beyond the user's control, and they would give anything to be able to stop.
Related: Keeley's Story: How Abandoning My Shame Helped Me To Abandon Porn For Good
Think of a cigarette smoker that's desperate for a fix. Similarly, in extreme cases for regular porn consumers, it can get to a point where their life is ruled by their porn problem, even though they don't want it to be. Many people who struggle with porn do not want to struggle, they just don't know what to do or where to go. Everywhere they look, they feel stuck.
Society tells them that porn is awesome, while their parents or friends might shame or judge them for being so caught up with porn. So what do they do? They hide, they isolate themselves, and they try to get through it. And keep in mind that this happens to both men and women, porn doesn't discriminate.
True stories of shame
Here are some messages we've received, showing us that many consumers wish porn weren't a controlling factor in their life:
"It killed the only dating relationship I had, and she was one of the only girls whose heart attracted me even more than her beauty. I need to be free from porn and its lies and its wreckage." -18-year-old male
"I was almost 2 to 3 weeks without doing anything, feeling good about myself… And now here I am, feeling horrible again." -18-year-old female
"What really scares me is porn getting in the way of me and my fiancée, she means the world to me and I never want her to feel like something unrealistic and cheap is better than what we have." -17-year-old male
"I want…to know that there is more to life than a computer screen with nude women." -19-year-old male
"Sometimes I wish I could just stop, but its like I can't control my brain. Everything makes me think about it, and the images always come to my head." -18-year-old female
"So many of my thoughts and so much of my time is consumed by porn that it is alarming. Porn has such a powerful control over my life, I don't know what to do." -17-year-old male
At Fight The New Drug, we work to create a space where people can understand the harms of porn and wrap their heads around the science behind why they're struggling, and break free by using knowledge about porn as a resource.

Porn is what we're fighting, not people
Porn consumers aren't "terrible" people because many of them don't know just how damaging their habit is. Also, remember that a porn habit or struggle most often predates the start of a porn consumer's relationship with a significant other. Their habit is not personal to their partner, even though it hurts and causes feelings of betrayal.
Along with that, people look at porn to escape from negative feelings instead of dealing with them head-on. That doesn't make them "bad people," it just means there's other stuff going on in their life that they don't know what to do about. Those people don't need shame, they need help. Also, porn can be extremely addicting, and once consumers start, many of them don't know how to stop or what to do about it.
Related: This Study Shows Feeling Shame Fuels Hypersexual Behavior While Feeling Guilt Fuels Change
A lot of people have had porn very negatively impact their lives through their own consumption, a partner's porn struggle, or even struggling themselves. None of this stuff is acceptable, and we aren't defending the porn industry or saying that it's healthy to look at it. We can't ignore the negative effects of porn, while we can raise awareness about how harmful it is without telling people that they are the ones to blame for everything that's wrong with porn.
Porn and its normalization is the ultimate problem we're fighting against, not the people who watch it. We're fighting for love by exposing the hollow counterfeits of porn and showing people the awesomeness of a real relationship.
In the end, awareness and love can break the cycle that porn can create in someone's life, and change can start with a single conversation based in mutual understanding and respect, no shame or shaming.
Need help?
For those reading this who feel they are struggling with pornography, you are not alone. Check out Fortify, a science-based recovery platform dedicated to helping you find lasting freedom from pornography. Fortify now offers a free experience for both teens and adults. Connect with others, learn about your unwanted porn habit, and track your recovery journey. There is hope—sign up today.
Fight the New Drug may receive financial support from purchases made using affiliate links.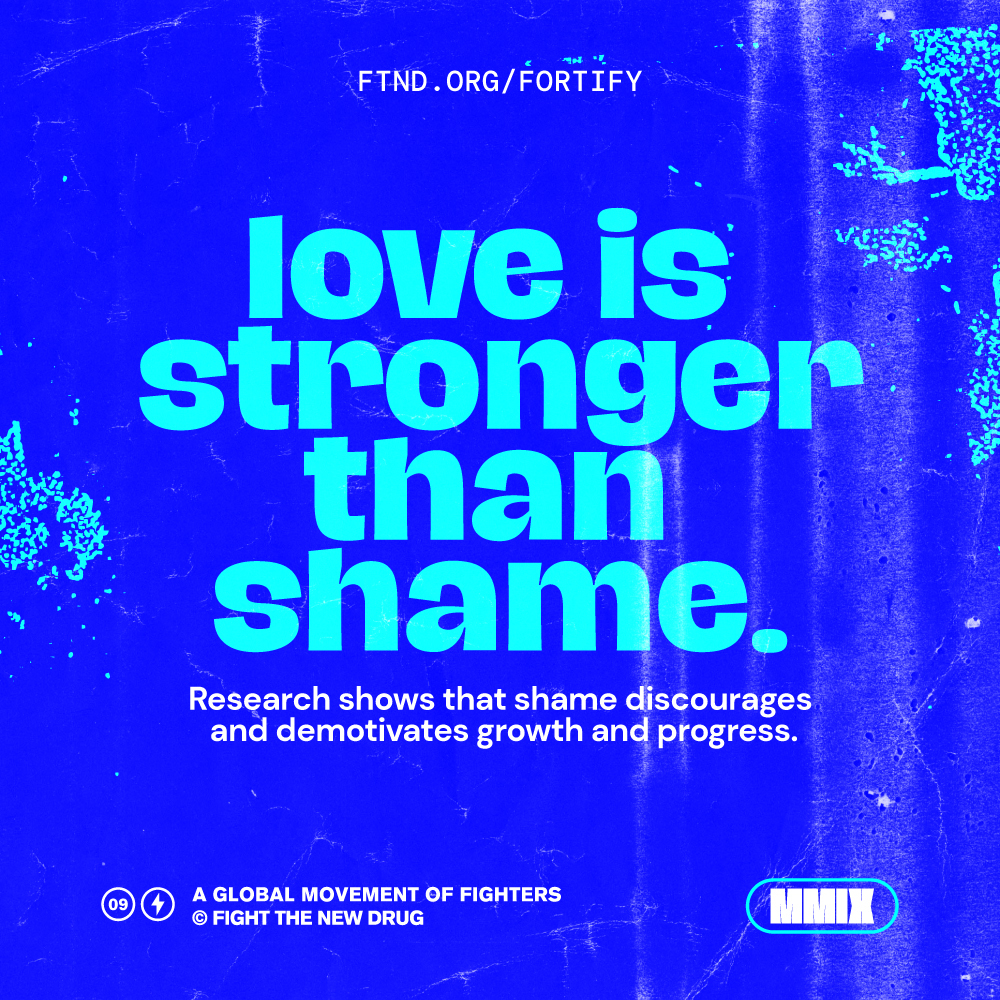 [1] Zillmann, D. (2004). Pornografie. In R. Mangold, P. Vorderer, and G. Bente (Eds.) Lehrbuch der Medienpsychologie (pp.565–85). Gottingen, Germany: Hogrefe Verlag.
[2] Bridges, A. J. (2010). Pornography's Effect on Interpersonal Relationships. In J. Stoner and D. Hughes (Eds.) The Social Costs of Pornography: A Collection of Papers (pp. 89–110). Princeton, NJ: Witherspoon Institute.
[3] Hilton, D. L. (2013). Pornography Addiction—A Supranormal Stimulus Considered in the Context of Neuroplasticity. Socioaffective Neuroscience & Psychology 3:20767; Garcia, F. D. and Thibaut, F. (2010). Sexual Addictions. American Journal of Drug and Alcohol Abuse 36, 5: 254–260.
[4] Layden, M. A. (2010). Pornography and Violence: A New look at the Research. In J. Stoner and D. Hughes (Eds.) The Social Costs of Pornography: A Collection of Papers (pp. 57–68). Princeton, NJ: Witherspoon Institute.
[5] Doidge, N. (2007). The Brain That Changes Itself. New York: Penguin Books, 109.
[6] Layden, M. A. (2010). Pornography and Violence: A New look at the Research. In J. Stoner and D. Hughes (Eds.) The Social Costs of Pornography: A Collection of Papers (pp. 57–68). Princeton, NJ: Witherspoon Institute; Cline, V. B. (2001). Pornography's Effect on Adults and Children. New York: Morality in Media; Zillmann, D. (2000). Influence of Unrestrained Access to Erotica on Adolescents' and Young Adults' Dispositions Toward Sexuality. Journal of Adolescent Health 27, 2: 41–44; NoFap Survey http://www.reddit.com/r/NoFap/comments/updy4/rnofap_survey_data_complete_datasets/
[7] Doidge, N. (2007). The Brain That Changes Itself. New York: Penguin Books, 95.