"Fifty Shades Freed," the final installment in the "Fifty Shades of Grey" trilogy, is officially dropping in theaters this week and we've got some feelings about it. As an anti-porn, pro-love, pro-healthy sex promoting organization, we feel it our duty to speak up and point out how both porn and "Fifty Shades" are both ironically anti-sex, in similar ways.
But first, let's start with the basics. When the term anti­-porn is thrown around, people automatically assume that it is synonymous with anti-­sex, but we're here to crack that stereotype wide open. Here at Fight the New Drug, we are just the opposite of anti-sex. In fact, we are all about infusing more sexiness into the world. Sex is awesome. And we want everyone to know why.
Sex is natural and normal, something to be desired by everyone. Sex is an important part of committed, loving relationships. As humans, we are wired to need love, to feel loved, and we have the desire to be sexual with another person to express that intimacy. And while that is all healthy, there is a twisted counterfeit that seeks to hijack this natural wiring: porn. And now, in pop culture, "Fifty Shades" and its toxic and abusive messages are doing the same.
To catch you up, the "Fifty Shades" story centers around a controlling and sadistic millionaire CEO with a tormented past who seduces a sweet, inexperienced college girl into his selfish world of painful bondage sex. E. L. James, the author, wrote the Fifty Shades trilogy very loosely based on bondage and discipline (B&D), dominance and submission (D&S), and sadism & masochism (S&M) practices, or BDSM for short. But not even those within the BDSM community accept Christian's behavior as being okay or representative of what happens during "scenes," or encounters between BDSMers. Instead of a sexual interest, they too call it abuse.
Pro-Sex, Anti-Porn: What Does It Mean?
Let's look at a breakdown of the issue in this handy-dandy list, created by Educate Empower Kids:
If being anti-porn does not equal being anti-sex, then what could it mean?
Anti-porn = anti-misogyny
Anti-porn = anti-sexism
Anti-porn = anti-violence against women
Anti-porn = anti-objectification and sexual exploitation
Anti-porn = anti-humann trafficking
And if being anti-porn does not equal being anti-sex, what could it mean?
Pro-sex = pro-healthy sexuality
Pro-sex = pro-intimacy
Pro-sex = pro-gender equality
Pro-sex = pro-respect
Pro-sex = pro-humanity

The truth is, pornography distorts people's perceptions of sex, intimacy, body image, sexual performance, and much more. And have you considered how the "Fifty Shades" franchise does the same thing, as well? The research on how porn affects how you view yourself, your partner, and your relationships in general is pretty condemning to the idea that porn "helps" your sex life. It actually hurts it in a big way. In the same way, research similarly connects interest in the Fifty Shades books with unhealthy behaviors and relationships. Yikes.
The bottom line is that porn (and "Fifty Shades") is actually the definition of sex-negative. Here are three reasons (among many) that explain why not watching porn is the most sex-positive thing you can do. We think the same thing could be said of avoiding the just-released "Fifty Shades Freed," as well.
1. Anti-Porn Does NOT Mean Anti-Sex
The argument that being anti-porn must mean that you're a sexually awkward prude doesn't add up. When we think about the differences between sex in real life with a real partner and the sex-facade that porn sells, it makes no sense to lump anti-porn and anti-sex together. Porn is not sex, and sex is not porn.
Dr. Gail Dines, a British professor of sociology and women's studies, has a great comeback for those who equate the anti-porn movement with being anti-sex:
"To assume that if you are against pornography you're against sex, is to assume that anyone who criticizes McDonald's is anti-eating… Why can't they see that it is the same thing when it comes to pornography and sex?"
Her point: porn is the worst portrayed version of sex, just like junk food is the worst form of food. Porn is cheap, unhealthy, and destructive to our perception of what sex is. Porn is collectively harming our generation's ideas about what sex should look and feel like.
Dr. Dines also summed up our society's concerning porn culture in her book, Pornland:
"In a world populated by women who are robotic "sluts" and men who are robotic studs, the sex is going to be predictably devoid of any intimacy: Porn sex is not about making love, as the feelings and emotions we normally associate with such an act – connection, empathy, tenderness, caring, affection – are replaced by those more often connected with hate – fear, disgust, anger, loathing, and contempt.  In porn the man makes hate to the woman, as each sex act is designed to deliver the maximum amount of degradation."
When has human exploitation and degradation, even if it's in a bestselling book or blockbusting "Fifty Shades" film, ever been a healthy, positive thing for our society? The short answer is never. Love and real relationships, on the other hand, are very positive things for our society. And being anti-porn is actually a very pro-sex thing, because avoiding romanticized versions of abusive relationships can only benefit you sexually in the long run.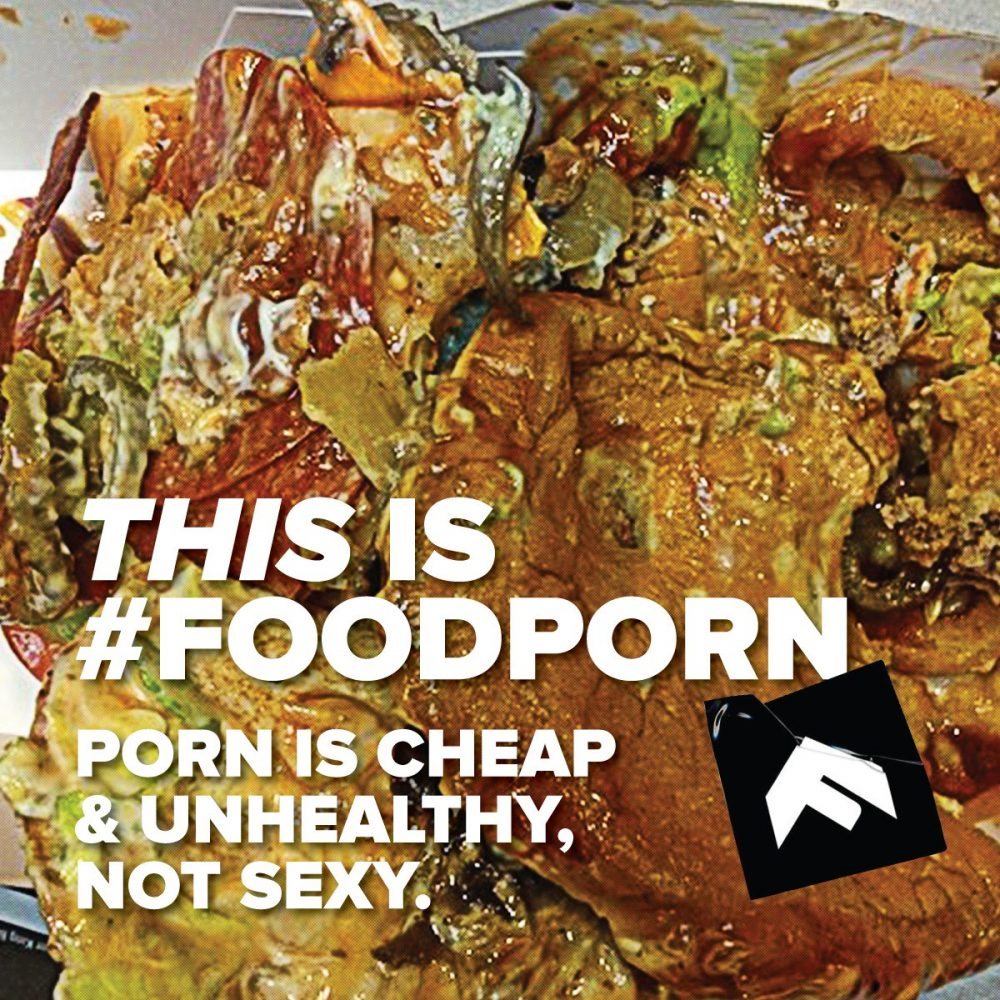 2. Porn Does The Opposite Of "Spicing Up" A Relationship
Sex is an awesome part of a loving relationship. Having sex with someone you love can be one of the most freeing experiences, especially when there's no self-consciousness and you can be together with your partner, exactly as you both are.
But when it comes to porn, it can turn this intimate connection into a violent performance that's less about the emotional bonding that happens when people have sex. Porn doesn't show the importance of emotional connection and commitment, and in porn, there's no kissing and cuddling, just normalized unhealthy sexual behavior. Porn doesn't depict real people with real bodies with real (and beautiful) flaws. In fact, it tries to sell the complete opposite—a photoshop fantasy that reality should never have to compete with. So it logically follows that those who are exposed to porn have their perceptions of sex twisted and warped. With enough porn-viewing, real people don't measure up, and partners are considered less exciting when compared to an exaggerated production on a computer screen. How is that healthy?
Also, viewing pornography can rewire the brain and in turn has a huge effect on the ability of men to get aroused, especially if they start viewing it at a young age. Previously, erectile dysfunction was unheard of in men younger than 40 years of age, but now due to the amount of porn being consumed by teens today, porn-induced erectile dysfunction is being found in males as young as 15-16 years old. Click here to watch a video interview with Gabe Deem, founder of Reboot Nation, a site dedicated to helping men "reboot" their brains and overcome porn-induced erectile dysfunction.
Gary Wilson, author of Your Brain On Porn, recently said in an interview, "By the time they find real partners, perhaps as much as a decade later, some guys discover they have trained intensely… for the wrong sport. (These young men) had simply conditioned their sexual response to screens, isolation, constant novelty, shock/surprise, fetish porn and watching other people have sex. Their erection problems with real partners resolved only months after they quit porn."
…Talk about taking the spice right out of the relationship.
3. Real Love Is Sexier Than A Digital or Abusive Counterfeit
Porn is not real. It's literally pixels on a screen made up by the exaggeration of strangers acting "sexy" who have been edited, photoshopped, and surgically altered. There is nothing real about it. The viewer doesn't even know porn actors' real names, who they are as people, or how they even got there. And the actors will never know or truly care for the viewers. That kind of objectification is what kills relationships, and that's what kills our perceptions of what love and physical connection are about.
Think about it this way: when sexual climax is reached with a partner, that individual can often become more attractive to us. [1] [2] [3] Their positive characteristics are accentuated and the negative are pushed aside. When induced by an image which focuses specifically on the sex act and the sex organs, such as porn, attractiveness is associated with that focus and real individuals in our life begin to have less importance. Our perception of others becomes object focused, instead of person focused. We lose a sense of individuality for others and start to see them as body parts, rather than human beings. And objectification is not healthy for relationships and the close bond that sex can bring to a relationship.
Don't Buy the Lies
Also, porn doesn't care one shred about its audience. And we hate to break the news to you, but neither do the Hollywood execs making millions off of "Fifty Shades." Both these businesses only goal is to keep viewers coming back for more so they can continue making money, and that's it. Porn couldn't care less if viewers ruin their lives or relationships while they sit in front of a screen and continue to buy into their toxic lies. And "Fifty Shades" producers couldn't care less if they feed viewers an anti-love, pro-abuse narrative coupled with toxic sex abusive behaviors. But love cares, and love is the sexiest of all.
Love is very much real and very much more satisfying than any synthetic version could be. Our brains are wired to connect and see eye-to-eye with people, not eye-to-screen with a device that cannot interact or relate back to us. Love is what makes us thrive as individuals and as a society, and love is the sexiest thing out there.
Also, it matters where you're getting your sexual inspiration from—because you deserve better than taking from fake, abusive content.

What YOU Can Do
We are pro-sex and anti-porn because real love is the sexiest thing out there. SHARE this article and start the conversation about why being anti-porn is not the same as being anti-sex!
Spark Conversations
Just like the "Fifty Shades" franchise, pornography normalizes and romanticizes abuse. Porn ignores consent, promotes violence, encourages coercion, advertises objectification, and sells exploitation. Grab this conversation-starting tee and join us in fighting for real love and healthy relationships: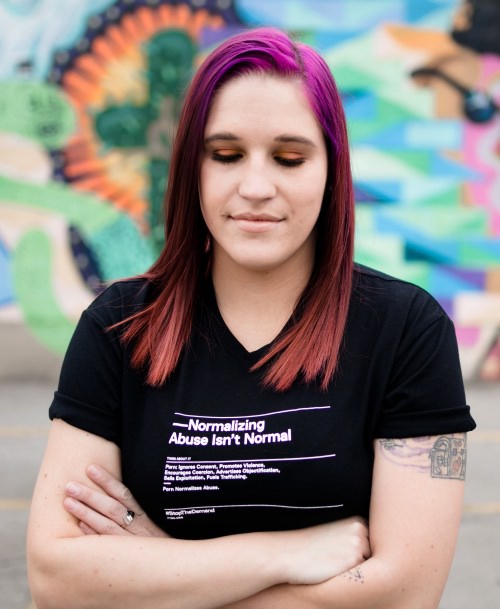 [1] Fisher, H. Why We Love: The Nature and Chemistry of Romantic Love, Henry Holt and Company, New York, 2004, p. 52­53.
[2] Lemonick, M.D., The Chemistry of Desire, Time Magazine, January 19, 2004.
[3] Wise, R.A. Dopamine, learning and motivation. Nat. Rev. Neurosci. 5, 483­494 (2004).