Playboy founder Hugh Hefner has been the subject of headlines in recent months with the release of A&E's "The Secrets of Playboy."
The 10-part docuseries explores Hefner's magazine empire and features interviews from numerous members of Hefner's staff and inner circle, including employees, Playmates, and former girlfriends. It alleges a culture of abuse and predatory behavior within the Playboy world—some of which could qualify as human trafficking.
Hefner passed away in 2017 at the age of 91. His widow Crystal, 35, says she has since found and destroyed "thousands of cameras' worth of photos of naked women" allegedly used as collateral against them.
During the first episode of the series, Holly Madison, a former Playboy model and girlfriend of Hefner, alleged that she was afraid to leave the Playboy Mansion out of fear of repercussions—specifically a "mountain of revenge porn" that the publisher allegedly had in his possession. The 42-year-old dated Hefner from 2001 to 2008.
She added that Hefner kept nude photos of her and other women during her time at the Playboy Mansion and used them to intimidate her into staying there.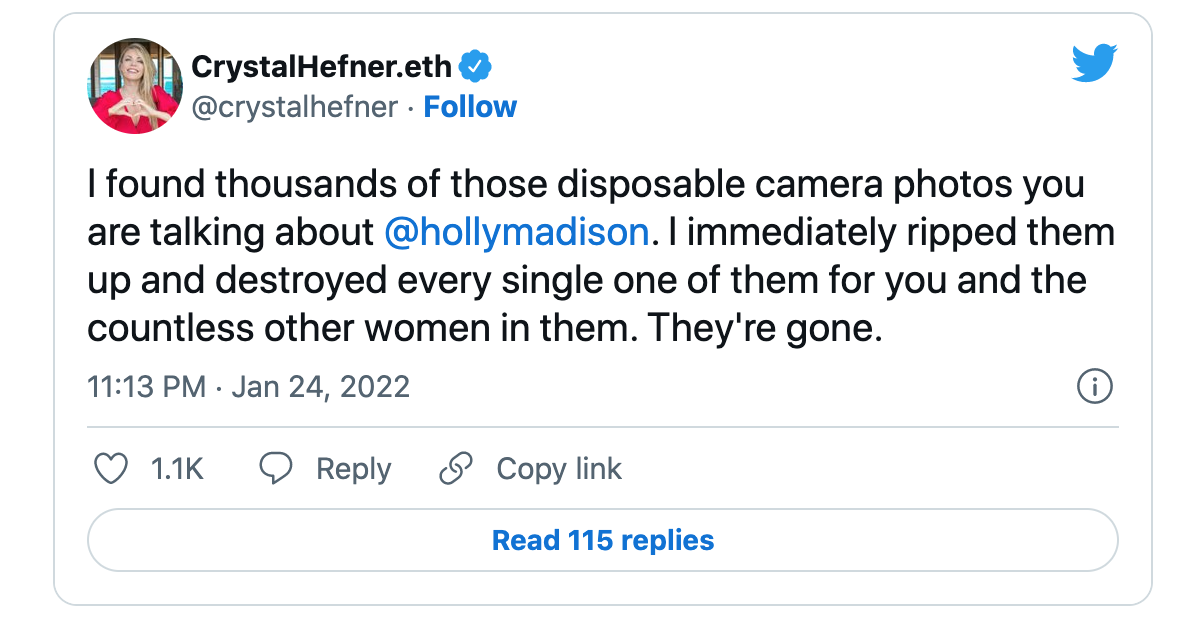 Madison also alleges that Hefner would snap photos of women "when we were wasted out of our minds," print numerous copies, then distribute them.
She also describes her "traumatic" first sexual encounter with Hefner:
"He was literally pushed on top of me. And after it happened, I was just mortified and embarrassed and it had way more of an emotional impact on me than I thought it would." She added that Hefner "didn't want to use protection" and that "it was really gross."

Several women alleged being "gaslit" while living in the Playboy Mansion. Madison describes it as "cult-like" and that "you weren't allowed to leave."
She continues, "The reason I think the mansion was very cult-like looking back on it is because we were all kind of gaslit and expected to think of Hef as like this really good guy. And you started to feel like, 'Oh, he's not what they say in the media, he's just a nice man.'"

"It was so easy to get isolated from the outside world there. You had a 9 o'clock curfew, you were encouraged to not have friends over," she said. "You weren't really allowed to leave unless it was like a family holiday."
Hefner also allegedly urged Madison to quit her one-day-a-week waitressing job. "He said it made him jealous, and he would appreciate it if I quit my job. So instead, we were given $1,000 a week as an allowance."
What about consent?
The legacy of nonconsensual content started very early in the founding of Playboy. Hefner launched the first issue of Playboy nearly 70 years ago in 1953 with nonconsensual nude photos of Marilyn Monroe.
The photos were allegedly taken in 1948 when Monroe was broke and desperate for cash in exchange for $50 from the photographer. Hefner later purchased the photo for $500 and used it in Playboy without Monroe's permission.
At the time, Hefner claimed he wanted the photos in his magazine to be emblems of a sexual revolution, women's sexual liberation, and female empowerment. However, the women who posed in its pages express a more critical view of the ways their bodies were used and consumed, and who really benefited.
"The fantasy of Playboy that he created did not allow for the consent of the women," said Miki Garcia who appeared in Playboy as Miss January in 1973.
Playboy recently provided a public statement, claiming, "Today's Playboy is not Hugh Hefner's Playboy." Still, the allegations against Playboy could technically qualify as trafficking—and continue to impact today's culture.
Some argue that women have more individual choice today when it comes to how they profit off of their bodies. But women still do not control how those images are interpreted or distributed once they enter the public domain. The ever-present preoccupation our culture has with women's bodies also contributes to their objectification and exploitation.
Emily Rothman, a professor of occupational therapy at Boston University and researcher on sexual violence and pornography, says, "If we're monetizing sexuality of beauty or availability or instant access to somebody, there are all kinds of things that we're monetizing in that situation that may then have implications for how people treat each other."
Sexually explicit content can perpetuate sexist ideas, attitudes, and behaviors. Seeing women as sexual objects to be consumed can make a woman feel as though that is what she has to do to acquire social capital, and can make consumers feel entitled to on-demand explicit content.

From Playboy to Pornhub
Sex trafficking is legally defined as a situation in which "a commercial sex act is induced by force, fraud, or coercion, or in which the person induced to perform such act has not attained 18 years of age."
Consider that what's allegedly happened within Playboy could technically qualify as trafficking.
Intimidating or manipulating women to engage in sexual acts, threatening to share either consensual or nonconsensual images, recording images against one's will or without one's knowledge, or disturbing images without consent are all examples of sex trafficking, by definition.
The unfortunate reality is these are also common practices in the mainstream porn industry.
The porn industry today has been built on the foundation of abuse and exploitation, primarily of women. The industry has evolved and changed, but one thing remains the same—many women (and some men) pay the price for the world's sexual "entertainment."

For example, a 2019 study found that objectification of women in the media we consume—even if that media doesn't explicitly depict sexual violence—and in pornography are related to attitudes and behaviors supportive of violence against women.Wright, P. J., & Tokunaga, R. S. (2016). Men's Objectifying Media Consumption, Objectification of Women, and Attitudes Supportive of Violence Against Women. Archives of sexual behavior, 45(4), 955–964. https://doi.org/10.1007/s10508-015-0644-8Copy Seabrook, R. C., Ward, L. M., & Giaccardi, S. (2019). Less than human? media use, objectification of women, and men's acceptance of sexual aggression. Psychology of Violence, 9(5), 536-545. doi:10.1037/vio0000198Copy
So why would an industry continue to promote and distribute nonconsensual content and abuse? The simple answer is because there's a demand for it, and because that industry profits from it.
Porn is more accessible today than Hefner probably ever imagined when he published the first issue of Playboy in 1953. The content is also shockingly more extreme, and both performers and consumers are paying the price.
So where will our culture be in the next 70 years? How will sex trafficking further infiltrate mainstream industries and platforms, and how many will be victimized?
Our goal is to help make the future world a better place through acknowledging and stopping the demand for sexual exploitation in all its forms through education.
To learn more about the inseparable connection between porn and sex trafficking, click here.
Support this resource
Thanks for reading our article! Fight the New Drug is a registered 501(c)(3) nonprofit, which means the educational resources we create are made possible through donations from people like you. Join Fighter Club for as little as $10/month and help us educate on the harms of porn!
JOIN FIGHTER CLUB