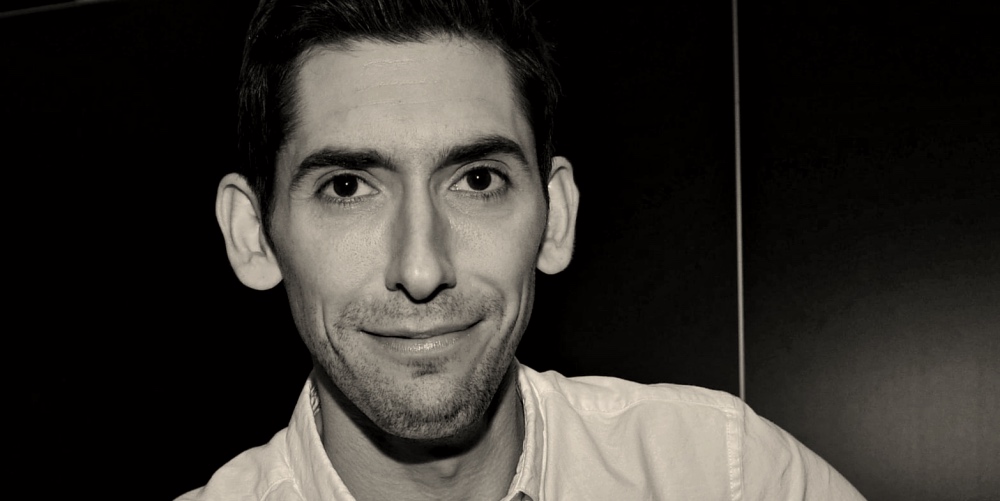 Names have been changed to protect the identities of women who wish to remain anonymous. 
Another day, another round of sexual misconduct allegations surfaces against someone high up in the Hollywood world.
Max Landis, screenwriter behind Chronicle and the Netflix blockbuster Bright, is also the son of John Landis—legendary director of Animal House, Coming to America, and the Thriller music video.
According to recent accusations, Max Landis doesn't just have a long history in Hollywood, but an alleged track record of sexual misconduct both in and outside the industry that spans a decade.
Related: Can You Tell The Difference Between #MeToo Stories And Porn Plot Lines?
Recently, 8 women surfaced—sharing with The Daily Beast in chilling detail Landis' ongoing pattern of physical, emotional, and sexual abuse.
Landis' early accusers
In response to a Netflix tweet promoting Bright in 2017, actress Anna Akana publicly accused Landis.
Written by a psychopath who sexually abused and assaults women, right? Cool
— Anna Akana (@AnnaAkana) December 22, 2017
A number of industry insiders followed suit—including Zoe Quinn, a prominent video game developer and artist.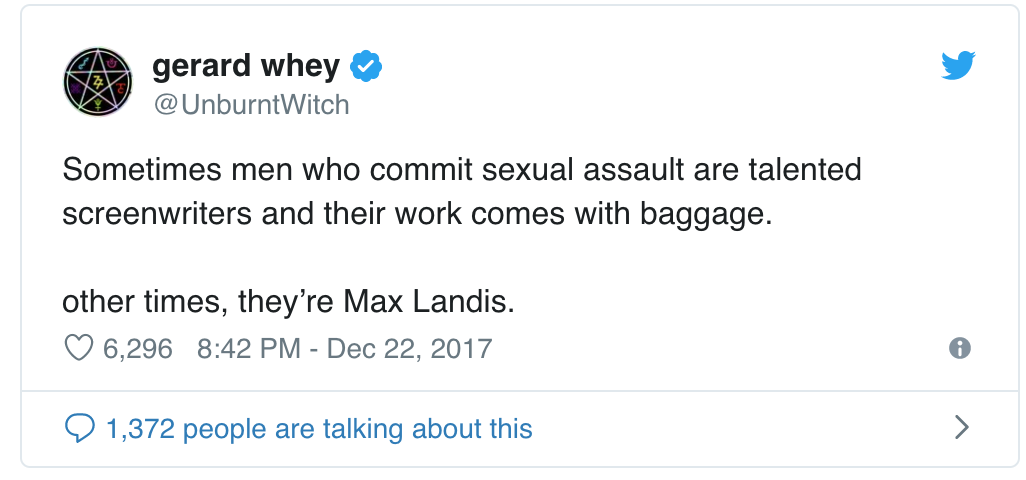 Quinn went on to say that Landis' abuse was an "open secret" in Hollywood, and that she hadn't yet shared her story because "him and his dad are powerful figures."
Landis' exclusive circle he calls "The Colour Society"
Many former friends, colleagues, and girlfriends stressed the role that Landis' carefully cultivated social circle played in his alleged pattern of predation.
Lainey* said that being a part of this strange community "gave me this sense of belonging I'd always craved," but Landis quickly began making "fat-shaming comments" at her expense, and "bullied and emotionally abused a lot of people."
Related: 7 Hollywood Stars Who Are Speaking Out Against Porn
Samantha*, another former member, said, "Here's someone with a lot of resources and power and glamour, and he's surrounding himself with people who don't have a network. He swoops in, and like a predator, he knows how to hook a person. He wears you down. He's that persistent. He sees something shiny and he wants it."
She added, "He would systematically try to have sex with all the women I knew. We're not people to him."

Sexual abuse allegations against Landis
Multiple women described being relentlessly pursued and abused by Landis. Here are just a few of their stories as told by The Daily Beast.
—
Ani Baker, who recently came forward on social media, described telling Landis that she no longer wanted to sleep with him, but that he unrelentingly attempted to initiate sex—physically forcing her to perform sex acts and responding to her "no's" with "'Are you sure?' in a 'I'm playing a sex game and I think it's hot that you're saying no' way."
Related: The Weinstein Effect: Selective Hearing When It Comes To Sexual Exploitation
Baker also recalled Landis showing her a "very long list" of all the women he claimed to have slept with.
"At the top was a key he had made to rank each experience," she said. "Some of the women weren't listed by their names, just by their ethnicity and the location of the encounter, because he didn't know their names. He scrolled to the bottom and showed me my name, with his rankings next to it."
"This list, and the way he went about showing it to the women who were on it, was one of the most telling things about the way he viewed women," Baker concluded.
—
Julie* said that sexual violence was a part of her relationship with Landis from the beginning.
"He showed me abuse and humiliation porn and constantly tested my boundaries—this became murkier and murkier as our relationship got more tumultuous, as I grew to view sex with him as the only way to receive love and connect. He claimed that seeing me cry was a turn-on—this later turned into a routine of him yelling and humiliating me until I cried, then having sex with me while I continued to cry. He choked me until I passed out and did humiliating, degrading things to me."
—
Callie Ray filed a sexual-assault report against Landis in 2008, then later dropped the charges after allegedly being threatened by his attorney.
Callie's friend Ashley Heffington Dionne remembered her going out that night to have drinks with friends.
"I awoke to what sounded like a person falling. Then I heard Callie ask in a confused and quiet voice, "[her then-boyfriend's nickname]" and then repeat the name, still confused and delirious. I then heard a male voice confirming he was [boyfriend's name]. Knowing her boyfriend was out of town at the time, I jumped out of my bed and walked into our shared living room to see Max over Callie on our couch. He was on top of her and her pants were off and he was thrusting and I could hear the sound of what he was doing."
—
In early 2017, Veronica* said Landis quickly made his move following her recent break-up.
"Prior to this, Max and I had had no sexual contact. He suggested we go to Disneyland and stay overnight. The first thing he did was physically overpower me. He pinned me to one of the beds, face-down, and began touching my crotch through my leggings. When he saw he had scared me, he laughed and said, 'That made you uncomfortable, didn't it?'"
"He tried to put his hand down my pants and up my shirt while we were waiting in line for rides, surrounded by children and families. People began to notice as I was trying to dodge his hands. I was absolutely humiliated. I told him to stop and he didn't. Halfway through the day, it escalated into him loudly shouting at me that he 'wanted to f***' so we had to go back to the room."
She went on to describe being raped repeatedly by Landis over the next 24 hours.

The role porn plays in sexual abuse
By now, you make be asking why we're bringing up all of these allegations against Max Landis. For one thing, it's clear that in a number of these cases, Landis used porn as a tool to groom his partners into enduring humiliating, abusive sex acts they weren't comfortable with.
These cases of sexual abuse also demonstrate harmful behaviors and attitudes that are commonly featured in mainstream porn. Consider all the ways porn's common plotlines and these accusations overlap: the disregard for consent, that saying "no" is somehow a "sexy" invitation to try harder, that violence during sex is desired and acceptable, that women must live up to unrealistic expectations of how to look and behave, and that men have a right to degrade and exercise power over their sexual partners. Sound familiar?
Related: Why We Can't Let #MeToo Just Be A Social Media Trend
Don't mistake what we're saying, here—not all individuals who consume porn will rape or abuse others, though research shows that porn can affect sexual tastes and even lead to sexual violence.
Why is it that much of society rightly speaks out about rape and sexual abuse, yet also consumes these same attitudes and behaviors in mainstream porn and deems them healthy and acceptable?
The fact is, we can't live in a #MeToo world without acknowledging that the porn industry normalizes and fantasizes the very same scenarios that are called out by society as unacceptable. It's time we see porn for what it is: a perpetuating and/or normalizing factor in a #MeToo world.