Science and research are showing that porn isn't only harmful to those who watch it, it's also harmful to those who create it. And in too many cases, it's harmful to people who want nothing to do with it, but are forced, beaten, coerced, and drugged into being a part of it. Unfortunately, society doesn't understand this yet, so we're doing something about it.
This month, during our official #StopTheDemand awareness campaign, we'll be diving into all the ways that porn is connected to sex trafficking and sexual exploitation. We're shining a light on the ways that porn industry fuels global trafficking, and we hope you'll join us.
A Conversation Worth Starting
We can't tell you how many people scoff when we tell them that one of the negative aspects of pornography is how it fuels the demand for prostitution and human sex trafficking. Many have the same attitude as one Instagram user who recently commented on our profile, asking us why we were against porn. When we responded that one of the reasons we fight against porn was because of its inseparable link to sex trafficking, this was their reply: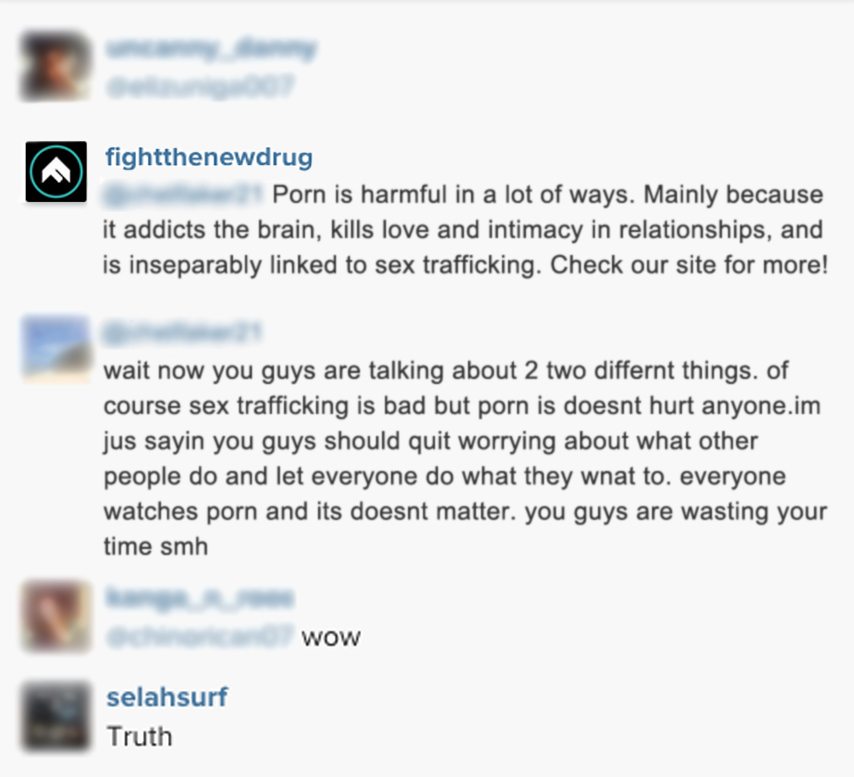 Unfortunately, there are many in our society that are blind to the link between porn and sex trafficking. They think that the porn industry and sex trafficking industry are two completely separate issues, one being legitimate and the latter being illegal activity that only happens in Thailand. Not so. The porn industry is a sketchy industry to begin with, but it takes a really dangerous turn when porn involving sex trafficking victims is made and distributed globally online. Countless women have been kidnapped, abused, drugged, threatened, and coerced into doing porn; this is, by definition, sex trafficking/slavery.
Related: Ashton Kutcher – My Organization Found 6,000 Trafficking Victims This Year
You may be asking, how does this all tie back to the average viewer at home? Truthfully, in this digital age, there is no way for a user to tell if what they are watching was made illegally or if all parties are there willingly. For this reason, clicking porn directly fuels the demand for sex traffickers to make money by selling video of their sex slaves to porn sites.
Knowledge is power, and being aware of the facts is an important step in decreasing the demand for porn and helping to eliminate sex trafficking. This powerful video created by Rescue:Freedom details the giant role that porn plays in this global issue. Check out the video below to learn about the true nature of the porn industry:
What YOU Can Do
To help increase awareness and stop the demand for sex trafficking, SHARE this article to spread the facts. Keep up with our awareness campaign all month long and sign up here.
Start conversations by wearing our Stop the Demand tee which highlights the link between porn and human trafficking. By taking a stand, we can make a difference. Click below to shop: