Photo by Jeremy Wong. Portions of this post were originally published on Verily Magazine's site by Alysse Elhage. It has been edited for content & clarity.
If you're looking for someone to share your life with, there are so many things to think about—ranging from the mundane issues to deal breakers.
But when it comes to getting on the same page with your partner, there's one important issue you might be forgetting, or maybe even avoiding: pornography.
Every second, 28,258 Internet users are watching porn and spending more than $3,000 on it. Per second. Surveys of college-age men show that 93 percent have been exposed to porn before the age of 18. Another study found that about half of young adult women agree that viewing pornography is acceptable, and a survey conducted tells us that as many as 1 out of 3 women watch porn at least once a week. So if you're thinking that porn hasn't touched your relationship or your partner hasn't seen anything, the statistics suggest otherwise. It's a pretty solid bet that your partner casually views or has viewed pornography at some point. That doesn't make them a bad person/partner, but it definitely means you need to have a conversation.
Porn can be more harmful than you might expect
Time and time again, research is coming out that shows how porn damages relationships, dehumanizes sex, and exploits women—women who are often in the sex trade as a result of abuse and/or trafficking and suffer from the harmful aftereffects of someone else's porn consumption.
According to Dawn Hawkins, executive director of the National Center on Sexual Exploitation, conversations about porn with a significant other are really important. Hawkins says that porn has a myriad of harmful effects on intimate relationships, including one that has been exposed by the Ashley Madison hack: infidelity. Porn use is also associated with a wide range of negative sexual behaviors and attitudes that significantly harm men, women, and especially intimate relationships.
According to research compiled by Mary Anne Layden, Ph.D., director of the Sexual Trauma and Psychopathology Program for Cognitive Therapy at the University of Pennsylvania, adults who use porn are more likely than those who don't to rate sexual partners as less attractive, be less satisfied with their partner's sexual performance, desire sex without emotional involvement, try to get their partners to act out sex acts seen in porn, go to prostitutes, and, yes, among married porn users, have affairs.
Related: Research Says Married Couples Who Watch Porn Are Twice As Likely To Divorce
One 2014 study of 20,000 adults who had ever been married found that those who had watched X-rated films were more likely to report being unhappy in their marriages, more likely to have had extramarital affairs, and more likely to be divorced. An earlier study by Dr. Jill Manning, who testified about the harms of porn in 2005 before a U.S. Senate subcommittee, found that an "obsessive interest in Internet porn sites" by one partner was to blame for the split in 56 percent of divorce cases.
An ongoing conversation is necessary
So what is it about porn that damages healthy sexual intimacy and leads some viewers to cheat?
"Viewing porn involves bonding with images and sexual acts, instead of with a real person," Hawkins says. "That can drive a wedge into any intimate relationship."
Related: Is Watching Porn The Same As Cheating On Your Significant Other?
Hawkins also points to research that shows that prolonged porn use leads to many things, including boredom with "softer" porn and a desire for more degrading and violent depictions of sex; the objectification of women, who are viewed as sexual objects that desire sex "all the time" and enjoy sexual violence; a distorted view of sexual reality, including believing that certain sexual behaviors such as sex with animals and group sex are widely practiced; a desire to act out the behaviors depicted in porn; and sexual addiction.
In light of the corrosive effects of porn on healthy relationships, the mainstreaming of porn throughout our society is a cause for concern. At the very least, it's an ongoing conversation to be had. A study by Cambridge University scientists showed that brain scans of avid pornography viewers were not unlike those of drug addicts. Porn is a serious issue and should be treated as such, but even with someone you trust, it's not an easy or comfortable conversation to have.
Here are some tips on how to broach the subject of porn with your S.O., and open the door for possible future conversations.
1. Don't make your significant other feel like you're judging them.
This conversation won't go well if your significant other feels blamed or shamed. Love is stronger than shame. Instead, keep the conversation open and honest. For example, Hawkins advises people not to say, "Do you have a problem with porn?" because this puts the partner on the defensive. Instead, ask, "When was the last time you watched porn?"
2. Give your partner a chance to explain before jumping to conclusions.
Because of the proliferation of internet porn, many men and women today have been exposed to porn from an early age, and some have possibly been watching porn since grade school. The start of their porn habit is not always their fault, and don't assume that your partner knows about all the harms of porn. And don't assume that his or her porn habit hasn't been a struggle before. It's hard for people to protect themselves from the lure of porn, so hear them out, and be respectful of what they has to say. Actually listen. Keep your mind open to listening to their experiences or perspective.
3. Be clear about your views on porn when it comes to your life and relationship.
If you strongly believe porn has no place in the relationship, you don't have to be harsh or unloving in order to make your stance known. While it's important to let your partner know that you understand the struggle to avoid porn, leave no room for confusion when you explain how you feel about porn and what that means for your relationship. Before you bring the issue up, be sure you take time to think through why you feel the way you do about porn and how you would feel if your significant other watched porn.
Related: Is It A Good Idea To Date Someone Who Watches Porn?
This means educating yourself about the harms of porn beforehand, and then you can use the conversation as an opportunity to teach your significant other. "Maybe your partner doesn't realize that porn is harmful to intimate relationships or that women are often forced or coerced into participation in porn," Hawkins says.
4. Check in every now and then.
Even if your partner shares your views on porn, Hawkins advises checking in with each other every once in a while, just to make sure everything is okay.
"Porn thrives on secrecy, and the nature of porn is to leave people feeling ashamed and alone," Hawkins says. "We need to provide an open environment for communicating with our loved ones about it, so they don't retreat and try to deal with a porn problem by themselves."
Related: Tips To Quit: 3 Stages Of Breaking Free From Porn Obsession
One way to check in without coming across as accusatory or suspicious is to ask something like, "Is it ever hard for you to resist porn when we are apart?" or "What are some ways we could work together to protect our relationship from porn?" This gives your partner an opportunity to reach out to you for support if they are struggling with porn or to assure you that they are doing okay.
5. What if your partner thinks porn is no big deal?
Hawkins says that while viewing porn is a red flag in any relationship, it should not necessarily be a deal breaker because most people today have been exposed to porn in some way and because people can change if they are educated about the harms and have support.
"That's why it is so important to let your partner know early on in a relationship how you feel about porn and what your boundaries are regarding it," Hawkins says. "If they are not respectful of your views and your boundaries or willing to change if they have been using porn, then maybe you need to rethink that relationship."
Related: Even After My Divorce, I Don't Believe Porn Is A Dating Deal-Breaker
But if the proliferation of porn has taught us anything, perhaps it's that none of us can afford to ignore the problem of porn and its negative effects, not if we value healthy intimacy and hope to build marriages and families that last. No matter how difficult it may be for us as married or single women to have conversations about porn with the men we love, we need to be talking about the harms of porn and why it has no place in healthy relationships or a healthy society.
______________________
Shame Kills Love
One take away is this—while it's unhealthy to watch pornography, and life is much better without it, that doesn't mean the person who watches it is "bad" or would automatically make a "bad" partner. It can be easy to villainize and condemn all porn viewers, regardless of how they started watching or why they continue to watch, but that would be unhelpful.
At the end of the day, people watch porn. It's a fact of our modern, digital age. These people have the ability to be amazing partners, and defining their worth based solely on their past experience with porn denies who they are as people with character and a personality and a heart.
Related: Why You Should Stop Feeling Like A Bad Person For Watching Porn
We can't tell you whether it's right to be in a relationship with someone facing an active pornography problem, but we can tell you it's an important conversation to be had, especially if you feel strongly about porn and are dedicated to education about its harms. We can also tell you that love seeks to understand – and sometimes go beyond the way things seem at the surface.
Labeling someone as being equal to their porn habit or experience with porn alone can easily lead us to forget everything about them that makes them who they are. Obviously not ever having exposure to porn doesn't automatically mean you're going to be a a great partner, just like exposure to porn doesn't automatically makes you a bad partner.
Related: 3 Reasons Why Recovering Porn Addicts Can Still Make The Best Partners
Having the porn conversation is a must in a society where sexually explicit material has become so accessible and mainstream. Be open and non-judgmental with your partner when talking about porn. Odds are they have a past with it to some degree, so don't make it a big deal. Solid relationships are built on communication and the ability to talk about things that matter to both parties. Talk with your significant other about porn. You'll be glad you did.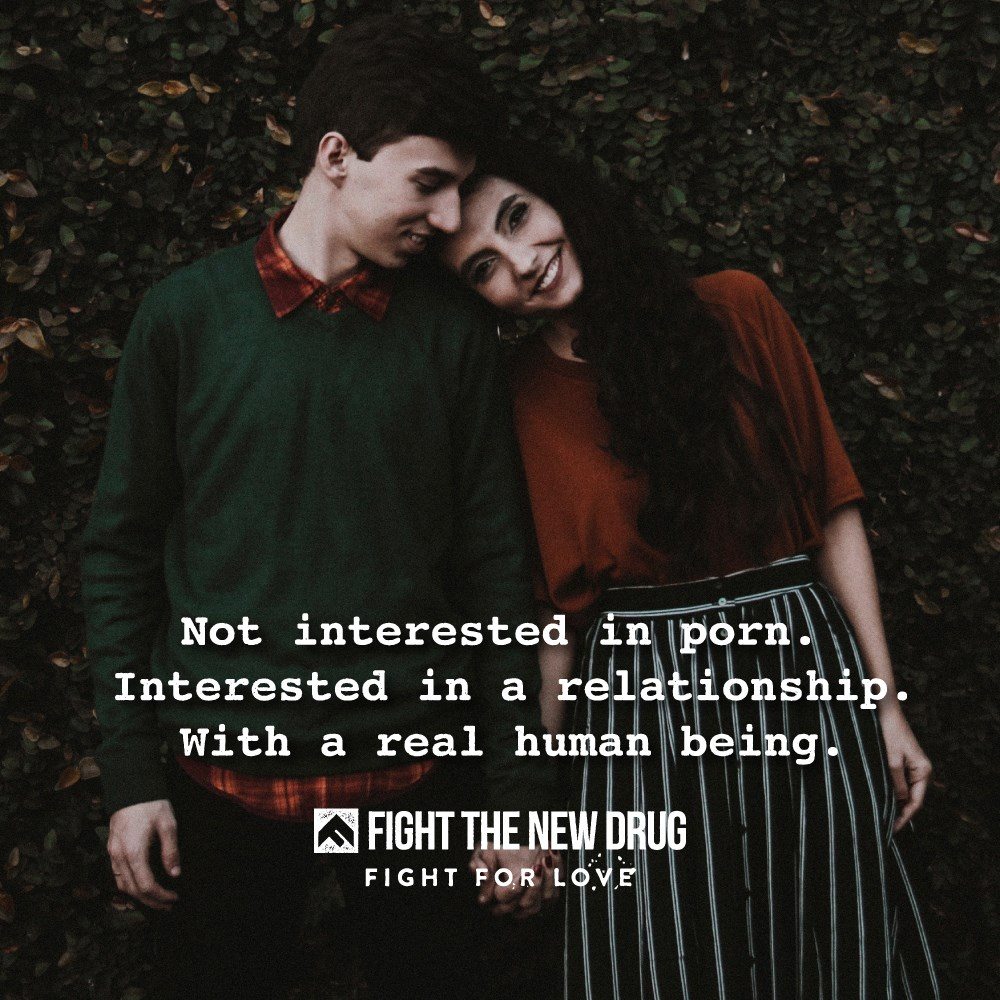 What YOU Can Do
Deciding to date someone (or not) who watches porn is a big question our generation deals with. SHARE this article to help start the conversation about porn and relationships.
Spark Conversations
This movement is all about changing the conversation about pornography. When you rep a tee, you can spark meaningful conversation on porn's harms and inspire lasting change in individuals' lives, and our world. Are you in? Check out all our styles in our online store, or click below to shop: