Cover Photo By Justin Harris – Flickr 
Emma Thompson is known as one of the most accomplished British actresses in history. As of December 2015, Thompson had appeared in 40 films, and has been nominated for five Academy Awards, winning two, one for Best Actress and Best Adapted Screenplay. The London-born actress has starred in such films as Harry Potter (she played Professor Trelawney), Love Actually, Nanny McPhee, Stranger Than Fiction, and Saving Mr. Banks.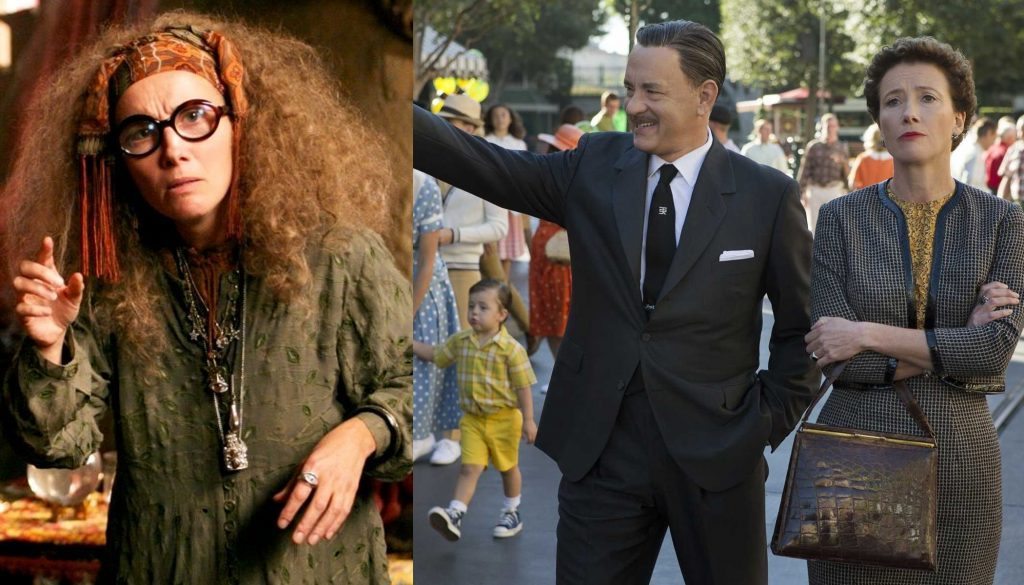 In a 2014 interview with the UK's Daily Mail, Emma Thompson says she has waged war on 'internet slime.' The actress explained that between movies, she is trying to save her daughter from the perils of porn on the worldwide web.
Related: 8 Hollywood Stars Who Don't Watch Porn
Emma, like a lot of parents, is deeply worried about porn and hyper-sexuality on social media where, she says, "There's no jurisdiction or protection."
"Quick clicks are dangerous"
She revealed she had created a handbook for her daughter to help guide her through the moral maze. "I don't think she's ever looked at it," she sighs. "She probably thought: 'Bless her. Good old Mum!'
"Thank God this is a highly intelligent generation — and it needs to be, because it's exposed to things we simply were not exposed to. And we were exposed to all sorts of things."
When asked about the in-your-face transformation of Miley Cyrus from home-spun Hannah Montana to twerking, nude, tongue wagging pop celebrity, Emma wonders what drove Cyrus to the extreme change.
Related: How Celebrity Nudes Are Fueling Our Society's Obsession With Porn
"She made the choice of going hyper-sexual for a reason, and we're all responsible for that, because that's what we buy, and that's what we click on. Those quick clicks are dangerous."
Thompson on Fighting Exploitation
Thompson says she is just as concerned about the dangers for young men who look at pornography online and "cannot function sexually because they've lost the use of their imagination." She is working with Kate Blewitt, a documentary filmmaker, on a project about online sex abuse, and ways of offering real information to help our children.
The actress is also the voice-over narrator of the eye-opening Jason Reitman film, Men, Women, & Children, which powerfully explores the dangers of living in a tech-obsessed society influenced by porn and isolated communication behind the protection of a screen.
"It's about the sexualization of boys and girls, and the demands on them, and what is considered to be cool," she says.
Why This Matters
Here at Fight the New Drug, we are lucky to have a worldwide movement of supporters who recognize this important cause and are dedicated to helping spread the facts on the harms of pornography. Among those educated on the harmful effects of pornography, we are always happy to see celebrities who aren't afraid to use their platform to push this conversation into the spotlight.
We've seen Terry Crews publicly share his past struggle with pornography to millions of people while educating on its harms. We've also seen actors/filmmakers like Rashida Jones, Joseph Gordon-Levitt, and Josh Radnor tackle tough issues like the amateur porn industry and how porn distorts perceptions about sex and relationships.
Emma Thompson adding her voice to this cause is a powerful reminder that this issue is something we should all be concerned about.
We'll end with a powerful quote from another Academy Award-winning leading lady. French actress Juliette Binoche won an Oscar for her role in The English Patient, and has starred in films such as Chocolat (in which she was nominated for another Academy Award) and Dan In Real Life. She is also the first woman to have won best actress awards at the Berlin, Cannes, and Venice film festivals. We recently uncovered this quote from an interview she gave in a 2012:
What YOU Can Do
Show some love to Emma for publicly speaking out on this issue and raising awareness on the harmful effects of pornography. SHARE this article to add your voice to the conversation and to help spread the word.
Change The Conversation
This movement is all about changing the conversation about pornography. When you rep a tee, you can spark meaningful conversation on porn's harms and inspire lasting change in individuals' lives, and our world. Are you in? Check out all our styles in our online store, or click below to shop: