Among those educated on the harmful effects of pornography, we are always happy to meet celebrities who aren't afraid to use their platform to push this conversation into the spotlight.
We've seen Terry Crews publicly share his past struggle with pornography to millions of people while educating on its harms. We've interviewed actors/filmmakers like Josh Radnor, and we've also seen Rashida Jones and Joseph Gordon-Levitt tackle tough issues like the amateur porn industry and how porn distorts perceptions about sex and relationships.
Now, we have another talented star who has been speaking out on the harms of pornography, one who has become a great friend of Fight the New Drug. Meet Elaine Bradley, a talented musician who is most notably known for being the drummer of the chart-topping rock band Neon Trees. She is also the lead vocalist and songwriter for her other band called Kissed Out.
Elaine first popped up on our radar after she appeared on Late Night with Seth Meyers to perform a Neon Trees' hit single, while wearing a homemade (pregnancy-friendly) "Porn Kills Love" tee. We were so excited to see someone repping the movement in front of millions of viewers during one of late night's most popular talk shows.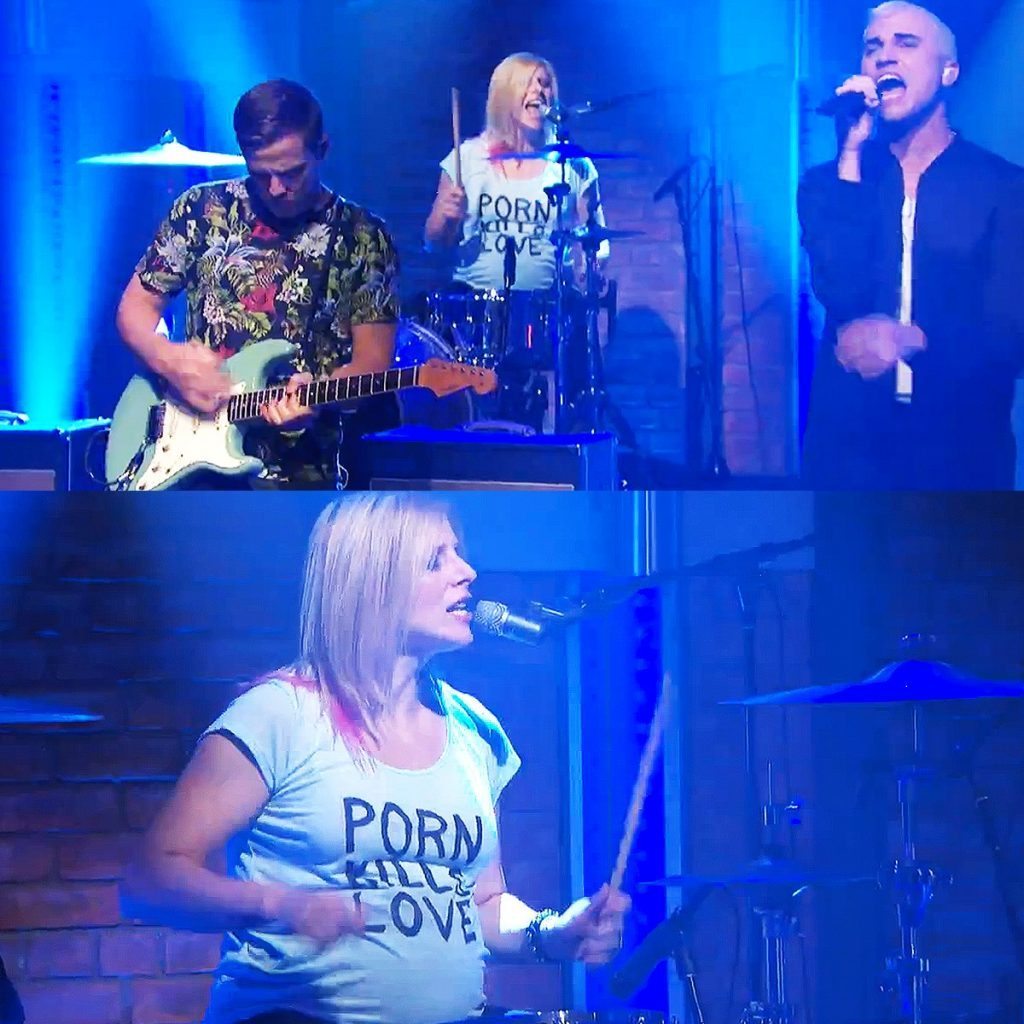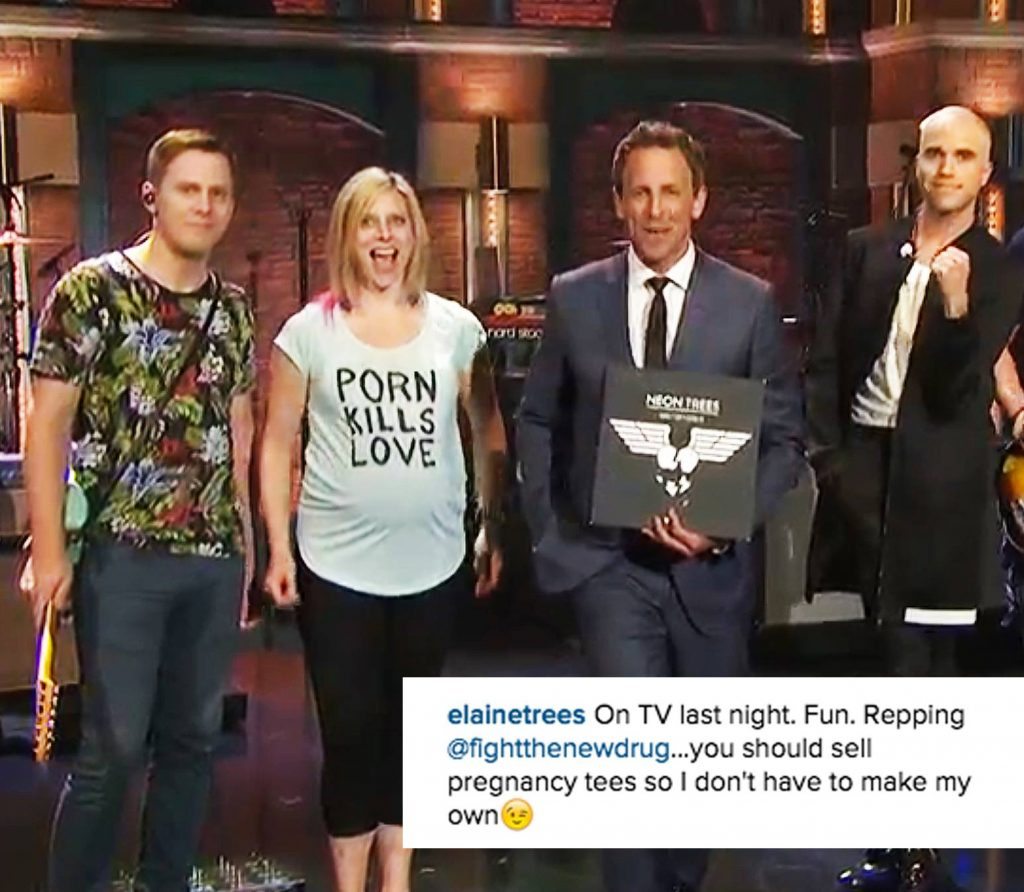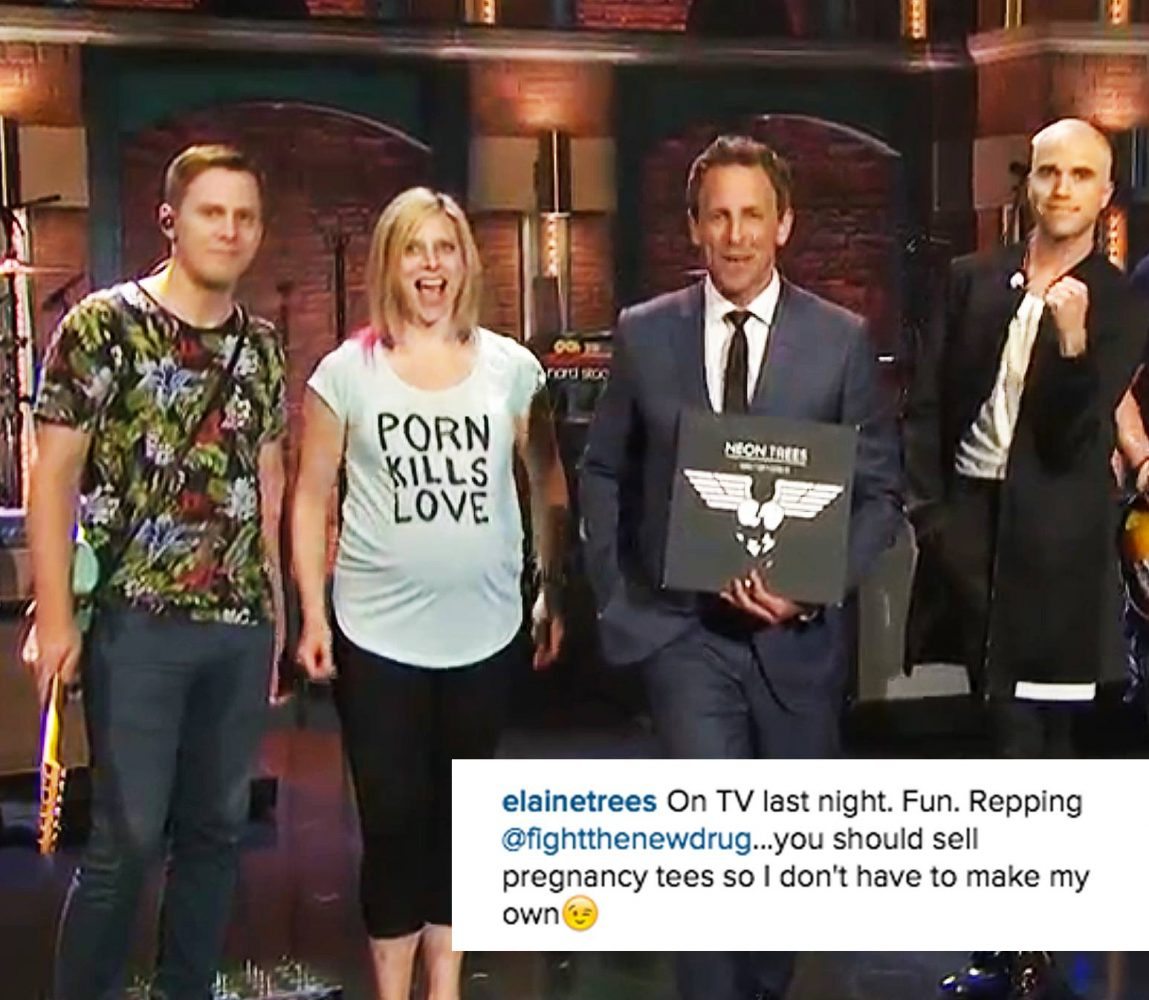 After the show, we got in touch with Elaine and found out that she has a huge passion for Fight the New Drug and the #PornKillsLove movement. We recently caught up with Elaine for an exclusive interview at her home, where she is currently working on new music and taking care of her kids. We asked her why she chose to rep the movement during her Late Night performance, and what makes her so passionate about the cause.
—————-
FTND: Well, first thing's first. You first popped up on our radar when you made your own makeshift maternity-friendly 'Porn Kills Love' tee to wear during your performance on Late Night with Seth Meyers. Tell us about that whole experience and people's reaction to it.
EB:  I got a few comments on it—some positive, some sarcastic. Mostly what I noticed was people being forced to think about that statement, even if just for a little bit. I could see it making some people uncomfortable. I loved the reactions I got after I posted a pic on social media. It seemed that it empowered a lot of people to take a stand against porn, or at least admit publicly that they agreed with the statement on my shirt. It was cool to see how many people were excited that I had made that statement on TV. Of course, there were a few "Negative Nancy's," but it's the internet!
FTND: So what's your connection to the cause? Why did you choose to rep the #PornKillsLove movement, of all things?
EB: I have been anti-porn—meaning, of the sound opinion that porn is harmful, and really isn't doing our society any favors—for a long while. I had even tweeted a link to a lengthy article about the damaging effects of porn long before I had heard of Fight the New Drug. I think I was clicking around the internet when I found out about your movement. I was really excited that something already existed. I looked at the website and read a lot of the info, which made me a fan, supporter, and as you say, a "Fighter." I saw the bold, red Porn Kills Love tee, and wanted one, but I didn't order it right away because I was pregnant at the time. This was right before Neon Trees was heading out on the road again. I knew we had a performance on Late Night scheduled, and I thought that would be a great time to rep this cool movement I had just discovered. But I didn't want to be swimming in a large men's tee on national TV, and I didn't want a skin-tight and awkward look either. So I decided to take one of my pregnancy tees and make a "Porn Kills Love" tee myself, with a black sharpie.

FTND: What do you think about the music industry being so heavily influenced by the porn culture in society? It's no secret that porn/sex is constantly being used in lyrics, music videos, album covers, and ads to sell music.
EB: I don't love it. I understand it—sex sells. But I hate that porn is really quite the norm, whether that be lyrically, in videos or live antics. I love that music has the power to make a person feel a mood. I'm saddened that more often than not, that mood/content is casual sex, and lots of it.
FTND: We always promote the fact that we are pro-sex and anti-porn. You've mentioned to us in past conversations that this stance is one of the things you love most about the movement. What does it mean to you?
EB: I like to consider myself a happily married, semi-well-adjusted adult. And that means I am sexually active. Sex is wonderful… But just as important to me, is that it is one of the ways my husband and I stay connected and close. No, it isn't the only thing, or even the most important thing that keeps our marriage functioning, but it is very significant. Porn is a distortion of all the good, healthy things about sex. Porn is damaging to a healthy relationship. Therefore, I hate porn. I am against it. I don't think anyone benefits from it—except monetarily, of course. But I am pro-sex for all of the above good and healthy reasons. I am bothered that anyone could think that because I am anti-porn, I must then be anti-sex. Not so.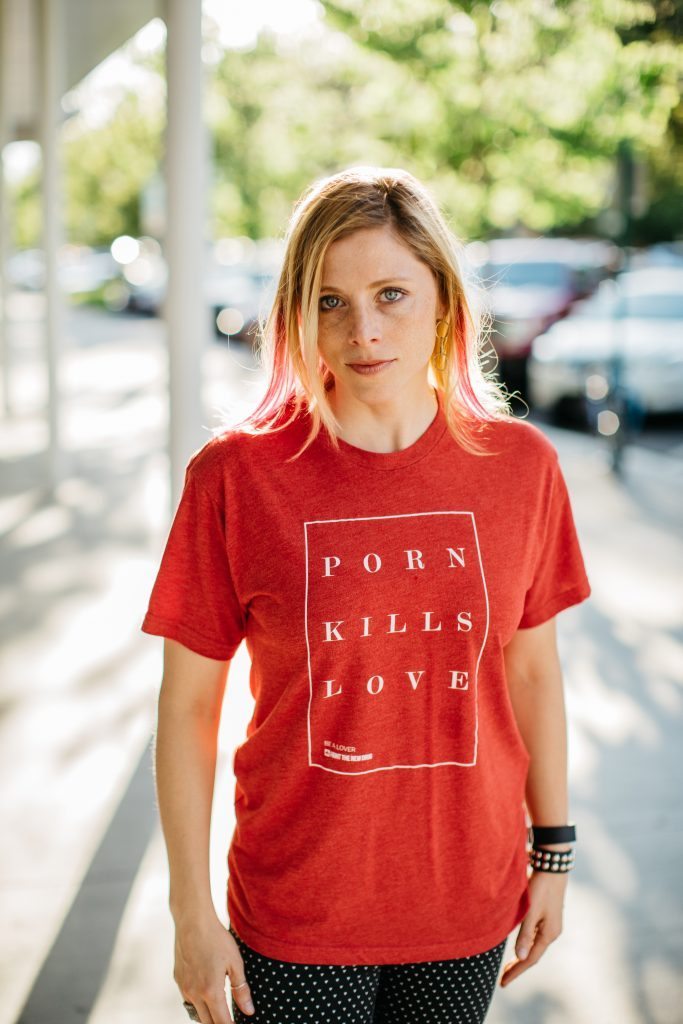 FTND: What kind of change do you hope to spark with being a part of the Porn Kills Love movement?
EB: I hope people really think about the issue of porn. Is it damaging? What does science say? What about people who have been ruined by its use in their marriage, or extorted to create it, etc.? I feel our society sees it as just something that is normal and typical. I want to help to change that. I don't want porn consumption to be the norm, or socially acceptable, or expected. I want people to start to see it for what it is—tawdry, cheap, harmful, and fake "love." Let's remember that exploitation isn't love.

FTND: Last but not least, the big question: Elaine, why are you a Fighter?
EB: I am a Fighter because porn is not healthy, it does not strengthen relationships, and it changes the way a person thinks about sex, and thus their partner or potential partner. I've heard of too many marriages and relationships destroyed by porn addictions. It is a real problem, and I want to draw attention to that!
---
With more and more people starting conversations about the real scientific harms of pornography, we are making a real impact in society. Instead of accepting porn as normal, we can fight for love by being educated and changing the conversation surrounding pornography.
We want to give a big shout out to Elaine for speaking out on this issue and taking the time to chat with us. We hope to see more people get involved with the movement as the research continues to show the facts.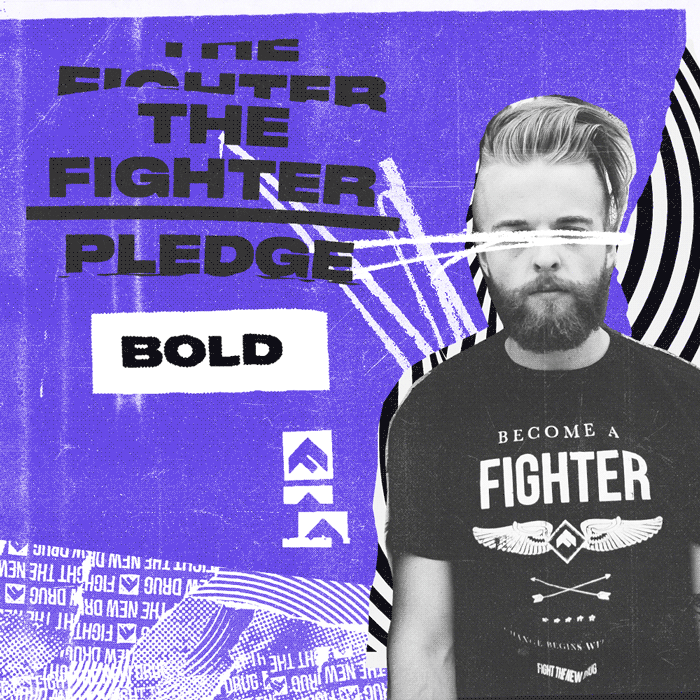 ——-
Photos of Elaine by: Adam Metcalf
www.transcendent-productions.com
IG: @adamadamadamdam