If the world needed another good reason to have password protected WiFi, then a recent case out of Camden County, New Jersey is sure to provide one.
An elderly couple's unsecured connection led to a serious case of mistaken identity at their home.
According to a report by CBS 3, investigators with the Camden County Prosecutor's Office said a man used his neighbor's open network to download and distribute thousands of child sexual abuse images.
On September 1 at 5:30 a.m., officers entered a suburban home after jolting a couple out of bed, seeking the person responsible for downloading and sharing tens of thousands of images of child pornography at their address. The unpleasant early morning surprise led to a sweep of the couple's computer, where police found nothing. It was then that investigators discovered that the older couple's WiFi network was not password protected, allowing anyone to connect and use their internet service.
Related: How Child Sexual Exploitation & The Adult Entertainment Industry Are Linked
"Unfortunately, the older generation is certainly a target for hackers like this, because they may not be understanding what kind of technology they're putting in place," said Leeza Garber, a cybersecurity attorney. "It sets you up to be extremely vulnerable."
Eventually, investigators located the person responsible for the massive child porn activity happening on the connection. Louis LaSalle was a neighbor of the unsuspecting couple and used a wireless router to connect to their WiFi and download and distribute more than 700 pornographic videos and 33,000 images that police later found on his laptop.
A Booming Underground Business
Child sexual abuse images, also known as child pornography, have become more prevalent and a larger problem than we would ever like to imagine.
The number of people who actually get caught for the crime is only the tip of the iceberg. Child porn is a business that has been expanding virally on the web for years and the material is only getting worse and more extreme. In 2014, the Internet Watch Foundation found 31,266 individual child abuse domains or URLs, a 137% increase from 2013. Five years later, in 2018, we imagine that number to be much larger.
According to a report by the National Society for the Prevention of Cruelty to Children, the National Police Chief's Council reported that it's possible up to 100,000 people viewed indecent images of children online in 2016 alone. Furthermore, U.S Customs Services estimates that illegal child pornography is offered by approximately 100,000 websites. Many people don't know about the reality of the booming underground child porn industry and its massive negative effects on society, and that's why we continue to raise awareness.
Related: Understanding the Growing Worldwide Problem of Child Porn
Who is actually looking at these horrific images? The New York Times reports that by some estimates, 1% of the male population continues, long after puberty, to find themselves attracted to prepubescent children. One percent doesn't sound like much, but it adds up to over 1.1 million men possibly living with this disorder just in the United States. These people are living with pedophilia, a sexual attraction to prepubescents that often constitutes a mental illness. While some child porn consumers can be classified as having this diagnosable disorder, others find themselves attracted to pedophilic content after years of interest in legal porn.
Dr. Julie Newberry is a psychologist who has worked with patients who fall into this category. In an article for PsychReg, she writes: "My therapeutic experience is that a person who views child abuse images, though committing a sexual offense, is not necessarily a paedophile. A paedophile has a primary sexual interest in children. I suggest that for some people, it is porn addiction rather than paedophilia, which is the cause. A person, usually a man, who has no sexual interest in children, can find himself 'crossing the line.'"
Bottom line? Sometimes, a porn habit can get wildly out of control and go down a path a consumer could never have anticipated. Clicking porn is just not worth the risks.
Stopping the Demand
Every day, children are filmed while they're sexually abused and the content is then distributed worldwide and it fosters deeply unhealthy ideas about children. It's a booming underground industry that continues to grow year after year. Just think back to the shocking child pornography case against former Subway spokesman Jared Fogle, or even famed "Glee" actor Mark Salling.
Related: Understanding The Booming Underground Industry Of Child Sexual Exploitation
While not every porn consumer will end up turning to illegal content, too many do. This is why we raise awareness that porn is anything but harmless, personal entertainment. In too many cases, the porn consumer ends up becoming consumed by their porn.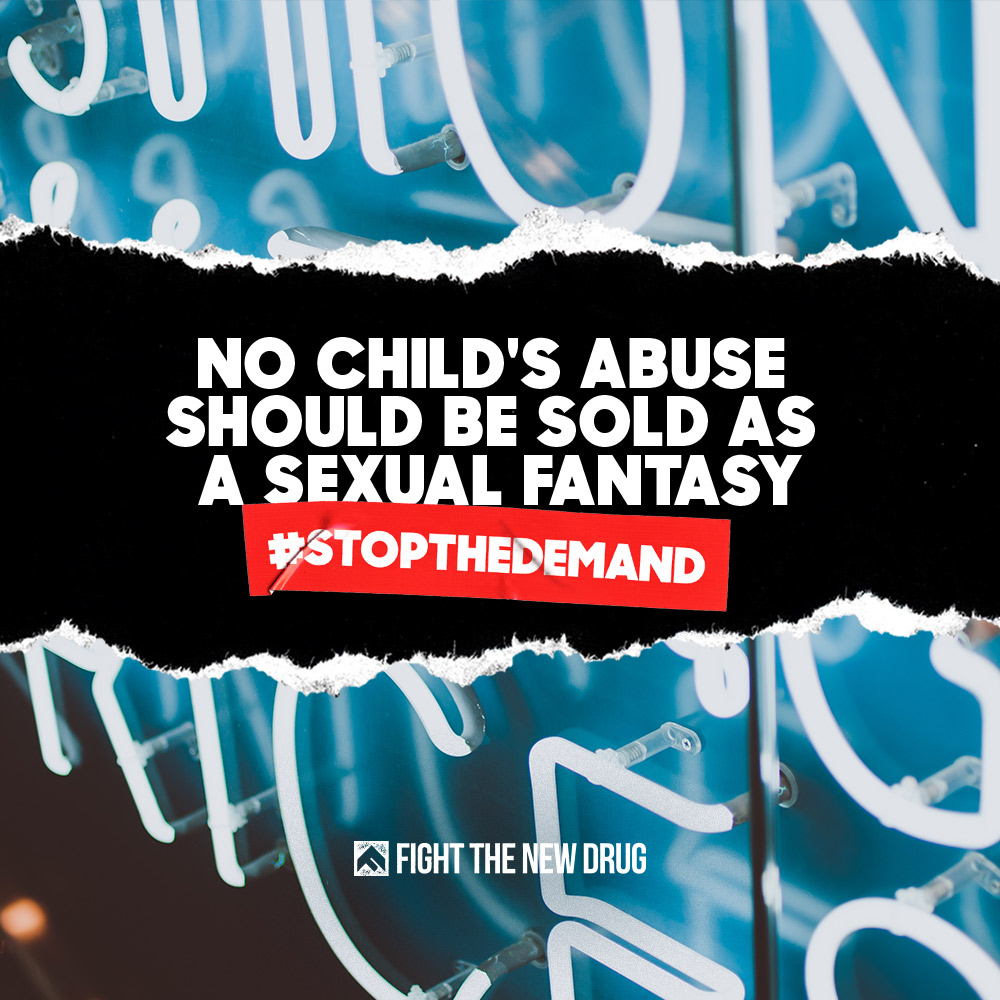 Get Involved
Child porn is a huge problem in our society and it's an issue we can't let slip into the background. SHARE this article to take a stand and raise awareness on this issue.
To report an incident involving the possession, distribution, receipt, or production of child pornography, file a report on the National Center for Missing & Exploited Children (NCMEC)'s website at www.cybertipline.com, or call 1-800-843-5678.
Spark Conversations
This movement is all about changing the conversation about pornography and stopping the demand for sexual exploitation. When you rep a tee, you can spark meaningful conversation on porn's harms and inspire lasting change in individuals' lives, and our world. Are you in? Check out all our styles in our online store, or click below to shop: