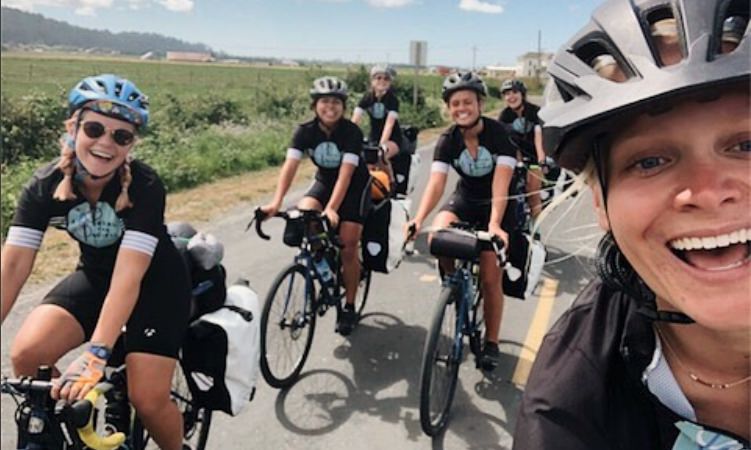 Human trafficking is one of the more urgent issues our society is dealing with. Against a tide of exploitation and stories of millions of girls, boys, men, and women taken from their homes and sold for sex, it can feel like a helpless and hopeless issue to try and tackle.
But one group of 11 women are doing something about it by investing their time and cardio skills (or lack thereof) to travel over 1,700 miles to raise awareness and funds to fight child sex trafficking.
Pedal the Pacific
Meet the all-female Pedal the Pacific 2018 team, a diverse group of college-aged women from all over the United States who gathered for the second annual bike trip from Seattle to San Diego. Biking the equivalent of almost two marathons a day—that's about 50 miles—these women traveled from their different universities in Texas, Arkansas, Oklahoma to the start of their route in Seattle to spark conversations and raise funds for a trafficking survivor refuge and rehabilitation center.
Check them out in this NowThis video:
Last summer, the 2017 team raised over $60,000 for The Refuge Ranch, a rehabilitation center for trafficked girls that broke ground in October 2016 and was just opened this summer.
To raise $60,000 is amazing, but this year, they've raised over $147,000 for the restoration center—absolutely crushing their 2017 goal.
According to the Pedal the Pacific site, "The Refuge Ranch will be a long-term healing ranch for young girls ages 11-19 who have been rescued from sex trafficking here in the United States. Each girl will have her own plan of restoration, which will include on-site schooling through a University of Texas Charter School, therapeutic programs that include equine, art, music and pet therapy, along with one on one counseling and group therapy with licensed professional therapists. At capacity, it will house 48 girls, which will be the largest facility of its kind in the nation. By supporting The Refuge for DMST (Domestic Minor Sex Trafficking), we hope others will recognize that sex trafficking occurs within their own communities and empower them to seek their own opportunities to get involved locally… The funds raised during Pedal the Pacific will literally be poured into the walls where these survivors will find healing and restoration."
Incredible, right? Here they are on their final day in San Diego: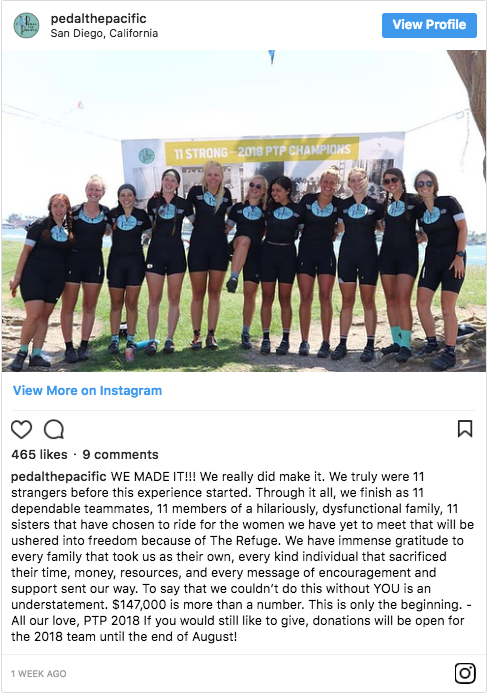 These girls are amazing! Their donations are open until the end of August, and they're aiming to raise $250,000, so check out their site if you want to support their mission!
The reality of sex trafficking in the United States
According to the Polaris Project, a leading anti-trafficking organization based out of the U.S., trafficking happened in every single state in the U.S. last year.
According to one of their latest reports, 8,759 cases of human trafficking were reported to the National Human Trafficking Hotline and BeFree Textline—a 13% increase in cases compared to 2016—bringing the total number of cases reported to 40,987 since the Hotline's creation in 2007. Over 6,000 of the cases reported last year were sex trafficking-related.
Related: What Most People Get Wrong About The Case Of Cyntoia Brown
From their 2017 report, let's dive into a few significant numbers and information, all of which you can read for yourself by clicking here:
-The number of human trafficking cases reported jumped by 13%, with a 29% increase in individual survivors that were identified through reports and tips.
-The average age survivors reported that their sexual exploitation started was 19. Over 500 survivors reported being exploited when they were under 18.
-7,255 victimized individuals were involved with 6,244 sex trafficking cases.
What does this have to do with porn?
You may be asking yourself, isn't Fight the New Drug an anti-porn, pro-love, pro-sex awareness and education organization? Why are they talking about sex trafficking, then?

Great question, we're so glad you asked!
Obviously, human trafficking is an underground business, making firm statistics hard to come by. But the facts in cases that come to light are chilling. For example, in 2011, two Miami men were found guilty of spending five years luring women into a human trafficking trap. They would advertise modeling roles, then when women came to try out, they would drug them, kidnap them, rape them, videotape the violence, and sell it to pornography stores and businesses across the country. Not to mention that a very popular Japanese porn company was busted last year for forcing dozens of unsuspecting women into shooting porn. They advertised the porn shoots as modeling opportunities, made the models sign complicated contracts, and then blackmailed these women, forcing them into degrading and abusive shoots. One woman was even forced to perform in over 100 pornographic movies. How is that acceptable?
Here is the reality of how trafficking fuels porn, as stated by Dr. Karen Countryman-Roswurm:
"…Pornography is the material means of sexual exploitation. Pornography is the proof, the very evidence that commercial sexual exploitation occurred. Pornography is verification of violence. And pornography is used again and again to prime, promote, and perpetuate the perpetration of boys and girls for the purpose of sex trafficking."
We fight to bring awareness to the fact that porn isn't harmless entertainment, and the porn industry wouldn't be where it is today without sex trafficking and exploitation. Now that you know, will you join us in raising awareness?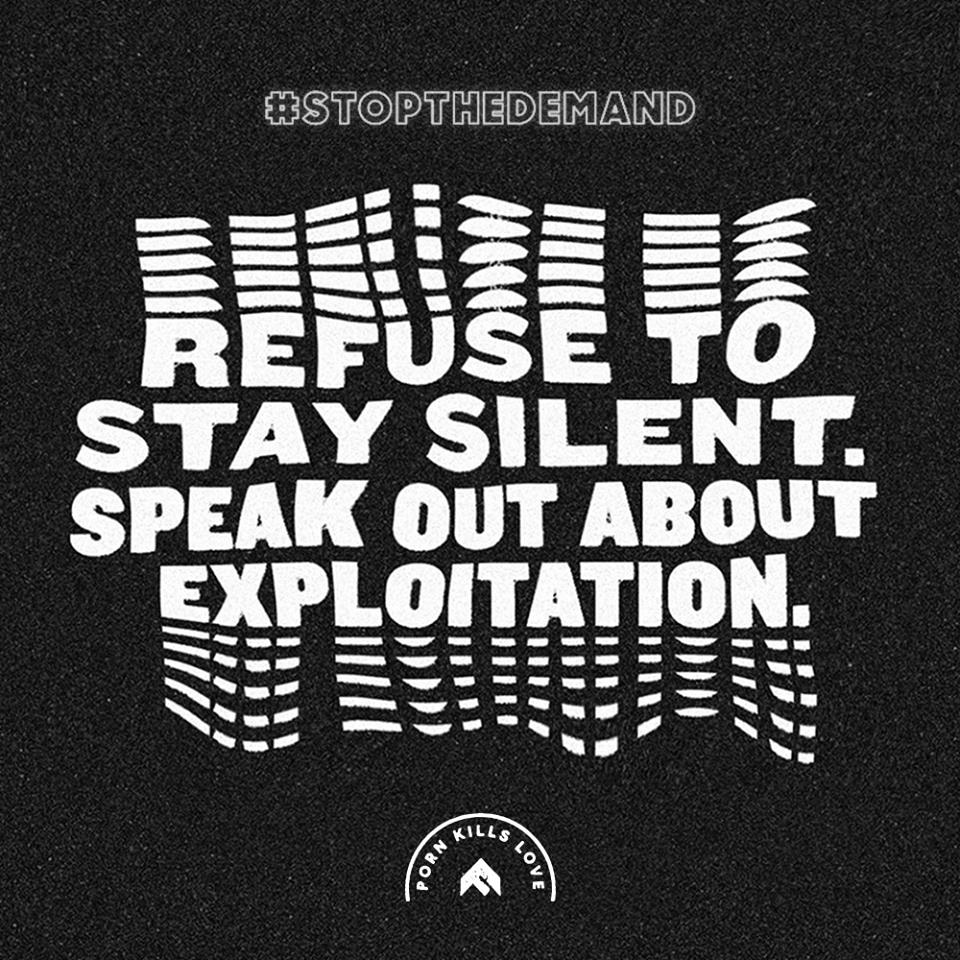 Get Involved
Spread the word about the amazing women of Pedal the Pacific! SHARE this post and get the word out that porn and sex trafficking are connected.
Spark Conversations
This movement is all about changing the conversation about pornography and stopping the demand for sexual exploitation. When you rep a tee, you can spark meaningful conversation on porn's harms and inspire lasting change in individuals' lives, and our world. Are you in? Check out all our styles in our online store, or click below to shop: